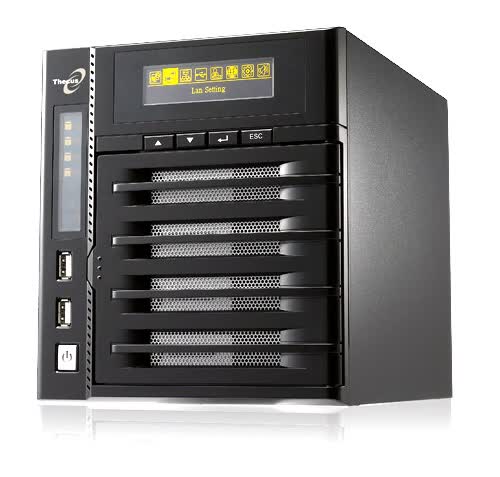 Pros:
Multiple volume support, Simultaneous iSCSI and SMB/NFS/AFP access, Optional USB 3.0 ports, Builtin battery backup
Fast transfers, Tons of features, Battery backup, Good security features, Good temperatures, Can control basic functions through display
Fast, stable operation, Battery backup function, Dual DOM for backing up system configuration, Dual screens, Plenty of USB ports for external devices, Supports 3.5" and 2.5" SATA drives
Cons:
Admin interface still lags competition, USB 3.0 port did not work, Performance lags other D510 Atom NASes
Tough for new users, not a beginner NAS, Expensive, Slight issue with large file transfers, User folder controls are lacking, must use ADS
TechSpot is supported by its audience. When you buy through our links, we may earn a commission.
Learn more
.
Multiple volume support, Simultaneous iSCSI and SMB/NFS/AFP access, Optional USB 3.0 ports, Builtin battery backup
Fast transfers, Tons of features, Battery backup, Good security features, Good temperatures, Can control basic functions through display
Fast, stable operation, Battery backup function, Dual DOM for backing up system configuration, Dual screens, Plenty of USB ports for external devices, Supports 3.5" and 2.5" SATA drives
The Thecus N4200 offers fast performance, comes with a convenient hard-drive-bay design and a backup battery, and can handle both 3.5-inch and 2.5-inch SATA hard drives. The server supports multiple RAID configurations, lots of redundancies, and has pl
Admin interface still lags competition, USB 3.0 port did not work, Performance lags other D510 Atom NASes
Tough for new users, not a beginner NAS, Expensive, Slight issue with large file transfers, User folder controls are lacking, must use ADS
Expensive
The Thecus N4200 is not easy to set up for nonsavvy users. Its front LCD is clunky to use, and it lacks many features compared with other similar NAS server. The server is rather expensive and its included backup software is useless