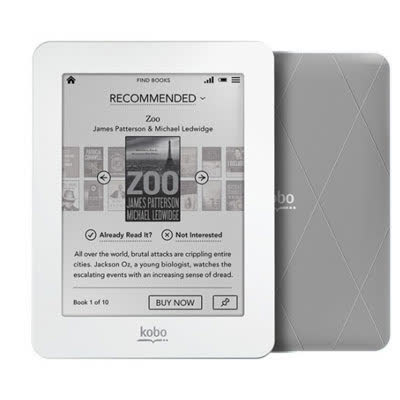 Pros:
Compact design; Large ebook selection; Unique Reading Life Stats
More pocketable than 6-inch e-readers like Amazon Kindle, Touch display, Sturdy and easy to hold, Superb font controls, Supports ePub, Incorporates reading metrics and awards
Light and comfortable, Size is good for small hands, Lots of control over text inside eBooks, Touchcontrolled and easy to use, Access to eBook sources beyond Kobo's store
Cons:
Tiny screen doesn't fit much text on the page; Ebooks more expensive than competition; Can't share book passages or lend books; Very small periodical selection
No audio features, screen lighting, or SD-card slot, Tapping near display margins is difficult, Small display means more page turns, Not much cheaper than some 6-inch readers
TechSpot is supported by its audience. When you buy through our links, we may earn a commission.
Learn more
.
Compact design; Large ebook selection; Unique Reading Life Stats
More pocketable than 6-inch e-readers like Amazon Kindle, Touch display, Sturdy and easy to hold, Superb font controls, Supports ePub, Incorporates reading metrics and awards
Light and comfortable, Size is good for small hands, Lots of control over text inside eBooks, Touchcontrolled and easy to use, Access to eBook sources beyond Kobo's store
A great price for an eBook reader. Small and portable. WiFi enabled and touchscreen on a budget. Crisp display with easy to read clean type, The
Small, light and pocket sized
Inexpensive for a touch screen ebook reader. Small, cute form factor. Powerful ecosystem of books, mobile, and PC apps. Supports ePub format
Inexpensive, Notably small and lightweight, Intuitive UI
Tiny screen doesn't fit much text on the page; Ebooks more expensive than competition; Can't share book passages or lend books; Very small periodical selection
No audio features, screen lighting, or SD-card slot, Tapping near display margins is difficult, Small display means more page turns, Not much cheaper than some 6-inch readers
E Ink screen doesn't offer as much contrast as the competition, Could use faster performance
Sluggish page turns can make reading a frustrating experience. Screen size allows for less words and hampers a quick reader. Touch controls a little frustrating as have to be very precise. No expandable memory
Touchscreen not as responsive as we'd like, contrast could be better
Sluggish. Slightly stubborn touch screen. Display is noticeably smaller than that of a paperback book. No memory card slot
Limited screen space, No expandable storage, Lowcontrast display