While 3.5 has brought a boost in speed, Firefox isn't the fastest Web browser around. It isn't the most secure browser either, nor is it the most used. Firefox's entire appeal is based on the fact that you can build it as you care to. More than any other, Firefox is customizable. That being the case, it's a bummer when major revisions come along and "break" all of the add-ons you depend on.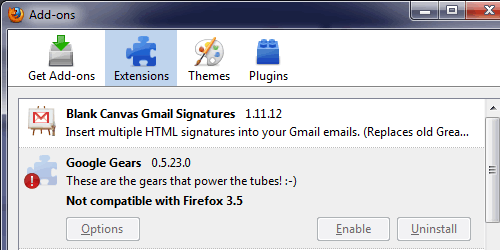 Broadly used add-ons are usually prepared well in advance, and tested with beta releases. Unfortunately, many aren't updated right away and others not at all. Because we refuse to let our extensions die, we're going to
take a look at a workaround
which may also work for you.
Continue reading our Tech Tip of the Week
.