TechSpot is celebrating its 25th anniversary. TechSpot means tech analysis and advice
you can trust
.
When you buy through our links, we may earn a commission.
Learn more
.
Multimedia and Desktop Replacements
Laptops that fall into this category usually pack the most complete set of features. In terms of performance they won't match a high end desktop system, but can deliver enough computing power for things like multimedia authoring and gaming. Desktop replacements also offer large screens going from 16-inches and up, as well as comfortable full-sized keyboards with separate number pad. As you might expect, however, they are not the easiest to carry around.
You can expect a desktop replacement to weight in around 6.5 pounds or more, sport a dual or quad-core processor, at least 4GB of RAM and 500GB of storage capacity, and plenty of connectivity options. Unfortunately battery life is not one of their strong points due to the large display and powerful hardware, so most of the time you'll be looking at around 3 hours of autonomy. Laptops in this category start at around $1,000 but fully-loaded models can fetch upwards of $1,500.

Asus N61Jv-X2
The Asus N61Jv-X2 has a bit of everything for multimedia junkies looking for a new notebook that won't break the bank, including a 16-inch LED-backlit widescreen driven by Nvidia GeForce GT325M graphics, Altec Lansing speakers, a large, comfortable multi-touch trackpad, eSATA and USB 3.0 support for faster transfer rates with compatible devices, 2.0-megapixel webcam, HDMI connectivity, and a fairly spacious 500GB 7200 RPM hard drive.
The dual-core, 2.26GHz Intel Core i5 430M processor and 4GB of RAM (upgradable to 8GB) make the N61Jv an excellent performer, and Nvidia's Optimus graphics switching technology will help extend battery life to around 3.5 hours -- which may not sound great but it's above average for a desktop replacement. Besides this, its weakest point has to be the 1366 x 768 resolution of its panel, but it is hard to complain with everything the N61Jv-X2 offers at $920. For around $20 to $30 more the N61Jq-X1 is also worth checking out. Basically you'll get a faster Core i7 920QM processor and Mobility Radeon HD 5730 graphics, in exchange for a smaller 320GB hard drive and no Optimus graphics switching technology.
Additional views:
| | |
| --- | --- |
| Quick specs | Full specs | Starting price: $920 |
| Processor: Intel Core i5 430M 2.26GHz | Graphics: Nvidia GeForce GT 325M 1GB |
| Memory: 4GB DDR3-1066 (2 DIMMs) | Storage: 500GB 7,200RPM HDD |
| Display size: 16" (1366x768) | Optical: DVD-RW |
| Weight: 6.2 lbs (6-cell) | Battery: 6-cell (~3.5 hours) |

Toshiba Qosmio X505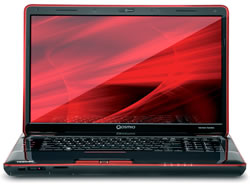 Powered by Intel's latest Quad Core processors and Nvidia GeForce graphics, the Qosmio X505 delivers solid gaming performance and a gorgeous multimedia experience. The series actually starts at $1,199 featuring a 2.26GHz Core i5 430M processor, GeForce GTS 360M graphics and 4GB of RAM. But if you truly want to enjoy a full HD 1920×1080 resolution on its large 18.4-inch LCD panel, which is the best feature of this multimedia powerhouse, it'll cost you upwards of $1,600.
The X505-Q890 has all the high-end specs you can imagine, including a 1.73GHz Core i7 740QM processor, 6GB of RAM, Blu-ray drive, the same Nvidia GeForce GTS 360M graphics, and a fast 64GB solid state drive to complement the large 500GB hard drive. This model will set you back $1,700, but you can save a few bucks with the X505-Q888, which sells for around $1,550 and basically drops the SSD drive and offers 4GB of RAM instead of 6GB. Otherwise you'll find plenty of connectivity options on all of them and good quality speakers made by audio specialists Harman Kardon.
Additional views:
| | |
| --- | --- |
| Quick specs | Full specs | Starting price: $1,700 (X505-Q890) |
| Processor: Intel Core i7 740QM 1.73GHz (quad-core) | Graphics: Nvidia GeForce GTS 360M 1GB |
| Memory: 6GB DDR3-1066 (3 DIMMs) | Storage: 500GB 7,200RPM HDD + 64GB SSD |
| Display size: 18.4" (1920×1080) | Optical: BD Combo |
| Weight: 9.7 lbs (12-cell) | Battery: 12-cell (~3 hours) |

Samsung R780
This notebook was actually discontinued in the U.S. market by mid-June and brought back due to popular demand. And we can see why -- it's not often that you see an $850 notebook sporting the looks of a luxury system and very solid performance. Samsung hits many right spots with the R780. Starting with a 17.3-inch screen, Intel Core i5 430M dual core processor running at 2.26GHz, 4GB of DDR3 RAM, a 500GB hard drive, and Nvidia GeForce GT 330M graphics.
On the outside the R780 features a stylish red-and-black design that looks and feels more expensive than its price tag would suggest, and despite its relatively large footprint it doesn't look boxy or feels excessively heavy. It has a large trackpad and the island style keys are well sized and spaced. Samsung didn't skimp on the connectivity front, either. You'll find a total of four USB 2.0 ports, one of which supports eSATA and standby power charging, HDMI and VGA-out, 802.11n Wi-Fi, Bluetooth, among other options. Its roughly 2.5 hours of battery life will come as a disappointment to some, but being a desktop replacement it'll likely be near an outlet most of the time. The only other letdown is the native 1600x900 resolution, which is better than the Asus N61Jv-X2, but a full HD (1920x1080) resolution would have done better justice to its large 17-inch display.
Additional views:
| | |
| --- | --- |
| Quick specs | Full specs | Starting price: $850 |
| Processor: Intel Core i5 430M 2.26GHz | Graphics: Nvidia GeForce GT 330M 1GB |
| Memory: 4GB DDR3-1066 (2 DIMMs) | Storage: 500GB 5,400RPM HDD |
| Display size: 17.3" (1600x900) | Optical: DVD-RW |
| Weight: 6.3 lbs (6-cell) | Battery: 6-cell (~2.5 hours) |
Other noteworthy options in this category
Acer Aspire 8943G

The Aspire 8943G is a 18.4-inch multimedia notebook featuring a fast Core i7 processor, decent speakers, discrete Nvidia graphics, and Blu-ray at a price that won't send your bank account into the red.

Price range: $1,380

Toshiba Satellite E205

This 14-inch notebook delivers strong Core i5 performance and offers nice features like a backlit keyboard and Intel's latest Wireless Display tech, which will allow you to wirelessly stream any form of media to an external LCD.

Price range: $900