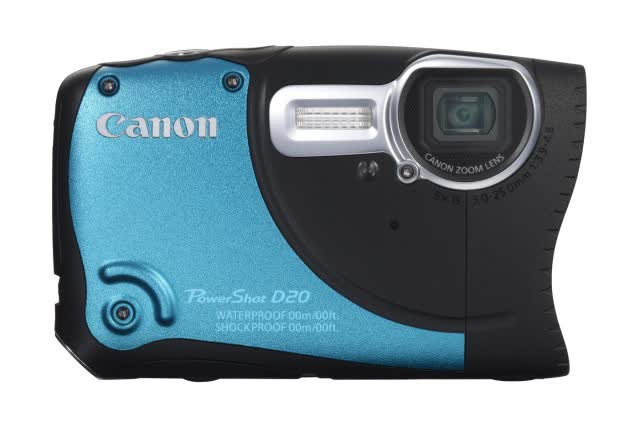 TechSpot Metascore
Based on
19

expert reviews
Excellent:

0

Good:

11

Average:

6

Bad:

2
Pros:
Build quality; Image quality; Large buttons; GPS; HDMI connection
Curvy and comfortable to hold, 28-140mm zoom lens, the Canon D20 has a solid zoom range, Large 3-inch LCD display perfect for outdoor viewing, even in bright sunlight, Simple, easy menu navigation, Diverse array of shooting modes, filters and effects -...
Great incamera interface, Sharp lens, Impressive underwater performance
Cons:
No double lock on battery compartment; Lower resolution screen than closest rivals
A little awkward to operate one-handed, Bigger than most other waterproof cameras in its class (though this could be also seen as a positive, depending on what you're looking for), No in-camera panorama mode, Power-up, shutter lag and shot recycle tim
TechSpot is supported by its audience. When you buy through our links, we may earn a commission.
Learn more
.
Build quality; Image quality; Large buttons; GPS; HDMI connection
Curvy and comfortable to hold, 28-140mm zoom lens, the Canon D20 has a solid zoom range, Large 3-inch LCD display perfect for outdoor viewing, even in bright sunlight, Simple, easy menu navigation, Diverse array of shooting modes, filters and effects -
Great incamera interface, Sharp lens, Impressive underwater performance
Sharp lens, Good high ISO performance, Integrated GPS
Low imagenoise until ISO 400, Nicely saturated colors, Generally responsive, Good stabilization, Quick optical zoom, Sharp MFAssist view, Excellent LCD visibility, Excellent rugged construction, Quick shutterlag, Good batterylife for GPSenabled camera, Ea
No double lock on battery compartment; Lower resolution screen than closest rivals
A little awkward to operate one-handed, Bigger than most other waterproof cameras in its class (though this could be also seen as a positive, depending on what you're looking for), No in-camera panorama mode, Power-up, shutter lag and shot recycle tim
Very poor continuous shooting, Poor noise handling, No 'door open' warning , Relatively expensive
Moderately slow; not suitable for fastaction shots or video, Unconventional design is interesting but bulky, Unreliable GPS
Large, even for a rugged camera, So-so speeds, 1080p video limited to 24fps
Softness at all ISO, strong past ISO 400, Unusable ISO 1600, Narrow dynamicrange, Some overexposure, Poor AWB in lowlight, Very slow autofocus, Shutterrelease too soft, Impossible to setup video framing, Lens too easy to block, Wriststrap attaches to wron