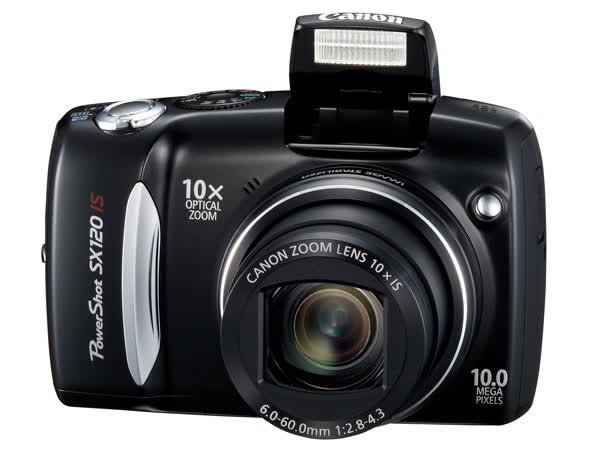 Pros:
Superb pictures for a superzoom camera.
Wide range of exposure modes, 10X optical zoom.
Good heft, Uses AA batteries, 10x zoom, Optical image stabilization, Bright AF-assist lamp, Full complement of auto and manual exposure modes, Starter SD card included, DIGIC 4 processor helps with noise suppression and AF speed, Smart Auto, i-Contrast...
Cons:
Quite bulky.
LCD hard to see in sunlight; no optical viewfinder, No wideangle lens, Slow recycle between shots, especially with flash
TechSpot is supported by its audience. When you buy through our links, we may earn a commission.
Learn more
.
Superb pictures for a superzoom camera
Wide range of exposure modes, 10X optical zoom
Good heft, Uses AA batteries, 10x zoom, Optical image stabilization, Bright AF-assist lamp, Full complement of auto and manual exposure modes, Starter SD card included, DIGIC 4 processor helps with noise suppression and AF speed, Smart Auto, i-Contrast
Wide range of exposure modes; 10X optical zoom
Good/faithful image quality, Big LCD, Good performance timings, Full manual control, Fast lens for its class, Exceptional image processing
Good low light performance, Uses broadly available AA batteries, Integral lens cover, Full Manual control over exposures
Quite bulky
LCD hard to see in sunlight; no optical viewfinder, No wideangle lens, Slow recycle between shots, especially with flash
Zoom is slow to start, moves slowly, Wide end is only 36mm equivalent, No optical viewfinder, Movie mode only records VGA, no HD, No optical zoom during movies, No HDMI out for stills, Alkalines only get 130 shots (we recommend NiMH rechargeables), Sof
LCD hard to see in sunlight; no optical viewfinder; no wide-angle lens; slow recycle between shots, especially with flash
Umer compact camera
Chromatic Aberrations/Purple Fringing, Same design as last year's model, ISO performance not up to snuff with other current models, Have to use the CDROM to read the advanced manual
Poor wide angle coverage (36mm equiv), Flash needs to be manually raised, Noisy zoom motor, No HD video nor optical zoom when filming