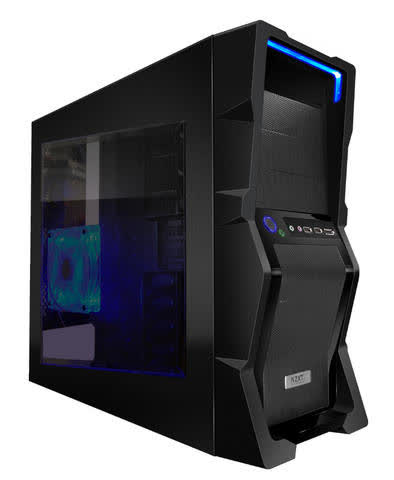 Pros:
Interesting design, Excellent finish, Spacious (although it's not compatible with Radeon HD 5970), Extensive cooling system, Good cable management system, Excellent price.
Finsihed interior with rounded edges, Cable routing holes, tie-down areas, and processor back plate cutout, Room for 7 3.5" devices and 4 5.25" devices, Bottom-mount power supply with filtered intake, Extraordinary features and construction quality for...
Excellent look and design, Room for the large video cards, Includes 2.5" to 3.5" adapter.
Cons:
No external 3.5" bays, Upper fan mounts of limited usefulness, Difficult to mount front 120mm fan, Front panel USB ports too close together, Radical styling not appealing to some
Top drive back blocks installation of top fan, Must use the included stealth drive cover or modify the case, Little room on top of case around motherboard, No front fan installed, No 5.25" to 3.5" bay adapter included
TechSpot is supported by its audience. When you buy through our links, we may earn a commission.
Learn more
.
Interesting design, Excellent finish, Spacious (although it's not compatible with Radeon HD 5970), Extensive cooling system, Good cable management system, Excellent price
Finsihed interior with rounded edges, Cable routing holes, tie-down areas, and processor back plate cutout, Room for 7 3.5" devices and 4 5.25" devices, Bottom-mount power supply with filtered intake, Extraordinary features and construction quality for
Excellent look and design, Room for the large video cards, Includes 2.5" to 3.5" adapter
Light weight, Plenty of space for hard drives, Dual 2.5" HD adapter, Good cooling performance
PRICE!, Tons of features, Unique design, Toolless features
Well ventilated, Lots of space for drives, Bottom mounted power supply, Behind the motherboard wiring, Rounded edges throughout, Motherboard tray cutout for behind CPU access
No external 3.5" bays, Upper fan mounts of limited usefulness, Difficult to mount front 120mm fan, Front panel USB ports too close together, Radical styling not appealing to some
Top drive back blocks installation of top fan, Must use the included stealth drive cover or modify the case, Little room on top of case around motherboard, No front fan installed, No 5.25" to 3.5" bay adapter included
Only two fans included
Motherboard standoffs did not install correctly
Looks may polarize some users, Only one stealthed optical drive