ThermalTake Spedo Advance Package VI90001W2Z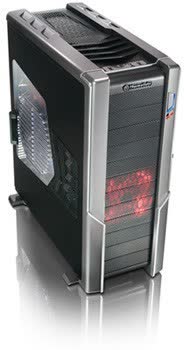 Pros:
Cable management, Many included accessories and fans, Nothing more to buy, Great looks both inside and out, Good cooling performance, Big, very roomy inside
Screwless drive bays, great airflow, cable management system.
Incredible airflow and cooling capabilities, Wireless side panel fan, Painted exterior, Many extras included, Advanced Thermal Chamber works very well, Cable management system is top-notch and reusable.
Cons:
Arrived to me with slight damage, Large fans are a bit loud, No 3 pin fans included, No optional front ports included, No fan speed adjustments, Rear expansion knock outs
Mesh of metal and plastic, useless "advanced thermal chambers".
TechSpot is supported by its audience. When you buy through our links, we may earn a commission.
Learn more
.
Cable management, Many included accessories and fans, Nothing more to buy, Great looks both inside and out, Good cooling performance, Big, very roomy inside
Screwless drive bays, great airflow, cable management system
Incredible airflow and cooling capabilities, Wireless side panel fan, Painted exterior, Many extras included, Advanced Thermal Chamber works very well, Cable management system is top-notch and reusable
Spacious, Advance Thermal Chambers 3 they work, Cable management, Good airflow
Elaborate exterior design, Screwless drive bays, Three 230 mm fans, All black painting, Plenty of space for installation, Cable management system, Removable HDD cages, Very good locks for optical drives, HDD cages can be placed to face the front of the ch
All black, even on the inside, Tons of room inside, Everything is toolless (PCI, Hard drives, Optical drives), Great cable management features, Sleek design
Great Styling, Fantastic Airflow, Adjustable Interior fan, Sexy, Nice Cable Management Features, Includes 6 Fans, Solid
Arrived to me with slight damage, Large fans are a bit loud, No 3 pin fans included, No optional front ports included, No fan speed adjustments, Rear expansion knock outs
Mesh of metal and plastic, useless "advanced thermal chambers"
Too much cheap-feeling plastic, Handle on adjustable fan mount feels brittle, Side panel fan noisy, No E-ATX functionality
Non reusable PCI covers
Fairly pricey, A lot of plastic everywhere, Plastic spacers are horrid, in quality and to install, 230 mm fans are fairly loud, HDD cages without backplates limited use for hotswapping
Side panel fan is loud, Was not able to reinstall the A.T.C. 3
No Beverage Cooler, A Little Expensive For Some ($280 MSRP)