Gigabyte Force K7 Stealth gaming keyboard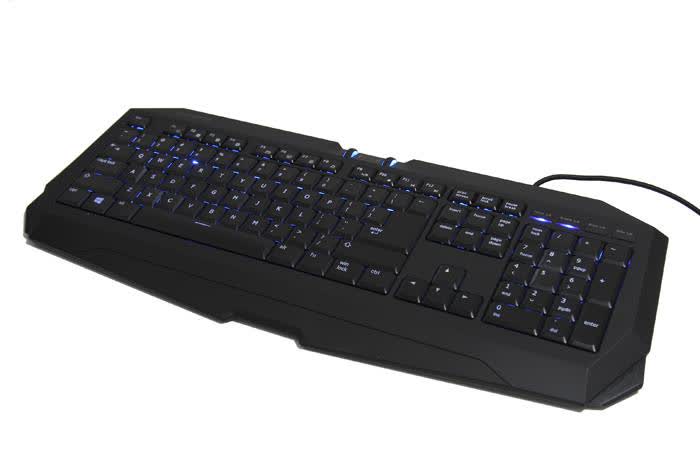 Pros:
Quiet and low profile, LED backlit, Volume and LED backlit control, Win lock, functional keys, ASDW antighosting, Adjustable backlit intensity, Dedicated special function keys for music control, apps opening, YouTube, Google, Twitter, No driver needed, Pr...
Adjustable three color back lighting, Short travel distance keys, Large wrist wrest, Slim and silent, Good build quality, Extra functional scroll wheels, WASD anti-ghosting
Scissor switches, Styling, AntiGhosting, Fast Key Action, Three Color Lighting Options, Build Quality, Low Price
Cons:
Keys around the edge of the keyboard is a bit too shallow, Backlit can be a bit too dim, Missing Macro keys, No dedicated USB pass through port for other peripherals, Backspace key is smaller
Scissor mechanisms are not as comfortable to type on as mechanical ones, Somewhat expensive for a rubber-dome keyboard, No driver suite, Anti-ghosting limited to WASD area
TechSpot is supported by its audience. When you buy through our links, we may earn a commission.
Learn more
.
Quiet and low profile, LED backlit, Volume and LED backlit control, Win lock, functional keys, ASDW antighosting, Adjustable backlit intensity, Dedicated special function keys for music control, apps opening, YouTube, Google, Twitter, No driver needed, Pr
Adjustable three color back lighting, Short travel distance keys, Large wrist wrest, Slim and silent, Good build quality, Extra functional scroll wheels, WASD anti-ghosting
Scissor switches, Styling, AntiGhosting, Fast Key Action, Three Color Lighting Options, Build Quality, Low Price
Keys around the edge of the keyboard is a bit too shallow, Backlit can be a bit too dim, Missing Macro keys, No dedicated USB pass through port for other peripherals, Backspace key is smaller
Scissor mechanisms are not as comfortable to type on as mechanical ones, Somewhat expensive for a rubber-dome keyboard, No driver suite, Anti-ghosting limited to WASD area
Dim Back lighting, Back lighting not equally viewable at varying angles,Very Bright Numlock, Capslock, Scrolllock and Winlock Keys