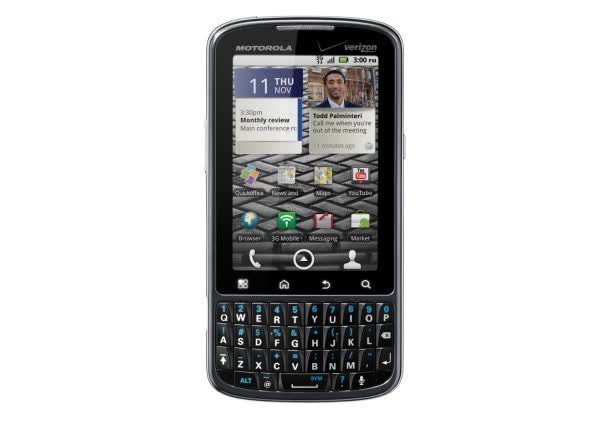 Pros:
Great incall performance, Robust battery, Good build quality
Solid performance; great form factor; built like a tank; great keyboard; solid 5MP camera
Fast, Good call quality, Easy to use
Cons:
Unresponsive Android keys, Keyboard is far from perfect, Android 2.2 Froyo, Mediocre display
Keyboard not for everyone; screen is small and low-resolution for 2010/2011; stuck on Froyo
TechSpot is supported by its audience. When you buy through our links, we may earn a commission.
Learn more
.
Great incall performance, Robust battery, Good build quality
Solid performance; great form factor; built like a tank; great keyboard; solid 5MP camera
Fast, Good call quality, Easy to use
Great hardware specs, Sleek, easytouse design, Excellent operating system
A rare QWERTYbar Android smartphone, Verizon world phone, fast, good business enhancements
Enterprise level security features, Excellent battery life, Global roaming capabilities, Still offers all the entertainment potential Android has to offer
Convenient form factor, 3G world roaming, Android 2.2 OS, VPN client builtin
Great BlackBerry-like keyboard; lightweight with great build quality; compact design but can still pack a punch; corporate email support; decent camera; convenience key; loud speaker
The Motorola Droid Pro combines a touch screen and full QWERTY keyboard into a compact design. The Android 2.2 smartphone offers enhanced security features for business users, as well as mobile hot spot capabilities
Nice design. Terrific little keyboard. Enterprise security features
Plenty of business and security features, Excellent keyboard
Comfortable QWERTY keyboard beneath display, Includes Quickoffice Mobile Suite, Mobile hotspot for up to 5 users, Exchange and remote wipe support built-in
Unresponsive Android keys, Keyboard is far from perfect, Android 2.2 Froyo, Mediocre display
Keyboard not for everyone; screen is small and low-resolution for 2010/2011; stuck on Froyo
Phone becomes unresponsive at times, Keyboard is a bit cramped, Battery life not that great
Can eat battery power quickly, Some buttons too easy to push
Tiny keyboard, display not among the best
Keyboard is a bit cramped, Call quality issues, Poor camera performance
Small display, mediocre call quality, no HD video recording
Tiny display with low resolution; average to poor battery life; software glitch makes for frequent misspelling of words; MOTOBLUR makes the display feel even more cramped; glossy finish scratches easy
The Droid Pro's HVGA display isn't quite as sharp as the competition. Call quality could be better. Paltry internal memory
Exchange support may not work with all servers. Some bugs. Music and video players are a bit behind the curve
Disappointing call quality, Mediocre camera
Relatively small display with low resolution, Skimpy included memory, Shorter battery life than BlackBerry devices