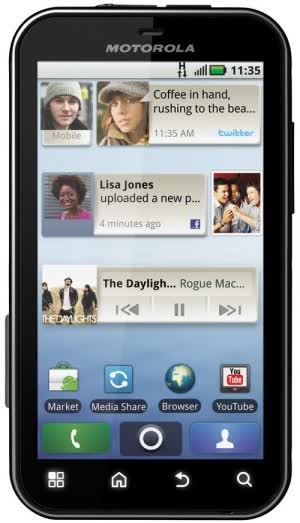 TechSpot Metascore
Based on
50

expert reviews
Excellent:

8

Good:

33

Average:

7

Bad:

2
Pros:
Dust, water and scratch resistant, Lightweight and attractive design, Swype textentry
Build, water/dust resistance, display, audio, battery life, price, hardware, hotspot functionality
Lightweight design, Great audio quality, Scratch resistant display, Water resistant to an extent, Hard shell prevents internal damage
Cons:
Text is a little small, Display feels sticky, Touchsensitive menu keys
Camera, android 2.1
TechSpot is supported by its audience. When you buy through our links, we may earn a commission.
Learn more
.
Dust, water and scratch resistant, Lightweight and attractive design, Swype textentry
Build, water/dust resistance, display, audio, battery life, price, hardware, hotspot functionality
Lightweight design, Great audio quality, Scratch resistant display, Water resistant to an extent, Hard shell prevents internal damage
Dust/Water/Shock Proof, Extremely comfortable size and weight, Big high-resolution screen, Speedy interface, Thoughtful UI Customizations, Consistent Network reception, "Loud" speaker, Decent camera performance
Tough enough to withstand common everyday mishaps; reasonably compact; stunning display; good call quality
Gorilla Glass display resistant to scratches, Chassis keeps out water and dirt, Solid performance for the price, High resolution screen, Good battery life, Wi-Fi calling
Neat, distinctive styling, strong features and big screen
Good build quality; water resistant; decent price tag for a mid-range device; small and easily pocketed, but a decent sized display; very snappy; impressive battery life; bright and crisp display; ships with Swype
Compact enough to fit in a pocket without causing embarrassing bulges. Surprisingly resistant to liquid immersion. Lightweight. Whaddya know — a smartphone that actually works well for voice calling!
Discreetly ruggedized casing, Android 2.1
Looks sharp, Withstands scratches, splashes, short falls, Reasonably fast
Waterproof and rugged. Awesome speakerphone
Water resistant, Highresolution display, Good looking photos, Well rounded features
The Motorola Defy is tough enough to withstand everyday hazards with its tough Gorilla glass and rugged exterior. Features include a 5-megapixel camera, a music player, Wi-Fi calling, and GPS, and it ships with Android 2.1. Call quality is excellent
Text is a little small, Display feels sticky, Touchsensitive menu keys
Camera, android 2.1
MOTOBLUR could have been better designed, After a while, water tends to seep in through the camera and flash gap, No front facing camera for video calling, No HD video recording, Music player EQ settings are not within the player
Runs Android 2.1 (for now), no front-facing video-call camera, slight stutter in DivX playback
Mediocre 5-megapixel camera; rubber cover for 3.5mm audio jack difficult to remove
Camera images and video are dark and grainy, Motoblur clutters UI, No HSPA+ data, Only 2GB of internal storage
Slightly low-rent looking, and processor very occasionally seemed slow.Look and Feel
MOTOBLUR; ships with Android 2.1; the size of the device and position of the display make it feel awkward in the hand; the display does not feel as large as it actually is
Lightweight plastic body screams "middlebrow," not "sophisticate." Barely enough battery to last through a typical day. Cluttered with widgets you probably won't use (but which are easy enough to delete). One generation behin
Quite bulky, LED rather than Xenon flash, No Flash video
Motoblur still sucks, Battery cover is tricky, No physical camera key
Motoblur makes the OS a bit sluggish. No HSPA+. No hotspot mode
Android 2.1 as opposed to Android 2.2, Weak earpiece
The Motorola Defy doesn't take very good pictures and its rough-and-tumble aesthetic isn't for everyone. We also wished we didn't have to activate the Motoblur account to use the phone