Braven BRV-X portable bluetooth speaker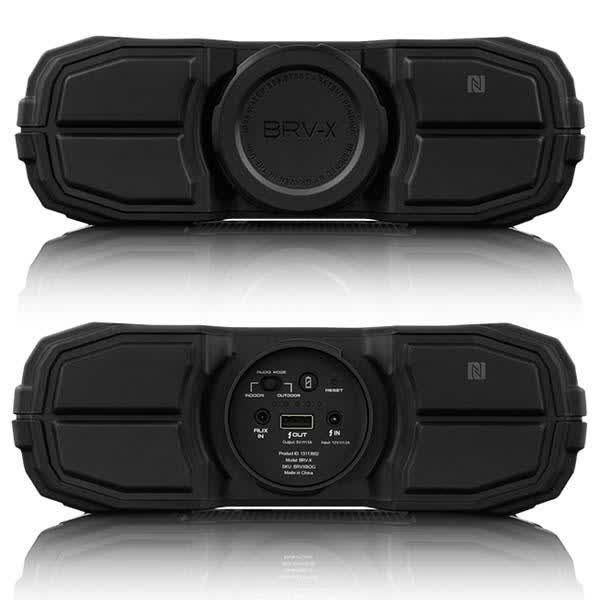 Pros:
Long battery life, Charges your phone, IPX7 waterproof
Rugged, Looks good, Sounds good for it's size, Can play loud
Powerful audio performance, with rich bass and crisp highs. Rugged, water-resistant design. Speakerphone functionality.
Cons:
Proprietary wall charger
Outdoor audio setting not that great, Can distort at max volume, Doesn't use latest bluetooth technology, Expensive
TechSpot is supported by its audience. When you buy through our links, we may earn a commission.
Learn more
.
Long battery life, Charges your phone, IPX7 waterproof
Rugged, Looks good, Sounds good for it's size, Can play loud
Powerful audio performance, with rich bass and crisp highs. Rugged, water-resistant design. Speakerphone functionality
Rugged construction and water resistance great for outdoor use, NFC for easy pairing, Charges your phone
Weather resistant, Feature packed, Charges other devices
IPX5 Water Resistance, Shock proof, Builtin buttons for controlling music and volume, Battery meter, Builtin microphone, Loud, NFC enabled, Auxiliary input, Can charge any USB device, 12 hour battery, Indoor and outdoor modes, The
Proprietary wall charger
Outdoor audio setting not that great, Can distort at max volume, Doesn't use latest bluetooth technology, Expensive
Audio performance too sculpted for purists
Not as loud as we would have liked, Sound is a bit flat/muddy at times
Sound quality is slightly lacking, Slightly expensive
Audio is a bit too inyourface (bright) indoors, Uses proprietary AC adapter, No sleep mode or autoshutoff, Expensive