iStorage diskAshur 2 USB3.1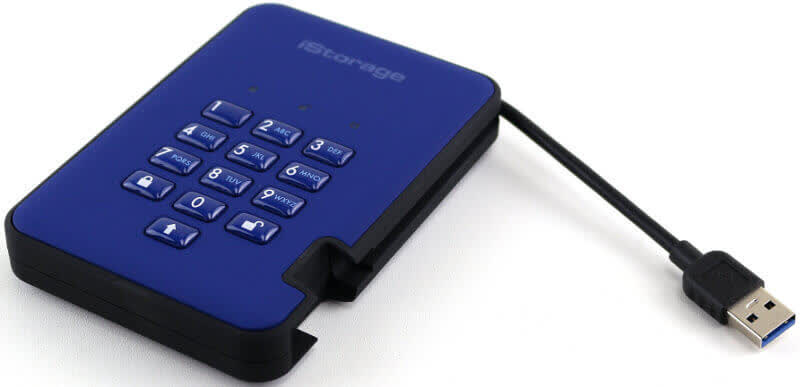 TechSpot Metascore
Based on
6

expert reviews
Excellent:

3

Good:

1

Average:

2

Bad:

0
Pros:
Hardware-Based Encryption With Separate Microprocessor, Tamper-Proof, Rugged Case (IP56 Rated), Admin and User PINs, Offers Complete Protection For Your Data
Build Quality (IP56 Certified Enclosure), PIN Authenticated, Security Measures (AESXTS 256bit Hardware Encryption/EDGE Chip/Interior Epoxy Layer), Good Performance (For A Portable SSD), Hardwired USB Cable, Available In 128GB/256GB/512GB/1TB/2TB/4TB Capac...
AES-XTS 256-bit hardware encryption, FIPS PUB 197 validated, IP56 dust and water resistant, Many additional security features built in, Available in many different colors and capacities
Cons:
A Bit Espensive, The USB Cable Is Short
Price (For Some), USB Cable Length
TechSpot is supported by its audience. When you buy through our links, we may earn a commission.
Learn more
.
Hardware-Based Encryption With Separate Microprocessor, Tamper-Proof, Rugged Case (IP56 Rated), Admin and User PINs, Offers Complete Protection For Your Data
Build Quality (IP56 Certified Enclosure), PIN Authenticated, Security Measures (AESXTS 256bit Hardware Encryption/EDGE Chip/Interior Epoxy Layer), Good Performance (For A Portable SSD), Hardwired USB Cable, Available In 128GB/256GB/512GB/1TB/2TB/4TB Capac
AES-XTS 256-bit hardware encryption, FIPS PUB 197 validated, IP56 dust and water resistant, Many additional security features built in, Available in many different colors and capacities
Excellent Build Quality (Aluminum Enclosure), PIN Authenticated Drive, Security Measures (AESXTS 256bit Hardware Encryption/EDGE Chip/Interior Epoxh Layer), Epoxy Coated Keypad (Wear Resistant), Top Of The Line Performance, Available In 1/2/3/4/5/6/8/10/1
Build Quality (IP56 Certified Enclosure), PIN Authenticated, Security Measures (AESXTS 256bit Hardware Encryption/EDGE Chip), Very Good Performance, Hardwired USB Cable, Available In 500GB/1TB/2TB/3TB/4TB/5TB, HDD & SSD Models, DriveSecurity & NERO BackIt
Hardware passcode protected to provide the best defense for your data, Easy to set your passcodes and lock timer, Built in USB that stows away on the side of the device when not in use, Compact design, Protective carrying case, Various storage capacities
Compact size, Serious security, Sturdy rubberized dust- and water-resistant body, Carrying case
A Bit Espensive, The USB Cable Is Short
Price (For Some), USB Cable Length
Faster drives available at the same price
Price (For Some)
Price (For Some), USB Cable Length
The $/GB for the SSD is quite a bit more expensive than the HDD given the difference in technology so if data recall speed isn't your top priority the HDD option will give you a better bang for the buck
Short USB cable, A bit pricey, Fast for an HDD, but certainly not as fast as an SSD