Affordable Mechanical Gaming Keyboard Roundup
Page 12 :

Wrap Up: Making Some Picks By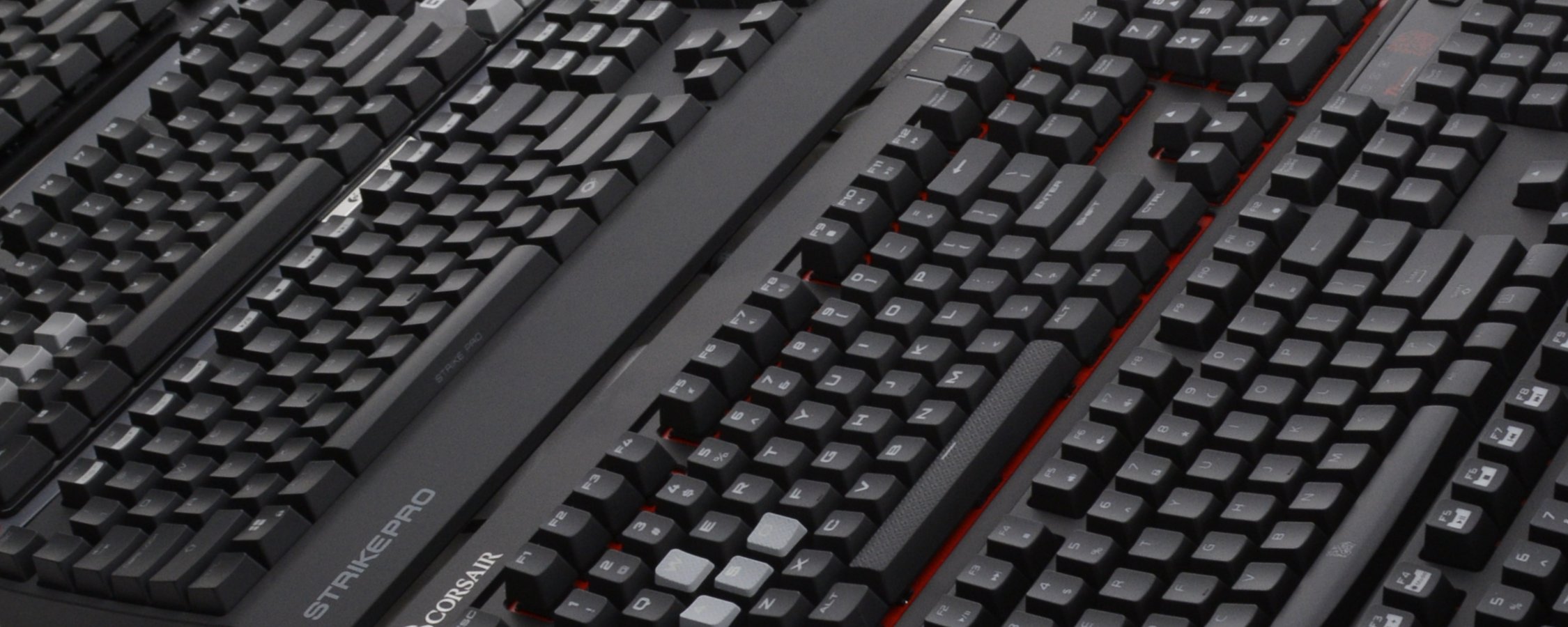 TechSpot is celebrating its 25th anniversary. TechSpot means tech analysis and advice
you can trust
.
When you buy through our links, we may earn a commission.
Learn more
.
Wrap Up: Making Some Picks
Spending many hours gaming and typing with each of these keyboards has narrowed them down to a few favorites and we recommend that you also try before you buy if at all possible. If it isn't, hopefully our comparison will point you toward the ideal solution.
Most of the keyboards were comfortable to use besides the widespread lack of wrist rests. As I've mentioned in this roundup, I require a wrist rest so the keyboards that didn't come with one were tested with 3M gel comfort wrist rest, an additional $25 cost. It might seem unfair to test these keyboards with a third-party component but without it they were simply too uncomfortable for me to use.
Of the bunch, my favorites to type on included the Logitech G710+, Roccat Ryos MK, G.Skill KM780 MX and Cougar 700K. That said, the Ozone Strike Pro was surprisingly nice, while the Corsair Strafe was perfect with the support of the 3M wrist rest.
For whatever reason, the Tt eSports Poseidon Z just didn't suit me. I found it quite difficult to use and while elevating my hands with the 3M wrist rest certainly helped, the feel of the keys was a bit off and I'm not sure if the Kailh switches are to blame for that. Perhaps with more time I could have gotten better with the Poseidon Z and it has to be said at just $75 it isn't a bad keyboard.
The Tt eSports Poseidon ZX seems like decent value at $80, a price that includes blue backlighting, though that's where the feature list begins and ends. The Tesoro Tizona would have been hands down a better alternative to the Poseidon ZX had it included backlighting. Still, the dual-USB hub makes it a bit special and we love that you have the option to buy the Tizona Numpad to integrate with the main keyboard or use as a standalone product.
Moving on, the Ozone Strike Pro was considerably easier and more comfortable to use than the Poseidon Z, even with its annoying half-size wrist rest. I really liked the feel of the keycaps and as expected the Cherry MX switches provided a great experience.
The Strike Pro offered what was perhaps the best feel of all the keyboards included in the roundup and its feature set isn't bad either despite lacking dedicated macro and multimedia keys. If Ozone used a wrist rest similar to the Roccat Ryos MK's then I'm confident it could have been my top pick.
Model
Price
Switches
Macro Keys
Dedicated
Macro Keys
Fully
Programmable
Backlighting
Dedicated
Media-keys
USB
Pass-through
Audio
Pass-through
Wrist rest
Key Rollover
Tesoro Tizona
$70
Kailh
Black, Red,
Brown, Blue
Yes
Yes
No
No
No
Yes (x2)
No
No
n-Key
Unlimited
Tesoro Excalibur
$70
Kailh
Blue, Brown,
Red
Yes
No
Yes
Yes
Blue
No
No
No
No
n-Key
Unlimited
Tt eSports Poseidon Z
$75
Kailh
Blue, Brown
No
No
Yes
Yes
Blue
No
No
No
No
8-key
Tt eSports Poseidon ZX
$80
Kailh
Blue, Brown
No
No
No
Yes
Blue
No
No
No
No
8-key
Aorus Thunder K3
$85
Cherry MX
Red
No
No
No
Yes
Blue
No
Volume Only
No
No
No
64-key
Tesoro Excalibur Spectrum
$90
Kailh
Blue, Brown,
Red
Yes
No
Yes
Yes
RGB
No
No
No
No
n-Key
Unlimited
CM Storm QuickFire TK
$90
Cherry MX
Green, Red,
Brown, Blue
No
No
No
Yes
Red, Blue
or Whie
No
No
No
No
n-Key
Unlimited
Logitech G710+
$90
Cherry MX
Brown
Yes
Yes
No
Yes
White
Yes
Yes
No
Yes
26-Key
Ozone Strike Pro
$100
Cherry MX
Red, Brown,
Blue, Black
Yes
No
No
Yes
White & Red
No
Yes
Yes
No
104-Key
Roccat Ryos MK
$100
Cherry MX
Black
Yes
Yes
Yes
No
No
No
No
Yes
30-Key
Corsair Strafe
$110
Cherry MX
Red, Brown
Yes
No
Yes
Yes
Red
No
Yes
No
No
104-Key
Tt eSports Poseidon Z RGB
$130
Kailh
Blue, Brown
No
No
Yes
Yes
RGB
No
No
No
No
8-key
G.Skill KM780 MX
$130
Cherry MX
Red, Brown
Yes
Yes
Yes
Yes
Red
Yes
Yes
Yes
Yes
n-Key
Unlimited
Cougar 700K
$140
Cherry MX
Black, Red,
Brown, Blue
Yes
Yes
Yes
Yes
Orange
Yes
Yes
Yes
Yes
n-Key
Unlimited
I really liked the look of the Roccat Ryos MK and it offers a number of great features, albeit no backlighting, and the fact that consumers need to pay nearly double to get blue backlighting is a real shame.
The biggest issue for me was the 60cN actuation force of the Cherry MX Black switches. It's too much for my typing style and it took quite some time before I could actually use the keyboard without making a typo every other word. Once you get the hang of attacking each key with a bit more force then the Ryos MK starts to flow. I really wish there was an option for Cherry MX Red switches (45 cN actuation force) along with some backlighting for $100 or less. That would make the Ryos MK a must-have in my opinion.
Meanwhile, the CM Storm QuickFire TK offers a range backlighting options but ultimately failed to impress. The QuickFire TK was actually nice to type with, especially when using the 3M wrist rest. The keys felt nice and the backlighting looked great – it really made the keys easy to read whenever looking down. Even the $90 price tag isn't bad for this little keyboard. The issue for me is the complete lack of features. Apart from the red backlighting there isn't much to see here.
For the money, it's difficult to fault CM, as we prefer the QuickFire TK to the Poseidon Z and even the Aorus Thunder K3. I guess the real issue is that for a bit more cash you can get considerably more keyboard with the Logitech G710+.
The G710+ delivers across the board, including dedicated macro keys, dedicated multimedia keys, attractive white backlighting, USB passthrough and a wrist rest, even if it's a flimsy plastic one. The G710+ is extremely comfortable to use and it's a keyboard that I was able to plug in and start typing with without any typo issues.
Priced at just $90 this keyboard is a serious bargain in our opinion and really nullifies the cheaper boards down to the $75 Tt eSports Poseidon Z. The only possible issue relates to the keycaps which allegedly break quite easily, though we are yet to experience this with our sample which is almost a year old now.
Beyond $100 we have the Cougar 700K and G.Skill KM780 MX. The 700K is a remarkable keyboard, but at $140 it is considerably more expensive than most. The 600K is only slightly cheaper at $130 which is why we much prefer the 700K.
Making both Cougar keyboards somewhat irrelevant is the cheaper and better designed G.Skill KM780 MX. On paper both the KM780 MX and 700K offer the same features, but the G.Skill board is better executed. Features such as the volume control wheel and LED volume level indicator make the KM780 MX feel like a more premium product and yet it is cheaper.
Currently the KM780 MX is on sale at Newegg for just $100, a tremendously good buy. Still, even at its normal price of $130 the KM780 MX is seriously hard to beat.
If you can afford it, the G.Skill KM780 MX is an easy pick in our opinion while those after a more affordable mechanical keyboard will be best looked after by the sub-$100 Logitech G710+ or the CM Storm QuickFire TK depending on what features you can and can't live without.