Lenovo IdeaCentre Y910 Gaming All-In-One Review
Page 3 :

Audio, Video, and Other Features By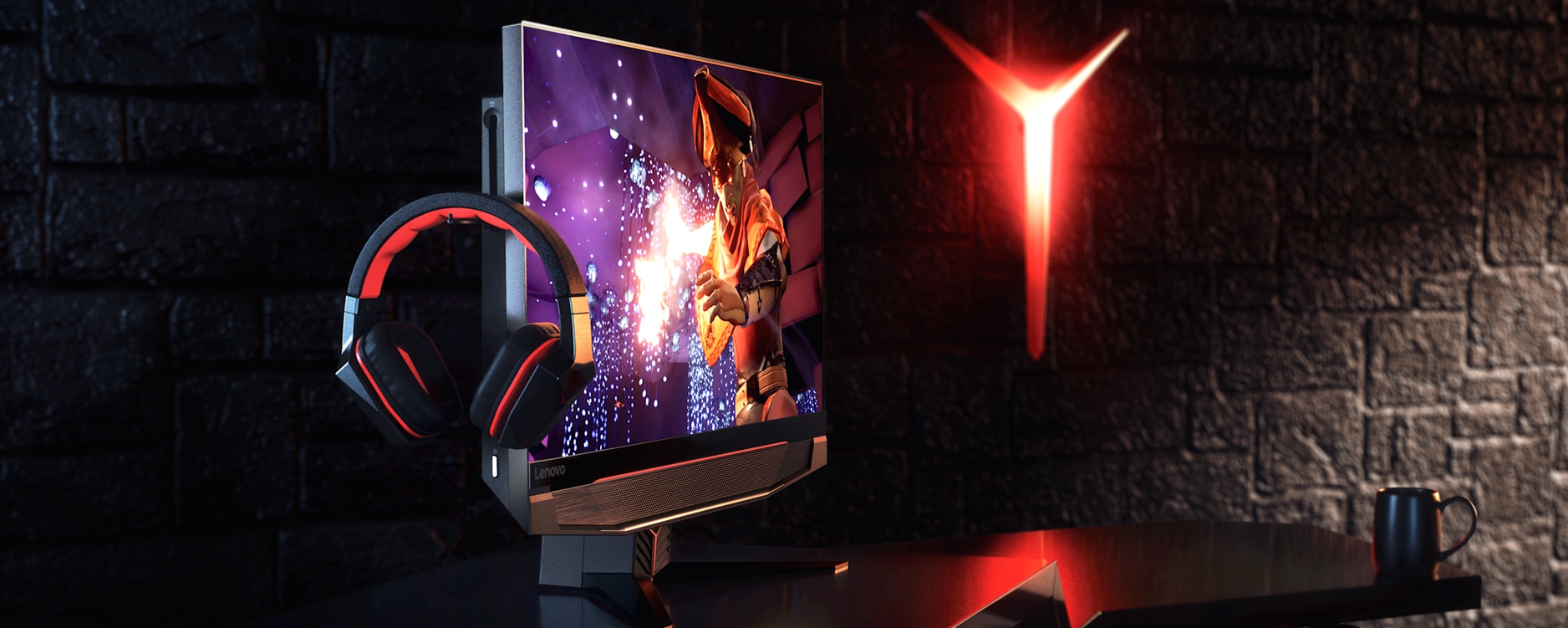 TechSpot is celebrating its 25th anniversary. TechSpot means tech analysis and advice
you can trust
.
When you buy through our links, we may earn a commission.
Learn more
.
Audio, Video, and Other Features
Aside from the beefy components inside the Y910 also has a few other noteworthy features. On the lefthand side is a pop-out headphone holder – curiously, it's on the other side from the actual headphone jack. At the top is an Intel RealSense 3D webcam. It works just like a regular webcam for Skype, but the 3D features can integrate with Windows Hello to unlock the PC with just your face.
The internal Harman Kardon speakers weren't really anything special. I wouldn't play any sort of game with them, but they're suitable for listening to music or watching a movie. The stereo imaging is pretty bad but that's just a product of its placement directly in front of the user. The EQ is pretty dense and mushy in the mid range as well.
The display is certainly worthy of the rest of the internal hardware. It's nothing to write home about in terms of colors or viewing angles, but it gets the job done. With a resolution of 2650x1440 at 144Hz, it's pretty darn good for gaming. The lack of depth in the black levels as well as average color vibrancy and clarity make it not really suitable for any content creation though.
Lenovo has included their Nerve Center hardware management software. This is really just a re-branded Task Manager but it's a good place to see how all of the hardware is doing at any given time. The Y910 also comes pre-installed with some additional software, but nothing too major.
Managing the Doubleshot Pro networking is Killer Network software. If you have both a Wi-Fi and Ethernet connection, the software will prioritize gaming traffic to your wired connection and all other traffic to the Wi-Fi. I tested sustained wireless speeds of about 60Mbps to a router in the other room. The only noteworthy piece of software is the McAfee trial. It's great while you're getting the PC set up with updates and your software, but it's just going to keep bugging you to unlock it down the road.
The Lenovo Y910 Gaming AIO is an interesting product. With up to a GTX 1080, 16GB of RAM, and a PCIe SSD, it's an extremely high powered gaming rig. All of those components come prebuilt into the back of a decent 27" QHD 144Hz monitor as well. If you were to build a traditional desktop with comparable specs, you'd be looking at around $1900-2000 already. When you take this into account, the $2300 price tag of the Y910 doesn't look so out of reach.
The portability factor is huge for mobile gamers that regularly attend LAN events or those who want the best performance with a strict form factor. It takes up just slightly more desk space than any 27" monitor would normally take up too. The cooling and noise issues are to be expected from an all-in-one, but shouldn't be huge factors most of the time. If you want a top-of-the line GTX 1080 equipped gaming computer, you can indeed get one for cheaper than the Y910.
Shopping shortcuts:
That being said, if you don't mind paying a little extra for the all-in-one form factor and a design that just works, the Y910 could be a great buy. Overall gaming performance is great and, once you outgrow the built in hardware, you'll still have a great display you can use a few more years.
Pros: Excellent gaming performance. Nice, subtle design. User upgradable components, including the GPU.
Cons: Included keyboard and mouse aren't ideal for gaming. No G-Sync support. At least one USB Type C port would have been nice for future proofing.