Xiaomi Mi 6 Review
Page 3 :

Hardware Overview and System Performance By
TechSpot is celebrating its 25th anniversary. TechSpot means tech analysis and advice
you can trust
.
When you buy through our links, we may earn a commission.
Learn more
.
Hardware Overview and System Performance
The Xiaomi Mi 6 is the first device I've received to review that's powered by a Qualcomm Snapdragon 835 SoC, the current-generation flagship in Qualcomm's line-up. So let's talk a little about the new SoC and what it brings to smartphones.
In the CPU department, we're looking at an upgrade from a 2+2 quad-core design in the Snapdragon 820, to a 4+4 octa-core design using new Kryo 280 CPU cores. The new Kryo 280 is not a derivative of the old Kryo core from the S820, instead being derived from the ARM Cortex-A73 which should bring improved IPC relative to last year's core design. As for clock speeds, we're seeing 2.45 GHz on the high-performance cluster, and 1.9 GHz on the efficient cluster.
The GPU has been upgraded from an Adreno 530 at 653 MHz (in the S821) to an Adreno 540 at 710 MHz. Most of the performance improvement over last year's SoC comes from the increased clock speed, however Qualcomm has tweaked some aspects to the ALU which improves performance further. The company claims a 25 percent average gain over the S820 in GPU performance.
We're also seeing a Hexagon 682 DSP, support for 10-bit 4K HEVC encoding and decoding at 60 FPS, support for UFS 2.1 storage, support for Qualcomm Quick Charge 4.0, and an LPDDR4X memory controller providing 29.8 GB/s of bandwidth. The manufacturing process used has also shrunk, from 14nm to Samsung's 10nm LPE.
Connectivity-wise the Snapdragon 835 supports a wide range of connectivity, and most of it has been implemented in the Xiaomi Mi 6. We're seeing Category 16 LTE downstream and Category 13 upstream for 1000/150 Mbit/s throughput respectively, thanks to the integrated X16 LTE modem. There's also Wi-Fi 802.11a/b/g/n/ac support with 2x2 MIMO and Bluetooth 5.0, plus NFC in the Mi 6.
The Mi 6 includes a ludicrous 6 GB of RAM, which is mostly unnecessary for a smartphone. Extra RAM means more apps can be stored in memory for quick re-opening, though for the most part I didn't notice a significant performance difference in app loading relative to devices with 4 GB of RAM in day to day tasks. There's also either 64 or 128 GB of internal NAND depending on how much you want to pay.
In general, the Xiaomi Mi 6 is an incredibly fast phone to use, and that's partly due to the very short animations Xiaomi has implemented. App loading is still extremely quick though, and the S835 helps make this phone feel snappy throughout the OS and apps.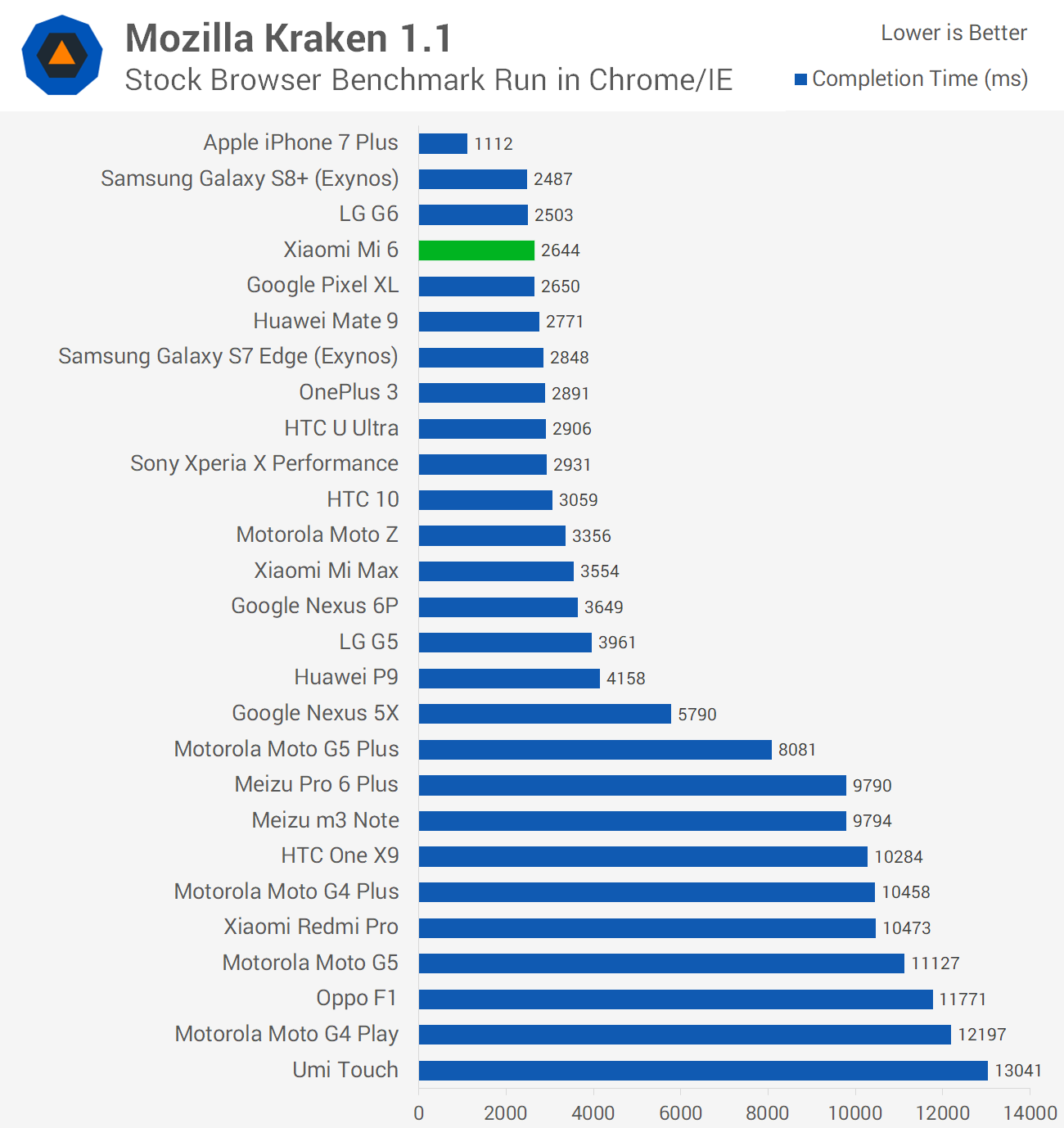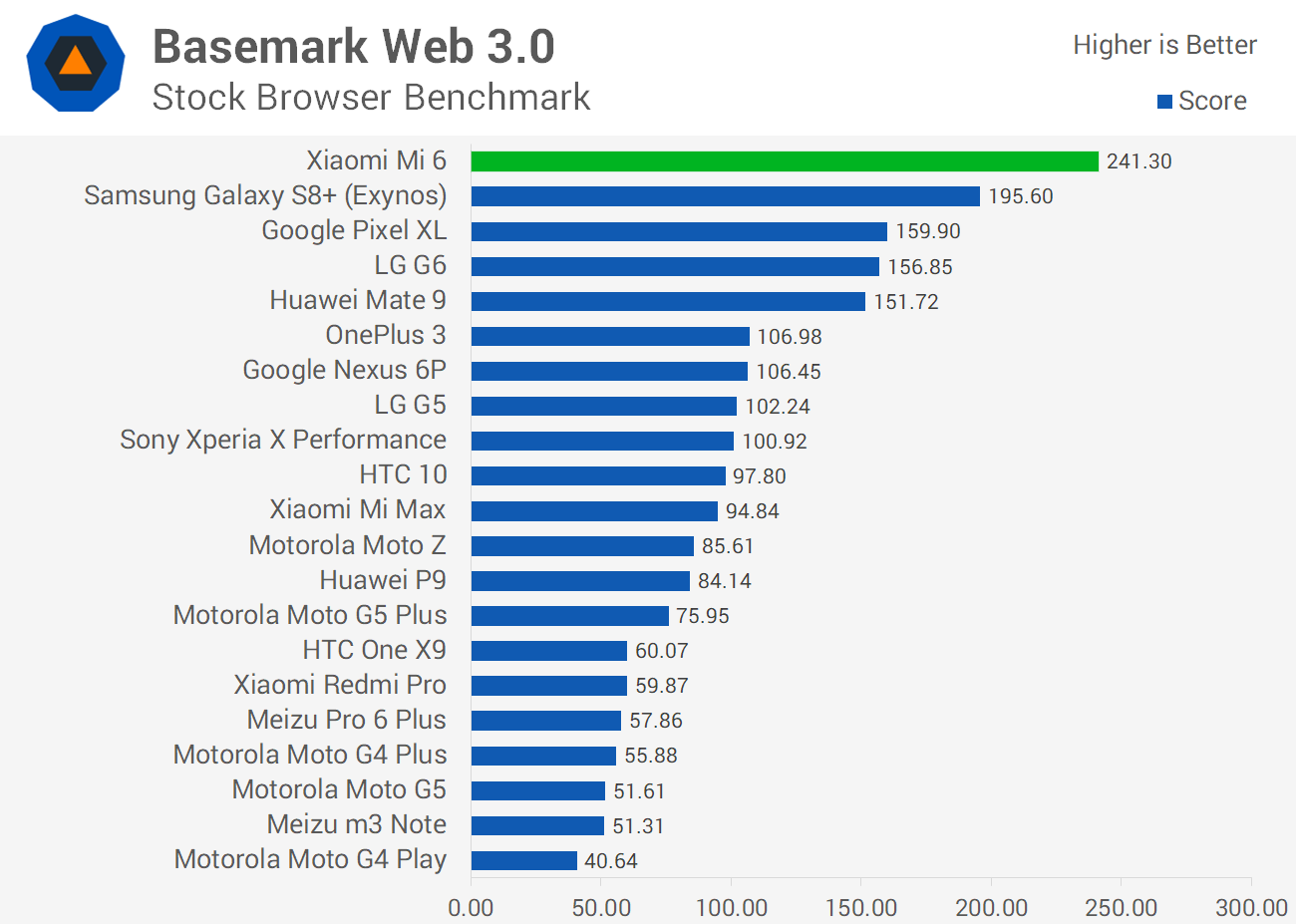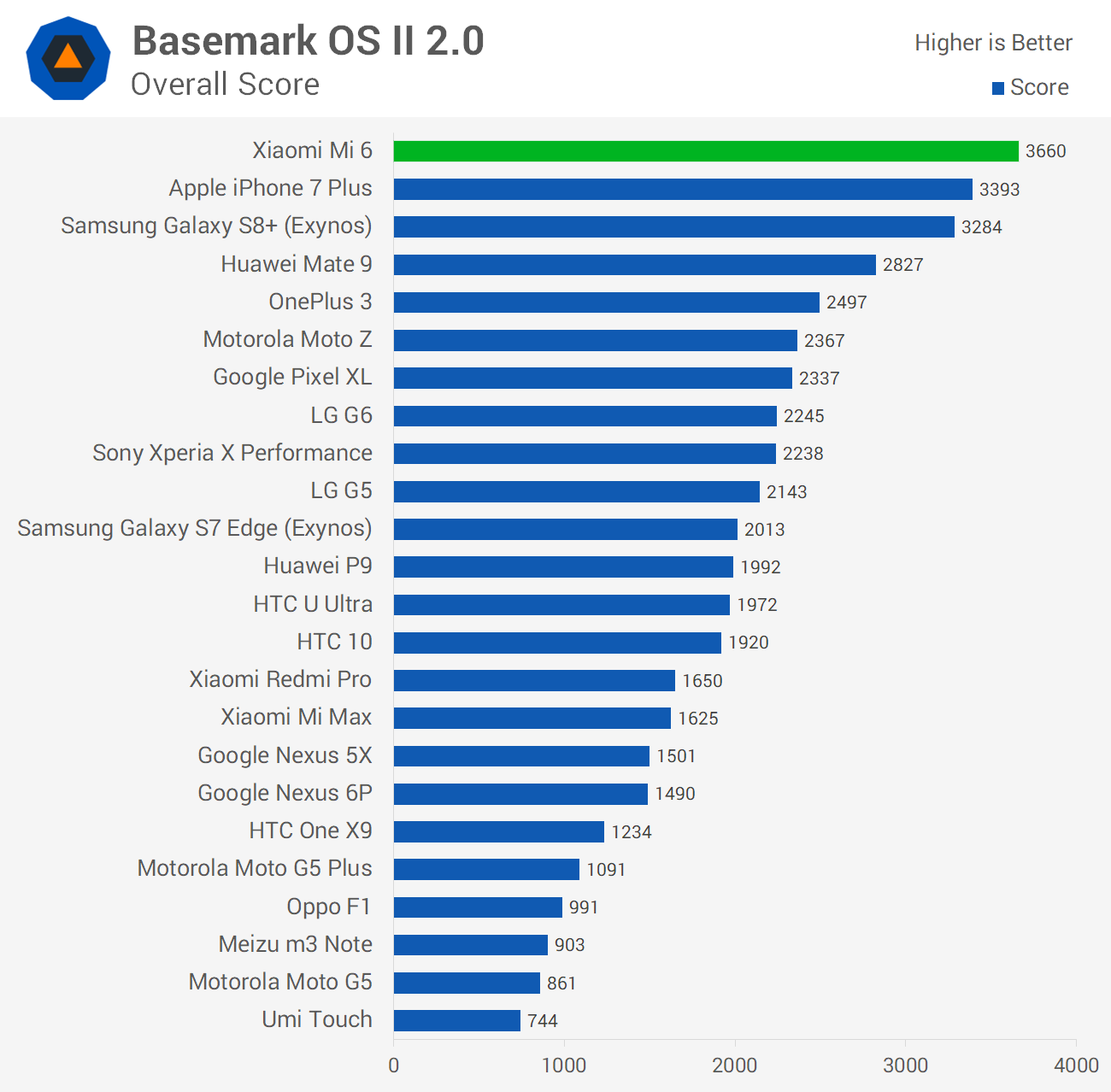 Looking at benchmark data, what we're seeing is a handy 31 percent lead in CPU performance on average over the Snapdragon 821 in the LG G6. When comparing the S835 to the lower-clocked Snapdragon 820, that lead extends to a commendable 47 percent. Of course, the S835 does include an extra four cores, but most Android applications only use a few threads and this is generally reflected across our benchmark suite.
Compared to other modern SoC platforms, the Snapdragon 835 comfortably beats the Exynos 8895 in the Samsung Galaxy S8 (Exynos variants) by 24 percent on average in CPU tests. The Exynos 8895 uses Samsung's own Exynos M2 cores, and four of them clocked at 2.3 GHz in the high-performance cluster. The S835 is clocked just seven percent higher, so these gains come mostly from architectural differences; Qualcomm's CPU designs tend to be pretty solid.
Compared to the Kirin 960, which uses standard Cortex-A73 cores at up to 2.36 GHz, the S835 CPU is 13 percent faster on average. The Kryo 280 cores are clocked around four percent higher, so again we're seeing Qualcomm's design efficiencies here.