Origin Neuron Gaming Desktop Review
Pristine Build Quality
By
TechSpot is celebrating its 25th anniversary. TechSpot means tech analysis and advice
you can trust
.
When you buy through our links, we may earn a commission.
Learn more
.
From first glance it's clear that the Origin Neuron means business, and when I say business I mean serious gaming business. Flashy RGB lighting, top of the line components, and a clean aesthetic make it one of the best looking builds I've ever laid my eyes on. This isn't your standard pre-built desktop with cheaper or proprietary generic hardware that you can't upgrade down the line. With the exception of the standard 360mm water cooling, the Neuron uses completely off the shelf gear inside.
Using Origin's online configuration tool, nearly every component on the Neuron can be customized. You can build an entry-level system, a powerful gaming rig, an all-out workstation beast, and anything in between. The specs of the beastly unit we reviewed are as follows:
Case: Phanteks Enthoo Evolv
Processor: Intel Core i7 7700K Quad-Core 4.2GHz (4.5GHz TurboBoost)
Motherboard: Asus Strix Z270G
Memory: 32GB G.Skill TridentZ RGB 3000MHz (4 X 8GB)
System Cooling: Origin Frostbyte 360 Sealed Liquid Cooling System for 1151 Socket
Graphics Cards: Dual 11GB Nvidia GeForce GTX 1080 Ti Founders Edition
Power Supply: 850 Watt EVGA SuperNOVA G3
Power Supply Sleeved Cable Color: White Individually Sleeved Cables EVGA
Hard Drive One (OS): Samsung 960 Evo 250GB M.2 SSD
Hard Drive Two: 2TB Seagate 2.5" FireCuda Flash-Accelerated Hard Drive
Hard Drive Three: 2TB Seagate 2.5" FireCuda Flash-Accelerated Hard Drive
Operating System: Windows 10 Home
Price as configured: $3799
The visual appeal of the rig is just as impressive as the internal components. The Phanteks Evolv case is a nice choice for this mATX build. I like the large glass side panels which show off Origin's cable management very well. Inside the case, you'll find some expanded foam which does a good job of protecting the Neuron during shipping. With dual GTX 1080 Ti's inside, there's a lot of weight that you don't want moving around. Glad to see this given the price of the system.
As you can tell, this is a serious gaming rig. There really much room for improvement unless you decide to go for a Core i9 and even then you wouldn't be getting more gaming performance out of more cores. The system can come factory overclocked as well but your results will depend on binning. The CPU in our unit runs at 5.2GHz and the GPU has a 120MHz boost as well.
If you ever need to upgrade a component down the line, it's as easy as if you built the rig yourself. Everything inside is name brand and easily accessible. Looking at component selection, there's nothing I would really change here. The system should run great for many years down the road. The internal components are easily accessible thanks to the large, hinged side panels. They open outward almost like a bird flapping its wings. It's a really cool design on the case but I just wish they were secured a little more. The corners do have rubber covers but they easily fall off and don't do a good job of holding the doors close. I think a system of magnets could work well here.
Inside you'll find plenty of Asus Aura Sync RGB goodness to suite your taste. The rest of the built is very clean. With a PSU basement and limited front panel I/O, all of the non-essential cables are hidden from view. This highlights the all white PSU cabling. While it looks great, I'm not sure about the zip ties on the cables. If you are going to go to the trouble of individually sleeving your cables, why ruin the look by tying them all together? However, if this is the only small thing I can find to complain about, you can tell how much I like this build.
As with all SLI builds, especially those including Founders or other reference edition cards, the Neuron can get pretty toasty and loud inside. The top GPU was consistently 20 degrees hotter than the bottom, but this is to be expected. Rather than a 360mm radiator in the front, maybe Origin could have incorporated smaller radiators for the graphics cards since that's the only area where the Neuron is lacking. Overall though, temperatures are fine for the build. I was surprised though that there are no fans on the top of the case. The Neuron has 3 intake fans but only 1 exhaust fan so I think an additional fan or two at the top could help with convection. They could even make them RGB.
Around the back we find more proper cable management. Everything is zip tied into position and tucked into the corners as much as possible. Here is where the two 2.5" 2TB drives are positioned. They can easily be swapped out for SSDs in the future. The back panel also features a small cutout directly over the drives. I think it works best for showing off your SSDs rather than the backs of standard HDDs, but that's not really an issue.
In the bottom left corner we find the two GTX 1080 Ti's in SLI as well as the PSU basement. I really like the new high bandwidth SLI bridges as opposed to the old strips. There is also a small cutout in the basement shroud to show off the power supply and its specs.
The front panel is easily removable, revealing a dust filter and the triple radiator in the front. The fans are protected with a very large dust filter that covers the entire front panel. It can easily be pulled off for cleaning. On top of that are two USB 3.0 ports as well as headphone and microphone ports. If you aren't using any of the front panel connectors, there is a flap on the front of the case that can fold down to cover them up.
Around the rear we find all of the I/O for the Asus Strix Z270G. This includes connectors for the Wi-Fi antennas, a USB 3.1 Type-C port, a USB 3.1 Type-A port, an HDMI output, DisplayPort, two USB 2.0 ports, 4 USB 3.0 ports, a PS/2 port, a gigabit ethernet port, and finally the standard 6-port audio configuration. Below that are the video outputs from the two stock GTX 1080 Ti's. Next to that is the 120mm exhaust fan. It can be upgraded to a 140mm fan if you want and can also be positioned up and down depending on what CPU cooling configuration you have. The last thing of note on the back is the eco mode on the power supply. This keeps the fan off for low to medium loads.
I've talked a lot about customization with the Neuron, but you really won't need to do any of it for a long time. Once you get the PC, all you need is a keyboard, mouse, and monitor and you're ready to game.
Benchmarks
As expected, the Origin Neuron puts up massive performance numbers. When you're paying nearly $4000 for a PC though, anything less would be a disappointment. The Neuron is the fastest pre-built PC we have ever tested, and among the most powerful gaming systems you can currently get. It scores higher than 99% of all results in 3DMark putting it in the top 1% of gaming systems worldwide (Firestrike: 30267 overall score, 54763 for graphics – Time Spy: 15096 overall, 20097 for graphics).
The rest of the benchmarks are from our standard suite of tests. Usually we test systems these powerful when we are building them ourselves for our PC buying guide or when testing the latest GPU/CPU releases, as such you will have the Neuron dominating against previous pre-built systems we have reviewed.
The Chronos is a mini ITX SFF system from Origin that we reviewed this year that features a single GTX 1080 Ti. The MSI Trident 3 Arctic is a Small Form Factor PC with a GTX 1070. Finally, the Lenovo Y910 is an All-In-One gaming PC with a GTX 1080. It's not exactly a fair fight among the other systems, but it should give you a good sense of the power packed inside the Neuron.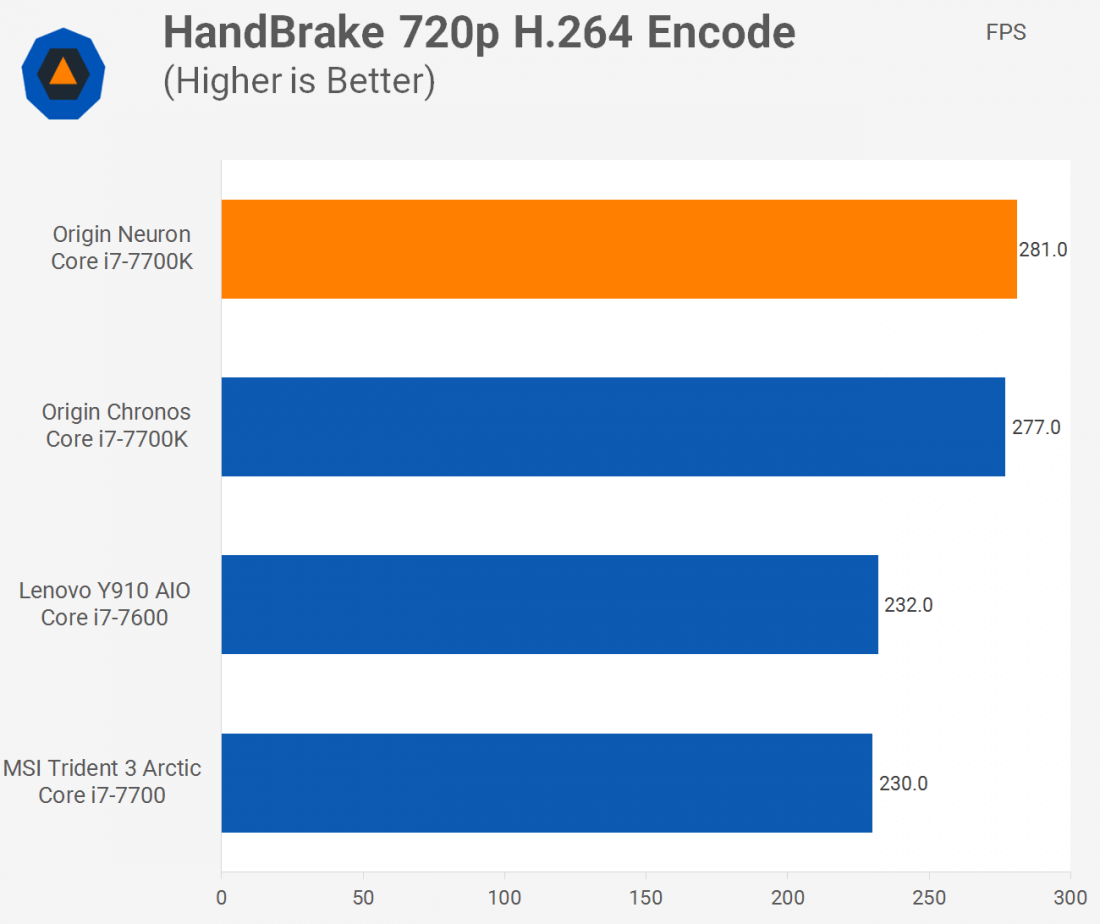 The only test where the Neuron didn't come out completely on top was the x264 Encoding Benchmark. This is a heavily CPU intensive test and doesn't really benefit from the extra graphics horsepower. It puts up similar numbers to the Chronos given they both share an overclocked Core i7-7700K.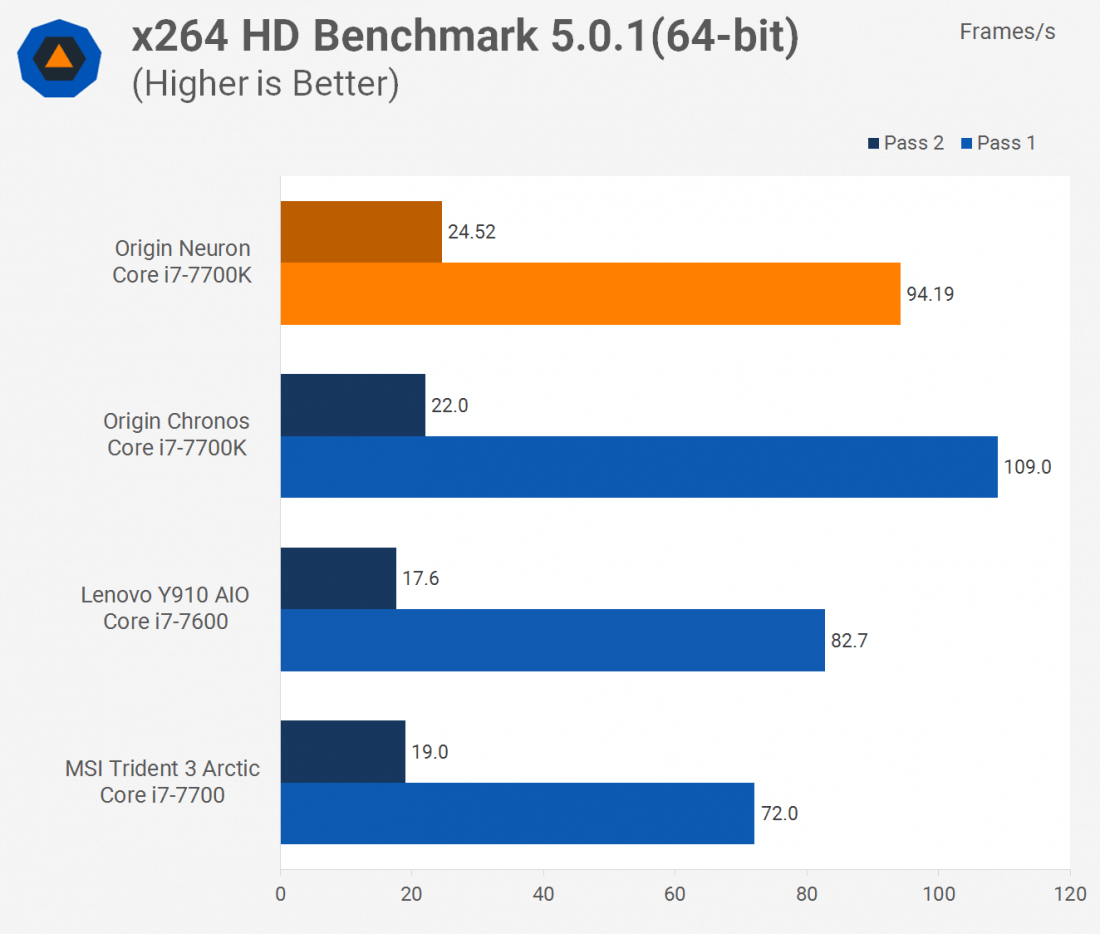 Wrap Up
For most gamers, the Origin Neuron represents the pinnacle of a high performance system. Dual graphics cards, an overclocked CPU, pristine cable management and lighting, and easy upgradeability. The configuration as reviewed today retails for $3799 on Origin's website.
If you don't need this level of performance, you can always select different components for a more affordable build, losing a single graphics card for example nets you a $800 saving. If you are on the other end and somehow need more performance, the Neuron can accommodate up to a i7-6950X, 64GB of RAM, and dual Titan Xp GPUs.
If you were to build the same system yourself, as of writing the build comes to about $3200 on PCpartpicker. Pricing will fluctuate of course, especially with GPU prices currently, but the 20% markup is pretty standard. For those extra $600 you get RGB lighting installed and setup, the individually sleeved and managed cables, a guaranteed overclock, and the Origin support and warranty. For those already looking in this price bracket, that likely may not matter.
The included Windows installation doesn't have much if any bloatware. The only additional software really installed is EVGA Precision X and some Asus utilities for the motherboard and caching.
Shopping shortcuts:
If you have the money to spend on a computer of this class, the Origin Neuron is a great choice. It is visually stunning and has the internal specs to back it up. Since all the components inside are standard off-the-shelf components, you can upgrade it down the line as technology advances.
Pros: Stunning appearance. Great build quality and cable management. Ultra high performance components.
Cons: Big markup over building it yourself. No top cooling fans.