Asrock DeskMini Z370 GTX 1060 Review
By
TechSpot is celebrating its 25th anniversary. TechSpot means tech analysis and advice
you can trust
.
When you buy through our links, we may earn a commission.
Learn more
.
Today we're checking out Asrock's latest DeskMini PC, a name that may ring a bell if you've read our previous coverage on the original entry to this compact computer. The latest version that we have on hand today looks exactly the same as the last DeskMini and has the same name as the previous two DeskMinis.
The first DeskMini – the DeskMini 110 – was released in 2016 and sported a tiny 1.92L case that housed an H110-based Micro-STX motherboard with support for 6th and then 7th generation Core processors. However, the DeskMini 110 was so small it couldn't actually handle a discrete graphics card, so it was basically an office PC.
That situation changed last year as the series was updated with the DeskMini GTX/RX which features support for an MXM discrete mobile GPU that can be installed thanks to a beefier B250 or Z270-based Micro-STX motherboard, which increased the case capacity to 2.7L but still made for a very compact unit.
Now we have another new DeskMini GTX/RX, this time based on Intel's 8th generation Core series. To get around this confusion, retailers have been putting the chipset in the product title to make it easier for shoppers to work out which system they're actually buying.
The latest DeskMini Z370 comes with either an GTX 1060 or GTX 1080 in the MXM form-factor pre-installed. Alternatively, you can buy Asrock's system without a discrete graphics card but be aware that securing a new MXM GPUs after the fact will be nearly impossible as they are not sold at retail as you can generally only get them from salvaged laptops.
Currently there doesn't appear to be any DeskMini Z370 models on sale but Asrock says the MSRP for the GTX 1060 model is $850. The previous generation B250 DeskMinis are on sale and the GTX 1060 version costs a cool $800 with the GTX 1080 model priced at $1,500, so while the new Z370 models aren't that much more expensive, $850 is getting toward the pricier side of things for this little PC and we're keen to see what more it offers over the previous versions.
Included in the package is the tiny 2.7L case and a 220w external power brick that is quite a large volume itself at 0.7L, or 26% of the DeskMini's total size. Along with the case and power supply you also get a custom Z370M-STX MXM motherboard that's 2" longer than your typical Micro-STX motherboard and this extra real-estate has been used to squeeze in an MXM slot supporting up to Type B+ cards at 113mm long. Because we have the GTX 1060 DeskMini, ours naturally came with a GTX 1060 MXM graphics card pre-installed.
To get up and running you'll need to bring your own Coffee Lake CPU as well as some DDR4 SO-DIMM memory and storage. Assuming you went with a Core i5-8400 ($180), 16GB of DDR4-2400 ($170) and a 512GB Samsung 960 Pro ($300) for example then you'd be pitching in an extra $650 on top of the $850 for the DeskMini, bringing the total bill for the GTX 1060 model to at least $1,450.
That's probably not too bad when you can expect to pay around $400 alone for a GTX 1060, but we'll discuss pricing more at the end of the review. For now let's take a look around the unit before checking out the hardware inside.
Externally, the all-black case features a brushed aluminium front with clean lines. The circular power button blends in nicely as does the front I/O which includes two 3.5mm audio jacks, a Type-A and Type-C USB 3.1 Gen1 port.
Around back you get four USB 3.1 Type-A ports, an HDMI output and a Gigabit LAN connection, while a DisplayPort, mini-Displayport and HDMI output are connected to the GTX 1060. Then depending on how you orient the case the are another two USB ports on the side and although these are older 2.0 ports they are still handy for things like the keyboard and mouse.
Removing the top panel grants access to the CPU socket which sits next to the pre-installed MXM graphics card. The motherboard tray slides out of the case and once you remove the front I/O cables you can completely remove the tray and install your storage devices. Here you will find the CMOS battery along with the Z370 chipset which is cooled courtesy of a small silver heatsink.
Note that the three M.2 Ultra ports are all PCIe 3.0 x4 capable and can support 2260 or 2280 cards, while there's also a M.2 Wi-Fi port and you can squeeze in a pair of 2.5" SATA 6Gb/s drives as well if you can believe that.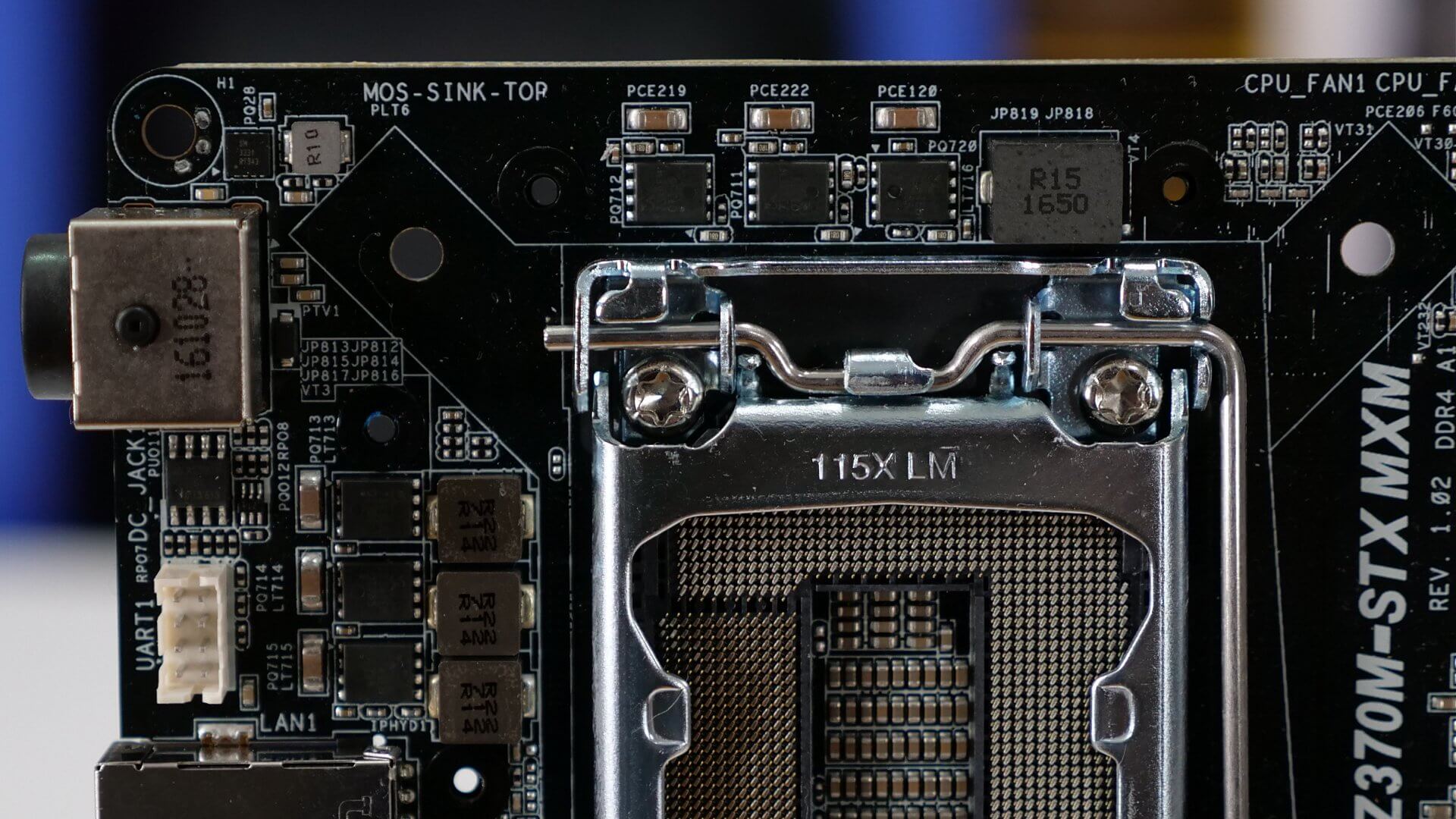 On the front side we get a Realtek ALC233 codec and an Intel i219V Gigabit Ethernet controller. Delivering power to the CPU is a 5+1 phase VRM which is surprisingly capable though Asrock has limited support for processors with a 65w TDP rating. The VRM heatsinks are tiny but do a surprisingly good job as I found in my testing, even when working well above spec.
For testing we've installed a Core i7-8700 processor, a pair of Team-Group's DDR4-2400 8GB modules and for storage two ADATA XPG GAMMIX S10 NVMe SSDs, sadly I only had the 128GB models on hand which I don't recommend you purchase as the 256GB and larger models are significantly better value.
Installing all the hardware was relatively quick and easy. By default you'll be forced to use the Intel box cooler which is a shame but with limited headroom there really aren't a huge amount of options here. The Cryorig C7 might be the way to go here for $30.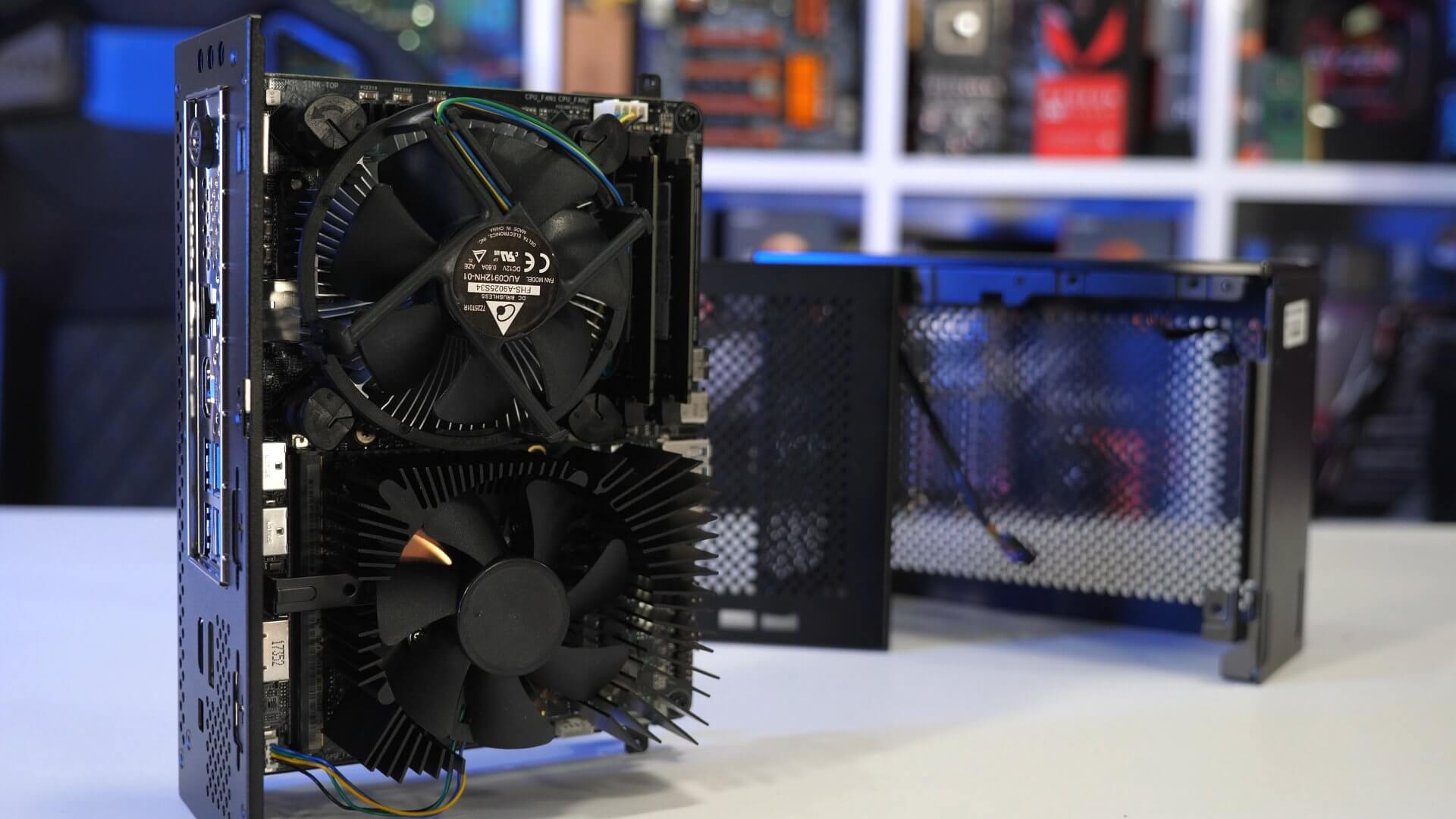 I did most of my testing with the Core i7-8700 but I also tried the Core i5-8400 and honestly this would be a better pairing for most users. It runs cooler and therefore quieter with the box offering and you can also get the most out of the CPU.
Although it still runs within the Intel spec, the 8700 does enjoy a decent performance bump with a better cooler. At first I thought it was a power delivery issue but it turns out even a Core i7-8700K runs perfectly fine with an aftermarket cooler installed, the cooler doesn't fit with the top panel installed but I just wanted to see if we were thermal or power limited here.
By default the DeskMini is configured with a maximum sustained turbo boost power draw of just 65 watts with a 1 second turbo boost short power peak of 81 watts. Asrock hasn't done this to save their teeny tiny VRM but instead limit thermal output to stop the Intel box cooler sounding like a jet engine.
This limitation means that 8700 can only produce a Cinebench R15 score of 1125pts, which is around 20% lower than what you'd expect to see in a desktop system with a $10 aftermarket cooler. If you don't care about operating volume then you can increase these limits, although it only boosted the Cinebench R15 score by around 5% while the operating volume increased significantly as the fan speed picked up from 2100RPM under load to 3200RPM.
After an hour long stress test the 8700 held a clock frequency of 3.5GHz whereas the 8400 with the same box cooler could maintain a 3.8GHz operating frequency. So again, we recommend using the 8400 over the 8700 in the DeskMini.
When it came to gaming, I benchmarked half a dozen titles, but before we get to the graphs here's a quick look at some gameplay with on-screen statistics.
At stock the DeskMini's GTX 1060 hovered between 1550 and 1600MHz and peaked at 72 degrees. The CPU wasn't heavily utilized in this test so it was able to maintain a 4.3GHz operating frequency even though the temps were often very high, getting up to 82 degrees at times.
Overclocked with the CPU limits removed as well as the GPU core and memory overclocked, the GPU cores often sat at around 1.7GHz while the memory was now good for 8.8Gbps up from 8Gbps. The CPU again hit 82 degrees at times but mostly sat around 70 degrees, as did the GPU. As you might expect, the DeskMini was quite loud when overclocked and probably not worth the extra 5% bump in performance seen in this stress test.
Benchmarks
First up we have Battlefield 1 and here the DeskMini had no trouble delivering highly playable performance at 1080p using the ultra quality preset. As expected, it was a bit slower than a desktop PC sporting the Founders Edition model...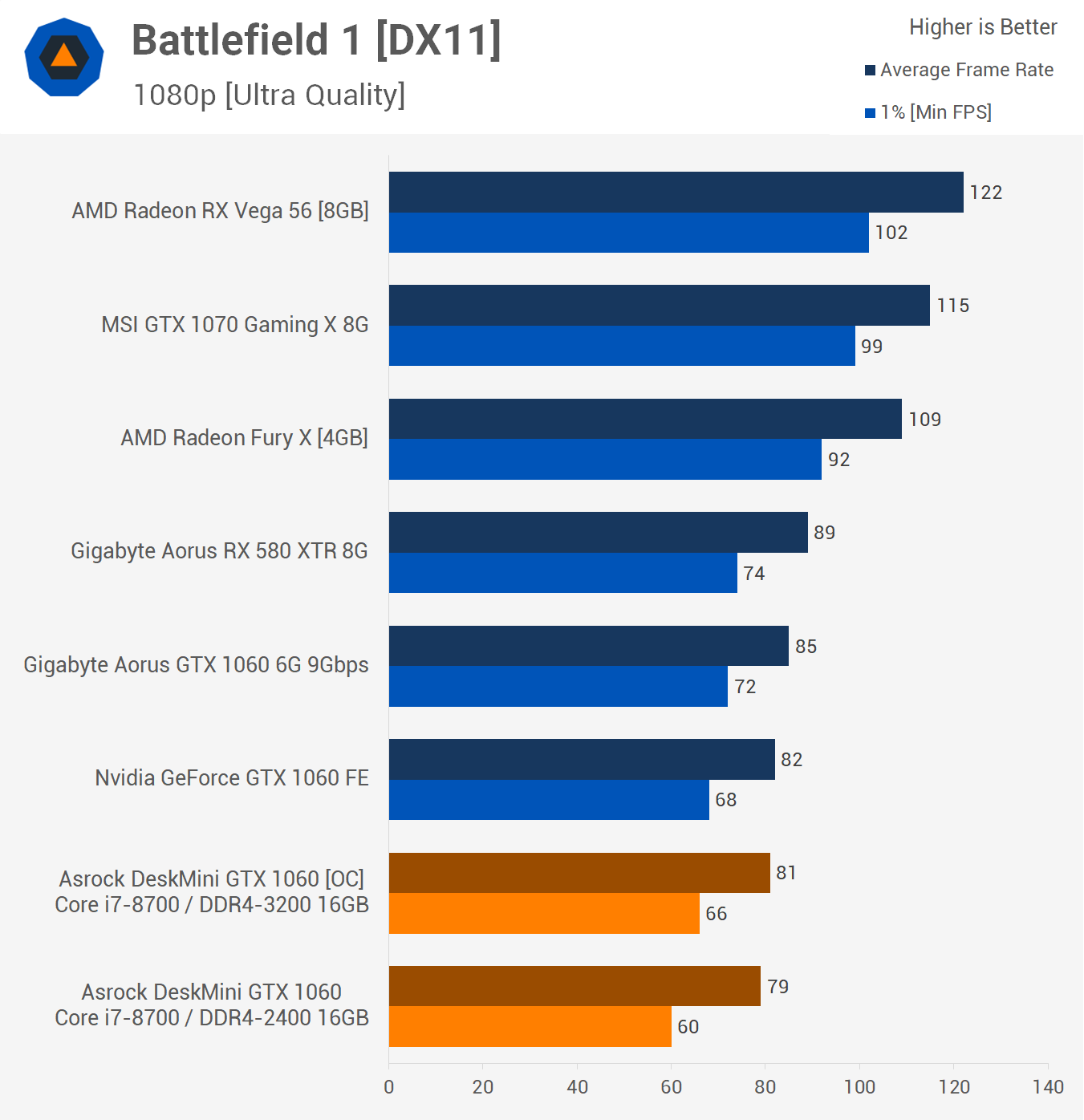 The 1% low figure was 12% lower while the average frame rate was just 4% lower and the reason for this is the lower clocked DDR4-2400 memory while the desktop system uses the Core i7-8700K clocked at 5GHz with DDR4-3200 memory.
So keeping that in mind, the DeskMini does very well and with a little tweaking is able to roughly match the desktop rig. Of course, a custom board partner model such as the Gigabyte Aorus GTX 1060 6G 9Gbps is a bit faster again but overall the DeskMini holds up.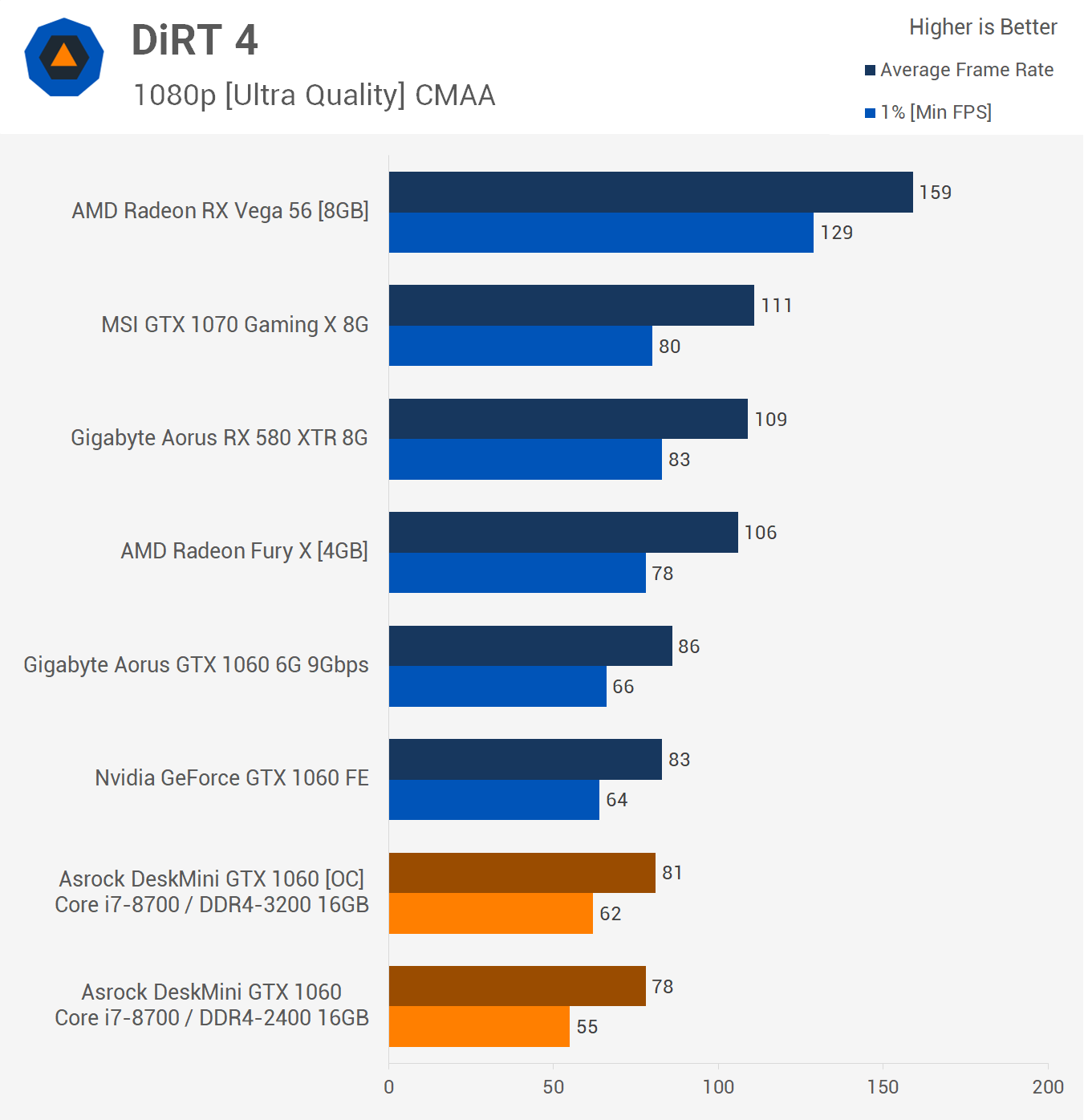 The system's performance in Dirt 4 is very similar. Again, pairing the DeskMini with faster DDR4 memory really helped boost the 1% low figure and with a little extra tinkering we were getting full blown desktop gaming PC performance.
Here we see when testing with Ghost Recon Wildlands that the stock DeskMini does struggle quite a bit at 12% slower than the GTX 1060 FE card in our test system. That said, faster memory and a little tweaking to the settings reduced that margin to just 5%.
Mass Effect Andromeda saw the DeskMini trail by a small margin even when overclocked or rather tweaked with faster memory and a more aggressive power profile.
It was a similar story when testing with Prey, that said with well over 60fps at all times using the highest quality settings at 1080p it was hard to complain with the results.
Out of the box, the DeskMini looked quite weak in Titanfall 2 and I know memory speed really helps in this title so that DDR4-2400 memory would have been limiting performance here. As a result, we saw a rather large 12% uplift for the 1% low result when moving from 2400 or 3200 memory.
A big advantage of the Asrock DeskMini is power consumption. The system's low output enables very low consumption when at idle, just 30 watts in fact. Power consumption increased under load and wasn't that far from the power brick's 220w maximum output. That said, it did use 20% less power than our test system equipped with the 1060 Founders Edition model.
Wrap Up
We've taken a good look at the new Asrock DeskMini GTX 1060 and it's safe to say that when it comes to non-gaming tasks, the machine should be rather capable depending on what CPU you put in there (anything slower than the Core i5-8400 would be a poor choice given how much this barebones kit costs). Judging by the handful of titles we tested, the new DeskMini can handle some moderate PC gaming as well, although if you ask us the system seems better suited to content creators looking for a super compact editing rig.
The Core i7-8700 offers loads of performance but to get the most out of it you will need to upgrade the cooler and your options here are limited. For most, the difference between the Core i5-8400 and Core i7-8700 in the DeskMini is going to be minimal so we recommend going with the cheaper Core i5 model.
Asrock says it's targeting LAN Party goers, Esport gamers and content creators with its updated DeskMini and the tiny 2.7L capacity coupled with GTX 1060 certainly makes the package ideal for gamers on the move, though that's probably a very niche market these days. Esports games are obviously popular but generally speaking competitive gamers seek maximum bang for their buck, making the DeskMini somewhat of a tough sell to this crowd compared to a more professional market.
The only real issue that we see is with the machine's $850 asking price. Granted, GPU prices are ridiculous at the moment but even so you can often snag a GTX 1060 6GB for about $400. Then a Mini-ITX Z370 board costs about $140, quality Mini-ITX cases that can support full size graphics cards start at $50 and SFX power supplies also begin around $50. In other words, you're paying around $200 extra for the DeskMini's ultra compact design.
That's a hefty premium but nonetheless the Z370 DeskMini GTX 1060 is an impressive little computer capable of just about any typical computing task. It's just that it only really makes sense if you want the smallest possible PC with a discrete graphics card, and even so, GTX 1060-enabled laptops with a quad-core Core i7-7700HQ processor start at around $1,000, and that makes more sense to me as you basically get a 15.6" screen and a battery thrown in for free, so keep that in mind.
Pros: Great looks, good performance. Super compact (2.7L). Supports desktop CPUs and MXM GPUs including the GTX 1060 and 1080.
Cons: Expensive. Expect a ~$200 premium to build around this barebones kit versus going truly DIY (though this would be less compact).