TechSpot is celebrating its 25th anniversary. TechSpot means tech analysis and advice
you can trust
.
When you buy through our links, we may earn a commission.
Learn more
.
App Store, 3D camera, Music

Android's App Store
The real downfall of Android 3.0 Honeycomb so far is application support. There are, quite simply, far too few Android 3.0 Honeycomb specific applications available. The Android market features a couple of dozen, but many of those don't take full advantage of the Honeycomb user interface. The platform's compatibility with older titles is somewhat spotty, too. While most of the over 150,000 applications found in the Android market will work in full screen mode, some do not, and those that do are often less than optimal, offering small on-screen controls and fonts, and overly large text input boxes. Then there is the issue with many of the applications crashing, which is likely part of the "1.0" effect of Honeycomb being, in many ways, a brand new OS.
Since the T-Mobile G-Slate runs a stock install of Android 3.0, there are few non-Google apps pre-loaded on the tablet apart from standard personal organizer apps like the Calendar (which syncs with Exchange and Gmail accounts). Google Maps, Navigation, Places, and Books are all there. T-Mobile does include its T-Mobile TV app, but I found it to be quite disappointing and unworthy of your monthly cash. I do really like the Zinio magazine reader application, though. It's a little slow on the page loading at times, but there's a fair bit of content available - if you are willing to pay for it.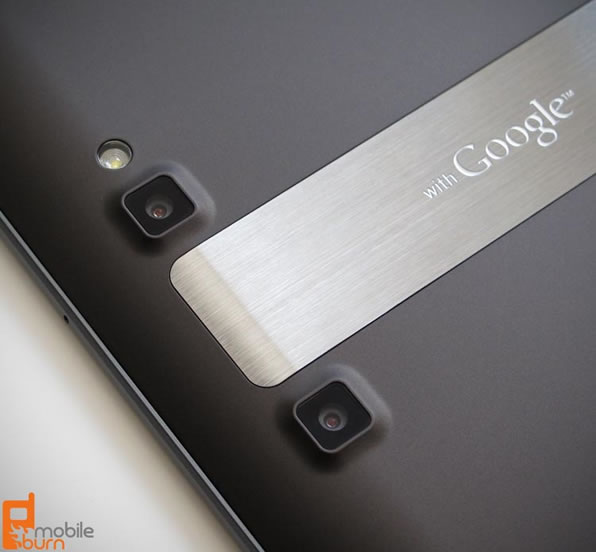 Cameras
The cameras on the T-Mobile G-Slate are very interesting. There are three of them, in fact. One forward-facing 2 megapixel camera that can be used for photos, video, and video chatting, and a pair of 5 megapixel cameras on the back that can be used to record 3D videos in 720p HD or 2D videos in 1080p Full HD. There's even a time lapse mode that will let you take stop action video, which could be great for a science project or two.
The rear camera, when shooting stills, focuses quickly and takes reasonably nice photos. It has a very effective macro mode, as you will see by the size of the grains of sand in the sample photos here. The interface is easy to use, and the slightly smaller size of the G-Slate makes it easier to use as a still or video camera than Motorola's Xoom or Apple's iPad 2. The G-Slate's flash didn't impress me much, since it's not well modulated and tends to over or under expose its target.
While it can record 3D video, the G-Slate is not really equipped for 3D playback, and forces users to rely on old-school red/cyan 3D glasses if there is no 3D HDTV that can be connected to via an HDMI cable. Still, it's a lot of fun and I like knowing that I am recording 3D video that I will be able to view in the future - even if my current TV is not capable of handling it.

Music App and Playback
Android 3.0 Honeycomb offers users an all-new music application. Navigation can be a little non-obvious at first, as is the case with many new tablet apps, but once you mess around with it for a short while, you understand what is going on. The app offers a very cool looking 3D rendered scrolling flow of album covers in the New and Recent section of the device, which I love, but offers nothing similarly interesting for the album, artist, playlist and other views that it offers. I don't see why the cool interface should be restricted to that one section, especially one that I really have no use for.
At least the audio quality that the app and the G-Slate put out is good. The built-in speakers are not going to knock your socks off or anything, but at least they are pointing in the right directions. They are located on the edge of the tablet, and which speakers are used depends on the orientation of the tablet, ensuring reasonable stereo separation. You can always plug in an external speaker set or connect to a stereo system using the 3.5mm headphone jack. I also want to mention that it is pretty easy to build playlists directly on the G-Slate, and tracks can be rearranged with a simple drag of the finger. The G-Slate comes with no music out of the box, but the tablet does offer a pre-installed version of the doubleTwist music client, which will make it easier to synchronize with iTunes on a Mac or PC when USB support is added for Android. A paid upgrade is required to get access to the doubleTwist wireless Wi-Fi sync that works now, though.