Motorola Droid Bionic Hands-On Impressions
By

TechSpot is celebrating its 25th anniversary. TechSpot means tech analysis and advice
you can trust
.
When you buy through our links, we may earn a commission.
Learn more
.
The Motorola Droid Bionic has had a storied past, despite just being released a couple of days ago. It was originally announced way back at the CES trade show in January, though it was a very different looking smartphone back then. Motorola went back to the drawing board and redesigned the Bionic to what we have today: a 4G LTE phone that could be a doppelganger for the already-released Droid X2.
I have had a review unit for a brief period, and while I haven't had it long enough to subject it to a proper, in-depth review, these are my initial impressions of the Droid Bionic.
Contrary to what we were shown back at CES, the device that we have today is very familiar looking among Verizon's smartphone lineup. Featuring a mostly square face, and the now signature hump on the back for the camera that the Droid X and Droid X2 exhibit, the Droid Bionic fits right in with the rest of Motorola's Droid products for Verizon.
The Bionic measures 127.5mm x 66.9mm x 10.99mm (5in x 2.63in x 0.43in), and weighs 158g (5.6oz). While it is certainly not a small phone by any means, it is deceptively light, and the beveled edges on the back cover allow it to rest nicely in your hand. Motorola is quick to point out that it is just a hair less than 11mm thick, and that it is the thinnest 4G LTE smartphone for Verizon to date. The phone's low weight is enabled, in part, by the lack of metal parts on the Bionic, which is different from the Motorola Droid phones of the past. The Bionic is put together well, but it doesn't feel quite as solid as say a Droid X2, and the plastic construction doesn't seem fitting a phone of its stature (or price tag).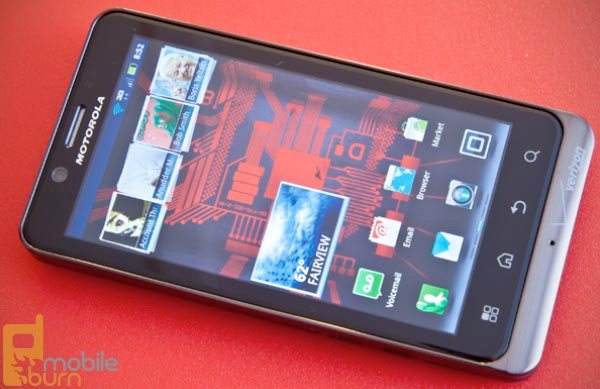 The Bionic sports a 4.3-inch, qHD (540 x 960 pixel) display. It uses the same pentile layout as we saw on the Droid X2, Droid 3, and Photon 4G from Motorola. Screens with pentile layouts have more noticeable pixels than traditional layouts, which can cause the screen to look less sharp when viewed up close. The Bionic doesn't have too much of an issue with this problem, though nobody will mistake its screen for the Retina Display of an iPhone 4.
On top of the display is Gorilla Glass with a dual-layer, anti-reflective coating. The Northeast has been deluged with rain over the past couple of days, so I have not yet been able to test the display in direct sunlight, but under a cloudy, rainy sky and indoors, the Bionic's display presented no issues.
Performance-wise, the Droid Bionic is no slouch, thanks to its dual-core, 1GHz OMAP processor and 1GB of RAM. The Bionic is the first 4G LTE smartphone to launch with Android 2.3.4 Gingerbread, and it runs Motorola's custom interface on top of that. The interface is very similar to what we saw on the Droid 3, though Motorola has updated and tuned it for better performance on the Bionic. Motorola's new interface offers a lot of 3D flourishes and effects when panning through home screens, swiping through the app tray, and moving widgets around.
These effects are purely for show, and don't really serve any practical purpose, but they didn't seem to slow the phone down at all - at least not so far. We will have to see how well the Bionic handles its sometimes excessive animations once it has been loaded up with a number of apps and widgets.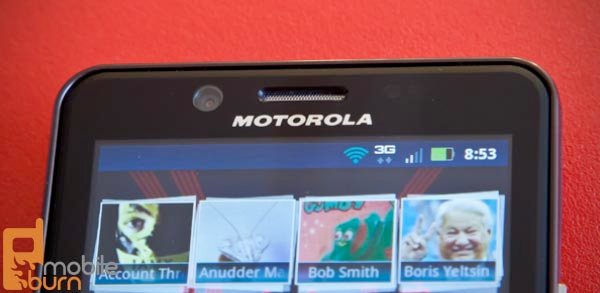 The Droid Bionic features no less than three microphones, two of which are used for noise cancellation on phone calls. While I haven't had time to test calls at length with the Bionic, the few calls I did make were clear and sounded good. The external speakerphone is sufficiently loud, and resists breaking up even when turned up to max volume. The three microphones can also be used to control how sound is recorded when capturing video with the Bionic.
Of course, the Bionic's claim to fame is its 4G LTE radio, and in the limited time that I have been able to test it, it has performed admirably. In New York City I was able to attain speeds as fast as 26Mbps down and 8Mbps up. On average, the speeds were about 17Mbps down and 4Mbps up.
The upload speeds were on par with what we have seen with other 4G LTE smartphones for Verizon in the past, but the download speeds were considerably faster on the Bionic. I will be further testing the Bionic's network performance, including how well it works on Verizon's slower 3G network, when I review it in-depth.
Motorola has equipped the Droid Bionic with the largest battery seen in an LTE phone yet. It has a 1735mAh capacity, and Motorola says that users can expect to get almost 11 hours of talk time or over 8 days of standby with it. Those are pretty lofty claims, and our experience with LTE smartphones so far has us expecting the battery to tap out after about 6 hours of use. Motorola reps that I spoke to say that the Bionic has been tuned for battery life, and that users should have no trouble getting a full day out of it. I will certainly be putting those claims to the test.
For cameras, the Droid Bionic features an 8 megapixel unit on the back, complete with autofocus and an LED flash. It is also capable of recording in 1080p (1920 x 1080 pixel) HD video. The camera features continuous autofocus, which works surprisingly well for both stills and video, and you can zoom while recording video as well. Motorola's Photon 4G had a rather disappointing 8 megapixel camera, so I am hoping that Motorola has done a better job with the Bionic. The front of the phone features a VGA camera, which can be used for video calling in the Google Talk app.
Included with the Bionic is a 16GB microSD card. The phone also has 16GB of internal storage, with about 4GB of that partitioned for app storage. In addition to the usual Verizon V CAST apps that we always see on Big Red's smartphones, Motorola has included a number of apps that will appeal to the enterprise user. The included Citrix app allows users to view their desktop PC when away from the home or office, and GoToMeeting lets them join webcasts right from their phone. ZumoCast allows a user to access files stored on their computer from their phone, including media files and iTunes playlists. The media files can be downloaded or streamed to the phone. Finally, the QuickOffice app lets users view and edit various Office documents. Unfortunately, none of these apps are uninstallable by the user, but the 4GB of app storage space available on the phone provides plenty of room for more apps to be installed.
The Motorola Droid Bionic is compatible with a number of accessories from Motorola that utilize its Webtop operating system, which emulates a desktop computer. Webtop has been upgraded for the Bionic, and it now features the Firefox 4 browser. Verizon is offering three levels of Webtop accessories, including the $29.99 standard adapter to plug the phone into an HDTV, the $99.99 HD dock that allows for mouse and keyboard controls, and the pricey $299 Lapdock that converts the Bionic into a laptop computer (you can save $100 off the price of the Lapdock if you pony up for one of Verizon's more expensive data plans). Despite the upgrades to the Webtop software, and the powerful hardware of the Bionic, I ran into the same problems with it that I had with the other Webtop-capable phones, namely sluggish performance and memory issues galore. Motorola says that you can get a "desktop-like" browsing experience through its Webtop interface, but in reality, it is very slow - to the point of being uselessly frustrating. The whole idea is a unique concept, especially the Lapdock portion, but in practice it is an expensive and inadequate alternative to a netbook.
Motorola is offering the Droid Bionic for $299.99 with a new two-year agreement. Customers who opt to purchase the Lapdock with the Bionic, and sign up for a $50 per month or higher data plan, can get an additional $100 rebate off of the Lapdock. Be sure to stay tuned for our more in-depth review of the Droid Bionic.
Dan Seifert is a contributing editor at MobileBurn.com. MobileBurn focuses on cell phones, smartphones, tablets, and related hardware. Republished with permission.