TechSpot is celebrating its 25th anniversary. TechSpot means tech analysis and advice
you can trust
.
When you buy through our links, we may earn a commission.
Learn more
.
As a follow-up to last week's CES special feature and coverage, here are more of the products we observed and played with, along with photos taken during our journey to the event. As you've surely noticed, mobile tech consumed the event with seemingly every major company unveiling smartphones, tablets or ultrabooks. Nonetheless, we managed to lay hands on plenty of awesome PC hardware from the likes of Samsung, Silverstone, MSI, Razer, Roccat, Toshiba, Gigabyte and more...
Razer
Meant to render desktop-replacements obsolete, Razer announced its new Blade gaming laptop back in August. Besides its trim profile and powerful innards, the system offers a unique interface reminiscent of Art Lebedev's Optimus keyboard. In place of a standard number pad, the Blade features 10 customizable keys and a glass LCD touchpad, the latter of which is also available on the Star Wars Old Republic edition keyboard.
Along with displaying in-game stats, you can surf the net or watch YouTube on the touchpad while a game occupies your main screen. Also, the 10 keys are fully programmable and change functions between contexts. Sadly, the palm rest by the touchpad was very (very) hot, and the mouse buttons were small, spoiling the whole experience. While it's thinner than most desktop replacements, the Blade is still pretty hefty.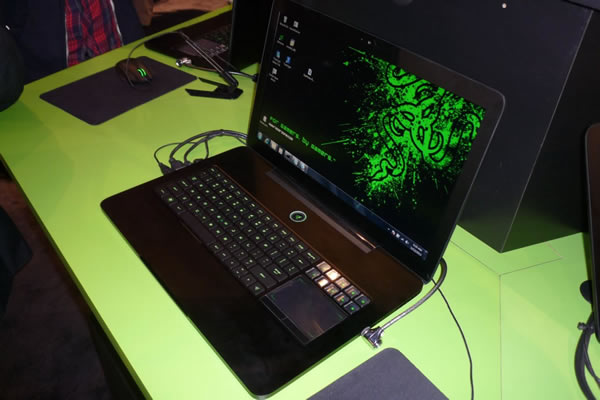 Developed by Sixense, Razer's new Hydra gaming controller uses magnetic tracking to determine the position of two batons. The device boasts high precision controls with six degrees of freedom and a resolution of 1mm along the X, Y, and Z axes, as well as one degree in roll, pitch, and yaw. This is combined with a low latency, 120Hz refresh rate.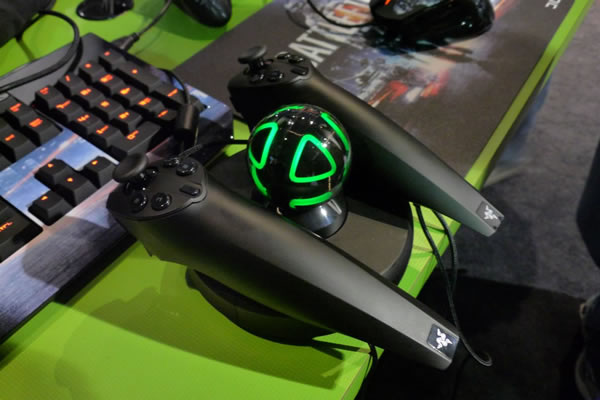 Valve supported Sixense in creating DLC for several games including Portal 2, which we tried. Usually, it takes time for your body to learn the minutia of using a new interface. Not so with the Hydra. Within seconds, I was naturally moving about with the left baton and looking around with the right one. And, with such a highly accurate device, I wasn't making unintentional gestures or having trouble with inconsistencies. The controller has been available for about six months now and is available for $110.
MSI
MSI is jumping on the Intel Thunderbolt bandwagon with a new product called GUS II. GUS II is an external graphics card enclosure designed to house a single card with a power draw no higher than 150 watts, ideally targeted at notebook gamers. The device operates over the Thunderbolt interface on one end with a PCIe X16 slot for cards inside the enclosure. Hardware-wise, the GUS II is ready to go but MSI admitted there were still some issues to work out on the software/driver side. MSI expects GUS II to retail between $100 and $150.
We looked at some interesting motherboards from MSI as well. The Big Bang XPower II, MSI's new flagship Extended ATX board, will be launching in a few weeks featuring 4-way AMD Crossfire and Nvidia SLI support, Intel's X79 chipset and supporting up to 128GB of system memory. The board includes a 22 phase PWM design with hybrid digital power and currently holds the record for the fastest base clock at 168MHz. Enthusiasts can expect to pay just south of $500 for MSI's latest board in the near future.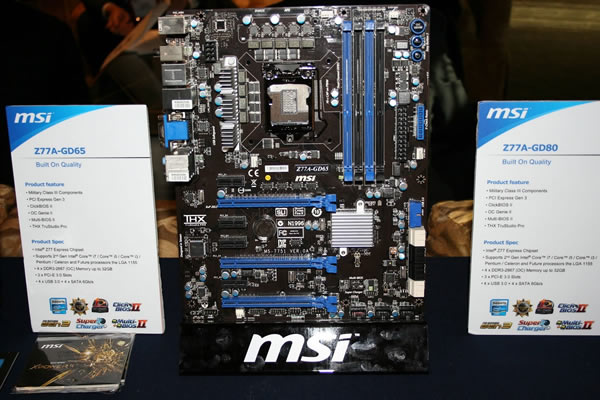 Also on display were a couple of Z77-based offerings, the GD65 and GD80. Both boards feature PCIe Gen 3 support, ClickBIOS II, OC Genie II and THX TruStudio Pro. We liked that these boards don't feature any legacy PCI slots. Additionally, MSI had to remove the OC Genie button due to layout issues. We were told that the Z77 series will feature less power phases, resulting in 22 watts less than previous offerings.
NZXT
After seeing 50% growth over the past year according to the company, NZXT has big plans for 2012, hoping to launch 25 new products. Redesigned cases, new chassis fans, Seasonic-manufactured power supplies, laptop coolers and peripherals are all in the pipeline.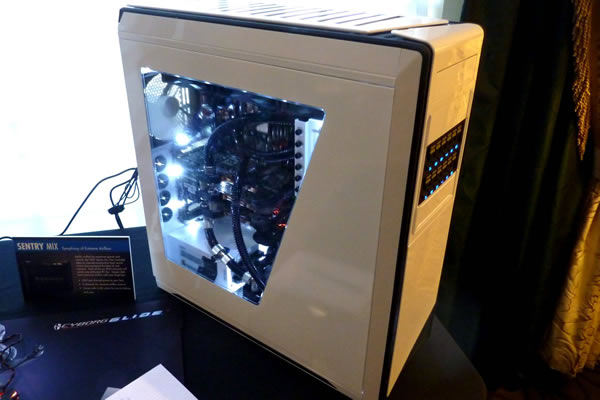 NZXT's full tower Switch chassis was on display with MadCatz peripherals. The futuristic enclosure touts one-touch pop out fan filters, LED lighting on the rear I/O panel and plastic-covered LED decorations. Without major modification, the beefy tower can accommodate a 360mm long, 65mm deep radiator with a push-pull fan design. That's six fans on the top of the case with room for six more spread throughout.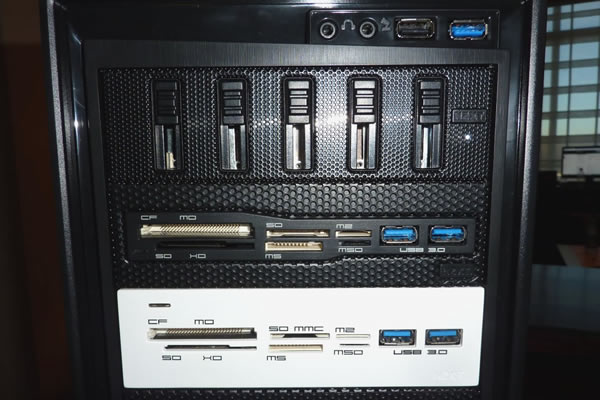 Refreshed Phantom cases were also on display with new color schemes suggested by fans on Reddit. You will soon find the Phantom in white/blue, black/white, and black/orange.
NZXT's booth was brimming with fan controllers and I/O panels. Two Sentry MIX fan controllers, already available at $29.99, kept the Switch cool. The Mnpctech Switch mod also had the Aperture G and Aperture Mesh I/O panels, which read anything under the sun – except SDXC, they're working on that. The Apertures will hit shelves in about a month for $19.99 and $24.99, respectively.
Samsung
Samsung hit the show floor with a host of new products, including a hybrid tablet-phone, sleek ultrabooks and a sexy all-in-one. Our first impression of the Galaxy Note hybrid phone/tablet: it's suffering from an identity crisis. Its massive 5.3-inch screen is clumsy in the hand, awkward against your ear and yet it doesn't offer enough of a real estate boost over handsets like the Galaxy Nexus to justify those drawbacks.
We also got a chance to check out the redesigned 13" and 15" Series 9 ultraportables. In a word, they're beautiful. Samsung is putting a huge emphasis on its 400-nit, 1600x900 displays which look awesome, especially framed by the elegant case design. The Series 9 was much sturdier than some of the other thin-and-light machines we handled on the showfloor, with virtually no flex in the chassis.
We also took a minute to admire Samsung's first venture into the world of all-in-ones. The Series 9 AIO desktop carries a quad-core Core i7, 8GB of RAM, Radeon HD 6730M graphics with 1GB of video memory, a TV tuner, a Blu-ray drive and an HDMI input in case you want to hook up your game console. The system also packs a vivid 400-nit, 27-inch 1080p display that supports 3D visuals and features 2D-3D conversion.
Emperor
Emperor was on site with its signature scorpion-shaped chairs, including the MWElab Emperor 1510 chair, which offers Bose surround sound and three 24-inch display mounts for $6,200 – a fee that ought to include a waiter who supplies drinks for chair's integrated cup holder.
Crucial
8GB modules are the trend at Crucial, which has refreshed its Sport, Tactical and Elite memory lines. The first is priced at $90 per 8GB module with standard timings and nifty new heatspreaders for the superficial mainstream crowd. The Tactical sticks are $110 per 8GB, with CAS8 timings and an XMP profile. Finally, the Elite series are $130 per 8GB, run at 1866MHz/CAS9 and feature a built-in temperature monitor.
Crucial is also developing some new SSD offerings, such as its 2.5-inch Adrenaline hybrid cache drive, which brings affordable SSD-like speeds to your existing HDD by methods similar to Intel's Smart Response Technology. The company says it's also considering an ExpressCard version for laptop users. Finally, Crucial plants to adopt a 7mm z-depth standard for its M4 drives over the next year to fit ultrabooks.
SilverStone
We stumbled upon what was perhaps the most interesting chassis we saw at the show at SilverStone's booth. Their new Mini-ITX FT03-Mini is nearly identical externally to the original FT03 except that it supports a smaller form factor and the optical drive is mounted vertically which looks a bit odd on the silver version. The SilverStone rep described it as the SG05 turned vertically which we can totally relate to.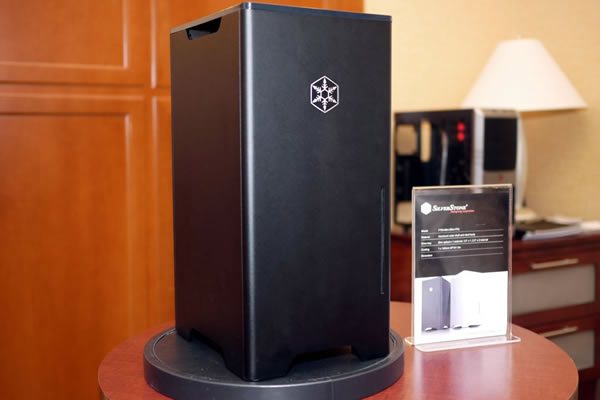 Much like the original, the system can be taken apart in a matter of seconds by removing the top panel first then popping off the front and back covers and finally the remaining side (one side isn't removable). Users can install a graphics card up to 9.5-inches in length and there's a single 140mm Penetrator intake fan on the bottom of the chassis that's responsible for cooling the entire system.
A SFX power supply (not included) is required due to the small form factor. SilverStone has a new 80 Plus Gold 450 watt PSU in the works, although it isn't expected until the second half of 2012. The PSU features shorter cables and a smallish (by today's standards) 80mm fan. If you can't wait until summer, SilverStone's current SFX solution is available now, although only with an 80 Plus Bronze certification. Look for the FT03-Mini to launch in March at $130.
The PS07 is SilverStone's answer to the Antec P180. The case includes two 120mm intake fans behind a swing-out front bezel that admittedly felt a bit cheap due to its plastic construction. Aside from this, however, we liked everything about the PS07. Included in the floor of the chassis is an adjustable CPU cooler support bracket designed to remove some of the stress that a heavy cooler can put on your motherboard. Other quality features include a hidden section to route unused cables from a non-modular power supply and accommodations for up to five 3.5-inch hard drives. The PS07 is available right now for $79.
SilverStone's flagship 1350 watt Zeus power supply includes an 80 Plus Silver certification is built with server guys in mind. The unit includes a switch that allows the user to select either a single rail configuration or a split six rail design. Either way, there's 105A available on the +12V line and the PSU features a full modular design. Users can additionally fine-tune voltages by inserting a small screwdriver into one of three holes on the back of the unit and twisting accordingly. SilverStone plans to launch the Zeus 1350 in a few months for around $400.
Sony
Sony didn't have much for us to tinker with. Its prototype ultrabook and hybrid tablets were locked in a glass display and neither was functional. However, we did check out the Intelligent Peak LED TV technology, which is already available on XBR televisions. With full array backlighting, these TVs can tune the lighting of individual pixels, dimming black ones and shining through the bright ones for an impressive image.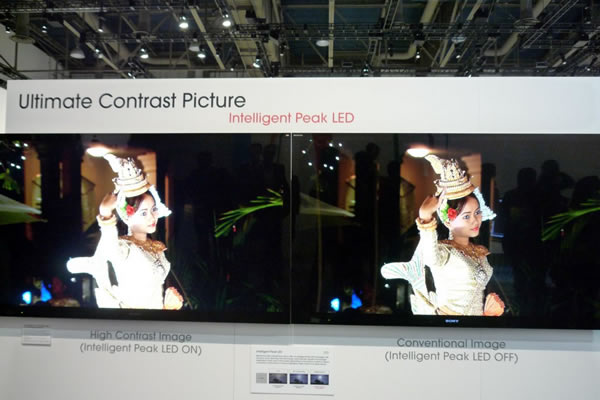 Toshiba
Toshiba had another waterproof tablet on display, similar to the Fujitsu Arrows that we saw at CES Unveiled. Like the Arrows, Toshiba's H2O-proof tablet is safe up to a meter under water for half an hour. Unique from Fujitsu's slate, Toshiba demonstrated a proof-of-concept wireless power technology. With an antenna roughly the size of the tablet itself, Toshiba powered the device through about two inches of glass and water.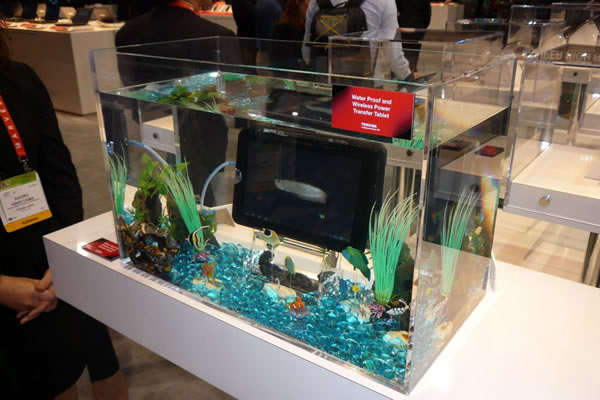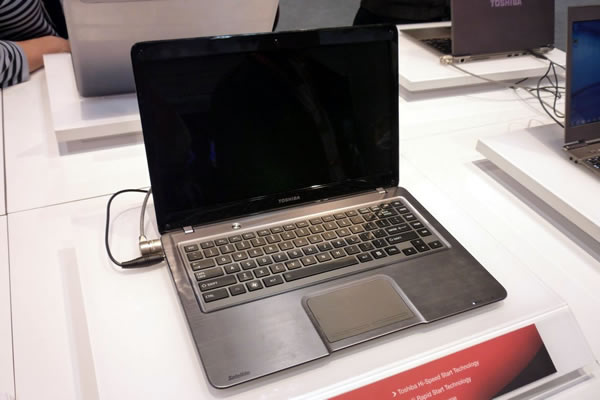 We also had a chance to look at the Toshiba Portégé Z835 as well as the company's 14-inch ultrabook design. Both were extremely lightweight, with attractive brushed aluminum exteriors. Unfortunately, their looks are deceiving. This slim form factor comes with a huge amount of flex on the screen and keyboard, giving the whole chassis a very cheap feel. We hope this problem is addressed as manufacturers refine their designs.
Roccat
Roccat, one of several companies included in our 12 mouse round-up in 2010, kicked things off by showing us their Kone+. The follow-up to the original Kone includes a 6000 DPI sensor and up to 20 grams of adjustable weights. There's a 1000Hz polling rate, Teflon coated pads and support for up to 500 macro actions.
Unique features of the Kone+ include the EasyShift+ button that allows you to assign two functions to each button, like using the Shift key on a keyboard. This results in a total of 22 programmable mouse functions. Hardcore gamers will appreciate the voice actor prompts that can be set as timers for things like health and ammo respawns.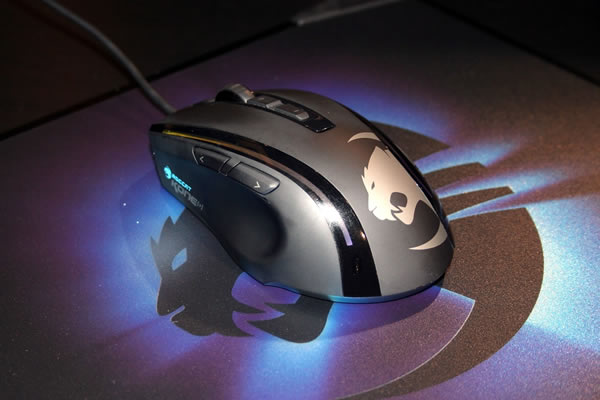 Roccat showed us the Isku gaming keyboard to compliment the Kone+. The Isku checks in at $89.99 and includes a large wrist rest and cable routing channels into the underside of the board, although personally I've never found a use for these. The individual keys have a good tactical feel when pressed despite not being mechanical. Features unique to the Isku include three customizable keys just below the keyboard that are intended to be used with your thumb. Macros can be recorded on-the-fly while in a game with a voice actor prompting the player when a macro is being recorded.
The Kave 5.1 Headset will retail at $190 featuring four 40mm drivers built into the headset. The Kave has vibration feedback capabilities, a mic muted LED indicator and a 10-step headband adjustment strap. The headset felt comfortable while wearing with a strong a sturdy feel in the hand. One thing we noted was that the ear muffs didn't lay flat against your chest when the headset was pulled off the head and worn around the neck. An in-line control box provides adjustment of each sound channel as well as a mute button and volume dial.
Roccat said that products should start popping up soon on Amazon, Newegg, TigerDirect and Best Buy with the full line-up online by February. Sites like ncix.com that are already selling products in North America are not authorized and are getting their supplies from grey market Asian channels. Regardless, Roccat is still supporting these consumers should they need technical support.
Gigabyte
Gigabyte displayed a plethora of graphics cards and motherboards, including a few motherboard engineering samples for Intel's next-generation platform due out in a few months. Samples spanned all budgets, including the GA-B75M-D3H, GA-Z77X-UD3H, GA-Z77X-UD5H, G1.Sniper 3, and G1.Sniper M3. Also shown were a few of the already-released X79-based "Ultra Durable" boards: the GA-X79-UD3 and GA-X79-UD5.
Gigabyte also introduced a new Radeon HD 7970 graphics card that comes factory overclocked at 1GHz and connects via PCIe 3.0. It's chilled using Gigabyte's Windforce cooling system which supposedly triples airflow and lowers the card's temperature up to 33% over the stock configuration. This is accomplished by tweaking the cooling assembly to reduce turbulence between the fans. The card is currently available for around $600.
OCZ
The highlight of our time with OCZ was their next-generation Everest 2 NAND flash controller platform. Set for release next June, the SATA 6Gb/s interface boasts preliminary numbers of 550MB/s read and 500MB/s write with up to 90,000 4K random write IOPS.
OCZ demoed the Everest 2 for us using IOmeter, CrystalDiskMark and AS SSD. In each case, the drive outperformed the products it was going up against, such as Patriot's Pyro and Corsair's Force 3. Products based on this controller will support capacities up to 2TB in a 2.5-inch form factor, although we will have to wait until June 2012 to get our hands on one.
OCZ had multiple other products on hand like the Z-Drive R5 and the "Lightfoot" portable SSD with Thunderbolt Technology that resembles the Enyo USB 3.0 portable SSD released a few years ago, but the majority of other offerings were enterprise solutions that were outside the scope of what we typically cover.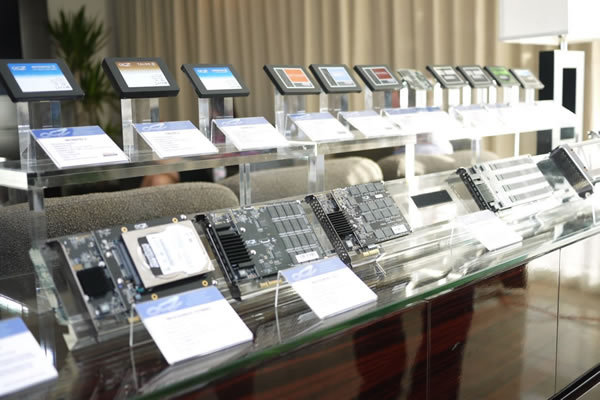 As for power supplies, the Fatal1ty 1000 watt unit was the only new model on display. After abandoning their DRAM line a year ago and obviously slowing back on power supply production, it's clear that OCZ has their sights focused solely on making solid state drives in 2012.