TechSpot is celebrating its 25th anniversary. TechSpot means tech analysis and advice
you can trust
.
When you buy through our links, we may earn a commission.
Learn more
.
Slim gaming notebooks have been getting a lot of attention lately, and rightfully so. For years, gamers on the go have had to contend with massive machines that simply weren't practical for anything else due to their heft. But thanks to recent advances, manufacturers are now able to cram high-end hardware inside a chassis that looks no different than a general-purpose notebook. That means you can carry such a system with you to work or school during the day then turn around and use it to play the latest games at night.
Think of this new breed of notebooks like a mullet - business in the front, party in the back.
The Maingear Pulse 15 we will be looking at today - while still in the same class as the MSI GS70 Stealth Pro we recently covered - does have some notable differences which we will get to in a bit. But first, a rundown of Maingear's latest is in order.
Maingear Pulse 15 - $2,474
15.6" 2,880 x 1,620 IPS LCD (212 ppi)
2.5GHz Intel Core i7-4700HQ
16GB DDR3 1,600MHz RAM
Nvidia GeForce GTX 870M GPU 3GB GDDR5
2 x 128GB SSD RAID 0
1TB HDD 7200rpm
SteelSeries keyboard backlit in full color
3 x USB 3.0 , HDMI, 1 x mini DisplayPort
SD card reader
Wi-Fi b/g/n/ac, Gigabit Ethernet
Windows 8.1
4.31 lbs, 15.35" x 10.47" x 0.78" inches
Our Pulse 15 sample came equipped with an Intel Core i7-4710HQ CPU clocked at 2.5GHz alongside 16GB of DDR3 1,600MHz memory and an Nvidia GeForce GTX 870M GPU with 3GB of GDDR5. The machine features a 15.6-inch display, which is a bit on the small side for gaming purposes, although it does operate at an attractive 3K resolution of 2,880 x 1,620.
Rounding out the package is a pair of 128GB Kingston M.2 SATA express solid state drives running in RAID 0, a 1TB hard drive spinning at 7,200 rpm for storage, a Qualcomm Killer E220 network adapter, Intel dual-band AC Wi-Fi, Bluetooth, a full color adjustable backlit LED keyboard and a 6-cell, 5,400mAh li-polymer battery. Maingear also thrown in an external slim optical drive by Asus in the event you still rely on legacy media.
Pricing for the Pulse 15 starts at $2,199 although our price as configured here today based on Maingear's online configuration tool is $2,474.
If you've ever purchased a system from a boutique builder like Maingear, you already know that attention to detail and customer service is bar none.
One example is the Maingear Personal Binder included with every purchase. The binder is loaded with a quick-start guide, an invoice with the specifications of the system you've ordered, a driver disc, a Windows 8.1 disc, a user manual, warranty information, a 55-point quality assurance log and even a signature from the person who configured your machine.
Something else you need to know about boutique builders is that they don't actually build most of their notebook offerings. By that, I mean they source barebones systems from other manufacturers then add some customization and brand them as their own. The Maingear Pulse 15 started life as an OEM-esque MSI GS60 Ghost Pro 3K.
As we've seen in the past, Maingear has a penchant for applying automotive-grade paint to systems and the Pulse 15 is no different. The company sprayed the outer lid and bottom shell of our sample with its Epic Red paint. While not as flashy as the Maingear Shift we looked at a few years ago, the matte finish looks good against the black screen bezel and keyboard deck.
Across the front of the chassis we find a series of LED indicators for, from left to right: sleep, hard drive activity, num lock, caps lock, Bluetooth, Wi-Fi and battery. Moving to the right side, we have a powered USB 3.0 port, SD memory card slot, HDMI port, mini DisplayPort, an Ethernet jack, a battery reset hole and an exhaust event.
A few more ventilation slots grace the edge of the system which is otherwise void of any I/O connection. The left side of the machine is home to another cooling vent, a Kensington lock slot, power connector, two more USB 3.0 ports, a mic jack and a headphone jack.
Much like we saw on the MSI system, the bezel on the Pulse 15 is a bit of an eyesore. At the top is an integrated webcam capable of 1080p @ 30fps recording flanked by dual microphones. Across the bottom bezel is the Maingear branding which brings me to my first major complaint.
As I was unboxing the notebook, the cloth screen protector snagged on the Maingear branding and the first "A" actually fell off. Upon closer inspection, you can see that the lettering is extremely cheap. Printed branding - or even no branding at all - would have been a wiser choice. I am a bit surprised by this and if it were my own personal system, I'd simply peel it off and call it a day.
What's more, I couldn't help but notice how flimsy the bottom of the display felt as I tried to reaffix the lettering. Because there's no hinge or other support structure here, the bezel and screen has a lot of flex. I don't think it'd ever be a concern under normal use - especially as this isn't a touchscreen notebook - but again, it just feels inadequately cheap.
Perhaps Maingear is hoping one can overlook such shortcomings with the centerpiece of the Pulse 15, its 3K IPS display. The panel operates at a resolution of 2,880 x 1,620 which, while not quite as impressive as the 3,200 x 1,800 screen found on the 14-inch Razer Blade, is still a step above the slew of gaming notebooks that ship with 1080p panels.
The backlit keyboard is virtually identical to the one we saw on the GS70 Stealth Pro although the deck is a bit different. That's not a bad thing as the SteelSeries keyboard on the MSI was a pleasure to work with. If it is indeed the same keyboard, one has to wonder why Maingear wouldn't tout it being from SteelSeries.
The all-in-one touchpad, meanwhile, appears to be roughly the same size although it has been moved to the left a bit. Icons for the front-facing LED indicators are printed on the keyboard deck just above the LEDs while the system's power button appears largely unchanged. The series of holes below the power button appear to be for ventilation purposes only as the system's speakers are positioned on the bottom of the machine.
On the bottom are nine rubber feet to keep the notebook firmly planted as well as the familiar felt-type of material lining the hotspots. It appears that more than a dozen screws would need to be removed to gain access to the system's internal hardware and in what seems to be an unavoidable trend, the battery on the Pulse 15 is non-removable.
Since the system comes equipped with 16GB of RAM and more than enough storage space, the only reason you'd really ever need to open things up would be to replace faulty hardware. And in the event things go wonky and you need to hard reboot the machine, the tiny battery reset button on the right side of the notebook will get the job done.
Software and Performance
Our testing Maingear Pulse 15 system shipped with Windows 8.1 64-bit. After measuring the cold boot startup time, I was pleased to see the system came free of any unnecessary software bloatware.
Unlike big-name PC makers, Maingear and other boutique builders ship their systems completely free of junk software. You get the bare essentials - basically what you'd end up with if you installed a fresh copy of Windows yourself. It's a shame that PC makers are willing to clutter up their systems but at the end of the day, it all comes down to another revenue stream.
All graphics-based benchmarks (unless otherwise noted) were performed with the discrete Nvidia GPU selected as the recommended graphics card in the Nvidia control panel.
The Maingear Pulse 15 is equipped with the same GTX 870M GPU as the MSI GS70 we reviewed little over a month ago, and as such it can handle modern games at a reasonable 40 - 60 fps when using medium graphics settings at 1920 x 1080 full HD resolution. Max out the eye candy and more often than not you will be reaching for a more modest 30 fps mark.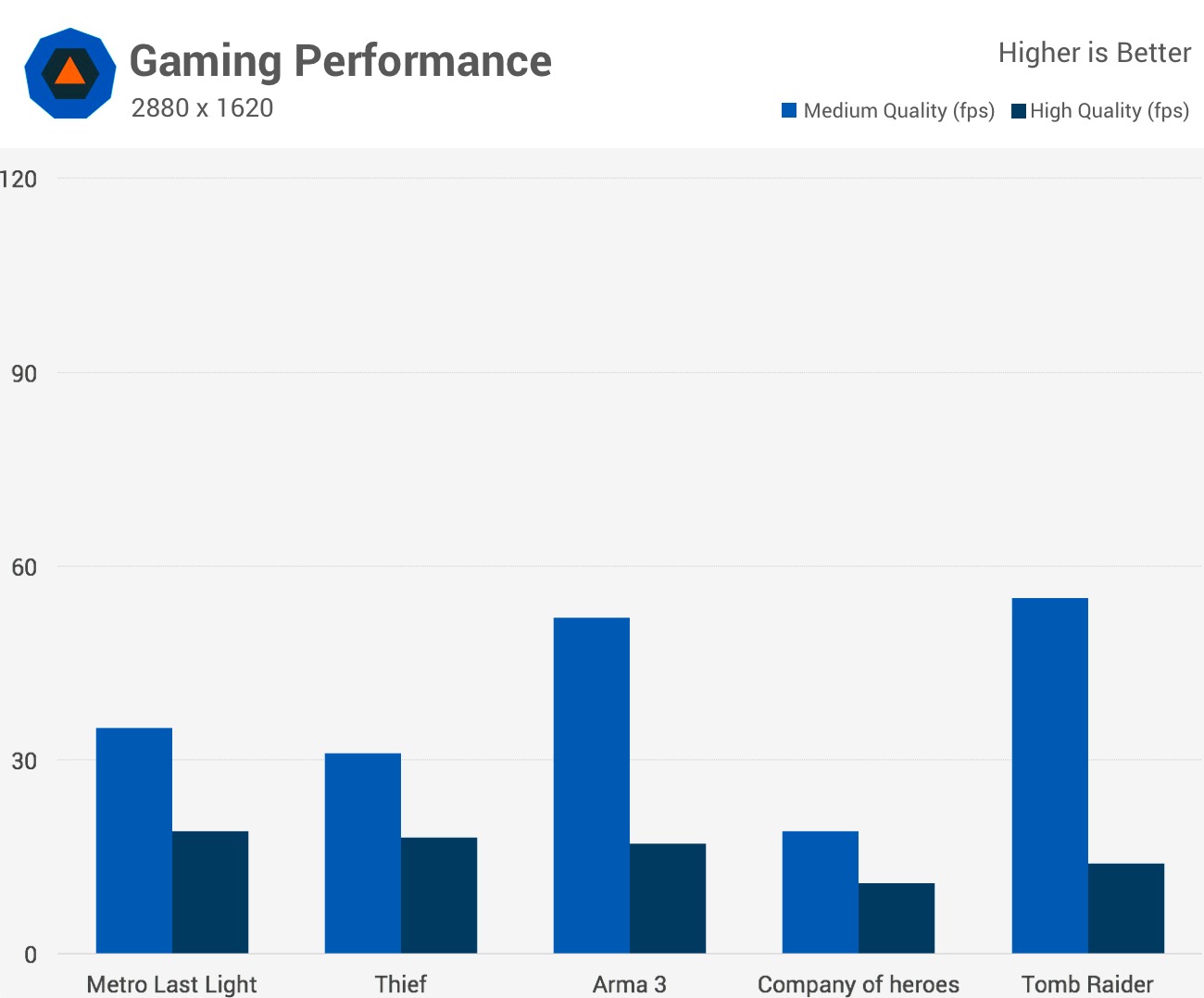 It's another story when gaming at the native 2880 x 1620 3K resolution. As seen above, the GTX 870M isn't nearly powerful enough to run modern games at max graphics settings, and depending on the title it will struggle with medium graphics settings, too.
| | | |
| --- | --- | --- |
| | MSI GS70 Stealth Pro | Maingear Pulse 15 |
| 3DMark | 4231 | 4355 |
| PCMark 7 | 6196 | 5904 |
| iTunes encoding | 59 seconds | 58 seconds |
| File transfer (small files) | 5 seconds | 4 seconds |
| File transfer (single large file) | 4 seconds | 3 seconds |
| Cold boot time | 12 seconds | 14 seconds |
Our iTunes encoding tests consist of converting 14 MP3s (119MB) to 128Kbps ACC files and measuring the operation's duration in seconds.
For file transfers, we measure how long it takes to copy two sets of files from one location to another on the same drive. The small files test consists of transferring 557 MP3s, totaling 2.56GB, while in the large file the same MP3s were zipped into a single 2.52GB file.
Battery Life
I conducted our standard notebook battery tests on the Pulse 15. Our video playback test consists of looping a 720p rip of the movie Inception at full screen with max brightness and Wi-Fi disabled. This is a taxing test that resulted in 2 hours and 59 minutes of battery life.
These results were obtained with the graphics card set to "auto" meaning it selects either the integrated Intel graphics or the discrete Nvidia card based on what it thinks is best for the task at hand. The system wisely selected the Intel solution.
Previous reviews have seen battery life gains of as much as an hour simply by dimming the display but not here. By toning the test down to 60 percent brightness and keeping everything else the same, the system surprisingly lasted for the exact same amount of time. A bit puzzled, I re-ran each test to verify the settings and came up with the same outcome.
Usage Impressions and Conclusion
After having experienced what the Sound Blaster Cinema 2 software was capable of on the GS70, I was looking forward to testing it on the Pulse 15. Unfortunately, I didn't get very far.
Upon launching the software, I was met with a pop-up that said the selected audio device was disabled, not present or not supported by the application. I was given the option to select another audio device but was met with another message telling me there is no supported audio device available and while the program would launch, virtually everything was greyed out.
That said, the speakers on the Pulse 15 did work - they just didn't sound nearly as good as they could have with the Sound Blaster application. The downward-firing speakers, even without the software, weren't bad. They got plenty loud and there wasn't any distortion even at full volume. I really wish I could have seen what they'd do with some software assistance.
The touchpad on the Pulse 15 showed the same faulty behavior as the GS70. By that, I mean it randomly wouldn't recognize my fingers. I'd have to remove my finger then reapply - often multiple times - before it would register I was touching it and let me move the mouse pointer.
In my MSI GS70 review, I was unsure if it was an isolated event but now I know that isn't the case and it's either a hardware or software problem. Hopefully it's the latter and a driver fix could alleviate the issue. It's not likely to have a huge impact as I suspect most will use a dedicated mouse to play games with but for normal use, it's very annoying.
One thing I did notice is that the mouse pointer speed seems quicker than most systems I've reviewed. It's a subtle change but it does make the notebook feel a bit faster - pretty clever.
The keyboard, on the other hand, didn't give me any issues. While it did exhibit a bit of flex near the middle, it was nothing to be concerned about. Typing on it felt fine and there weren't any issues with the layout as I've seen on some notebooks.
The backlighting worked great although the "pulsing" effect was a bit of a distraction. The bundled keyboard utility provided plenty of customization so I was able to disable the effect without any issue. If you're the type that likes a colorful keyboard, you'll no doubt be happy with what the board and software offer.
Our standard YouTube 4K resolution test was no match for the Pulse 15. The clip remained smooth throughout playback and looked great in the process.
Connectivity is sufficient with three USB 3.0 ports, HDMI, mini DisplayPort and an SD card reader. The USB count should be plenty for most and there's nothing that's glaringly missing.
The two 128GB SSDs in RAID 0 performed exceptionally well, even managing to outperform the trio of SSDs found in the GS70 under our real-world testing – if only slightly. With that speed, however, comes the risk of data loss. If either of the two drives fail, the array is trashed and you'll lose all data. The 1TB storage drive included with the Pulse 15 could be a safe place to create a backup of your Windows installation just in case – and of course, there's always the cloud for critical documents. I've always been the type to favor speed over redundancy but of course, I can't speak for everyone.
The system is certainly capable of generating a great deal of heat as evident by the pads on the bottom of the machine. Noise output isn't too bad but you'll definitely want to keep the machine on a well-ventilated surface when playing graphically demanding games.
The 3K resolution will likely be the deciding factor on whether or not someone purchases the Pulse 15. And while I've always been a proponent of high-resolution displays, I'm somewhat on the fence about whether or not such a high resolution makes sense for a 15-inch laptop display.
The display looks great under most circumstances with great viewing angles and color accuracy, though there is a good bit of backlight bleeding that's visible on black screens.
Unfortunately not everything in Windows is scaled properly to match the high resolution. I encountered several prompts that looked blurry, as if they were out of focus. What's more, gamers will ultimately have to decide between higher resolution or higher graphics settings when playing the latest titles – you can't get both, unfortunately.
As evident in our benchmarks, the GeForce GTX 870M GPU simply isn't powerful enough to run at max graphics settings using the system's native 3K resolution. Nvidia's new GTX 980M might be up to the task but the 870M certainly isn't.
That said, I can't help but feel that the Pulse 15 is trying to put the cart before the horse. The 3K display would be a great addition if the graphics card could keep up at max graphics settings but it simply can't. Medium graphics at the top resolution is playable, if roughly 30fps will do for you, but gaming at 3K with the eye candy turned up all the way is out of the question.
Lastly, knowing that the Pulse 15 is essentially a GS60 Ghost Pro 3K, it doesn't take more that a quick search on Amazon or Newegg to find the same model or even a souped up variant with a GTX 970M GPU for less than Maingear's asking price – if you don't mind losing the paint job and superior customer service that you may or may not end up using, that is.
Pros: Beautiful, vibrant display. Blazing fast SSDs. Solid keyboard, configurable backlighting is a nice touch. Slim and attractive design.
Cons: Gaming at 3K only using medium settings – gaming at 1080p is okay, though. Touchpad operation is rather finicky. Gets hot under load. Average battery life. Windows and many 3rd party apps often do a poor job with high DPI displays.