OCZ Onyx
The Onyx series is advertised as being OCZ's value SSD line, and rightly so, with the 32GB version priced at $86 and the 64GB at $130. There are also 1.8-inch versions of each drive but they cost quite a bit more. This new series was announced earlier this year in March and has replaced the Solid lineup.

Controller = Indilinx Amigos (IDX100MO1-LC)
Cache = Elpida S51321DSH-5ATS-F (64MB)
Memory = Intel 29F32G08AAMDB (32GB 34nm MLC)
Read/Write = 135MB/s - 70MB/s (64GB model)
Read/Write = 125MB/s - 70MB/s (32GB model)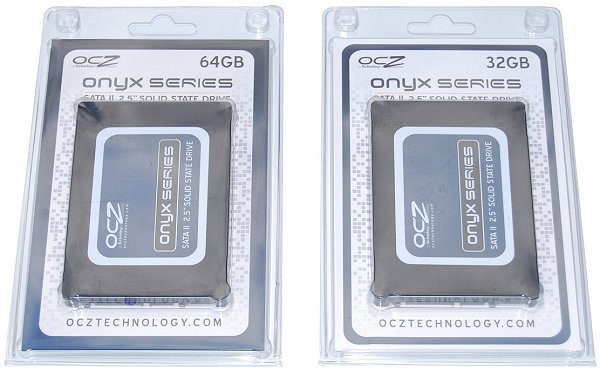 Given that the 32GB and 64GB models are priced at under $150 we have included them both in our round-up. The drives use the Indilinx Amigos (IDX100MO1-LC) controller supported by an Elpida S51321DSH-5ATS-F (64MB) cache. They also use the same memory featured in the OCZ Agility 2 and Vertex 2 drives along with the ADATA S596 Turbo.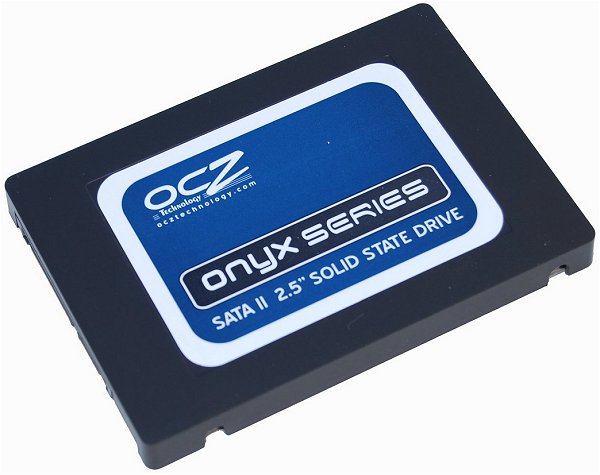 This time we have eight Intel 29F32G08AAMDB 4GB chips in the 32GB model and sixteen in the 64GB model. So where the Oynx drives differ to the more expensive Agility 2 and Vertex 2 is in the memory controller, and clearly the Indilinx Amigos is much cheaper than the SandForce SF-1200.

OCZ reduced the warranty period to just 2 years instead of the 3 like on the Agility 2 and Vertex 2 series and ditched the mounting bracket as well. Still, at $2.68 per gigabyte for the 32GB version, and just $2.00 for the 64GB model, the Onyx drives are very cheap. In fact the 64GB model offers the lowest cost per gigabyte of any SSD we have tested.
However, with a sequential read/write speed of 135MB/s - 70MB/s for the 64GB model the Oynx series is clearly also much slower than the Agility 2 and Vertex 2 drives. It will be interesting to see just how well they stack up against the competition and if at $2.00 per gigabyte the 64GB model can steal the show.