TechSpot is celebrating its 25th anniversary. TechSpot means tech analysis and advice
you can trust
.
When you buy through our links, we may earn a commission.
Learn more
.
It might be a rainy day, or you could have unexpected guests, or perhaps you're just in the mood for some family-friendly gaming fun. Often, people turn to consoles for this, but the humble PC has a lot to offer in this regard as well.
Microsoft Windows does support multiple controllers, so if you have a few spare wireless gamepads handy, you'll be able to get everyone playing on the same computer without too much trouble (though you might need a Bluetooth dongle to do so).
With this in mind, we present 14 awesome games that can be played solo, together on the same screen, or online in groups. We've split them into two groups based on their ESRB ratings, which should help you better determine the most suitable age range for each game.
Games rated E for Everyone
Click on image for gameplay video
Single-player
Shared/Split Screen Co-op
This stealth-puzzle game is short and simple but packed full of charm and great humor. You play as a goose, tasked with completing a variety of objectives, all set in a peaceful village. As nothing more than a reasonably large water-fowl, you're obviously limited by what you can physically do, so you'll need to get creative to fulfill some of the challenges.
Originally a single-player game, the developers eventually went on to update it to include the option to add a second goose, making this an ideal choice for a spot of co-op shenanigans. Very young players might not fully understand what to do, but they'll easily pick up the controls and have a blast just causing havoc, honking at all the locals!
Buy it from: Steam, Itch, Epic Games Store
Click on image for gameplay video
Single-player
Shared/Split Screen Co-op
This is another puzzle game but one that's far more frantic and action-filled than Untitled Goose. The premise is simple – you're members of a moving company and you have to shift tagged items from a building into a truck.
What adds to the challenge are things like the strict time limit, size and fragility of the items, and various obstacles in your path. There's an alternate game mode, where you empty a filled truck into set locations, and an assist mode which lowers the difficulty. There are plenty of accessibility features in this game so it can be easily adapted to the players' needs.
With support for up to four players, rounds can easily degenerate into sheer chaos and that's all part of the fun of Moving Out!
Buy it from: Steam, Epic Games Store
Click on image for gameplay video
Single-player
Shared/Split Screen Co-op
For sheer aesthetics, Unravel 2 is hard to beat, and this platformer-puzzle game oozes style and charm. One or two players control a pair of creatures called Yarnys, that can unravel threads from their bodies, to grapple and swing across the world, as well as pull items or create bridges.
However, you're only made from so much yarn, so expend too much of it, and you'll be unable to progress any further. That means working together to overcome the environmental challenges in the game, though the game will offer useful clues when requested.
Where many of the games on our list (see below) have been fast or frantic, the slow pace and cozy atmosphere of Unravel 2 may be a welcome distraction for gamers wanting some quiet time by themselves or a family member.
Buy it from: Steam, EA Games Store
Click on image for gameplay video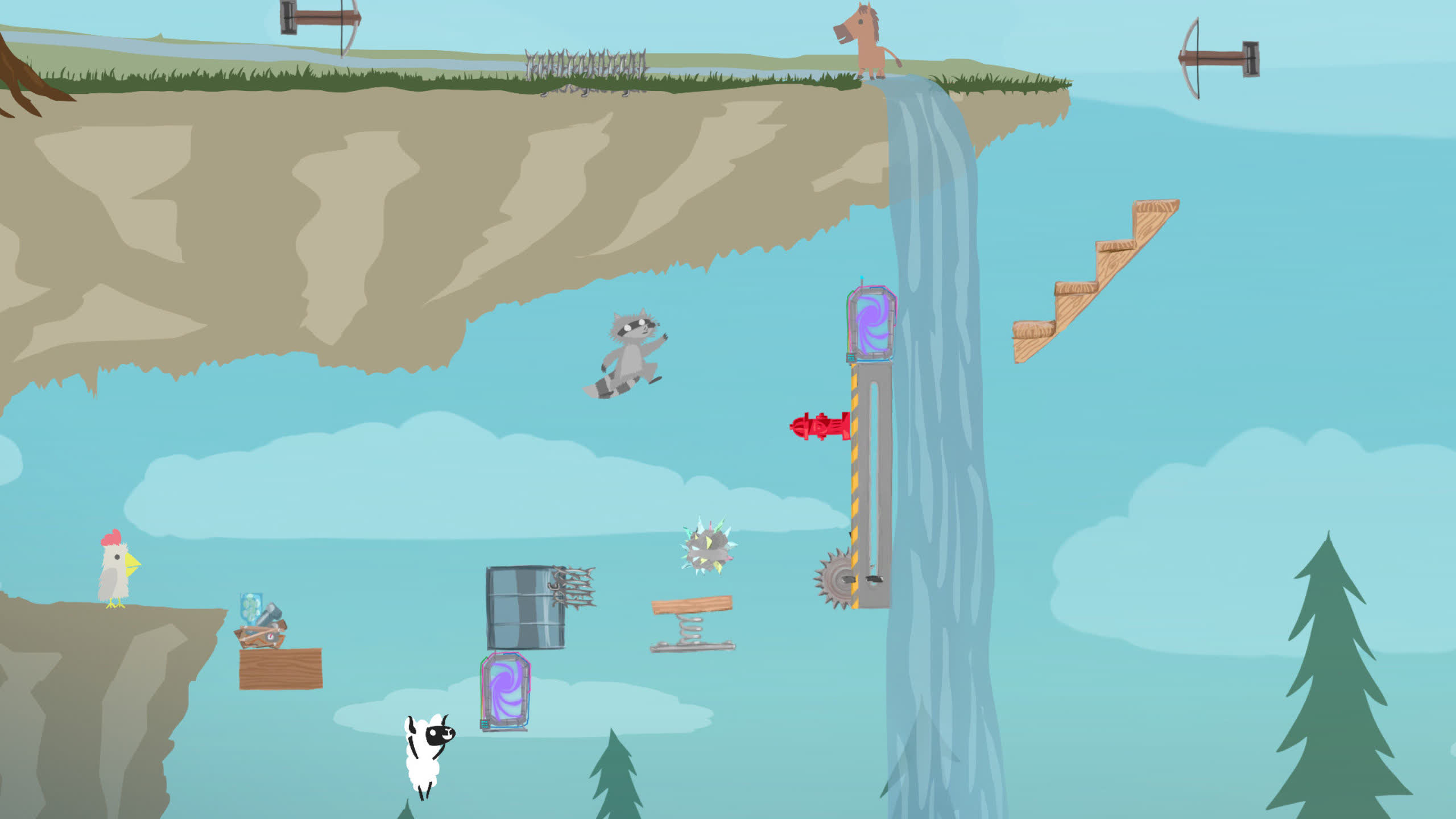 Split Screen Co-op
Split Screen PvP
Online Co-op
Online PvP
This is one of the older games on our list, dating back to 2016, but the gameplay is just as fresh as ever. Ultimate Chicken Horse is a competitive platformer, for 2 or 4 players, where the goal is to simply get to the other side of the map, scoring points in the process.
However, to do so, you'll need to build platforms and structures in order to make your way across, and herein lies the real competition – each player takes turns selecting construction objects before everyone then gets to have a go at the level. Early rounds are simple but the later ones can be very challenging and are ripe for some devious gameplay.
The 'build-your-own-platformer' aspect of the game means it might not be ideal for very young players but with a helping hand and guidance, most people should be able to enjoy the challenge.
Buy it from: Steam
Click on image for gameplay video
Single-player
Online Co-op
Online PvP
Love football? Adore fast cars with physics-defining power and speed? Well, this game is the perfect combination and is regularly played by millions of people around the globe.
While games like FIFA can feel somewhat one-sided, especially if one player is very good, Rocket League is more welcoming to novices, even in online matches. Young gamers can easily pick up the controls and quickly master the mechanics – the slow movement of the giant ball helps to prevent rounds from becoming too overwhelming.
You don't need a powerful PC and the base game is free to play. Of course, this means there is a lucrative customization store, as well as lots of add-on packs containing additional vehicles and arenas, but none of these extras are needed to enjoy the game. Just make sure that playtime is supervised to prevent any unexpected transactions.
Play it free from: Epic Games Store
Click on image for gameplay video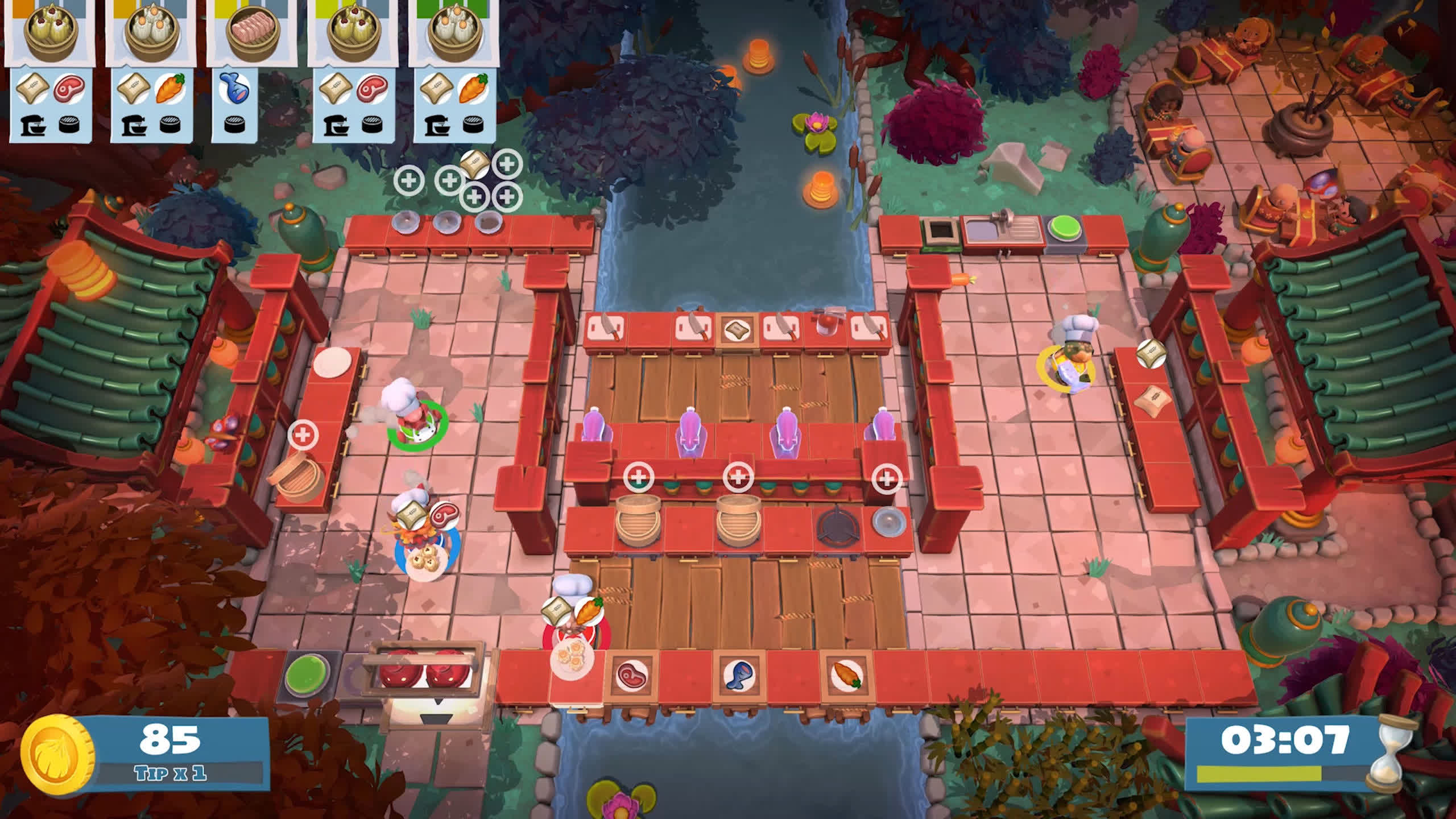 Single-player
Split Screen Co-op
Split Screen PvP
Online Co-op
Online PvP
A smash hit on consoles and arguably better than its predecessor, Overcooked! 2 is a masterpiece in multiplayer mayhem. Up to four players handle the preparation and cooking of meal orders that come in thick and fast. Collecting the ingredients and delivering them for service is made all the more challenging by a multitude of environmental barriers, such as flames, moving floors, and portals.
More often than not, of course, it's other players that will get in your way and rounds can easily degenerate into anarchy, especially when you start throwing ingredients about the level.
While sharing similar gameplay mechanics to Moving Out (though this game was released well before that one), the play area and user interface can feel somewhat cramped and confusing at times, and rounds can often end in frustration. But for gamers who adore frantic action with lots of challenges, there's plenty to enjoy in this title.
Buy it from: Steam, GOG, Epic Games Store
Click on image for gameplay video
Single-player
Split Screen Co-op
Split Screen PvP
Online Co-op
Online PvP
Every year, a new version of the premier football/soccer simulation game gets released by Electronic Arts, and there are generally very few differences between them all – other than the annual changes regarding the vast number of teams and players the game features.
The latest FIFA is as visually and aurally stunning, and the gameplay is silky smooth. The use of detailed motion capture helps to ensure that player movement and ball control feel as realistic as possible, while still being easy to pick up and master.
Given that there is a large focus on in-game purchases, you may want to supervise young gamers while they're playing this, especially if they're creating a custom team to play with.
FIFA can run a wide range of PC systems, though the game does require the use of EA's launcher app, which isn't the most reliable system out there, and a permanent Internet connection is also required (even for single-player mode).
Buy it from: FIFA 22 Steam, EA Store - FIFA 23 Steam, EA Store
Click on image for gameplay video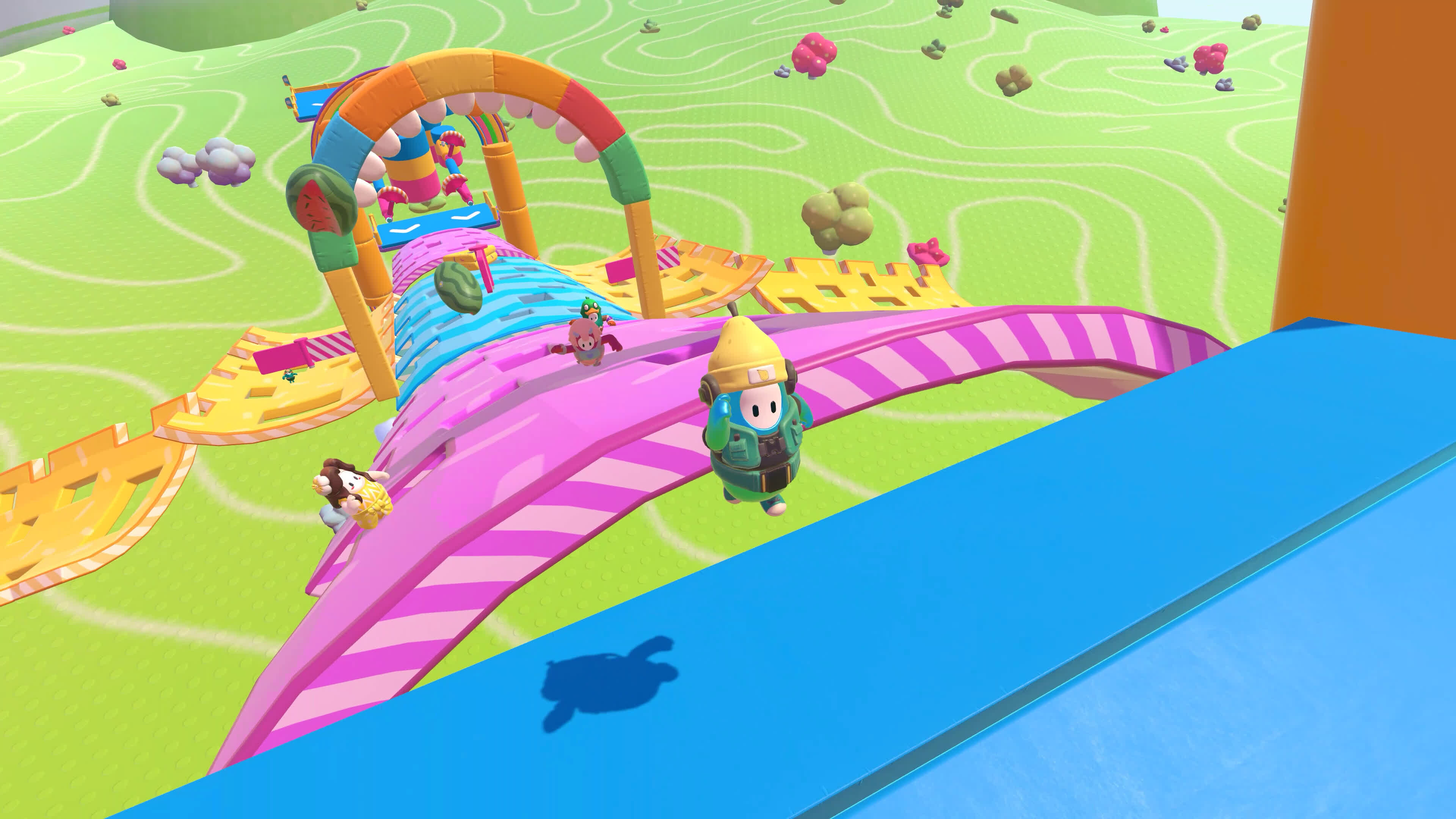 There's no local play in Fall Guys – it's entirely online, with up to 60 players competing at the same time, taking part in a sequence of mini-games that follow a battle royale theme. Do well enough and you'll progress to the next round until there are just a few of you left, with the ultimate crown awarded to the last person standing.
The themes and objectives of each round vary a lot – from simple sprint races to surviving on moving platforms, or collecting as many items as possible, there are plenty of different mini-games to get your teeth into.
The real challenge lies in the physics of the player's avatar, as the bean-like appearance of the characters extends to how smoothly and precisely they move about. Despite its negative aspects, the game has lots of charm and the frequently chaotic gameplay is immensely fun. There's no combat or weapons, just simple games that anyone can play and enjoy.
Just as Rocket League started life as a paid title, so did Fall Guys before it moved to be exclusive to the Epic Games Store. So again, there's the trap of in-game purchases to watch out for, but this is no different from letting young players game on mobile devices.
Play it free from: Epic Games Store
Team Sonic Racing
Click on image for gameplay video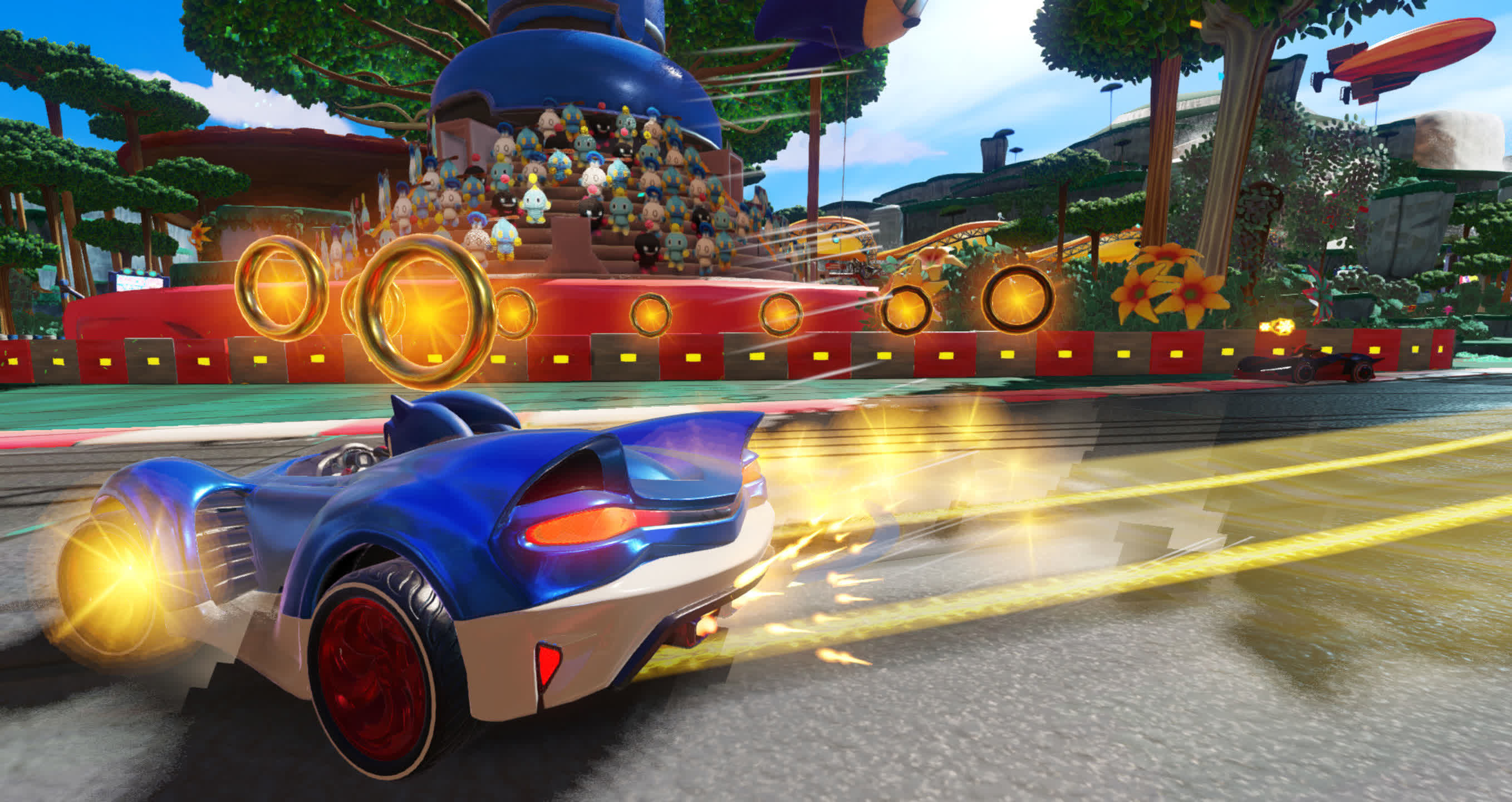 Single-player
Shared/Split Screen PvP
When it comes to family racing games, most people will instantly think of the Mario Kart series. Fortunately, there's something just as good for PC owners and it's Team Sonic Racing.
Best enjoyed with others, rather than as a single-player experience, the gameplay differs from its Nintendo forefather by having players race in teams. Rather than focusing on the individual that crosses the finish line first, the game rewards how well the group itself performs – that means sticking close to your teammates and sharing power-ups, filling the Ultimate meter, which offers any team member a speed boost.
This style of play is obviously very different from how most racing titles work and no small amount of patience and practice are needed to do really well. But despite its somewhat niche appeal, Team Sonic Racing offers hours of family fun.
Buy it from: Steam
Click on image for gameplay video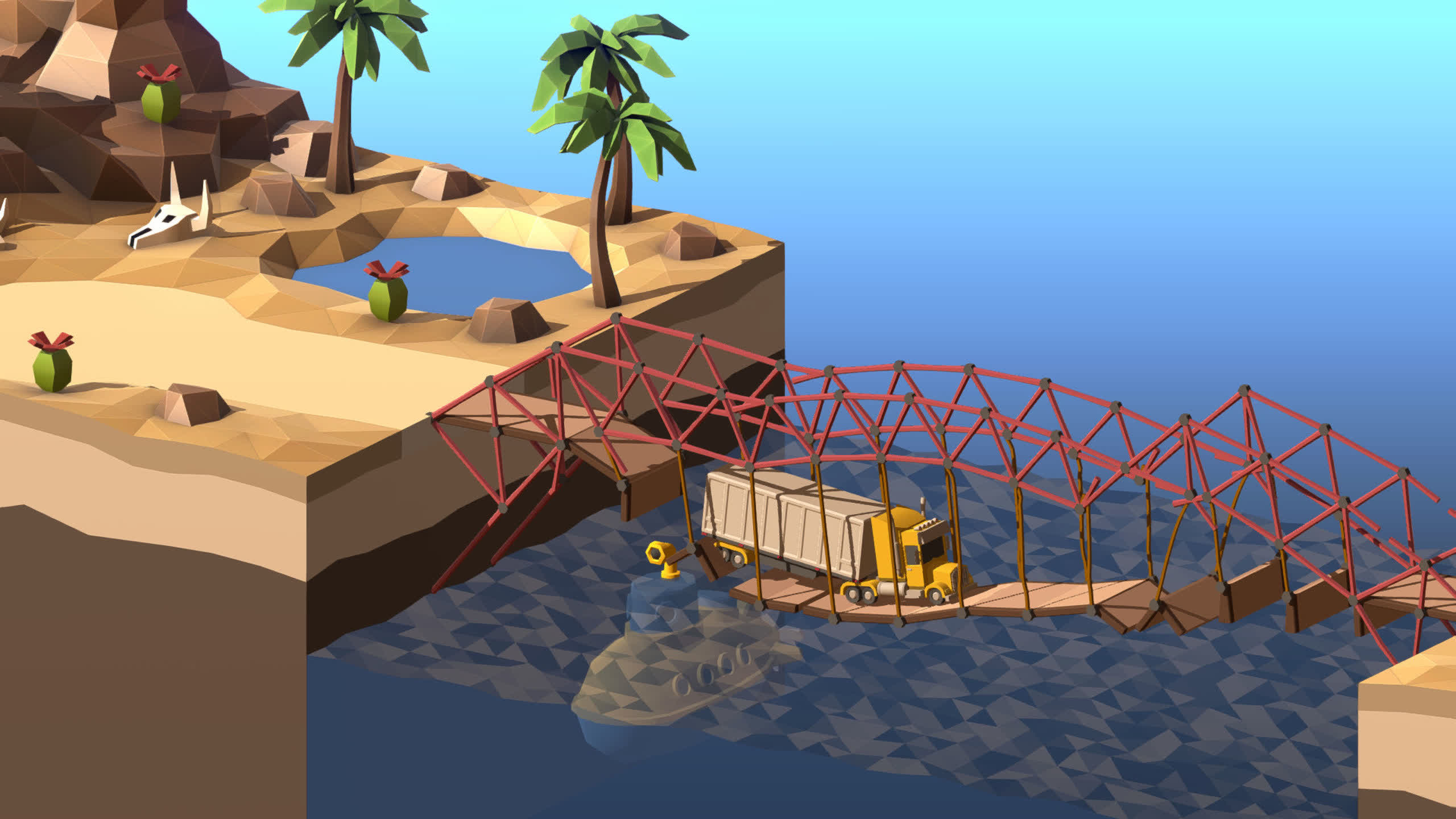 What's this? An entirely single-player game – how does this offer family fun, you might be thinking. Not every title requires players to be gaming at the same time to offer group fun.
The aim of Poly Bridge 2 is as simple as it gets – cross a gap between two pieces of land, by building a structure that can support the vehicle needing to cross. But that simplicity belies the carefully crafted challenge and later levels require lots of thought and planning. Each round has a limited budget for spending on bridge materials and you can have several people taking turns, on the same level, to see who can do it in the cheapest or most creative way.
While the main game is pretty short, the built-in editor allows you to create your own challenges for others to tackle, and this is the best way for groups to play the game.
Buy it from: Steam, Epic Games Store
Games rated E for Everyone 10+
Click on image for gameplay video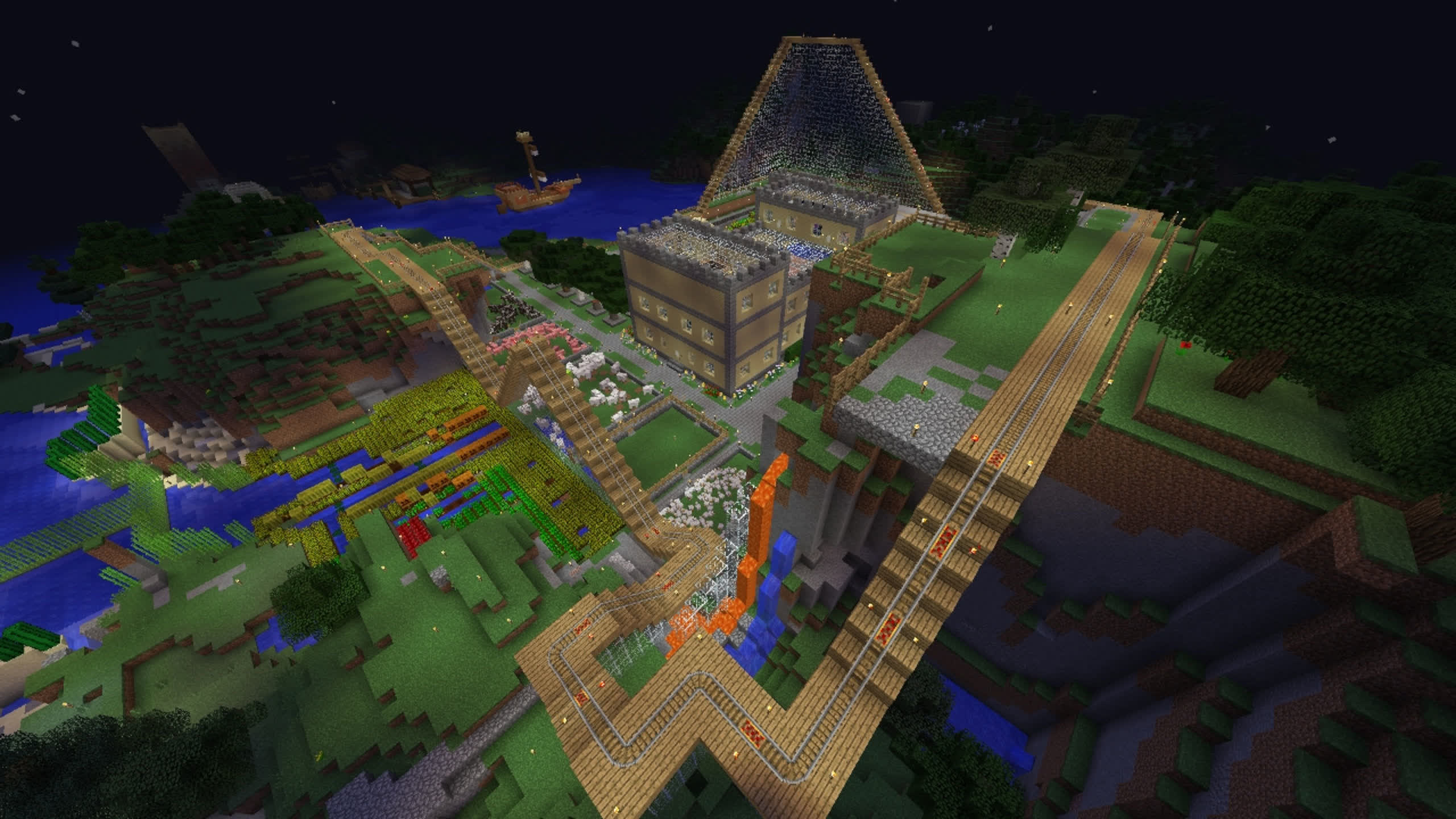 Single-player
Online Co-op
Online PvP
A game that needs no introduction – there are millions of families who are already familiar with the gaming landmark that is Minecraft.
Creative mode allows players to build truly incredible structures, with only time and imagination being the limit to what's possible. Minecraft Realms, the cross-platform hosting service, lets you quickly and easily set up servers for groups of two or ten friends to enjoy. However, it's not free and there's a marketplace to purchase all kinds of add-ons, so supervising young players is recommended.
There are a host of Minecraft spin-off games, merchandising, and social events with which to continue exploring the digital world of crafting and creation.
Buy it from: Minecraft Store
Click on image for gameplay video
Split Screen PvP
Online PvP
This game is reminiscent of Fall Guys in some ways but the focus is rather different – knocking out other players and them throwing out of the play area! While the majority of beat 'em up titles aren't really suitable for all-around family entertainment, Gang Beasts works by virtue of the total lack of gratuitousness.
Playable characters can be customized to look utterly absurd and their wobbly bodies add to the gentrification of the combat. It certainly doesn't feel or look like a violent game, but it is perhaps best suited for children who can understand the difference between real and cartoon behaviors.
The downsides to Gang Beasts are that it's not a very polished game, players can often get stuck, and it works best with 2 to 4 people on the same machine (online matchmaking is very clunky). But for a couple of hours of hilarious mayhem, it's an ideal choice.
Buy it from: Steam
Click on image for gameplay video
Single-player
Shared/Split Screen Co-op
The oldest game on this list, but despite its age, it's still just as much fun as it was back then. Up to four players can enjoy the challenge of this classic platformer and there's lots to keep gamers busy.
Boasting well over 100 levels, all beautifully animated and rendered, Rayman Legends also has simple controls and gameplay that is easy to learn. The game takes its time in ramping up the difficulty, helping to prevent frustration from setting in too early. That said, boss levels are no pushover, and some levels may present a problem for new gamers.
And speaking of difficulties, Rayman Legends uses Ubisoft's Connect launcher, which requires a permanent internet connection to work and can sometimes be very glitchy. Fans of classic platformers might also enjoy Crash Bandicoot N.Sane Trilogy, though that title (a compilation of remasters of the first three Crash games) is single-player only.
Buy it from: Steam, Epic Games Store, Ubisoft Store
Click on image for gameplay video
Single-player
Shared/Split Screen Co-op
We round off our list of PC games for family time fun with not one but (technically) nine games! The Lego series of platformer-puzzle-action-adventure titles are all hugely popular but while this one, the most recent release, isn't the greatest the developers have made, it's still lots of fun.
One or two players follow a Lego-fied re-imagining of all the films that make up the Skywalker saga, replete with silly humor, cute characters, and hours of potential gameplay. Covering so many films does mean that the game is perhaps a little too big and there are elements where it becomes very repetitive and uninspiring. But in short doses, there's lots to enjoy here.
And if Star Wars isn't right for you, then try Lego Marvel Super Heroes (Steam) or Lego Batman 3: Beyond Gotham (Steam, Epic Games Store). In fact, there are so many Lego movie and comic book tie-ins that you should have no problems finding something for everyone.
Buy it from: Steam, Epic Games Store