TechSpot is celebrating its 25th anniversary. TechSpot means tech analysis and advice
you can trust
.
When you buy through our links, we may earn a commission.
Learn more
.
Choosing the right case for all your PC hardware can make a big difference to how it looks, keeps cool, and sounds. But with so many options out there, how do you know what's best for you?
There are plenty of factors to examine: appearance, size, cost, features, thermals, and so on. But we're here to make the process easier and narrow things down to some truly excellent options for you to consider.
Our latest round-up of the best cases covers various form factors, prices, and target audiences. We base our choices on expert and user reviews, buyers' comments, and our own impressions, separating the best from the rest.
More Buying Guides:
Best Overall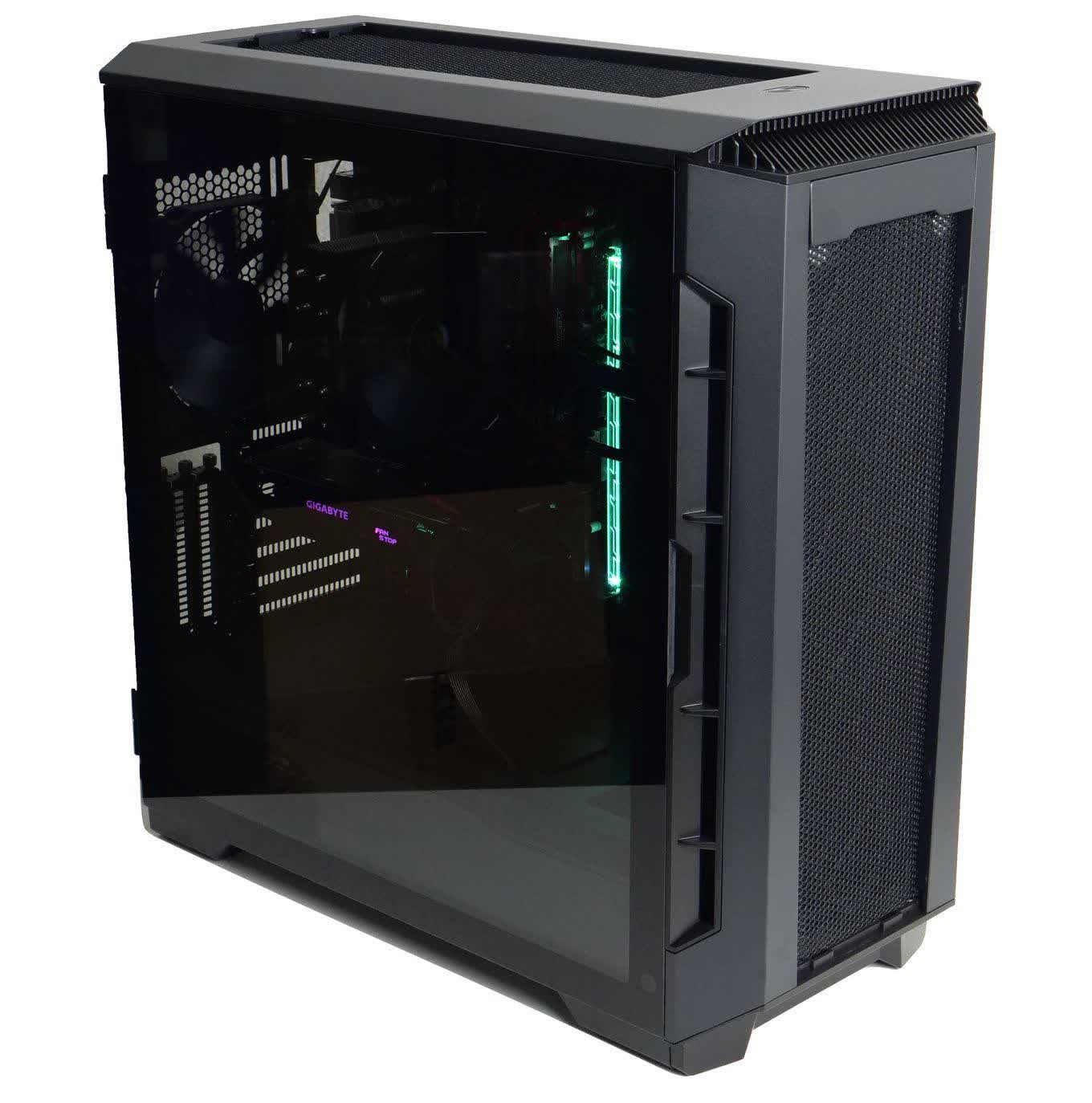 Great | Differentiating Features
Front panels let users choose between performance or silent modes, excellent airflow, versatility, great value, dual system support
Good | Most Have It
USB Type-C, supports E-ATX motherboards, roomy interior
Average | Competitors May Be Better
No RGB, design might be a bit plain for some
Phanteks has long been a favorite brand among PC builders, and for good reason. Its products regularly compete for 'Case of the Year' awards, and the P600S is no exception, combining high-performance and low-noise levels in an attractive case at a compelling price.
On the outside, users have the option of removing the sound-dampening front panels and revealing the fabric mesh filter, which allows for better airflow and improved performance. Alternatively, you can leave them in place for near-silent running. There's also a tempered glass magnetic side panel that's easy to open, and a neatly hidden I/O panel, featuring USB Type-C and dual 3.0 ports
The interior of the P600S is based on the Phanteks Enthoo Evolve X, a former winner of our Best Enthusiast category. That means there's plenty of room inside this mid-tower, with support for up to E-ATX motherboards (up to 280mm wide) and dual-systems, along with plenty of cable routing features.
It comes with a PSU shroud with a cutout to show off your power supply, sliding grommets, a fan hub, and three 140 mm fans with room for three more. Drive-wise, you get three tool-free SSD caddies at the back, and you can add the four included 3.5-inch drive enclosures at the bottom. While the P600S lacks some of the features found on the most expensive cases, including RGB, it's extremely versatile and comes with pretty much everything you need in a chassis.
A perfect choice for a variety of builds, its best element could be the price. At under $200, Phanteks is offering a quality product far below the usual high price you'd expect to pay for a high-end option.
Fantastic alternatives
If the more traditional look of the Phanteks Eclipse isn't for you, and you're after something just as flexible but with a modern, stylish appearance, then this case is a great choice. An update to the 011 Dynamic, this case looks stunning thanks to its removable front and side tempered glass and multiple RGB modes. The XL is more spacious than its predecessor, allowing for larger components while making it an excellent case to work inside. With its modular design, the Dynamic XL offers a huge amount of flexibility for different builds.
Highlights include the hot-swappable bays, excellent cooling, capacity for up to ten storage drives, and support for vertical GPU mounting and E-ATX motherboards. There's also a Razer version so you can synchronize the lighting with the company's peripherals. The only problem might be the $200+ price tag.
If you're after something that's giving you a head start with setting up internal lighting, then this is an ideal choice. NZXT's latest smart case looks gorgeous and now comes with a faster microprocessor for its CAM software-powered Smart Device, which utilizes machine learning to find the perfect point between noise and performance for fans – it also controls the integrated RGB lighting.
For just under $200, the H710i offers four 120 mm fans, USB Type-C, and support for vertically mounted GPUs. But its best feature could be the excellent cable routing, which uses built-in cable channels at the back to keep everything tidy.
Versatility often requires a chassis to be overly large, but that's not true of this compact, sub-$200 offering. The Fractal Design Define 7 is a feature-packed case that is also versatile with a dual-layout interior. There's plenty of room for working inside, which is made easier by the tool-free panels.
There's also a Nexus+ 2 PWM fan hub, great cable management, a dedicated fill port for refilling water loops, and a vented top panel that adds to its top thermal performance.
Finally, if you just want a simple and modern case, that offers good value for money, then you can't go wrong with this one.
Corsair's model fits neatly between their 4000D and 7000D Airflow offerings, in terms of size and price. While not as feature-rich as the other choices above, it's been a popular seller, and for good reasons.
Like its bigger brother, the 7000D Airflow, this case comes with a six header, SATA-powered PWM repeater, although there are only two 120 mm fans pre-installed (one each, front and rear).
There are just three USB ports on the top/front (one 3.2 Gen2 Type-C, two USB 3.0 Type-A) but inside, there's room for up to six 2.5-inch drivers or four 2.5-inch and two 3.5-inch.
Along with space for a 15-inch (400 mm) graphics card and multiple closed-loop radiator systems, this mid-tower case is notably cheaper than the others in this category, at around $160.
Best for Enthusiasts
Great | Differentiating Features
Modular design allows for multiple configurations, fantastic cooling support, includes GPU riser cable and four 140 mm fans, embedded ARGB
Good | Most Have It
USB Type-C, expandable, quiet
Average | Competitors May Be Better
Very expensive, not ideal for beginners
The Cooler Master Cosmos 700M is everything you'd expect for a case targeted at enthusiasts: huge, heavy, and gorgeous. It features addressable RGB (ARGB), in the form of two parallel strips that run from the top panel to the front panel, as well as ambient ARGB lighting on the bottom that reflects against the aluminum bars. You also get a tempered glass side panel with curved edges and a matte finish on the distinctive Cosmos handlebars.
The biggest draw for experienced PC builders is the C700M's versatility. Its modular layout allows you to pick a standard, inverted, or chimney-style motherboard tray (achieved by rotating the motherboard 90 degrees). The case also comes with a graphics card mounting bracket and riser cable, allowing users to mount the GPU vertically or horizontally in several positions, and you can even rotate the card up to 90 degrees to better show it off.
The C700M is also perfect for those who want to use a custom water-cooling loop, with two included brackets that can each support 420 mm radiators and mounting locations for water pumps and reservoirs.
The cable management design was inspired by server racks, with plastic strips organizing cables into channels, Velcro strips, and cable covers to keep everything looking clean.
With four pre-installed fans (up to nine are supported), ten drive bays, USB Type-C, and excellent thermal performance, the C700M is an outstanding case. Its only real drawbacks are its size, complexity, and price, which is currently over $500.
Great alternatives to consider
Enthusiast-level cases don't have to be hugely expensive, as BeQuiet amply demonstrates with this choice. The successor to the excellent Dark Base Pro 900, the rev. 2 comes with all the original's features, including the modular interior, Qi wireless charging, capacity for a huge number of drives, and fantastic water-cooling support.
The latest version features a USB 3.1 Gen 2 Type-C, a fan controller that supports 8 PWM fans, new plastic drive slot covers, and improved Silent Wings fans. At just over $250, it's considerably cheaper than many enthusiast-class rivals.
If looks are less important than the case's practical aspects, then the Corsair 7000D Airflow is a great choice. With room for up to 10 storage drives and a 17-inch (450 mm) graphics card, this case offers lots of scope for multiple closed-loop radiators.
Three 140 mm AirGuide fans and a six header, SATA-powered PWM repeater come pre-installed, and there's decent space and routing behind the motherboard panel for cable management. There are five USB ports on the top/front (four 3.0 Type-A and one 3.1 Type-C), which is rare to see in many cases these days. It's currently priced at a fraction under $270.
But if size really does matter, then Corsair's Obsidian 1000D beats them all. Thirty percent bigger than its predecessor, the gargantuan 900D, this cavernous monster can hold two full ATX systems, 8 fans, four 480 mm radiators, and the family sedan (possibly).
This final choice is much like the others, being versatile, spacious and good-looking, but it has all of the others beat in one particular area. This successor to the excellent Evolv ATX supports not only E-ATX, ATX, micro-ATX, and mini-ITX motherboards, but also dual systems, thanks to the optional ITX upgrade kit -- though this will also require Phantek's Revolt X PSU.
Cable management is extremely good, the fan hub design is superb, but its winning card has to be the fact that it can hold up to 19 storage drives! This previous category winner is currently available for just over $230.
But if the Enthoo Evolv X is too small for your needs, then Phanteks also offers their colossal Enthoo Elite -- at 30 inches tall, 24 inches deep, and 10 inches wide, its excessive dimensions are matched by its $900+ asking price.
Best Mini-ITX Case
Great | Differentiating Features
Handle is a piece of design, can fit larger air coolers and GPUs
Good | Most Have It
USB Type-C
Average | Competitors May Be Better
SFX/SFX-L power supplies only, no bottom dust filters
For PC owners preferring to have their system be compact, even console-sized, there are some very attractive mini-ITX options available, and one of the best is the Lian Li TU150. Like all of Lian Li's cases, the TU150 exudes class, especially the brushed aluminum version. There's a tempered glass side panel with a blacked-out section that hides the PSU, four rubber-tipped feet that provide clearance airflow, and the case's highlight: a fully retractable handle in the roof that blends into the chassis when in the down position.
The TU150 is slightly larger than some other ITX cases, meaning it can fit bigger components, though its form factor will still have limitations. Connectivity demands, meanwhile, are met with the USB 3.2 Gen 2 Type-C port and dual USB 3.2 Gen 1 Type-A connectors.
Accessing the case is simple, thanks to the pin-based, push-to-lock panel mechanism that makes stripping it down a quick and simple affair. On the inside, there's support for either two 2.5-inch drives or one 2.5 and 3.5-inch, along with up to four fans.
Cable management, often an issue in ITX cases, is excellent as you can route cables behind the motherboard tray and through the roof section. The only issue some might have with this case is that it doesn't support ATX power supplies, only SFX/SFX-L (although the use of such a supply doesn't create more interior space).
Apart from that, the TU150 is a great choice for those wanting a mini-ITX with enough room for sizable components (air coolers up to 165 mm). It's also under $120, which is excellent value for money.
Worthwhile alternatives
If the TU150 looks a little dated for your taste, then this classic is a great alternative. An update of the NZXT H200i (our previous 'Best mini-ITX case' winner), the H210i features everything that made its predecessor so good, along with a few upgrades. Buyers get the latest Smart Device V2 for controlling the RGB lighting and fans, and we finally get a USB 3.1 Gen 2 Type-C port.
There's plenty of room for liquid cooling setups, great thermal performance, and lots of cable management features. You can grab this stylish case for under $100.
It might seem unfair to include another Lian Li case in this category, but this one has been a popular choice with users, and from looks alone, it's not hard to see why. With an ATX PSU, there's only room for two 2.5-inch storage drives, but using an SFX supply will increase that to three, plus one 3.5-inch drive.
The side panels (two on each side) are hinged and interchangeable, allowing you to configure the case for looks or thermal performance. No fans are included in the package, but there is an integrated PWM + RGB controller, powered by a motherboard header.
Despite its compact appearance, there's room for a 280 mm closed-loop radiator at the top, and it can fit a graphics card up to 3 slots wide and around 12 inches (360 mm) in length. Using GPUs that large requires the use of the included PCIe riser cable, but it's only PCIe 3.0 -- a version 4.0 cable costs extra. Along with its fiddly cable management, current prices of around $175 make this a bit of a niche choice.
For sheer adaptability, this choice is hard to beat! No, this isn't three different cases being shown -- it's all the same one. The Phanteks Evolv Shift XL is a height-adjustable SFF case, achieved through the use of multiple screw fixings on the panels and chassis.
A little under 15 inches (371 mm) long and 7 inches (173 mm) wide, the case can be configured for three different heights: 8.3, 9.6, and 10.7 inches (211, 244, and 272 mm). This adjustment allows you to add additional fans or use a 240 mm closed-loop cooler. Unfortunately, there's only room for a single 2.5-inch drive, so you'll need to have NVMe M.2 support on the motherboard if you need further storage.
Its tiny size also dictates the use of an SFX or SFX-L power supply unit, but regardless of how you configure the Evolv Shift XT, there's space for a 12-inch (324 mm) graphics card.
Perhaps the biggest drawback with this great-looking Phanteks offering is the price -- at around $170, it's noticeably more expensive than some of the others in this category.
Some further alternatives that are worth checking out are the Thermaltake Core V1 (ultra-compact, basic looks, but low price) and Silverstone's RVZ030-ARGB. The latter gives off console vibes and that was the aim of the designers -- space is very tight inside, so it's not for everyone, but the price is under $160.
Best Micro-ATX Case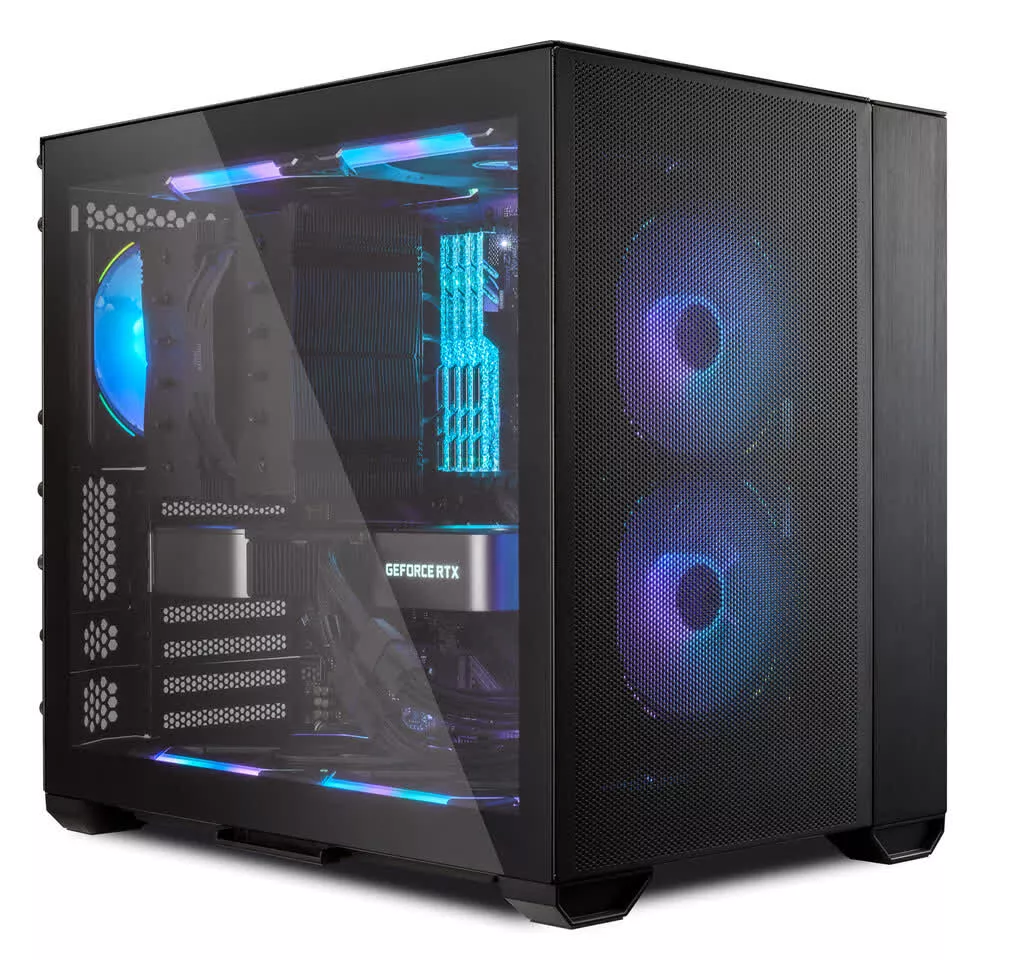 Great | Differentiating Features
Comes with three fans and plenty of room for other cooling options
Good | Most Have It
Good thermals and cable management, competitive price
Average | Competitors May Be Better
Steel chassis is heavy, wide format takes up space
Lian Li's 011 Air MINI is a compact version of their original 011 Air but small updates have improved the overall package, in terms of space and cooling performance. To get you started in that area, two 140 mm PWM fans and one 120 mm PWM fan come pre-installed.
Thanks to a modular back panel system, there's scope to use ATX, mini-ITX, or micro-ATX motherboards, and there's space for a regular-sized ATX PSU. The case has a split interior, to allow for cables to be neatly routed out of view and prevent airflow obstruction.
Depending on the panel configuration and motherboard used, it's possible to fit 280 mm radiators in the top, front, or bottom, and a 240 mm radiator at the back.
There's support for six 2.5-inch drives or four 2.5-inch with two 3.5-inch drives, and it comes with two USB 3.0 and USB 3.1 Type-C ports on the top. The clean looks, spacious interior, and competitive $119 price make the 011 Air MINI a top choice for the micro-ATX category.
Other choices worth considering
Where the Lian Li 011 Air MINI is all about being ultra-compact and well-priced, the Enthoo Mini XL from Phanteks takes a very different approach. At over $230, you'd expect a lot from this case and, thankfully, it thoroughly delivers.
In terms of looks, the design is somewhat dated now, as this model has been around for a good while.
But for sheer versatility, this case is hard to beat. Want to fit two micro-ATX systems in your PC? Need to fit up to three 5.25-inch devices, such as Blu-ray burners? How about up to eight 2.5-inch storage drives? The Enthoo Mini XL has you covered.
If that's too expensive, then Phanteks' former category winner, the Evolv mATX TG, is also a great choice and is currently around $140.
Something that's far more modern, is the Corsair 4000D Airflow. Aimed at maximizing cooling performance, this case isn't going to be the quietest on the market, nor does it have the same level of storage support or ports that the Lian Li offers.
But with room for a graphics card of up to 14 inches (360 mm) in length, this case will easily cope with any GPU. There's also space for two 2.5-inch and two 3.5-inch drives, plus a whole host of radiator and fan configurations.
And at just under $120, it's keenly priced against its competitors.
With a choice of 5 color schemes, this spacious and good-looking case has plenty of room for large graphics cards (over 13 inches/341 mm is supported) and plenty of fans to keep things cool.
For its size, there's not a huge scope for storage drives (just two 2.5-inch, as standard, but can be expanded to four) but it does come with four USB ports on the top/front.
The artistic filter on the front can be removed for extra airflow and at around $140, the Meshify 2 Compact is a worthy alternative.
Best Case Under $100
Great | Differentiating Features
Roomy mini-ITX case for under $60, includes one 200 mm fan, looks great in white
Good | Most Have It
Fits a standard ATX PSU
Average | Competitors May Be Better
Limited cooling options, low number of expansion slots
Due to recent rises in manufacturing costs, many popular cases now come over the $100 mark, but the Thermaltake Core V1 isn't one of them. Yes, it's a mini-ITX case, so internal space is at a premium.
But with some clever arrangement of cables and the right choice of cooling, it's possible to fit a graphics card of length up to 10 inches (255 mm), a standard ATX PSU, and two 2.5 or 3.5-inch drives. The side panels can be swapped between being transparent plastic or vented steel, so there's scope to configure the looks to just how you want them.
The Core V1's downsides, besides the limited space, are the expansion slots at the rear and USB ports on the side -- there are just two of each and the latter are just 3.0, so no high-speed Gen 3.2, unfortunately. But for the money and small footprint appeal, this case is definitely a worthy choice.
Great alternatives
If the Thermaltake Core V1 is too small for your needs, then the Corsair Carbide 275R is the next best choice. Somewhat old school in terms of design, especially regarding thermal performance, there's lots of room inside to fit big graphics cards, up to four 2.5-inch drives, and three closed-loop cooling systems.
Various corners have been cut to keep the price under $70, such as the acrylic side panel, but the clean and simple look is very appealing.
The original NZXT H510 was a hit with budget-orientated PC enthusiasts, bar its poor thermal performance. The Flow version addresses this pretty well and if you want a case that has an elegant appearance, but still offers lots of room, then the H510 Flow is worth a look.
There's room for a 14-inch (360 mm) graphics card and four storage drives (two each of 2.5-inch and 3.5-inch), but there are only two USB ports on the outside: a Type-A 3.2 Gen 1 and a Type-C USB 3.2 Gen 2.
All of this for less than $90 makes it a great choice for those who want to balance practicality with aesthetics.
Yes, it's another mini-ITX case and it's another one from NZXT, but this one is an absolute classic and is still under $100.
Pre-installed fans, LED lighting, and the Smart Device V2 controller make this the most impressive looking of all budget cases. There's only one USB 3.0 port, though, and despite the overall space, it can be fiddly to install things inside. Both the NZXT H510 Flow and H210i are available in black or white colors, but the latter also comes in a red & black combination.
Image credit: Nag (Cooler Master C700M)