TechSpot is celebrating its 25th anniversary. TechSpot means tech analysis and advice
you can trust
.
When you buy through our links, we may earn a commission.
Learn more
.
All desktop PCs are worthless without a monitor, but with so many sizes, panel types, and price points, it's difficult to know what's great to use and what will grate your nerves. To help you through the myriad of choices, we've collated all our monitor reviews, researched hundreds of models, and gone through numerous stores to find you some of the very best monitors you can buy right now.
Whether you're after a high refresh rate display, a glorious big panel for content creation, or something that's wallet-friendly but still packed with features, our updated guide will help you on your way.
More Buying Guides:
Best Overall Monitor
Great | Differentiating Features
32" 4K screen, 144 Hz refresh rate, KVM functionality
Good | Most Have It
Excellent value for money, lots of connectivity options
Average | Competitors May Be Better
Needs calibrating to show its true color accuracy
A good monitor should last for many years and provide the basis for base unit upgrades in the future. It wasn't that long ago when 4K monitors were exclusively for the wealthy and only suitable for high-end PCs, but this is no longer the case.
Boasting a 32" 4K 144Hz IPS panel, Gigabyte's M32U brings high resolution with high refresh rates into the reach of many more users (as of writing it's $599 which is a steal, really). Colors are well-balanced and vibrant, the screen has a fast response time, and there are plenty of features that help it stand out from the crowd.
There are two HDMI 2.1 ports and one DisplayPort 1.4 input, and both support the maximum 144Hz refresh rate, with Display Stream Compression (DSC). The M32U also supports FreeSync Premium variable refresh rate and although it's not officially certified by Nvidia, it also works with their G-Sync Compatible mode. Graphics cards without DSC or a HDMI 2.0 output will be restricted to a 60Hz refresh rate, though.
A key feature of Gigabyte's model is the KVM functionality – this allows you to connect a keyboard and mouse (via the USB 3.0 Type-A ports), and then connect the monitor to the primary device with HDMI/DP cables and a USB Type-B to A upstream cable (included in the box). A second device can then be attached with a separate USB Type-C cable and with a press of the KVM button on the back, the monitor will switch the display and controls between the devices.
Despite all of the M32U's excellent features, its HDR mode is not good. While rated to VESA HDR 400, it's just not bright enough to make the most of it. Gigabyte included a local dimming feature, to improve the IPS panel's rather low contrast ratio, which dims the backlights when displaying dark areas, but it just makes the dimming zones look far worse. Fortunately, the SDR quality more than makes up for this, and with a little bit of calibration, the panel's colors are extremely accurate.
Excellent Alternatives
If 32" is a little big for your taste, then Gigabyte makes a 28" version (the M28U), which has all of the same features although it's not a great deal cheaper. Another solid alternative, the Dell G3223Q 32" is worthy of of consideration sporting very similar specs. It's more expensive than the M32U (depending on your region), but it's equally good in specs and perhaps a bit better looking and well designed.
Last but not least, if you're not ready for 4K just yet, then there's another offering from Gigabyte that's perfect for 1440p, the M27Q-X. Regardless of which one you go for, they're all excellent choices.
As with all things, there are cheaper monitors and there are better and more expensive ones, but Gigabyte's M32U has the best feature set and price combination of them all.
Best Monitor for Content Creation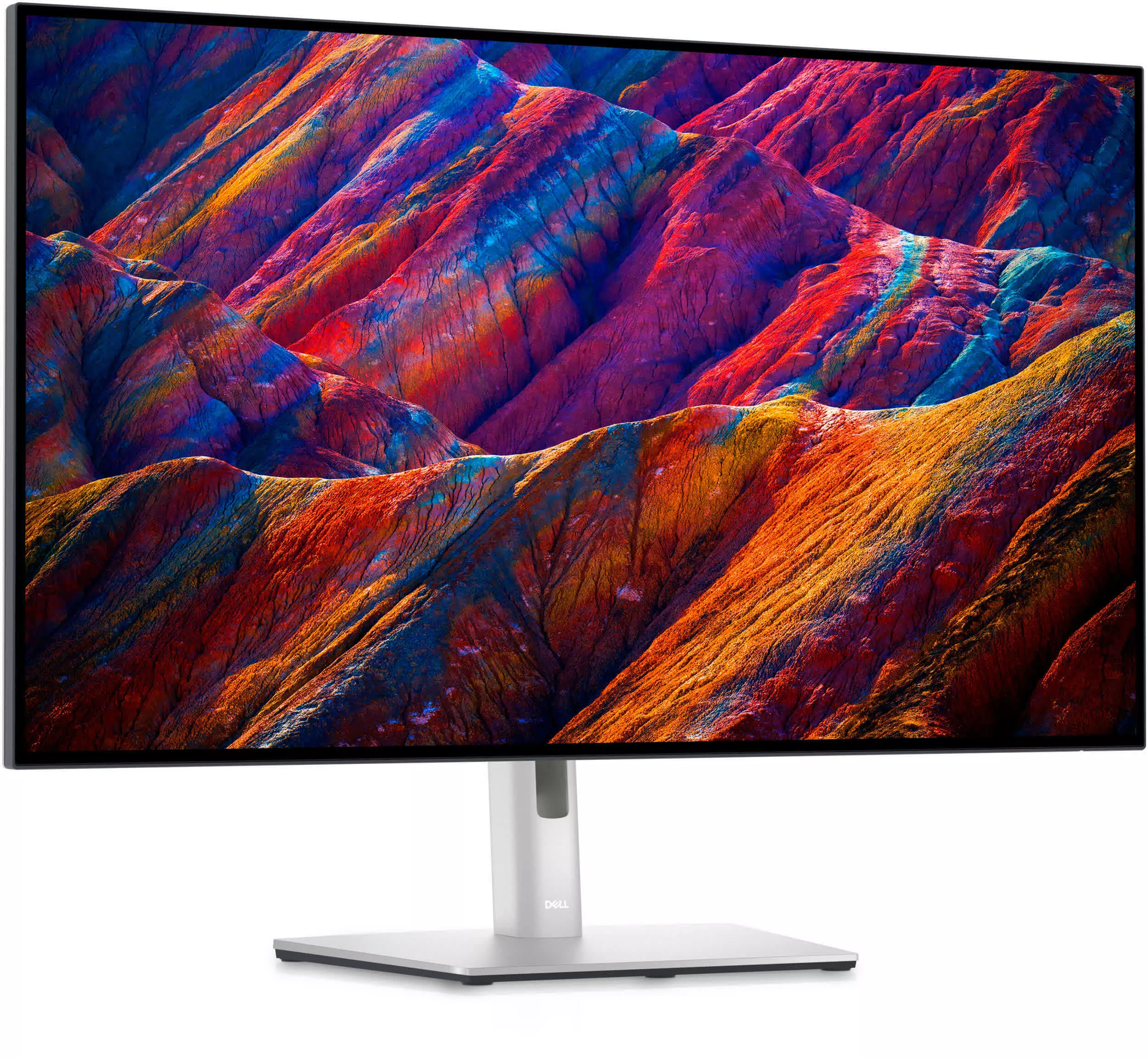 Great | Differentiating Features
Great color accuracy out of the box. Expansive color gamut. DisplayPort daisy chaining
Good | Most Have It
Built-in KVM
Average | Competitors May Be Better
Local dimming feature is poor, average HDR brightness
For an all-purpose content creation monitor, a combination of a 32-inch size and 4K resolution hits the sweet spot. While there are plenty of options, few offer the same mix of pro features, color accuracy, build quality, and price as Dell's Ultrasharp U3223QE.
Dell's experience in producing high-end displays is made obvious with this display. The 3840 x 2160 IPS panel has been color calibrated at the factory to produce 100% sRGB color accuracy out of the box, as well as 98% DCI-P3 and 89% Adobe RGB colors.
The screen boasts 1.07 billion colors and a claimed 2000:1 contrast ratio, while the 400 nits of brightness help it to HDR 400 certification. To ease eye fatigue, the panel features a TÜV Rheinland certification for its flicker-free, low blue light output.
Ports consist of a single DisplayPort 1.4 and another DP output to allow for a second monitor to be daisy-chained. There are also four USB 3.0 slots, a single HDMI 2.0, and a USB Type-C that offers Power Delivery (up to 90W of charging power), DisplayPort Alt Mode, and USB 2.0 data connectivity.
Other highlights include a built-in KVM that lets you switch between two PCs while using one keyboard and mouse. It also comes with tiny bezels (6mm), a low response time, and the minimalist chassis is solid.
The main downside to Dell's offering is the semi-gloss finish on the screen, as it doesn't handle reflections from bright sources very well. For some offices, it may be tricky to find the right position to use it without the screen glare being too distracting.
Alternatives with better color accuracy
If you're looking for something with even better color accuracy, there are multiple options to consider depending on your specific requirements. Dell's UltraSharp PremierColor UP3221Q 31.5" display features Mini LED-based full-area local dimming (FALD) backlighting with 2,048 zones, allowing high brightness and excellent contrast.
The 1,000 nits peak HDR brightness means it's VESA DisplayHDR 1000 certified, and it supports 99.8% and 93% of the DCI-P3 and Adobe RGB color spaces, respectively.
The Asus ProArt PA32DC 32" is another 4K monitor packed with professional features, such as an automated, motorized colorimeter and multiple preset modes for sRGB, DCI-3, and HDR usage. Adobe software users will be particularly interested in the 99% Adobe RGB accuracy.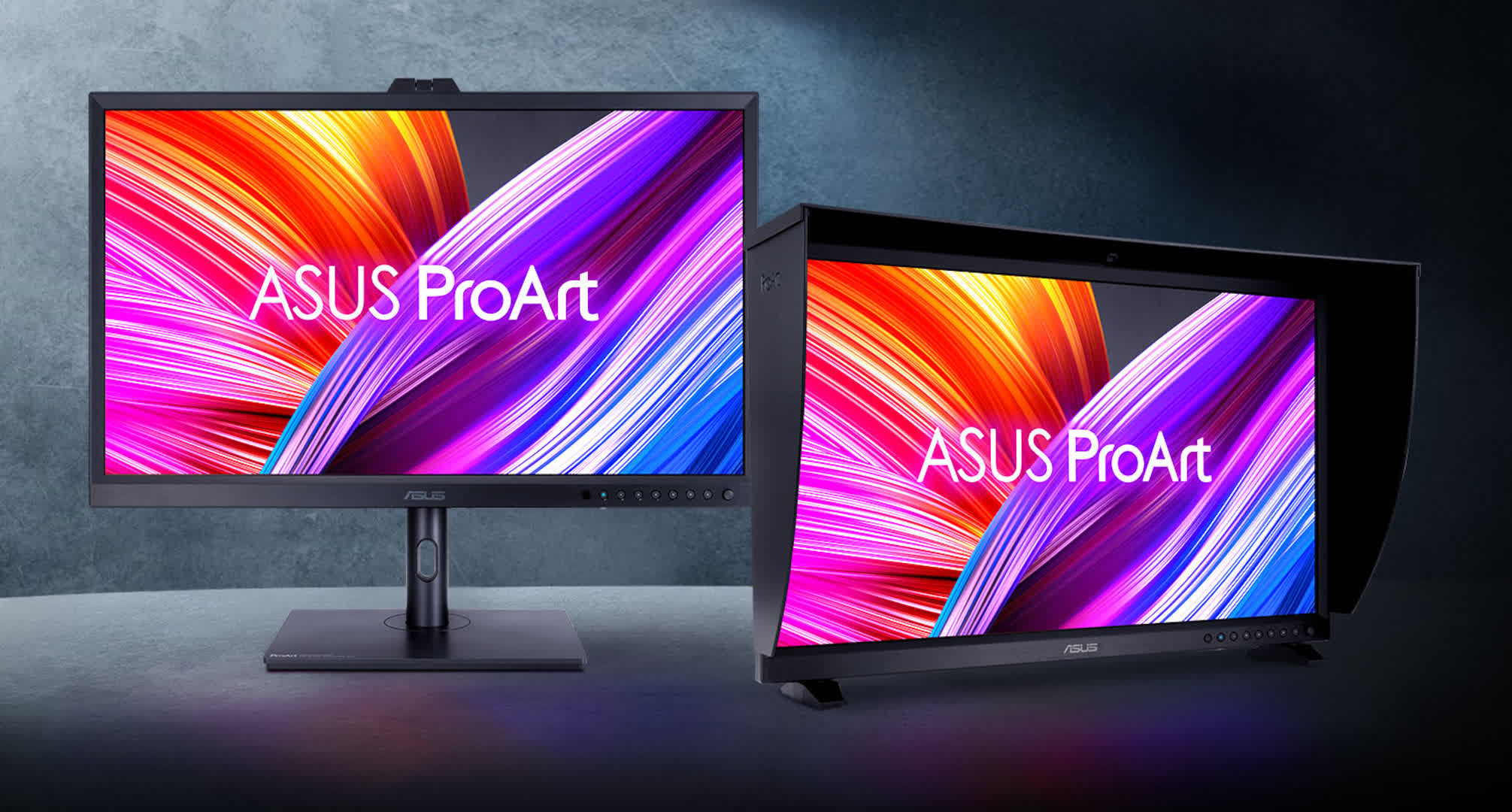 The OLED panel doesn't have the same peak brightness as Dell's UP3221Q, but it offers support for high dynamic range formats such as HDR10, Dolby Vision, and Hybrid Log-Gamma (HLG).
Like so many others in this category, the PA32DC sports a raft of I/O ports: one DP1.4, three HDMI 2.0, four USB 3.2 Gen Type-A, and one USB Type-C that supports DisplayPort Alt Mode and offers 64W of charging power.
The ProArt PA32DC and Dell PremierColor UP3221Q cost $3,500 and $4,000, respectively, so they're serious investments, but they're considerably cheaper than other monitors in this segment, such as the Eizo ColorEdge CG319X and Apple's Pro Display XDR.
Best Monitor for Enthusiasts
Great | Differentiating Features
QD-OLED contrast and image quality are superb
Good | Most Have It
High refresh rate and low latency
Average | Competitors May Be Better
No HDMI 2.1 ports. SDR brightness is quite low
The Alienware AW3423DW is one of the very best ultrawide monitors you can get right now, with its biggest selling point being the use of QD-OLED technology. This means that you get proper, true HDR performance due to OLED's self-lit pixel structure, which results in deep, zero-level blacks.
This QD-OLED panel can hit up to 1000 nits of brightness for small elements and looks great in displaying HDR content. Combined with its extremely fast response times (thanks to the inherent nature of OLED technology), and fast 175Hz refresh rate, there is no better PC monitor for HDR gaming right now.
It's a very capable SDR gaming monitor as well, and despite featuring OLED, it doesn't have some of the drawbacks we've seen from other similar displays. In particular, the full-screen brightness of 240 nits is usable in most rooms (though not amazing), and there are no annoying features like automatic brightness limiters enabled when using the SDR mode. Dell also mitigates the anxiety over OLED's tendency to burn in with a 3-year burn-in warranty.
There are some drawbacks that do restrict the usage capabilities of the AW3423DW. The triangle-RGB pixel structure is not great for text clarity and can cause fringing on some content, which may be noticeable depending on how sensitive you are.
And despite the burn-in warranty, there is still a risk of this occurring, which is exacerbated when using the display for static imagery, like spreadsheets or other productivity apps. This monitor is best recommended if you are primarily going to use it for gaming or content consumption like watching movies.
Other problems include the display's coating and layer composition, which can reflect a lot of ambient light. To get the full benefit of this display, it's best to use it in a darkened room. It's also actively cooled and the fan can be heard while it's running. Despite these negatives though, you won't find a better ultrawide monitor, or better HDR gaming monitor, for $1,300.
If you're really hankering for an absolutely huge curved screen, for maximum gaming immersion, then the Samsung Odyssey Geo G9 49" is a fantastic choice and makes the Alienware look tiny in comparison.
But if screen curvature isn't for you, then the Asus ROG Swift PG42UQ 42" is an exquisite gaming monitor, albeit a very pricey one.
Best for Gaming
Monitors for Gamers: Here are some of our favorite 4K gaming monitors, but we also have a dedicated buying guide for the Best PC Gaming Monitors, where we discuss more options for 1440p, 4K, HDR, Ultrawide and 1080p esports gaming in different price segments.
Gaming monitors at 4K have quickly gone from niche to something that you should seriously consider as your next display. High refresh rate 4K gaming is now a reality, and while 4K monitors are not as affordable as 1440p, there are some excellent options to choose from.
Right now there are four great options around 27" 4K: the Gigabyte M28U at $530, the MSI Optix MAG281URF and Asus TUF Gaming VG28UQL1A at $550, and the Samsung Odyssey G7 S28 at $580. All four use the same Innolux panel, so the basics to performance are very similar. Especially when it comes to response times and tuning, you can expect to get the same level of motion clarity – all bring around a 5ms average with great overdrive tuning at up to 144Hz on its 28-inch 4K IPS panel.
The Gigabyte M28U is the cheapest of the four at $530, but we've seen it as low as $460. However it's not as simple as that, as the M28U has limited bandwidth HDMI 2.1 ports. That's fine for PC users, but if you're planning on using this display with a PlayStation 5, we'd recommend one of the other options at a similar price. On the other hand, the M28U has the best factory calibration and the best sRGB mode, so it's ideal for those that don't care much about HDMI 2.1.
If HDMI 2.1 bandwidth is important to you, then check out the other three. It's difficult to separate these products, so it might come down to how they look, or features like a KVM switch, which the MSI model has but the Asus does not.
As an upgrade choice, consider the LG 27GP950 which is available for $700. It's not substantially better than the 28-inch models we've been talking about, but it is a better and more capable monitor in some areas.
It's a 27-inch 4K 160Hz IPS monitor, so it bumps up refresh rate slightly, though motion performance is similar and delivers response times in the same ballpark. The main reason to go with the LG GP950 is more in the color performance side of things: it gets much brighter, has a higher contrast ratio and full 98% DCI-P3 color space coverage.
Best Portable Monitor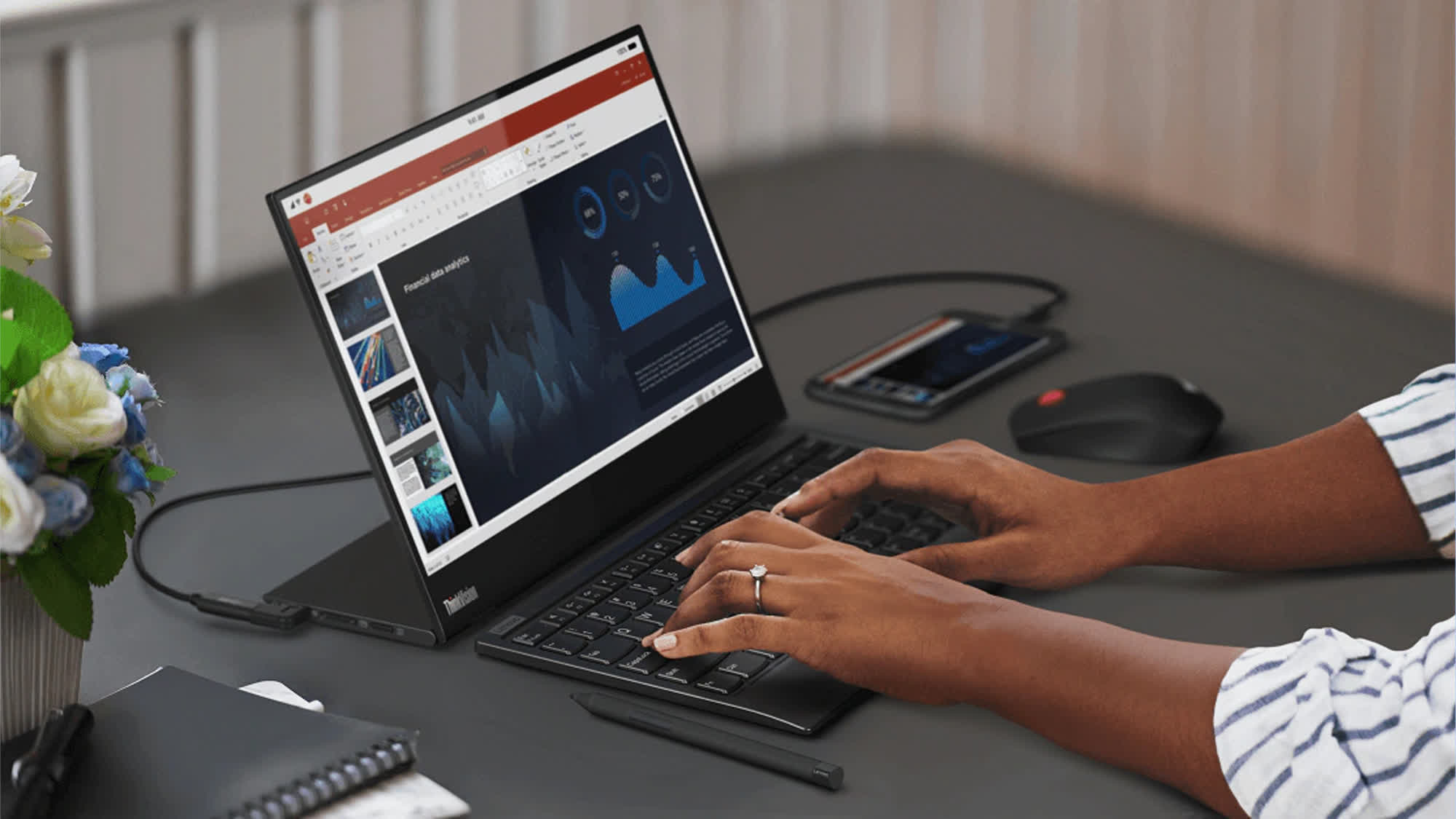 Great | Differentiating Features
Lightweight, sturdy build
Good | Most Have It
Bright for a portable monitor. Useful kickstand
Average | Competitors May Be Better
USB Type-C connection only. Needs calibrating for best image quality
If you're looking to pack an extra monitor to go with your laptop or tablet on travels then a portable monitor is something worth considering. The best ones don't require a separate power supply, are light in weight, and are robust in build – Lenovo's ThinkVision M14 offers all these.
Packing a 14" 1080p screen, the M14 is surprisingly bright, with reasonable viewing angles and crisp text display. As it uses an IPS panel, it doesn't have a high contrast ratio, so it's not ideal for darkened rooms. With a screen brightness of 250 nits, it handles reflections and glare well, though it's not really suitable for outdoor use.
In terms of connectivity, there are just two USB Type-C ports. Unless you have a laptop or tablet that features DisplayPort Alt Mode, then you'll need to use one of them to power up the M14. However, it does offer charging pass-through, so it's possible to charge the device that the monitor is displaying.
With calibration, the M14's color accuracy is good for a monitor of this type, but even the default settings are perfectly acceptable. But users wanting a portable monitor for gaming should look elsewhere, as the Lenovo model only has a 60Hz refresh rate.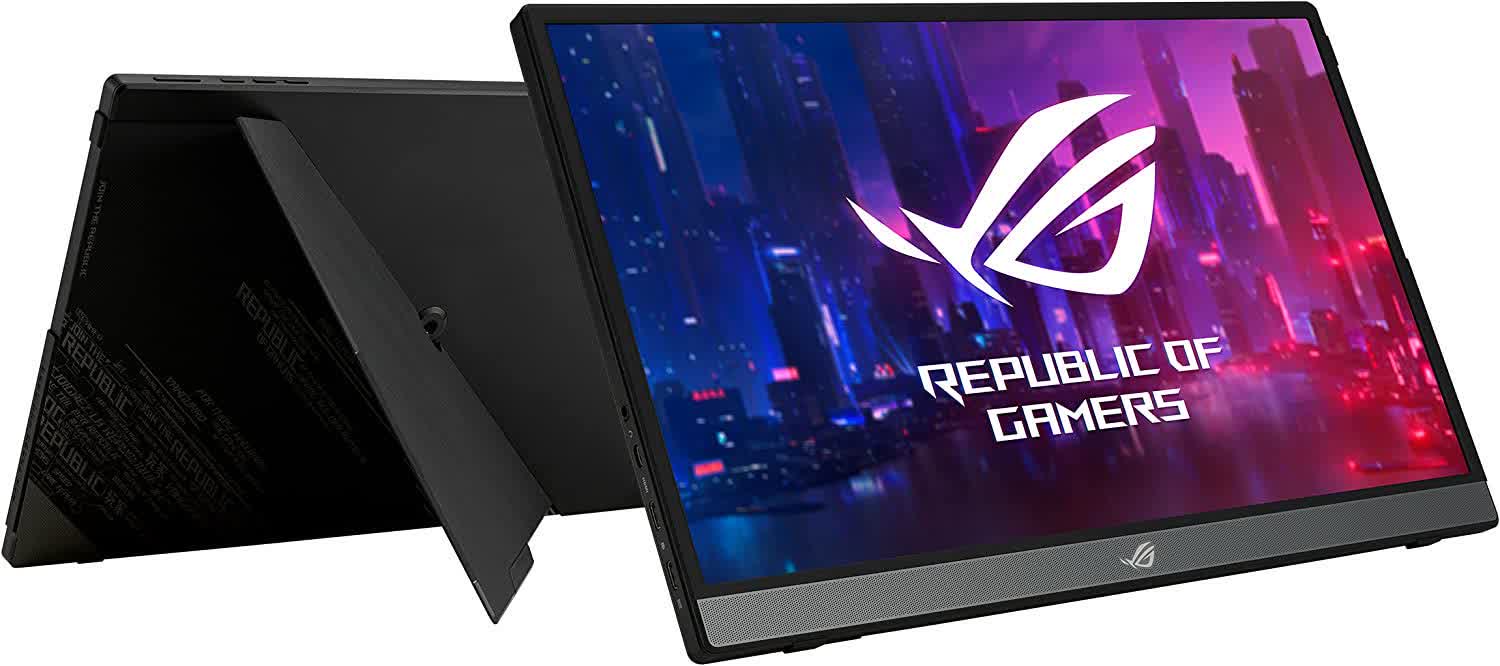 If you're after the best gaming performance paired with portability, then the Asus ROG Strix XG16AHPE, with its 15.6" 144Hz screen and FreeSync/G-Sync variable refresh rate support, is the best one to go for. It's not cheap, of course, but that's to be expected in this niche category.
Lenovo's ThinkVision M14 is best suited for office work, so for boosting productivity while on travel, it's an ideal choice.
If you need something with a bigger and better-looking screen, without sacrificing too much toward weight, then the LG Gram Plus View 16" fits the bill perfectly, with a fantastic-looking 2560 x 1600 IPS panel. Its color accuracy would be excellent in a high-end monitor and it can be found at the same price as Lenovo's M14.
Best Monitor for Office Work
Great | Differentiating Features
Large 4K screen. Great viewing angles
Good | Most Have It
Value for money. Quick response time
Average | Competitors May Be Better
60Hz refresh rate. No base swivel
When it comes to choosing a monitor purely for office work, a large, high-resolution screen, paired with good viewing angles and sharp details should top most users' requirement list. LG's 27UK650-W 32" 4K monitor fits the bill perfectly.
This model is actually an excellent all-rounder, and can easily be used for a variety of tasks – gaming, media consumption, and content creation. It excels at productivity and office work, though, aided by the 27-inch IPS panel boasting a 99% coverage of the sRGB color spectrum, along with a peak brightness of 450 nits (350 nits typical). Connection options comprise two HDMI 2.0 ports and one DisplayPort v1.2, and there's even a 3.5mm headphone output.
At this price, various concessions have been made: the refresh rate is only 60Hz and the base is unable to swivel (although it does have a good tilt range). Home office workers might also be disappointed with its A rating for energy efficiency. For an extra $200, the similar LG 27UK850 adds a USB Type-C port and VESA HDR 400 certification, but at less than $300, the 27UK650-W is a far better proposition.
Best Budget Monitor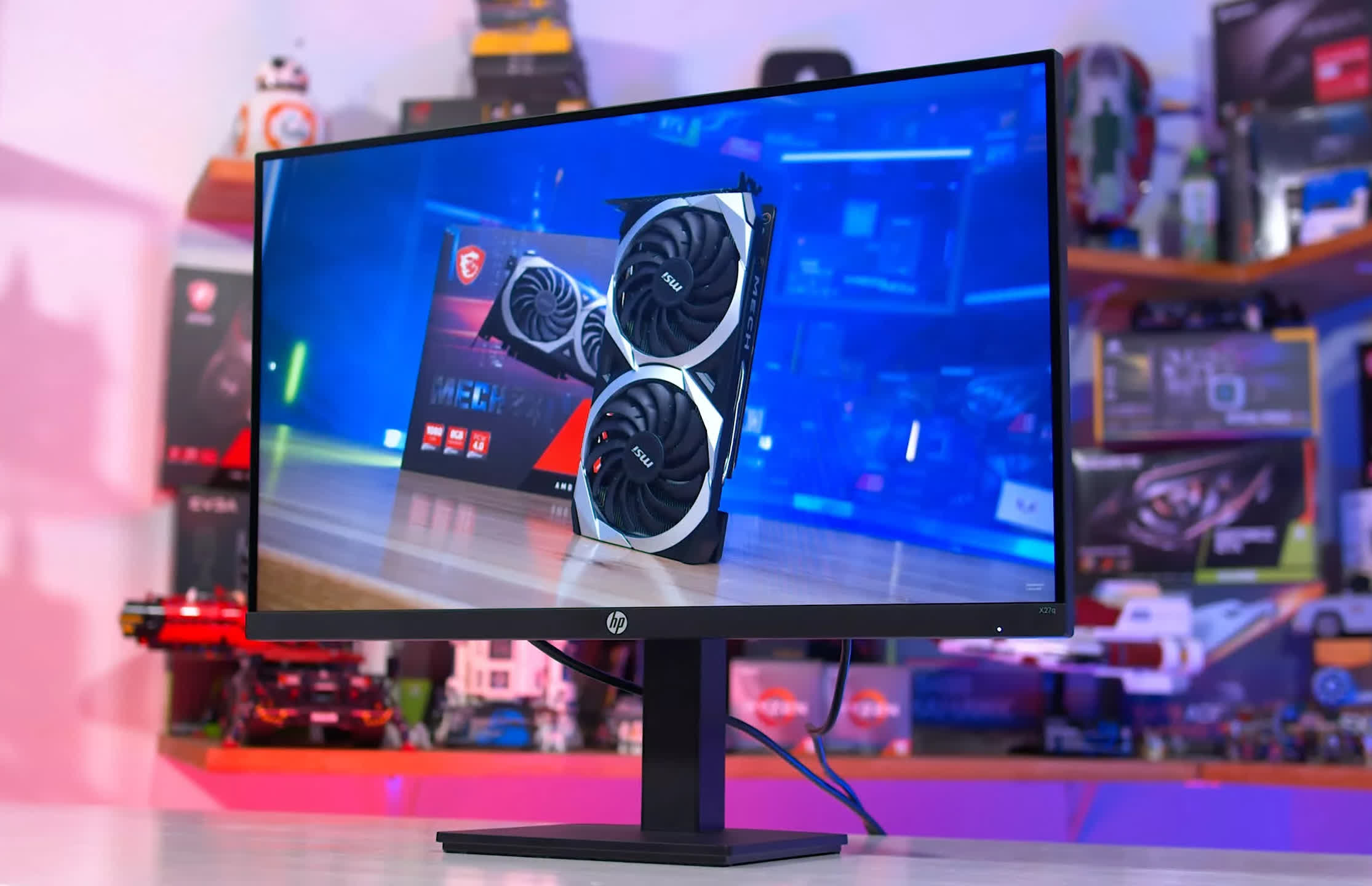 Great | Differentiating Features
Value for money. AMD FreeSync Premium. 165 Hz refresh rate
Good | Most Have It
Vibrant colors. Wide viewing angles
Average | Competitors May Be Better
No swivel option. Weak HDR
The HP X27q is arguably one of the best-value monitors (read our full review) on the market. For about $200, you get a 27-inch 1440p IPS display, with a 165Hz refresh rate, and all the usual modern features such as adaptive sync support for all of today's GPUs.
The panel's response time performance is reasonable – not as fast as the best IPS monitors, but definitely faster than older panels that dominated this price sector a few years ago. The 1440p 165Hz combination is a good sweet spot for gaming, and the adaptive sync support ensures a smooth experience.
Unlike some of its competitors, it also includes a regular RGB subpixel layout, so text clarity is crystal clear. So if you're looking to use this monitor for office work and productivity tasks, then you won't be disappointed.
Naturally, at this price, there are some drawbacks. In terms of picture quality, there's not much wide gamut support, the factory calibration is average, and the contrast ratio is poor. The HDR mode is not at all usable either, which is to be expected.
There are better monitors and far more expensive ones, but there is nothing else on the market that offers the same level of features and overall picture quality at this price.