TechSpot is celebrating its 25th anniversary. TechSpot means tech analysis and advice
you can trust
.
When you buy through our links, we may earn a commission.
Learn more
.
With the expedited shift to work-from-home and the explosion of streaming, the need for a quality router has never been greater. In today's connected world, virtually every household is packed with phones, computers, smart TVs, and many other devices, all fighting for bandwidth.
Your ISP might try to sell you their router, but it's almost a guarantee that it will be overpriced and will underperform. If you want a router that offers better throughput, range, and features, check out our top picks. Up until recently we weren't recommending Wi-Fi 6 systems, but most products launching today support it, so we're comfortable starting to recommend those systems.
Best Wi-Fi Router for Most Households
In our tests, the Asus RT-AX3000 achieved the fastest Wi-Fi speed we've ever measured. At roughly 950Mbps, that is full gigabit wireless speed. Sure, it was measured right next to the router in an unrealistic environment, but it's still impressive. Given the device's relatively low price, it's hard not to recommend it as our top pick for most households.
If you're wondering about a mesh system (see further down below for our recommendation), generally speaking, a standalone router will be faster since there is less overhead to deal with. That's why we typically don't recommend mesh systems for smaller spaces.
Along these lines however, the RT-AX3000 does ship with Asus "AiMesh" support, so it can build a mesh network with compatible devices if you ever need it. If you purchase one of these devices now and realize later you don't have enough coverage, you can seamlessly expand your network down the road with other AiMesh routers. This is a much better solution than buying a range extender since you won't have to deal with the confusion of multiple networks (or performance issues), letting you move around without having to reconnect.
At around $170 each, you can pick up two of these and put together a killer Wi-Fi 6 mesh system for the same price as competing systems. That's also significantly cheaper than some of the $600-700 flagship systems. This gives you the benefits of both a standalone system and a mesh system. When testing the Asus RT-AX3000, we liked the simplicity of the setup process while still providing advanced features and customization.
Best Mesh Wi-Fi System
Mesh Wi-Fi systems have become a popular segment. They are designed for medium to large houses where a single router doesn't reach every corner. Mesh systems are more expensive than standard routers, but provide a host of benefits including extended range and seamless connectivity, an easy setup process, and advanced management interface.
The Netgear Orbi was the best performer in our Mesh Wi-Fi roundup about a year ago, receiving top recommendations among several other competing systems. A properly implemented mesh network will be leaps and bounds better than a traditional router with a cheap range booster. While boosters make it seem like you have good signal all around your house, they almost always deliver terrible speeds and poor reliability. Today's mesh systems use advanced routing algorithms to maintain high speeds even at range. They typically use dedicated channels for internal backhaul, while basic extenders leech off your main connection.
Almost every major home networking provider has an entry in this market, but some are better than others, and Netgear's Orbi kit is competitively priced at $260. Do note however this is a Wi-Fi 5 only system.
Do you need a Wi-Fi 6 Mesh system?
Wi-Fi 6 routers are now widely available and we have tested many of them. The Netgear Orbi RBK50 will be fine for most people with performance on-par with newer Wi-Fi 6 devices. We also like the built-in 4-port switch since many other mesh systems have just two Ethernet ports, and in some cases less than that.
If you're after the latest and greatest though, you can't go wrong with Netgear's newer RBK752 system. For $350, it's a great entry into the mesh Wi-Fi 6 market from a strong brand. An easy way to help decide which version to get is what your current download speed is from your ISP.
If you're paying for around 100 Mbps or lower, we'd stick with the Wi-Fi 5 version of the Orbi since you won't see a performance benefit. If you're paying for more than 100Mbps, then it does make sense to go with the Wi-Fi 6 RBK752. You'll see improved performance across your living space and will be able to maximize your internet connection.
Best for Enthusiasts / Gaming
This router is absolutely overkill, but if you need super fast speeds, the Asus RT-AX88U won't disappoint. Gaming routers are a tricky category and they aren't the best solution for everyone. Modern games are almost always dependent on latency instead of bandwidth. Speeds listed in the marketing materials are often grossly exaggerated and you'll likely never achieve anything close to it.
The RT-AX88U was one of the first Wi-Fi 6 routers to hit the market, however everything is backwards compatible which means the AX88U still offers incredible 2.4GHz and 5GHz performance to existing devices.
Just note that at this price range for a single unit, you're almost better off going with an enterprise solution from someone like Ubiquiti. Despite all the other options like mesh networking and powerline adapters, if you still think you need a gaming router, the RT-AX88U is a great choice.
The router comes packed with useful features that improve performance and make the system easier to use. For example, OFDMA increases spectral efficiency and network capacity. The AX88U supports up to 1024-QAM which allows it to send four times as much data per transmission as older 256-QAM systems. It also supports 4x4 MU-MIMO to allow many clients to connect at once and comes packing eight LAN ports.
Once routers start getting this fast, the single gigabit Ethernet connection may become a bottleneck. The RT-AX88U addresses this with link aggregation. Assuming whatever you connect to on the other side is fast enough, aggregation allows you to combine the speed of multiple Ethernet ports into a single connection. If you are trying to cover a large area, the RT-AX88U does support Asus AiMesh, so you'll be able to add satellite nodes for increased coverage.
Best Budget Router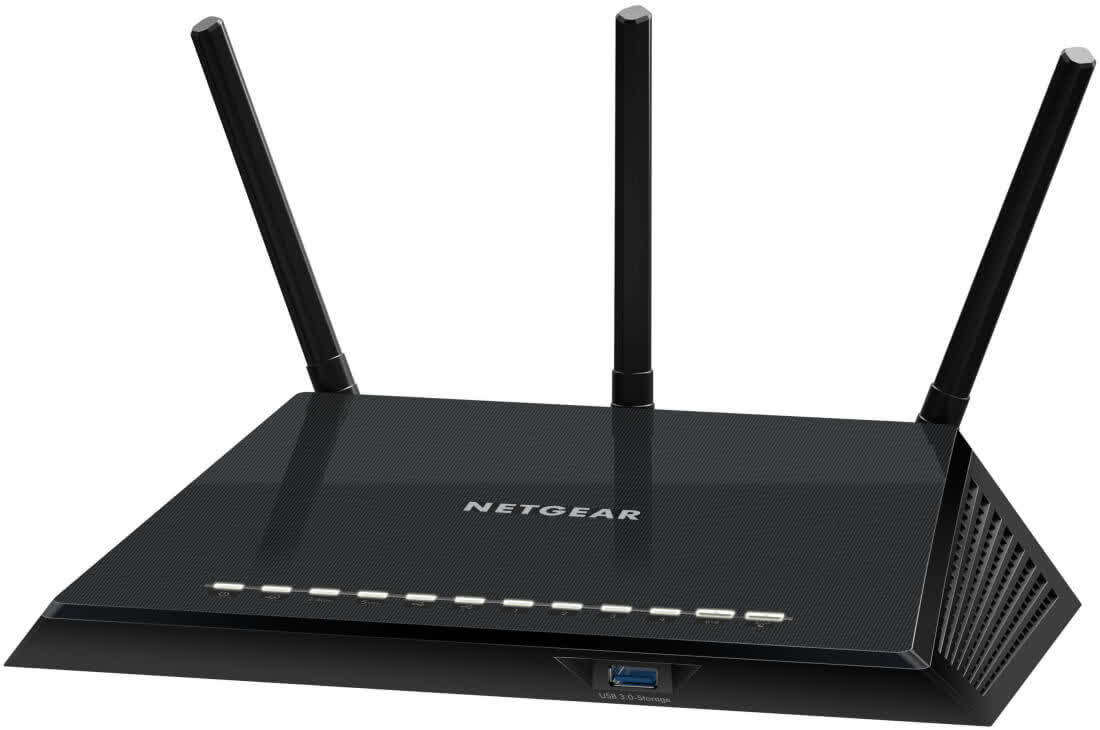 If you want an affordable router that simply gets the job done, we recommend Netgear's R6700. It's an AC1750 router with no frills. It lacks many advanced features, but for most users, that will be fine. With over 60,000 reviews on Amazon, it's one of the best selling routers on the market. If you're setting up a basic system for a less tech savvy relative or friend, this is the way to go, too.
The R6700 will set you back around $80 which is a great deal. There are cheaper alternatives, but some can be more headache than the savings are worth, so we wouldn't recommend going much lower than the R6700 whether it's for the lack of security features, updates, or lesser performance. Instead the Netgear R6700 presents a safe bet in the realm of inexpensive wireless routers.
Wi-Fi is one of those things that you don't notice when it's working fine, but you really notice it when it's not working. If you are only looking to cover a small area and are confident that you only need a basic system, this will do just fine.
We used to recommend a step up alternative that is a little better if you don't necessarily want the absolute bargain basement unit. The D-Link DIR-882 is that system ($135) however at that point you may as well go for our Asus RT-AX3000 top pick which is $20-30 more expensive.