Apple MacBook Air 11 - 2010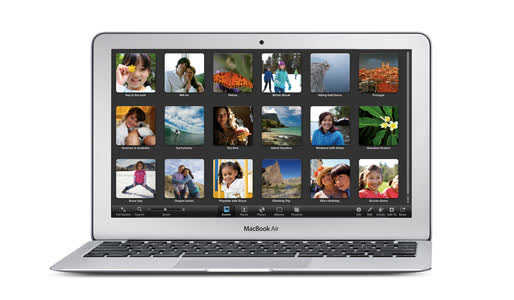 TechSpot Metascore
Based on
42

expert reviews
Excellent:

12

Good:

25

Average:

2

Bad:

3
Pros:
Extremely thin and light, sturdy build quality, very good display, comfortable keyboard, excellent trackpad, good battery life, quick startup time, respectable performance despite slow processor
Beautiful design, extremely snappy and an awesome standby time.
Slim, thin, elegant, stylish, Unibody aluminum shell, well built, Builtin flashstorage is really fast, Improved Nvidia GeForce 320M graphics, Battery lasts 5 hours, Runs surprisingly cool
Cons:
No backlight for keyboard, no external battery status indicator, speakers could have been bit louder, 64GB on base model is too less, 128GB model is too expensive
No backlit keyboard, No 3G and a bit underwhelming performance
TechSpot is supported by its audience. When you buy through our links, we may earn a commission.
Learn more
.
Extremely thin and light, sturdy build quality, very good display, comfortable keyboard, excellent trackpad, good battery life, quick startup time, respectable performance despite slow processor
Beautiful design, extremely snappy and an awesome standby time
Slim, thin, elegant, stylish, Unibody aluminum shell, well built, Builtin flashstorage is really fast, Improved Nvidia GeForce 320M graphics, Battery lasts 5 hours, Runs surprisingly cool
Class-leading boot and resume times, Full-size keyboard, enormous trackpad, Surprising power for productivity and gaming, Gorgeous, high resolution 11.6-inch display, Unmatched aluminum unibody build quality, Respectable volume for its size
Just as thin as the 11-inch Air and only 0.6 pounds heavier. Longer battery life. SD card slot. Flash storage. Larger trackpad. High-resolution display. Ports are on the case instead of under a flip-down door
Incredibly thin and light, Excellent battery life, Performance close to 13inch MacBook Pro
Amazingly slim design; great keyboard/trackpad combo; new iLife '11 software included; decent graphics performance; 16:9 display
Ultra-compact and lightweight. Decent battery life. Month-long standby time
So slender, so sexy. Ridiculously fast app launch times. Excellent battery life. Comfortable keyboard and trackpad
Very thin and light for any notebook, Extremely fast SSD, Sharp, colorrich LCD, Fullsize keyboard and trackpad, Good graphics performance, Very long standby time, Finally two USB ports
Gorgeous unibody design, small and built to last, excellent display and keyboard, peppy performance – especially for loading applications, finally two USB ports are included!, 30 days of standby battery power with instant on, system runs cool
Exquisitely thin. Lightest in its class. Full size keyboard. Sharp, vibrant 11.6-inch widescreen. SSD is durable and quick. Good graphics chip included. Runs cool
Amazingly thin and light design, Wakes instantly from sleep, boots very fast, Comfortable keyboard and large gesture-friendly touchpad, Webcam makes FaceTime calls, Surprisingly strong speakers, Good battery life
Astonishingly thin and light; very high resolution for the screen size; decent performance; sturdy construction; excellent bundled software
Small and lightweight; easy to take on the road, NVIDIA GeForce 320M graphics offer better performance than Intel embedded graphics, Flashbased storage provides instanton, power savings, and highperformance access, Available in two sizes: 11inch and 13inc
Smallest Mac laptop ever, Speedy solid-state drive, Bright, high-resolution screen, Full-sized keyboard
No backlight for keyboard, no external battery status indicator, speakers could have been bit louder, 64GB on base model is too less, 128GB model is too expensive
No backlit keyboard, No 3G and a bit underwhelming performance
Older Core 2 Duo processor, No ethernet, card slot
Shallow, mushy keyboard, Limited port selection, Display doesn't lean back past 45 degrees, No removable battery, RAM, HDD
No optical drive, Ethernet, or FireWire. Core 2 Duo instead of the newer Core i3
Weak amount of RAM, Expensive, No backlit keyboard
Pricey for an 11-inch laptop with an older processor; lacks backlit keyboard and SD card slot
Slow processor. Limited memory and disk space
Size does matter — 11 inches is too small, no matter how nice the screen is. Sluggish with some mediaheavy tasks
Expensive compared to some CULV systems, Uses an older Core 2 Duo instead of Core i3 or i5, Battery life is strictly adequate, No card reader or FireWire, No backlit keyboard
No SD card slot, unit is sealed so RAM and hard drive can't be upgraded, no ethernet port, 4GB should really come standard at this price, battery life is a bit underwhelming, limited hard drive space, builtin 3G would've been a nice option to
No SD Card slot. No Ethernet. Sluggish compared with its peers. Unimpressive battery life
No SD Card slot, Keyboard not backlit, Lid sometimes falls back, Competing ultraportables have faster CPUs
Shallow keyboard; no SD-card slot; mediocre battery life
Maximum RAM is only 4 GB, Flash storage isn't user replaceable, Uses older Intel Core 2 Duo processors, Lacks a wired Ethernet port
Slow processor clock speed, No keyboard backlighting