Google Nexus 5X Review
Page 4 :

Hardware Overview & CPU Performance By
TechSpot is celebrating its 25th anniversary. TechSpot means tech analysis and advice
you can trust
.
When you buy through our links, we may earn a commission.
Learn more
.
Hardware Overview & CPU Performance
The Nexus 5X comes with a Qualcomm Snapdragon 808 inside, which is the same SoC LG used for their flagship G4. Considering the 5X only comes with a 1080p display instead of 1440p, the Snapdragon 808 should provide better performance in 3D applications, though the two devices should exhibit similar performance in general apps.
You can read more about the Snapdragon 808 in my review of the LG G4, but essentially this SoC is a hexa-core design featuring two ARM Cortex-A57 CPU cores clocked at 1.8 GHz, alongside four Cortex-A53 cores at 1.4 GHz. Both clusters use an ARMv8-A architecture, so they're 64-bit compatible, and the SoC itself is built on a 20nm process.
The GPU in the Snapdragon 808 is an Adreno 418 clocked at 600 MHz. There's also an LPDDR3 memory controller providing 14.9 GB/s of bandwidth, connected to 2 GB of RAM. Storage wise you get either 16 or 32 GB of NAND, and there's no microSD card slot so you cannot add in extra storage after you purchase the device.
For connectivity, the Nexus 5X includes all the usual hardware: Bluetooth 4.1, Wi-Fi 802.11a/b/g/n/ac, Category 6 LTE with carrier aggregation, A-GPS+GLONASS, and NFC. There are three general models of the 5X on the market, so make sure you get the unit that's suitable for your region. If you buy the handset through the Google Store, the correct model will be sent to you based on your shipping destination.
In my time using the Nexus 5X as my daily driver, I found performance to be pretty decent in general. There were a few times were the device wasn't as snappy to use as the Galaxy S6 or the iPhone 6s, both of which feature faster hardware, but I was never disappointed with what the Nexus 5X delivered.
Stock Android does seem to help give the 5X a speedy feel throughout the operating system, and multi-tasking in particular felt extremely responsive. Whether this is due to optimization or a newer operating system, I'm not sure, but the Nexus 5X felt noticeably faster to use in some situations than the OnePlus 2, despite the latter's use of a technically-faster Snapdragon 810 SoC.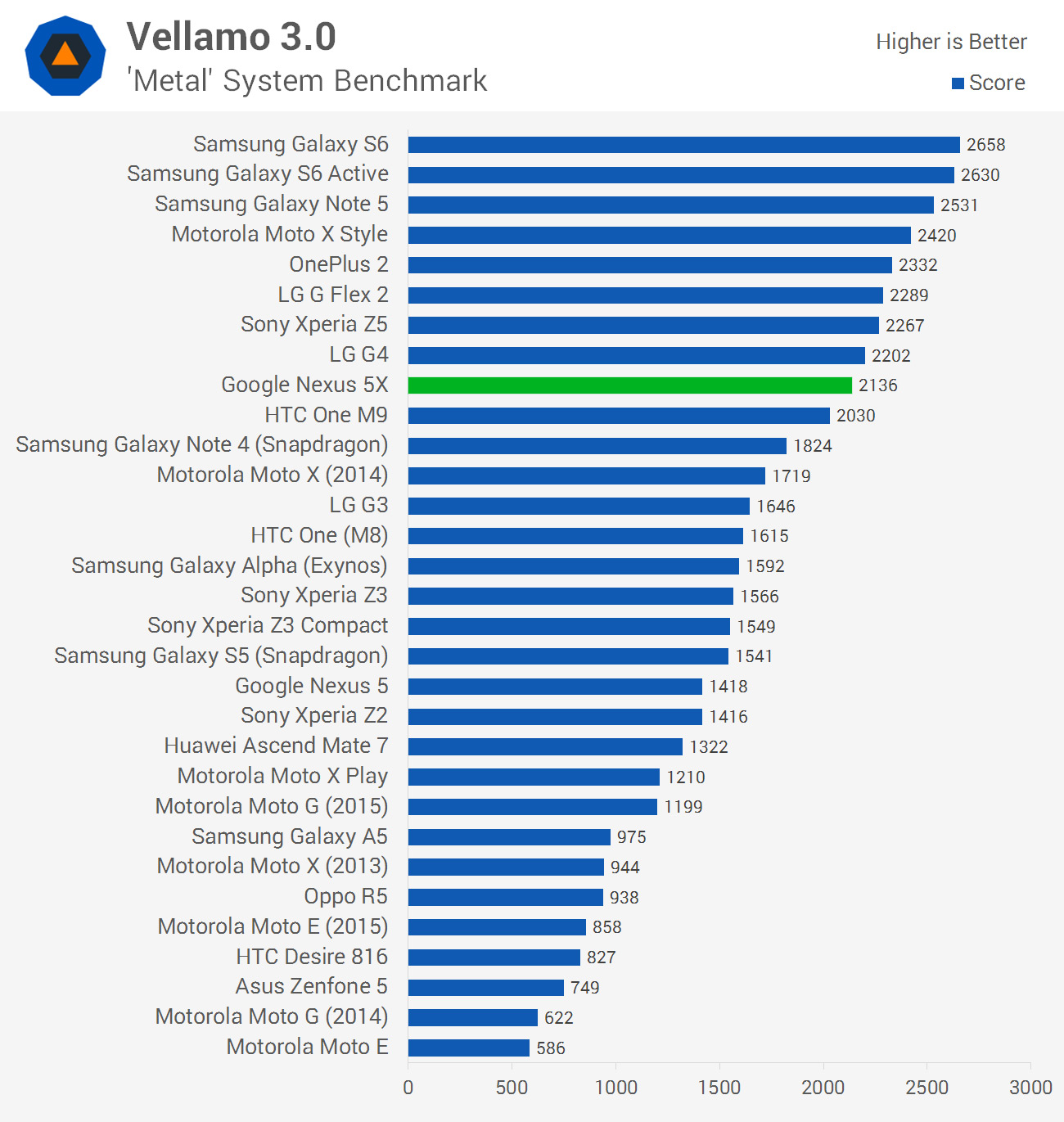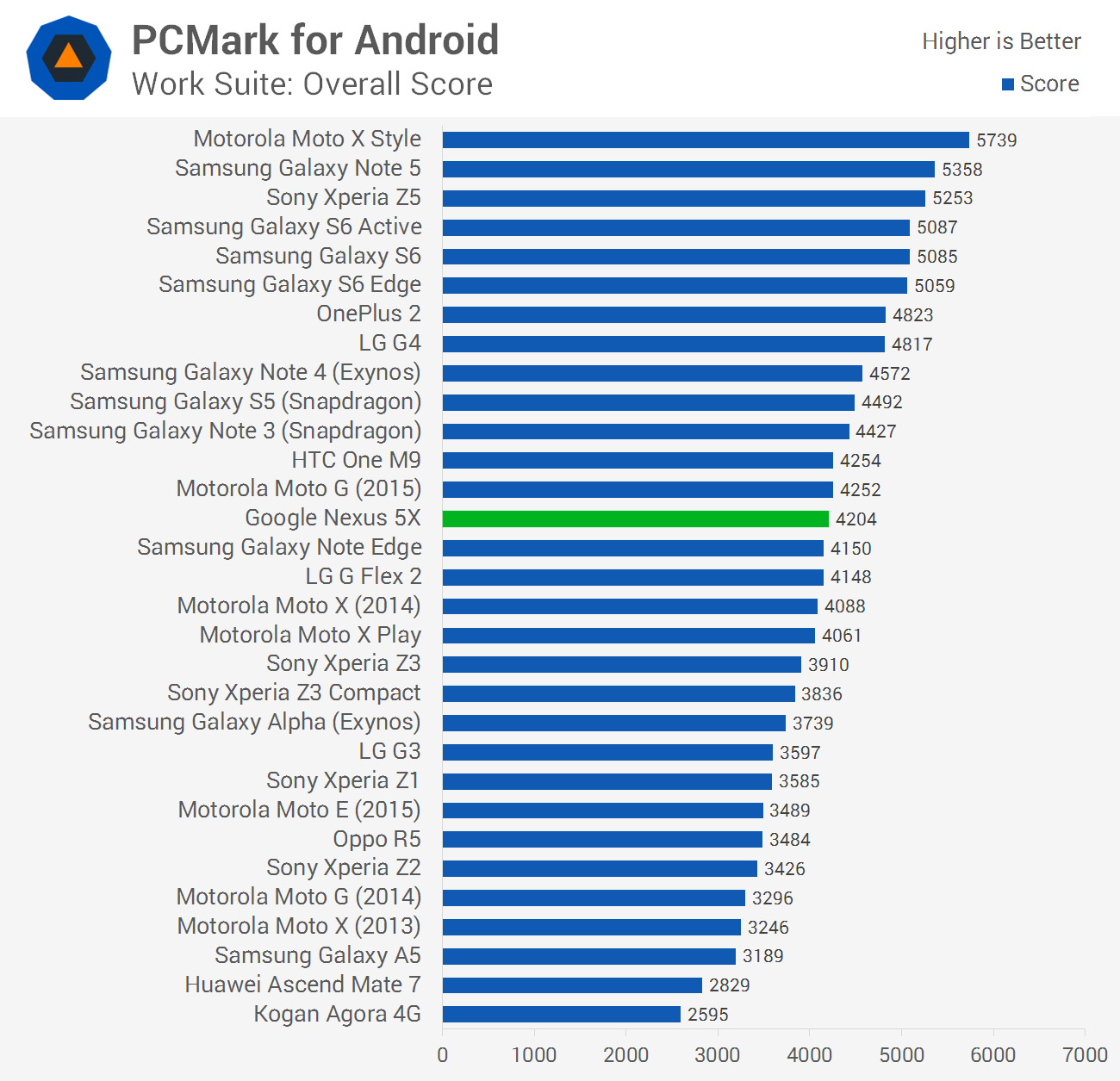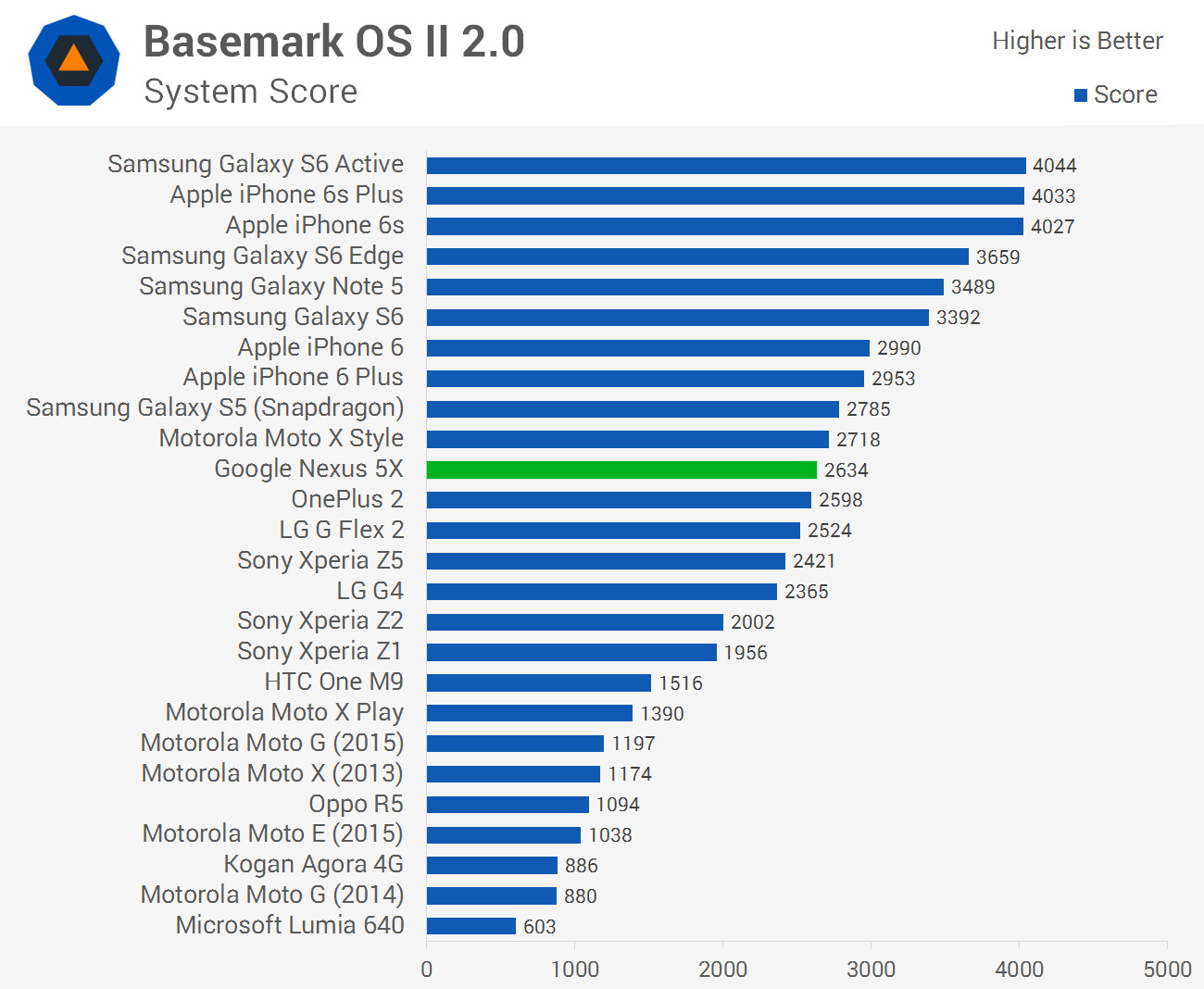 In CPU-intensive tasks, the Nexus 5X understandably performed just as well as the LG G4, though it was slightly slower than the Moto X Style, both of which use Snapdragon 808 SoCs. The 5X is a decent margin behind the iPhone 6s, due to Apple's dominant silicon, and it's also six percent slower than the Galaxy S6 in these benchmarks. Compared to the fastest Snapdragon 810 device I've benchmarked, the Sony Xperia Z5, the Nexus 5X is 13 percent slower.