TechSpot is celebrating its 25th anniversary. TechSpot means tech analysis and advice
you can trust
.
When you buy through our links, we may earn a commission.
Learn more
.
If you were worried that Nintendo's move into mobile gaming would change the quality of their games, Super Mario Run should be a relief. Auto-running and screen orientation aside, it's a full-featured Mario game that just happens to run on your phone.
When Nintendo announced Super Mario Run, I expected an endless runner, a game where Mario runs from left to right through randomly-generated courses until he dies. That's not what Super Mario Run is.
Editor's note: This week Super Mario Run hit Android devices after a 3+ month wait. The game remains largely the same, but it is now available to a wider audience, for that reason we are bumping this review. Also recommend you to read this column on why we're glad Nintendo didn't go freemium with Mario Run.
Super Mario Run is technically three connected games: World Tour, Toad Rally and Kingdom Builder.
World Tour is most like the Super Mario Bros. platforming games we're familiar with. There are six different worlds, each consisting of three levels plus a boss level. Mario runs automatically from left to right. All the player has to do is jump.
Were these standard mobile runner fair, the 90 second levels would be boring. But these are meticulously-crafted Mario worlds, filled with coins to collect, creatures vault over or jump off and obstacles to avoid. There are blocks that make Mario jump backwards, speed him across large gaps and even stop him in his tracks, allowing players to determine the best time to move forward.
Somehow Nintendo has managed to give this auto-running mobile game the same basic feel as a standard Super Mario Bros. game, that tactile precision that you just don't find in other titles. Kotaku contributor/game developer Tim Rogers calls it "Sticky Friction." I'm feeling it.
Completing World Tour stages awards coins, used to purchase decorations and buildings in the Kingdom Builder portion, as well as Toad tickets, used to challenge other players in Toad Rally.
Toad Rally allows players to challenge friends and strangers to one-on-one races, the goal of which is to collect the most coins and earn the most color-coded Toad fans. The gameplay is basically the same, with a slightly different aim. In a clever twist, defeating enemies in either World Tour or Toad Rallyeventually causes them to level up, which makes them drop more coins when defeated in the rally mode.
Those collected color-coded Toad fans and coins all come into play in Super Mario Run's Kingdom Builder. Players use coins to buy decorations, buildings and accessories that can be placed in their own personal Mushroom Kingdom, while collecting colored Toad fans upgrades the kingdom's castle and unlocks new items, including buildings that add new playable characters to the game.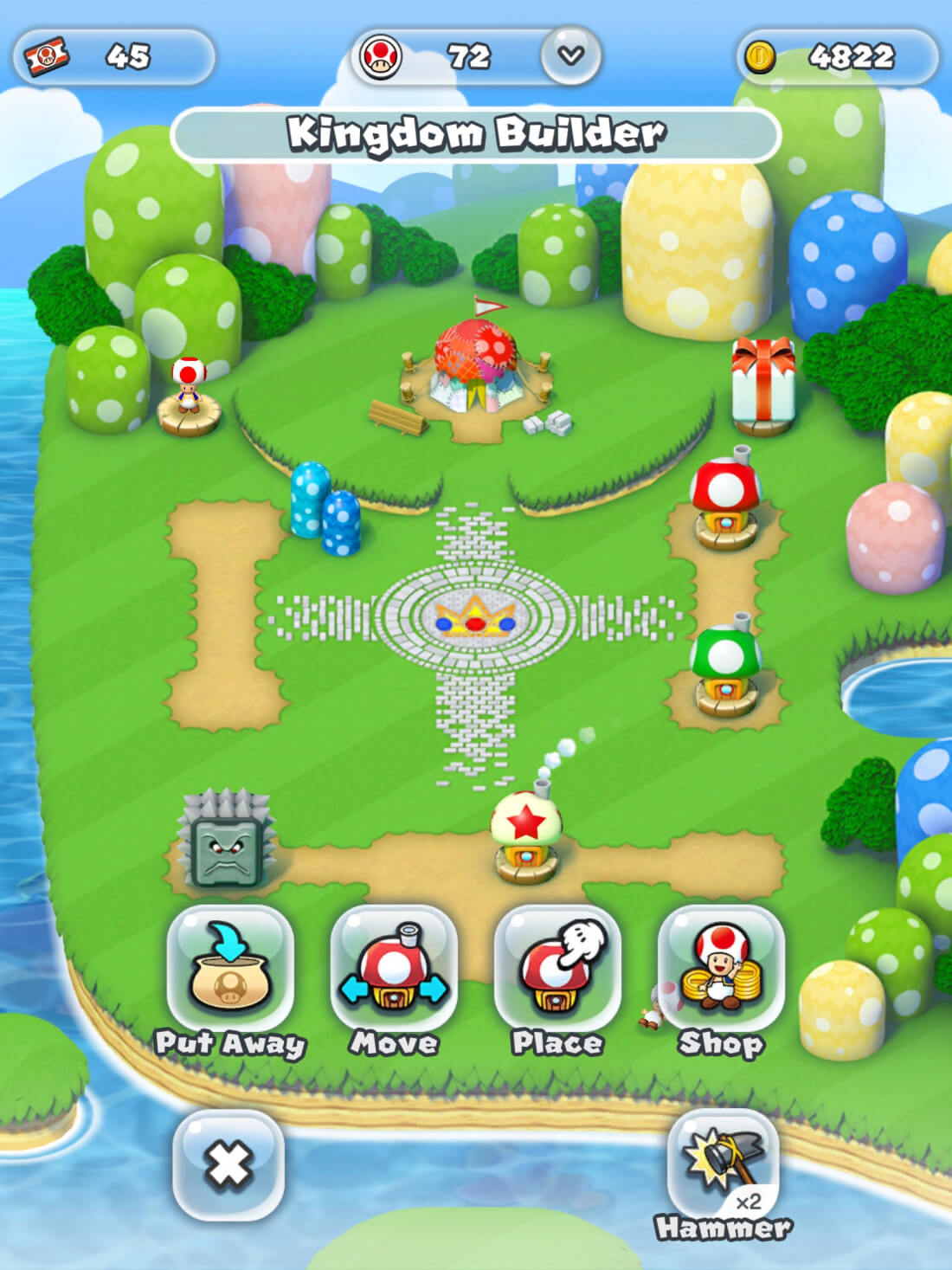 The three different modes come together to form a game that's a far cry from the standard mobile fare I feared it would be. This is a Nintendo game through and through, and no matter how they might be handling other franchises, Mario always gets the star treatment. Check it out:
Super Mario Run is available now on iOS, with an Android version arriving later. A free download gives players access to the first three World Tour levels and a taste of expanded content, with a one-time $9.99 purchase required to unlock everything.
Six days after the launch of Super Mario Run I'm still having fun, albeit in small doses. The initial run through the paid version's 24 World Tour stages was a fun couple of hours, and revisiting those 90-second levels in order to gather up all the special coins is a fine way to spend a bathroom break.
But the game's two other modes, Toad Rally and the Kingdom Builder, are wearing thin. The idea is that players compete against their friends in Toad Rally in order to gather resources (color-coded Toad fans) to unlock new decorations for their kingdoms.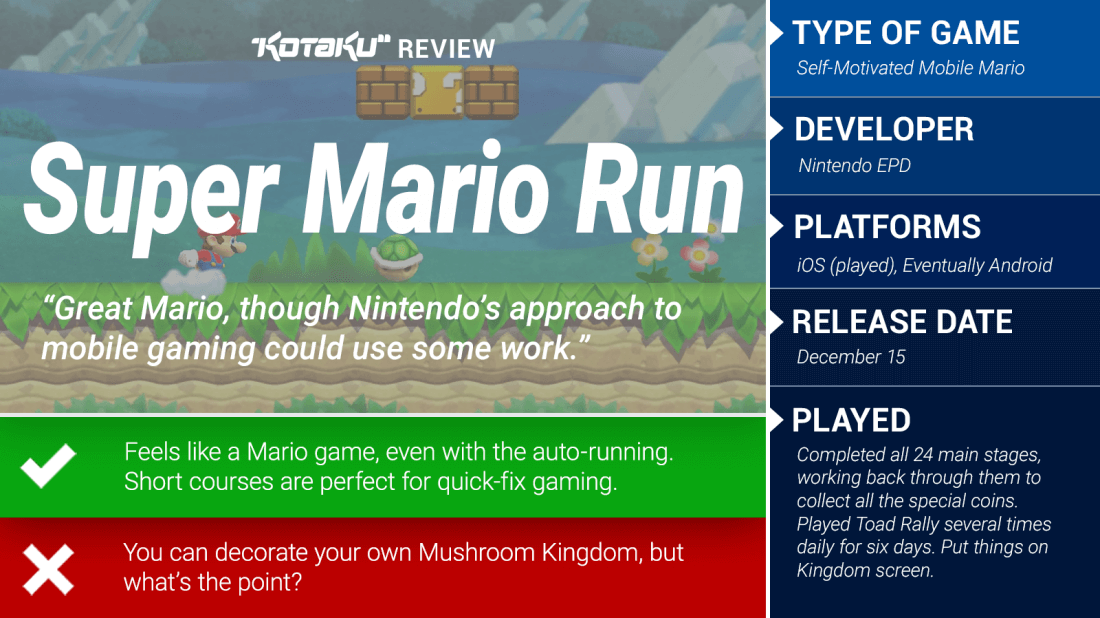 Aside from unlocking additional characters, there really isn't much satisfaction to be had in kingdom decorating. Once the banality of placing Mario-themed items on my screen kicked in, Toad Rally, a mode with the primary function of unlocking new items to place, lost much of its charm as well. While some may enjoy the challenge of clambering up their friends leaderboard, I'm feeling very "What's the point?".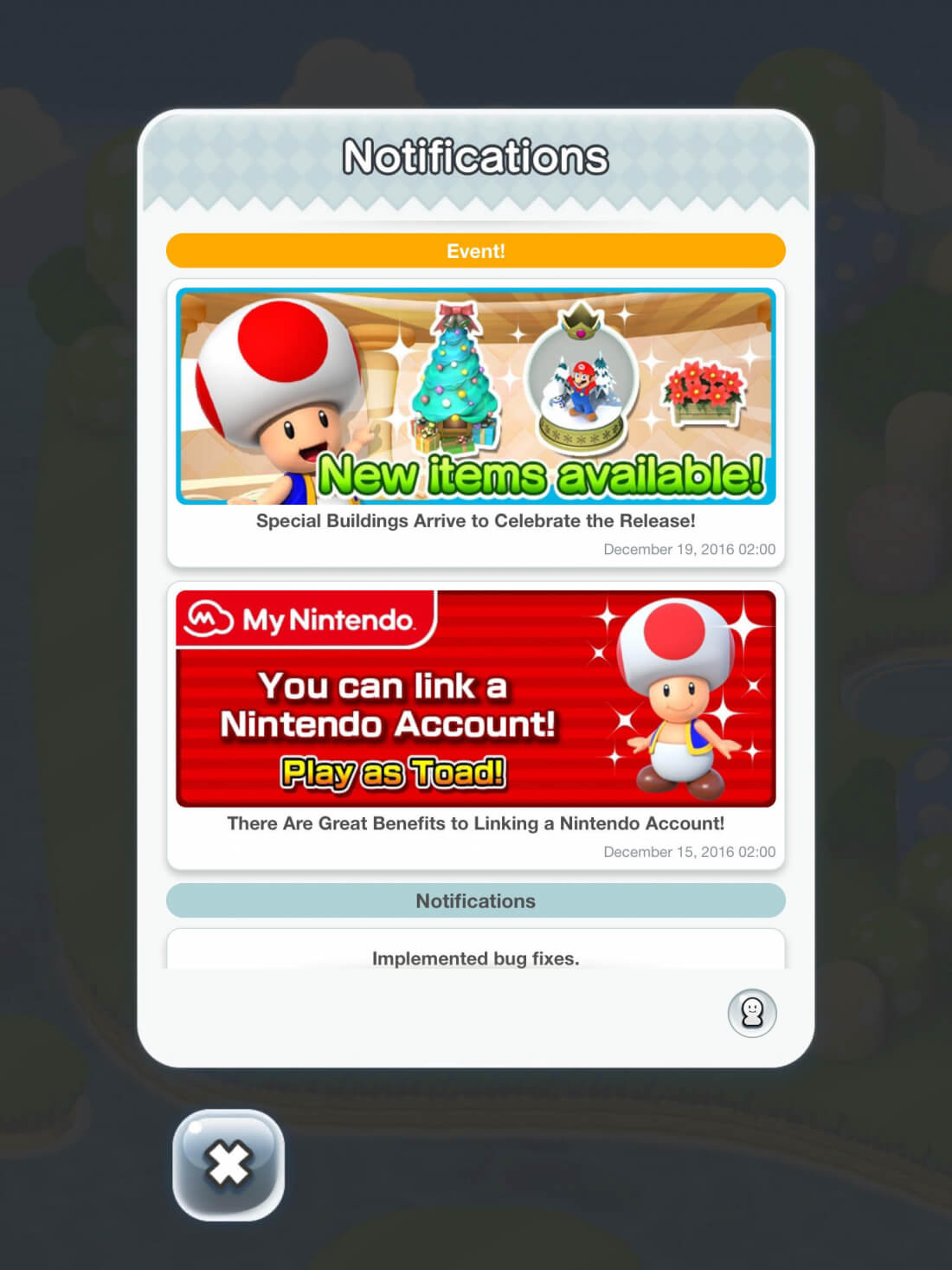 Since launch day I've spent as much time reading about how disappointing Super Mario Run is as I have playing it, and I've played quite a bit. Complaints about requiring an internet connection, large data downloads and the $9.99 in-app purchase required to unlock the full game are perfectly valid.
This is Nintendo's first major in-house mobile game, and while the gameplay is quite enjoyable, the company could have done a better job navigating the gap between the two platforms. Mobile gamers have had years to get used to games requiring an internet connection, but it's a major disappointment in the traditionally offline Mushroom Kingdom. If Nintendo released a playable demo of Super Mario Run on the eShop and sold a separate full version for $10, console gamers wouldn't bat an eye, but on mobile it's a substantial leap of faith.
With Miitomo being a social app and Pokémon GO a licensed Niantic creation, Super Mario Run is Nintendo's first real foray into mobile gaming. They've fumbled the execution somewhat, but these first stumbling steps bring with them a game that's worth playing.