TechSpot is celebrating its 25th anniversary. TechSpot means tech analysis and advice
you can trust
.
When you buy through our links, we may earn a commission.
Learn more
.
Where Does RX Vega 56 Stand?
Short notes on Temperatures and Power Consumption
We haven't had time to do a full battery of temperature tests but after monitoring temps for 20 minutes Vega 56 peaked at 75 degrees and the fan spun up to 40% which actually wasn't that bad. For those wondering overclocking appears very limited at the moment but we're not 100% sure if this is a reference card issue or a software problem, it might actually be a software related issue. Anyway for a reference card it actually works quite well but as always we're keen to check out the board partner models.
Time to see just how power hungry Vega really is, well at least the cut down 56 model anyway. Here we see that the results aren't that bad, granted Vega 56 does push total system consumption 13% higher when compared to the GTX 1070, it's actually a small improvement over the RX 580 which we wasn't expecting to see. So Vega 56 isn't going to make your power supply sweat or smoke or whatever it is they do when under pressure.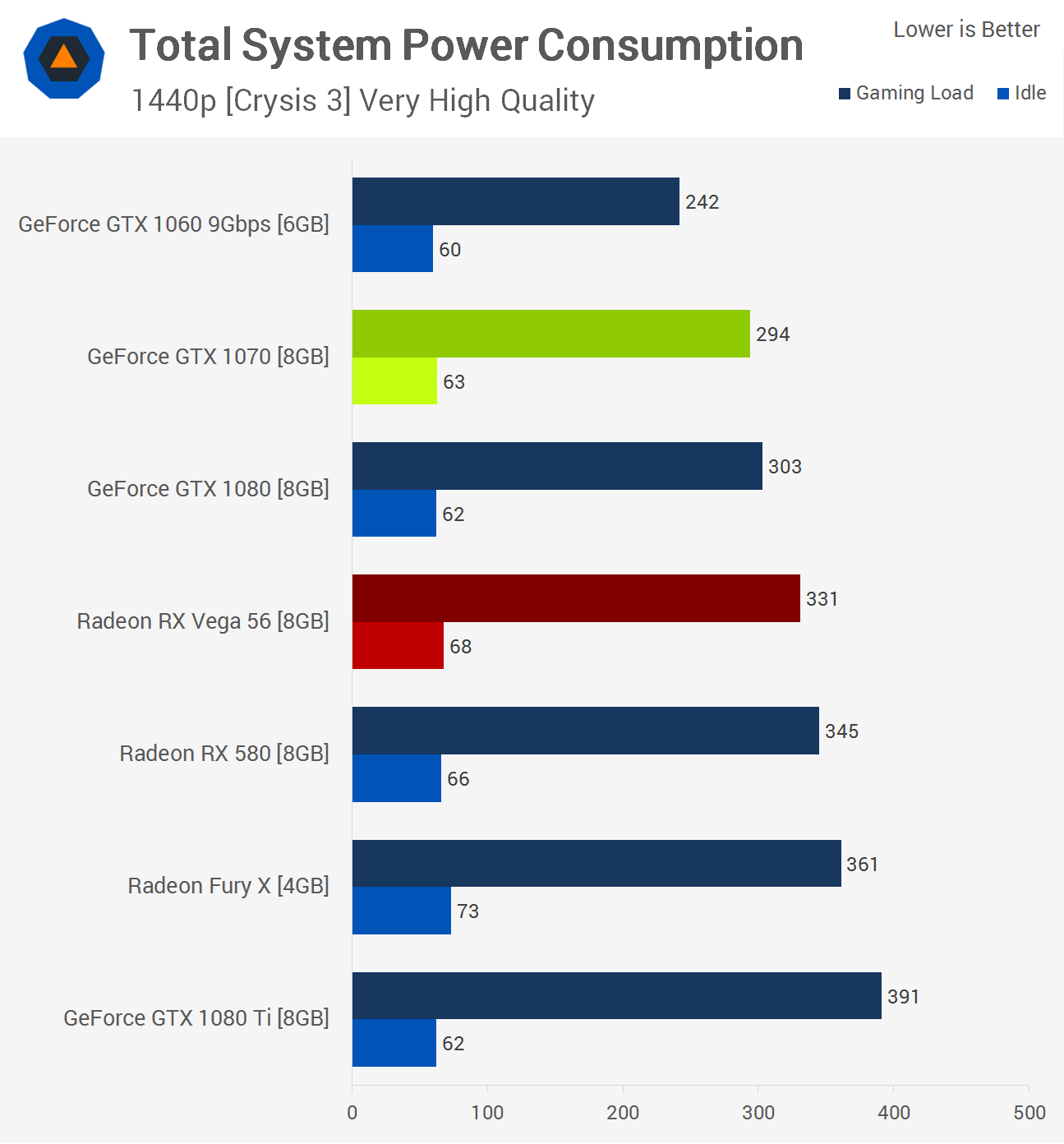 Taking Averages
Well that was interesting. For the most part it appears RX Vega 56 is either able to match the GTX 1070 or at times be the slightly faster GPU. Let's take a look at the average results across the 25 games tested before examining a full performance breakdown.
The 1080p graph is up first, and yes, this looks exactly like what we were expecting to see. Overall Vega 56 delivered the same experience as the GTX 1070, which is, ahh let's discuss that shortly.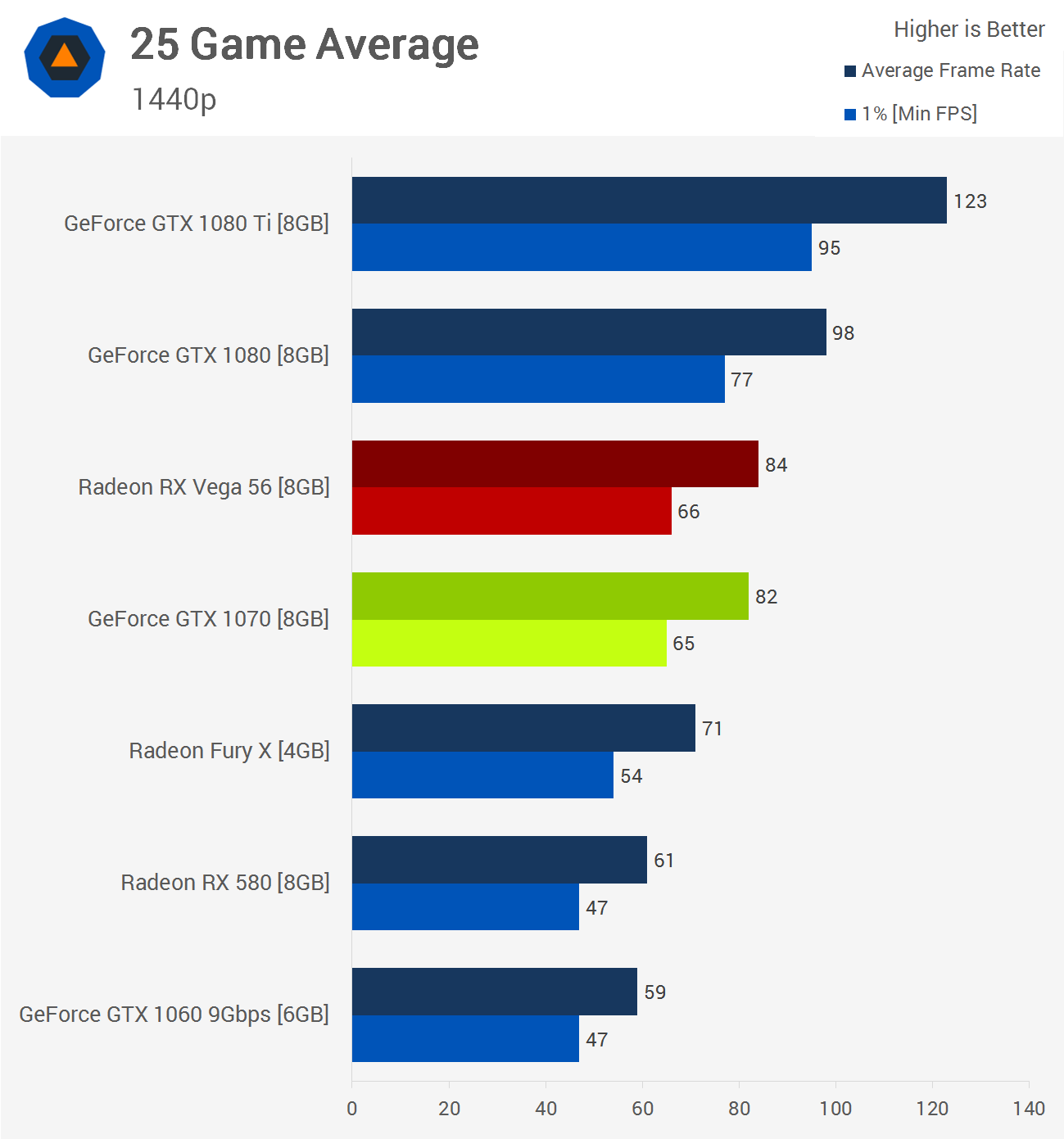 At 1440p we find almost the same. This time Vega 56 is slightly faster, we're talking a small 2.5% margin here. Overall, Vega 56 is 18% faster than the Fury X which is a decent step since it reduced total system consumption by 8%.
Finally at 4K we find similar performance between Vega 56 and the GTX 1070. Vega did edge ahead here ever so slightly, but again we're looking at pretty much the same experience.
Let's move on to see how they compared on a per game basis.
This certainly gives us a much better picture of what's going on and how well Vega 56 really stacks up. First, there is that suspicious win in Dirt 4 but even if you remove that result from the equation, Vega is still 1% faster. Not exactly a pantsing but at least it's not slower.
What's worth noting is that Vega found success in most of the more modern low-level API titles with solid wins in The Division, Total War: Warhammer, Deus Ex: Mankind Divided and Doom. It also did well in Dawn of War III, Battlefield 1 and Resident Evil 7.
Where Vega 56 struggled was Crysis and PlayerUnknown's Battlegrounds, and both games clearly lack driver optimization, so what we're seeing here should be possible to correct. The frame rates in Crysis 3 were all over the place, but we don't think the fix will be all that involved. Battlegrounds is obviously a big one and AMD will want to address that very promptly.
Overall performance looks solid and RX Vega 56 is certainly a GTX 1070 contender, even if it has rocked up to the fight banging its chest over a year late. It's certainly good that we finally have some competition at these higher price points, but we feel like if you're going to come to the party an entire product cycle late, you kind of have to hit it out of the park. That's not what AMD has done here.
There's still much to discuss, more testing that needs to be done, and the whole Vega 64 review still pending. Though this review gives us a pretty good idea of what's on offer today, as usual a bit of time will need to pass before we can put our finger on what will change for consumers wanting to buy a new graphics card in the next few weeks or by the end of the year.
For example, we've seen previously the RX 480 lagging around 15% behind the GTX 1060 upon release. Months later that gap was closed to nothing and AMD's offering became considerably more attractive. RX Vega 56 is currently matching the more mature (and entirely awesome for the past 14 months) GTX 1070, but we can easily imagine it becoming some 10% faster before too long.
But as a consumer, should you bank of that and take the Vega plunge? Or instead go with a known quantity in GeForce GTX 1070. It's hard to discuss pricing these days since the GTX 1070 and most other high-end GPUs are selling well over the MSRP, and even then availability can be quite poor. We hate to think how poor availability of Vega is going to be over the next few weeks, if not months. So in a way you might be forced to wait and see how well Vega matures anyway.
This is what we've accomplished in the ~36 hours that we've had Vega 56 on hand. Expect more testing shortly along with a good look at Vega 64 later this week.
Pros: Solid performance across the board. 8GB of HBM 2 memory should prove useful in the long term. Matches the current performance value king, the GTX 1070, which is no small feat. Modern DX12 architecture. Freesync gaming, yea!
Cons: Vega seems to be less efficient than Nvidia's Pascal. We were expecting a bit more from the late challenger.