TechSpot is celebrating its 25th anniversary. TechSpot means tech analysis and advice
you can trust
.
When you buy through our links, we may earn a commission.
Learn more
.
Price vs. Performance, Conclusion
Before wrapping up this review we should probably check out a few price vs performance scatter plots to work out just how well the 8700K stacks up in terms of value.
Looking at the Premiere results we see that the Core i7-8700K is a good step forward from the recently released 7800X. It's both faster and cheaper. Compared to the Ryzen 7 1700, the 8700K was 8% faster but it also costs 20% more, though it is a much better value than the R7 1800X. Overclocking muddies the water a bit so we're not going to focus on that for this review. I'll cover overclocking and how that changes the value of these CPUs in a future video.
For now the R7 1700 looks to provide content creators with the best value option but the Core i7-8700K is certainly a viable option where as I felt the 7800X wasn't.
For the extreme blender workload the 8700K does well, again it's 20% more costly than the R7 1700 but it's also 20% faster out of the box. In terms of value, the R5 1600 is still the best option but for it to get anywhere near the stock 8700K you'd have to overclock it to 4 GHz. So Intel has put forth an extremely compelling option here.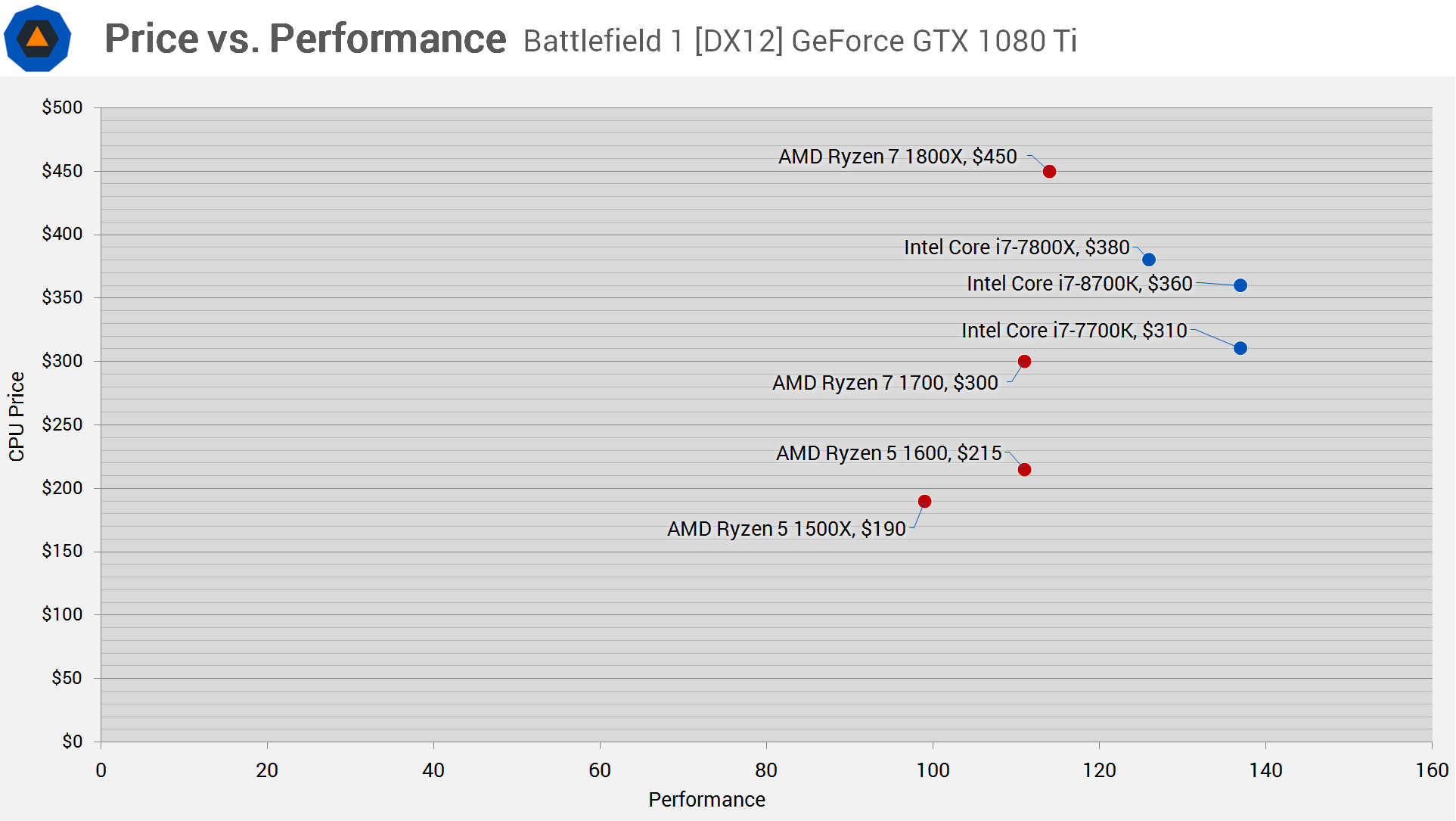 For high-end gaming, especially high refresh rate gaming, it's pretty obvious that the Intel CPUs are the way to go in terms of performance and value. As we saw with the 720p results, the 8700K is GPU limited at 1080p. I snuck the 720p testing in as I was finishing up the review so I don't have a price to performance scatter plot but needless to say Intel wins quite comfortably here.
Using Vega 64 we are again GPU limited though it has to be said the Ryzen CPUs perform much better with a Radeon GPU when using the DirectX 12 API. So for gamers hoping to maximize their dollar, the Ryzen 5 1600 still presents a great value option and is arguably the most cost effective choice for anyone who isn't after extreme high refresh rate gaming.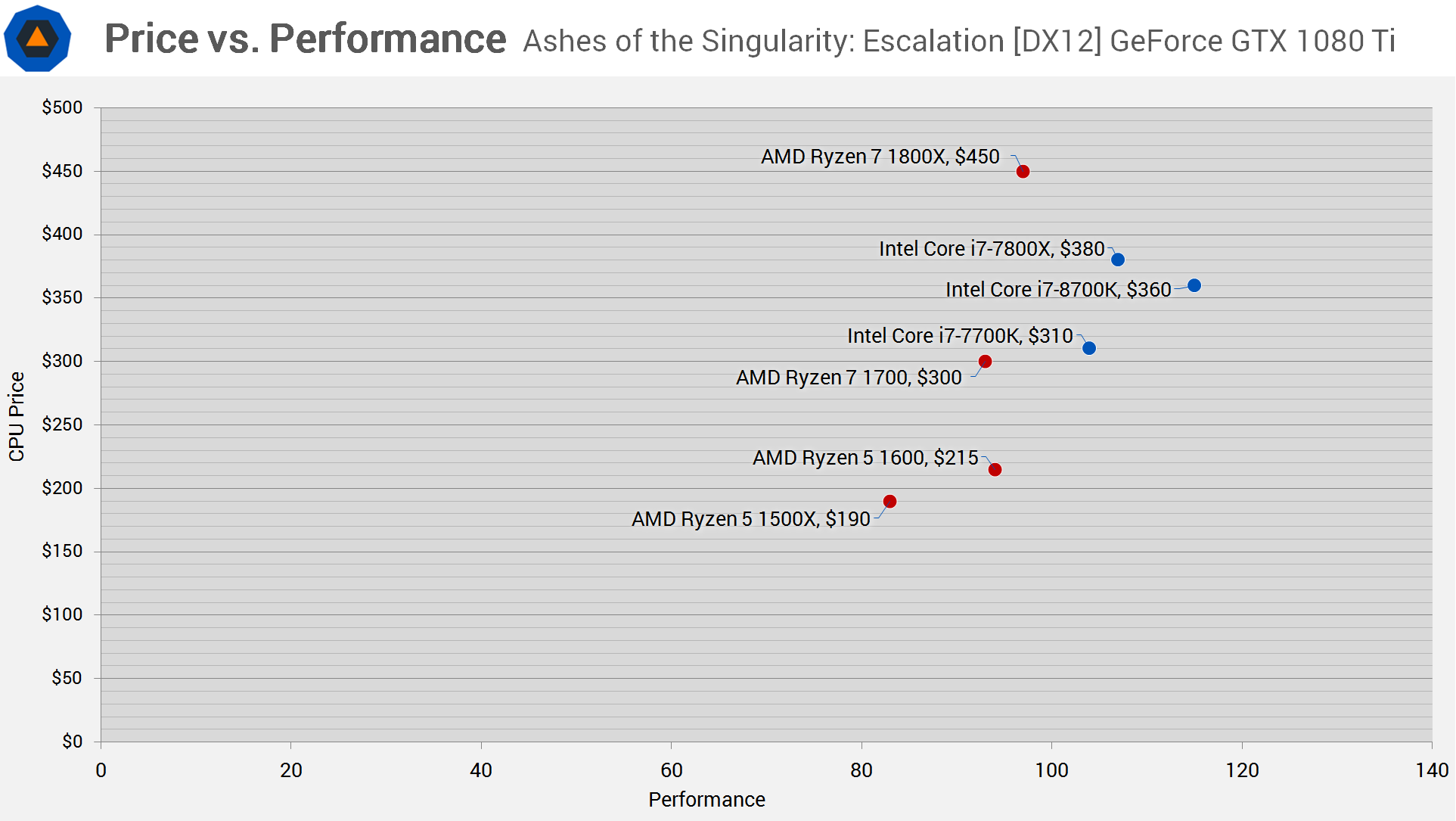 Finally, looking at the Ashes of the Singularity results with Vega 64, we again see an extremely impressive result from the 8700K as it's a good bit faster than the previous gaming king, the 7700K. These figures really suggest that the 8700K isn't just the new king of gaming but will be well into the future as well.
Conclusion
Intel's new mainstream flagship Core i7 processor is a beast. For gamers seeking the ultimate solution there is simply nothing better than the Core i7-8700K. Out of the box performance is incredible, overclocking is even more incredible, power consumption is impressive for a CPU running at over 4 GHz by default and needless to say, this chip is going to find its way into my new gaming rig.
At $360 the Core i7-8700K is a costly affair. Although that's barely higher than the $340 7700K it replaces, compared to the $215 Ryzen 5 1600 for example, it's not a great value, though you do get what you pay for.
I still feel that the majority of gamers will be better served by the R5 1600, but before you take my full word we have to check out the Coffee Lake Core i5 range first (soon!). The 8700K makes the most sense for those going after extreme frame rates with the latest and greatest GPUs, and not those playing CS:GO on a GTX 1060.
Once you dish out $360 for the 8700K you really want to spend another $100 or so on a decent cooler. Realistically, you could spend as little as $20 for a basic air-cooler, but that'd be doing this incredible overclocker a disservice. Anyway, let's say ~$30 to be conservative, we're now at over $400 and once you factor in the price of a decent Z370 board for around $150, we're talking $550+.
Moving on from gaming, how does Intel's new series handle productivity?
Well, the Core i7-8700K has the Ryzen 7 1800X beat and it almost wasn't even a contest. However, the 1800X was already a dead chip in our eyes before the 8700K even came along thanks to the great value offered by its less expensive siblings.
Compared to the R7 1700 in terms of value, the 8700K is about on par but with both overclocked to the max the Ryzen 7 CPU should offer a little more for your money. Even so, it will vary from one application to the next and I'd say overall they are similar. Again, those on a budget will opt for Ryzen as it's cheaper and will deliver similar performance without much trouble.
Shopping Shortcuts:
Overall, the Core i7-8700K has proven to be much more of an all-rounder than the 7700K was and now I can't wait to check out the rest of the Coffee Lake range. 2017 has been a spectacular year for PC hardware and it's great to see so many impressive options available.
Pros: Great for high-end gaming and competent at productivity. Offers better all-around performance than the 7700K. One hell of an overclocker.
Cons: Relatively expensive compared to Ryzen. Expect to spend $550+ for the chip, a motherboard and a nice cooler.