TechSpot is celebrating its 25th anniversary. TechSpot means tech analysis and advice
you can trust
.
When you buy through our links, we may earn a commission.
Learn more
.
Battery Life, Who Is It For?
Let's wrap up the round of testing with some thermal and noise performance, after all we saw the cooler earlier and that thing is tiny. Thermal performance isn't fantastic but it does fall within normal results we've seen from other gaming laptops, running the CPU at 90 degrees and the GPU at 79 degrees during a Watch Dogs 2 session.
However the cooler does run loud, which seems to go against Nvidia's Max-Q principles. While quiet at idle, the cooler roars into action during gaming, pumping out 48.8 dBA of noise from 50 cm away. Similar laptops we've reviewed tend to fall more around the 43 dBA range, so no doubt the Aero 15X has to push more air across its tiny heatsink to effectively cool the components inside.
Oh and battery life, how could I forget? The Aero 15X has a monster 94 Wh battery which is larger than most gaming laptops of this size and class. After all, the laptop is positioned for not just gamers, but also those that want to use this laptop for productivity tasks on the go. Looking at the results, we aren't seeing a notable improvement over the original Aero 15, though that isn't a surprise considering the new CPU still packs the same TDP.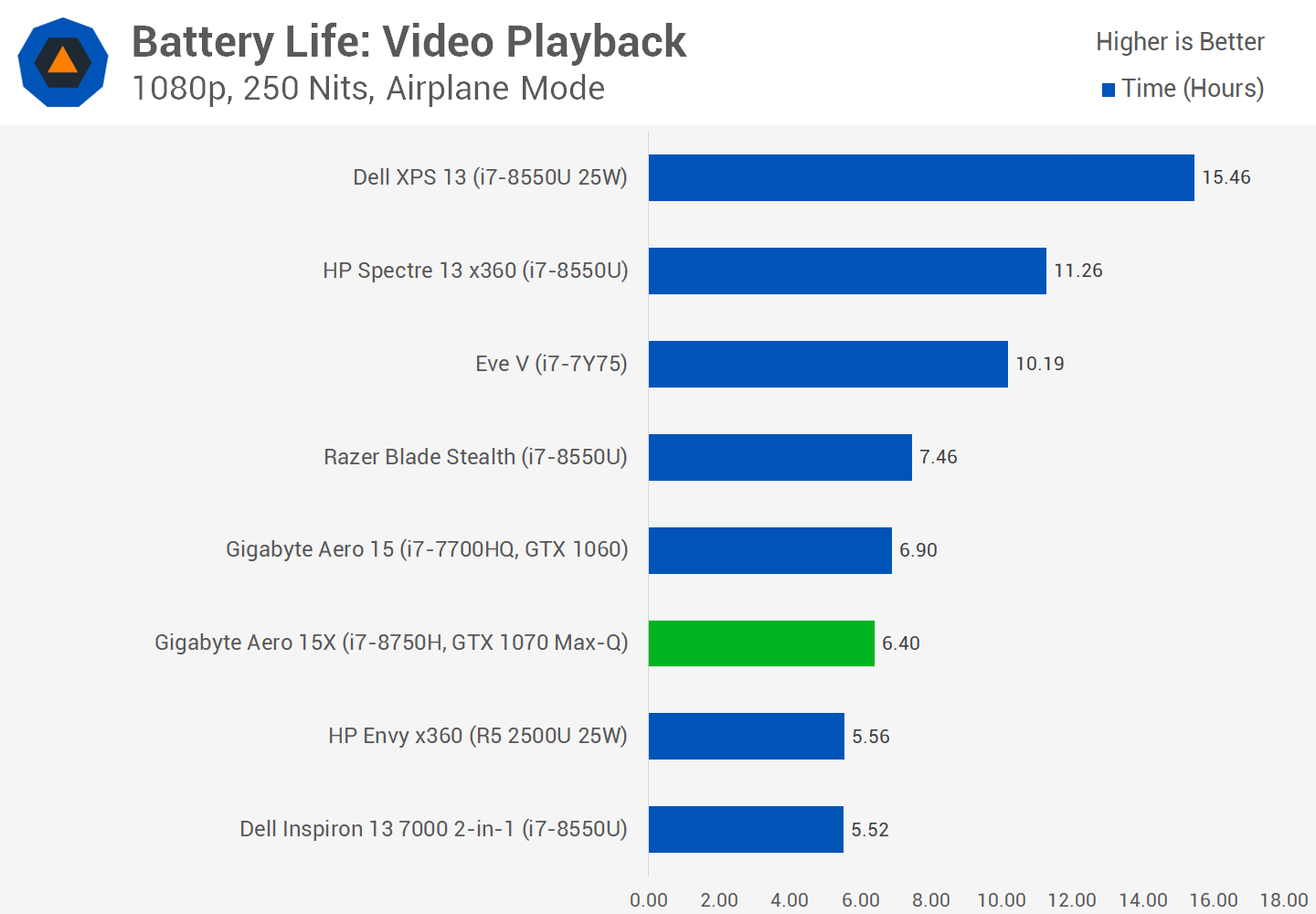 I wouldn't say battery life is fantastic or as good as a top-end ultrabook looking through these charts, however it's pretty decent for a 15-inch laptop with powerful internals. Naturally when running intensive applications the high-performance processor will cut your battery life quite drastically, but in low power workloads like web browsing, the Aero 15X puts up a good show.
Closing Thoughts
The Aero 15X model we tested comes in at $2,299. That is a high price to pay compared to the cheapest gaming laptops with similar hardware inside, however the more portable and compact you go, the higher price you usually have to pay. Most of the Aero 15X's main competitors, such as the MSI GS65 Stealth Thin and the new Asus ROG Zephyrus, also come in around this price for very similar specifications, so it's not as if the Aero 15X is unusually expensive.
I still quite like many aspects of the Aero 15X, including its small bezel display, X-Rite Pantone certification which is awesome for creative professionals, and the general compact, portable nature of this chassis. Not a lot has changed since the original Aero 15 in this regard, but minor improvements in a range of areas is always nice.
The hardware collection is also very solid, including a new 144Hz display, the six-core Core i7-8750H, and the decently powerful GTX 1070 Max-Q that, combined with this new CPU, is ready to tackle 1080p ultra quality gaming.
To get the most out of the hardware in this laptop, though, you really need to upgrade it to dual-channel memory. It's disappointing Gigabyte didn't include dual channel memory out of the box; I can understand wanting to make it easy for consumers to add in more RAM with ease, but it does hurt performance in both productivity workloads and gaming.
The cooler is also a bit size constrained, so it tends to run loud with the GTX 1070 Max-Q inside. I suspect the lower spec'ed GTX 1060 model doesn't suffer as much from this problem, so if you opt to shave off a few dollars for the slower GPU, things hopefully won't be as bad.
I'd still recommend the Aero 15X as it has a lot of strengths and the memory bandwidth issue is pretty easy to rectify, but there is more intense competition this time around and I'm very curious to see what Asus and MSI's competing laptops provide when I check them out in the coming weeks.
Shopping Shortcuts:
Pros: Well rounded high-end specs good for professionals and gamers on the go. Well built, solid keyboard. Thin bezel display with excellent qualities (plus X-Rite Pantone certification).
Cons: Memory not configured to run in dual channel mode out of the box. Trackpad is just ok. Cooling could be better, less space constrained.