Das Keyboard 5Q and X50Q Review
Testing the World's First Smart Mechanical Keyboards
By
TechSpot is celebrating its 25th anniversary. TechSpot means tech analysis and advice
you can trust
.
When you buy through our links, we may earn a commission.
Learn more
.
If you're a PC gamer, you're likely familiar with the likes of Razer, Corsair, and Logitech who offer gaming keyboards and other related solutions. But if you're a true computer enthusiast, let alone a mechanical keyboard enthusiast, then you enter into a different territory of high quality niche players. Das Keyboard is arguably the most renowned brand within this group.
We reviewed the first revision of the Das Keyboard back in 2008 and we still have that same device working perfectly in one of our office's computers. With that kind of reputation, Das built a following and many other players started to notice. However as competition has cropped up and the playing field has leveled with reputable manufacturers relying on trusty switches from the likes of Cherry MX, the industry feels a bit stagnant.
Case in point, we reviewed the last iteration of the Das Keyboard (4 Professional) in 2014 and that remains the company's go-to offering for most enthusiast users. Over the years Das has brought us a few other offerings, like the Prime 13 or the gaming-oriented X40, though for a while we've also been waiting for their "next big thing." They announced it on mid 2016, with a Kickstarter to build the first "cloud-connected" keyboard. They also said they would work with Japan-based Omron to build the best possible and most durable switches, that would differentiate them further. Finally, the claimed those keyboards would be ready to ship by January 2017, but evidently that did not happen.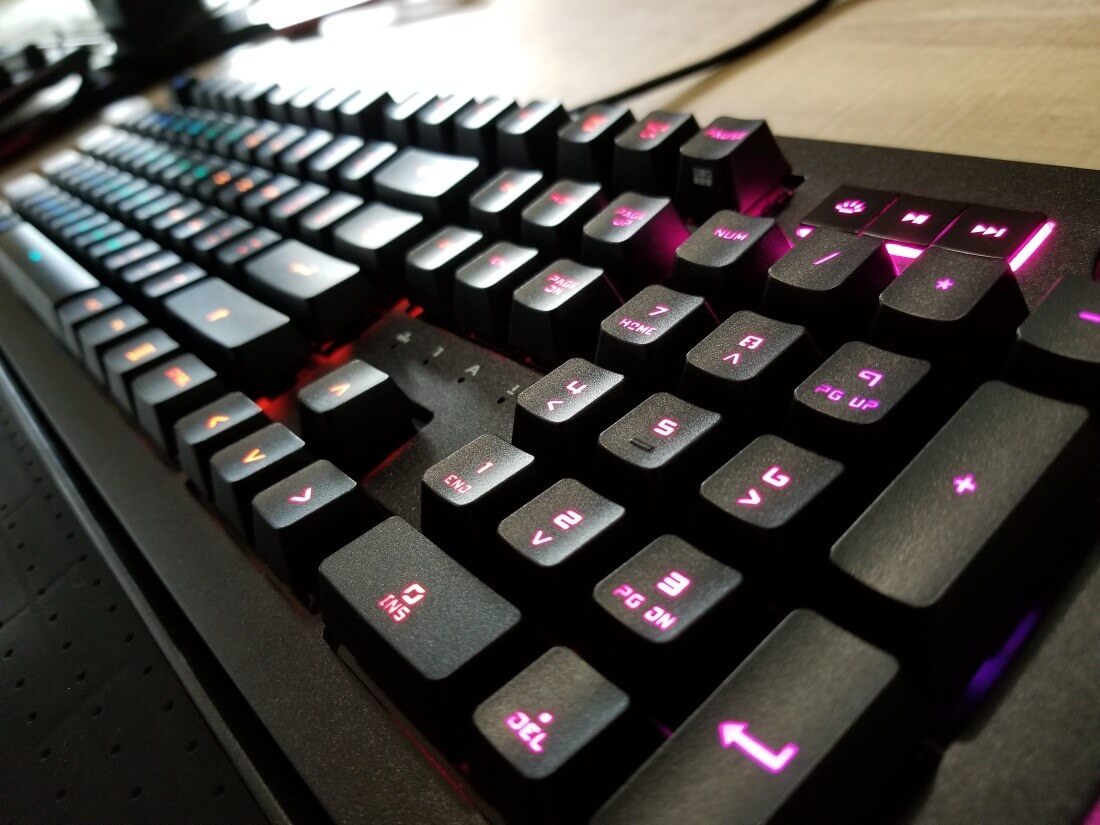 You might recall a couple months back I reviewed the Wooting one, the first of its kind analog mechanical keyboard. Despite a few flaws, I loved the device, and I was fascinated by the technology behind it. I bring this up, because in a sea of good, bad, and great keyboard offerings, claiming yours is unique is becoming next to impossible. So we see this "cloud-connected" functionality as Das' attempt to offer something unique that appeals to its following of PC power users.
The new Das Keyboard 5Q and the X50Q, both promise a similar level of innovation as the "world's first smart keyboards." The company claims the keyboards were designed to boost productivity and "[stream] information from the Internet" directly to a user's fingertips. But what does that mean exactly? Those are certainly some lofty ambitions, but do the keyboards deliver? We'll cover that shortly.
Design and Feel
Before getting into the real meat of this piece, I should discuss the build quality of the keyboards. If you've ever purchased gear from Das Keyboard in the past, you probably already know what to expect with the 5Q and X50Q. Both keyboards feel very well-built, courtesy of what I presume to be an all-aluminum top plate, a firm plastic bottom, and a heavy-duty braided cable.
When I attempted to bend and twist the keyboards, they were both surprisingly resistant to my manipulations. To that end, while I don't recommend testing this for yourself (the folks over at Das are probably shaking their heads as I write this) it does seem like both the 5Q and X50Q could withstand a fair amount of abuse before their functionality would be diminished. Naturally, it's best to avoid dropping or otherwise damaging your keyboards in the first place, but accidents do happen.
Moving on from general build quality, how do the keyboards themselves feel? In a word, excellent.
The 5Q and X50Q both feature Das Keyboard's Gamma Zulu key switches made by Omron. Das says these switches feature 1.5mm travel times, faster spring back, and 100 million actuation lifespans (twice as much as Cherry's). They're also transparent in order to work best with RGB lighting. Though the switches are mostly identical between the 5Q and the X50Q, Das claims the 5Q has a "Real Time One" (RTO) ms response time, which the company says is faster than the X50Q. I can't comment on that myself, however, as the difference between the two wasn't noticeable for gaming or writing.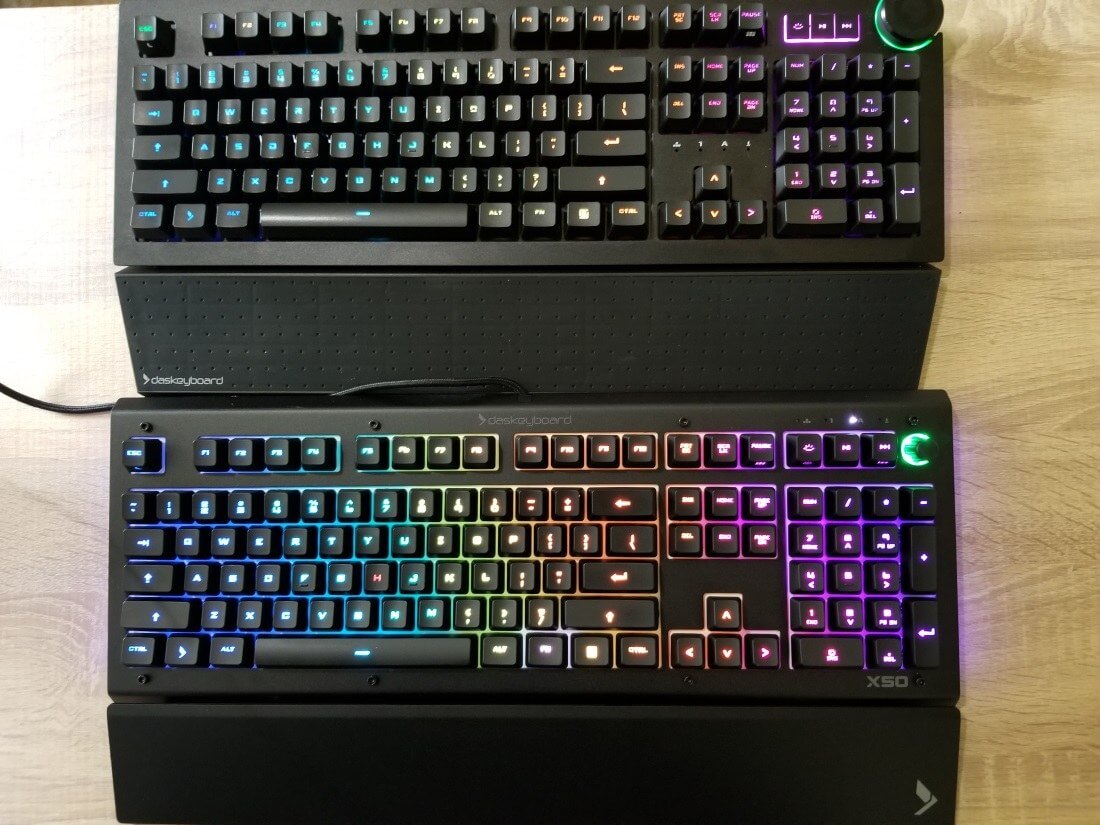 In trying to pinpoint an industry equivalent – say, one of Cherry's MX switches – for the Gamma Zulus, they certainly feel great to type with. When given a choice, I go for a firm, loud, and clicky key switch, like Cherry's MX Blue, but the Gamma Zulus are softer and much closer to the MX Brown's. If you want to geek out on switches, actuations and other such details, this comparison chart should give you a complete answer on where the Gamma Zulus stand.
The 5Q and X50Q switches are remarkably quiet, which I'm not too used to coming from clickier switches. Even when I took off my headphones, the sound they made quickly faded into the background, and with them on, keystrokes were almost inaudible.
Despite my complaints, my typing accuracy did increase substantially compared to what I was capable of with the Wooting one, which was my daily driver for many months. Whether or not that's a result of moving away from the one's analog switch technology, I cannot say.
From a design perspective, the Das 5Q and the X50Q are pretty similar to one another. The 5Q is the more serious of the two, while the X50Q is more gamer oriented and comes with an additional set of WASD textured keycaps (silver with red highlights). Otherwise, the most notable differences between the two are the wrist rests and the volume wheels – these double as "Signal" menu hotkeys, more on that later.
The Das 5Q has an ultra-comfortable, rubberized magnetic wrist rest but a bulky, difficult-to-use volume dial. By contrast, the X50Q has a smaller, grippier volume wheel that I found much easier to handle, but it also has an underwhelming plastic wrist rest. There's one last design element I should mention: the X50Q has several strange plastic rivets jutting out from around the keyboard. I don't see a purpose for them other than to look more "gamer," but they're a bit unpleasant to look at and disrupt the aesthetic of what is otherwise a pretty attractive piece of tech.
Cloud Connectivity: Innovative or Gimmicky?
With my thoughts on the keyboards' design, durability, and switches out of the way, we can get to the major selling point of these keyboards - the internet streaming features Das boasts about. These features work much the same across both keyboards - users are able to attach custom alerts to their device's various keys by integrating their keyboard with IFTTT and Zapier via the "Das Keyboard Q" customization software.
I won't go into details about IFTTT or Zapier in this review, but the gist is that they let you create custom "if this, do that"-type commands that trigger an action – in this case, a keyboard alert – based on a pre-determined criteria.
For example, the keyboards can alert you when you've left the garage door open (I didn't test that one myself), when your favorite streamer goes live on Twitch, or when one of your colleagues mentions you in a Slack message. You can even set your keyboard to tell you when a package has been delivered or when the president sends out a Tweet. Think OS notifications meet RGB keycaps.
With the power of IFTTT and Zapier, users can easily create their own custom "Signals" that integrate with a wide variety of services, including various email clients, Discord, websites like YouTube, and much more.
To create a signal, visit Zapier or IFTTT to choose a trigger, attach it to a specific key, and then choose a color and lighting effect to go with it. Das has helpful video tutorials that explain the entire process in the "Getting Started" section of their website. As an example, though, you could make a blinking blue Signal appear on your "W" key whenever someone mentions you on Twitter.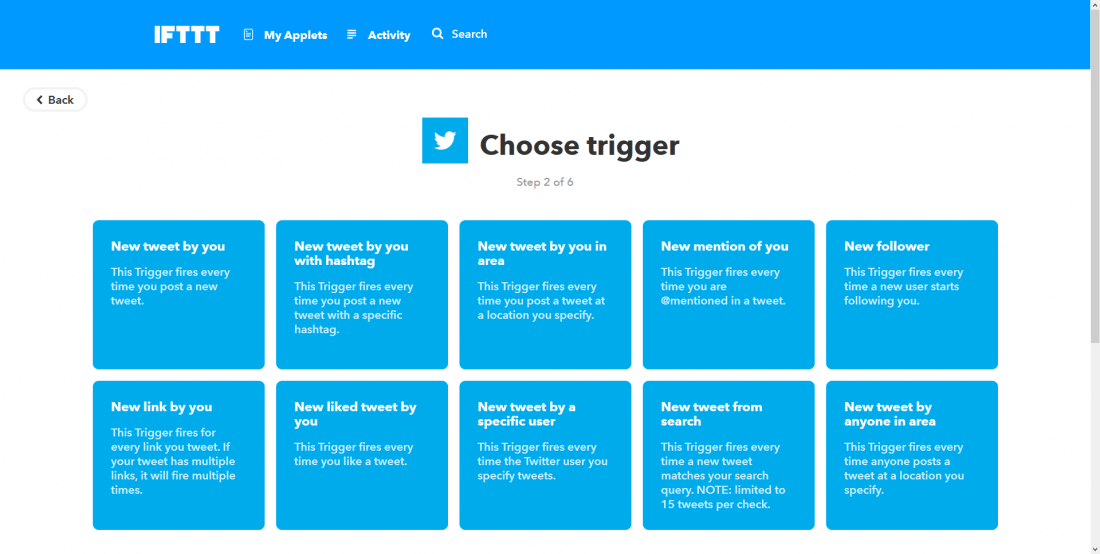 If you happen to miss an alert, or you have several active at once and you don't want to check each one individually, the X50Q and the 5Q's volume wheels double as notification buttons. Just press the button down, and it will open the Signal Center, allowing you to view all active and past alerts. All of these functions are neat for a while, and the possibilities are extensive, but I'm not sure how much use the average user would get out of them.
Is it really necessary for your keyboard to tell you when you've received a new email when you could take two minutes to open Gmail and check for yourself?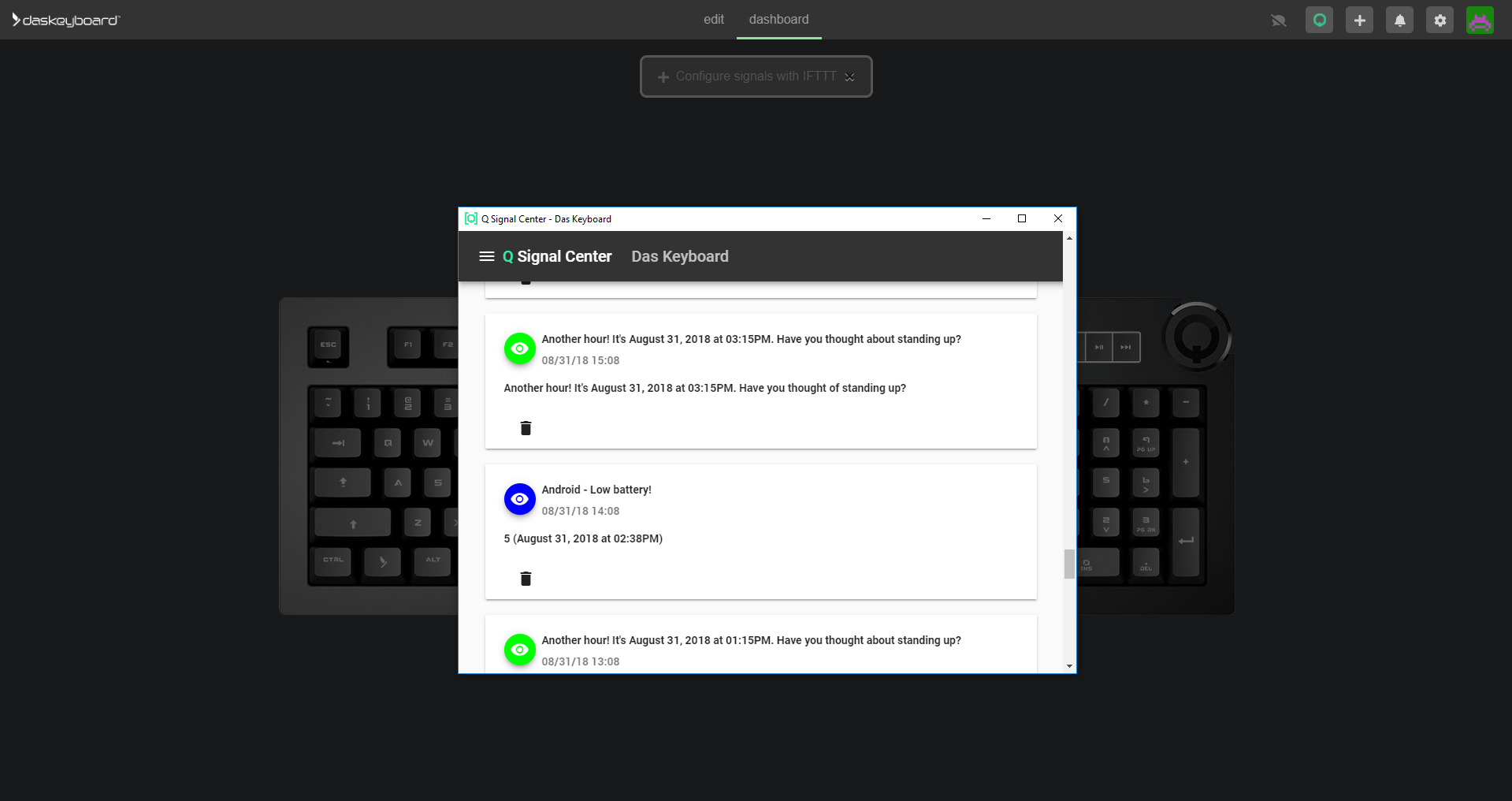 It's not just limited use cases that drag the Q-series keyboards' cloud features down - their implementation could also use some work. The problems begin with the third-party integrations the Das Keyboard Q software suite requires in order for its unique features to function.
To set anything but the most simple alerts, you're going to need to visit the dedicated websites for IFTTT and Zapier, create separate accounts (in addition to a Das Keyboard Q Cloud account) for each of them, and then create custom Signal integrations within said accounts. This may not seem like a big deal at first (the websites are fairly easy to use), but it starts to feel like a bit of a juggling act the more you use the features. Call me old-fashioned, but I don't typically like to make more than one account for a newly-purchased product.
Additionally, when my Slack message notification Signal started acting a bit buggy and began triggering even when none of my colleagues had typed anything, I had to dig my way through Das' slightly-confusing software interface as well as Zapier's website to figure out what was going on. After about 20 minutes of frustration, I realized the Signal was triggering off of old messages I'd already been notified about hours before.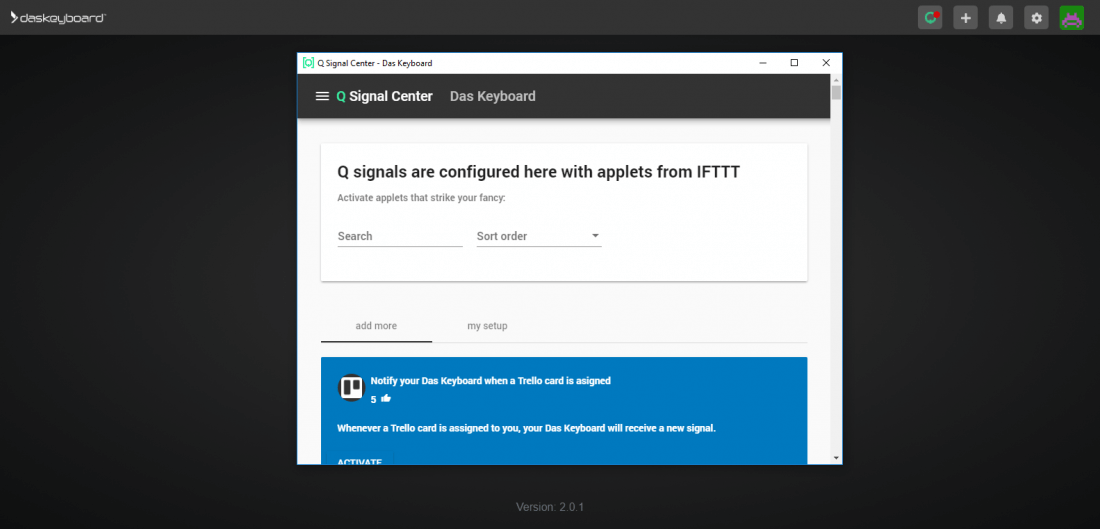 To fix it, I had to visit Zapier's website, delete the integration, and then recreate it. I haven't had any issues since, but it was still an annoying situation. Being that Zapier and IFTTT are clearly essential in order for users to get the full experience from their 5Q or X50Q, how can Das improve the situation?
Ideally, I'd like to see a Signal creation menu within the Das Keyboard Q app itself. If users must sign up for Zapier and IFTTT (which many probably won't take issue with), they should at least not be forced to visit the tools' websites every time they want to make a new Signal. However, I'm not sure if that's technically or legally feasible for Das to pull off, so I suppose I won't hold my breath.
Customization Software
Cloud connectivity features aside, let's talk in more general terms about the Das Keyboard Q software interface. Both the 5Q and the X50Q offer full RGB backlighting, and it's far easier to customize it within Das Keyboard Q than it is to create signals using IFTTT and Zapier.
All you have to do is create a new RGB profile and adjust each key's lighting to your heart's content. It's even possible to change the colors of the two light bars built into either side of the keyboard. They're hard to see during the day, but at night, they look pretty neat.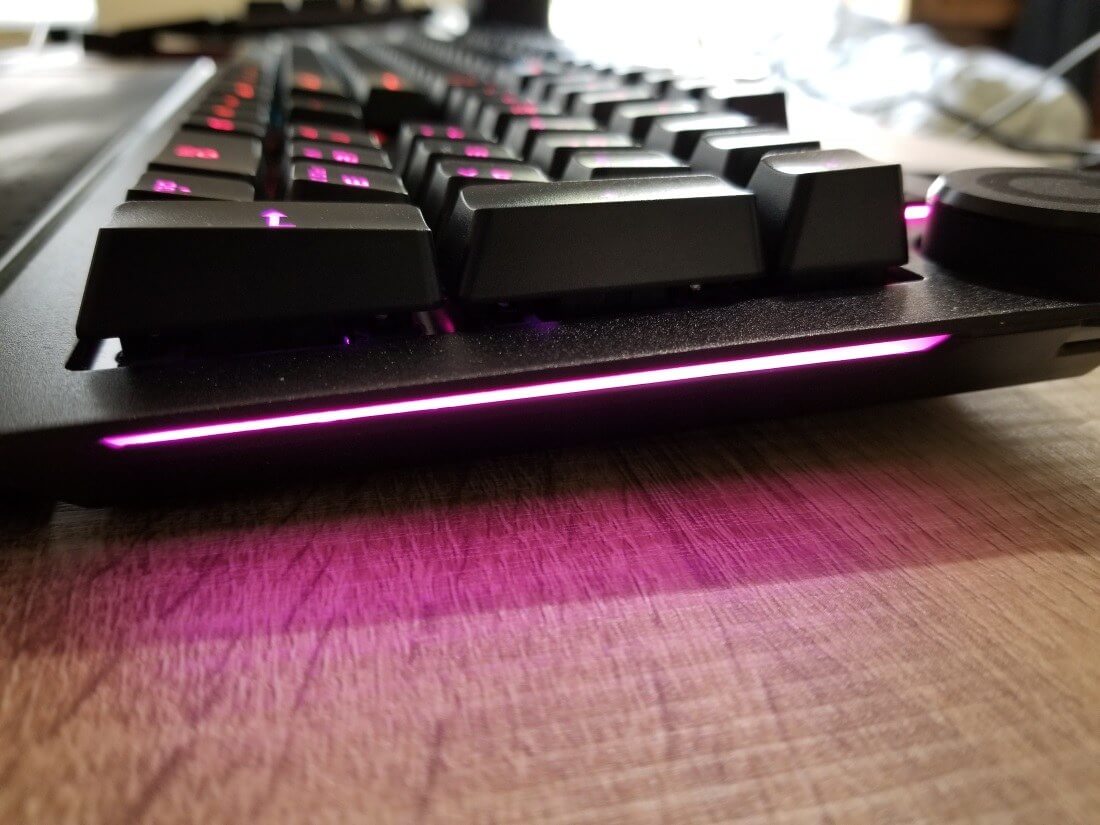 The color customization of the 5Q and X50Q is about as robust as you'd expect for high-end keyboards, but its held back by its small selection of "Active Effects." For now, users only have access to breathe, ripple, "laser," color cycle, and inward ripple effects. However, that's something that can be expanded upon down the line as more users offer their feedback to Das.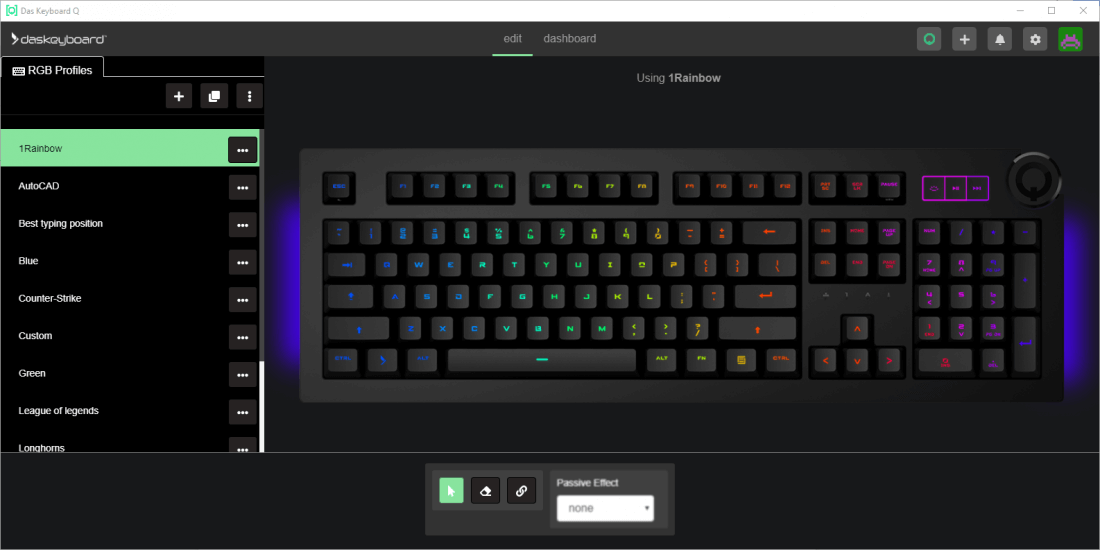 From an aesthetic perspective, the backlighting quality for both the X50Q and the 5Q is above-average. The lights are vibrant, and you can toggle through 10 brightness levels using a dedicated hardware key. Frankly, there isn't much in the way of feedback I can give Das about its software, perhaps adding macro customization down the line, as well as an RGB "painting" feature like Wooting's Wootility software offers.
Closing Thoughts
We've covered a lot of ground now, so it's a good time to summarize my thoughts on the Das 5Q and X50Q.
First, if you're wondering why I haven't made many distinctions between the two keyboards throughout this review, it's because there just aren't that many differences to begin with.
One of the key selling points of the devices, the cloud features, have been fun to experiment with, but in their current state, I don't think they'll appeal to anyone but the most hardcore users, due in no small part to the headaches associated with setting up Signals. Power users and hardcore gamers might find the features intriguing enough to look past their faults, whereas a casual user probably wouldn't use them at all. Ultimately, I feel like the 5Q and the X50Q are trying to solve a problem that just doesn't exist at the moment, though it'll be up to users to figure out what potential uses you could give to this kind of keyboard-based notification.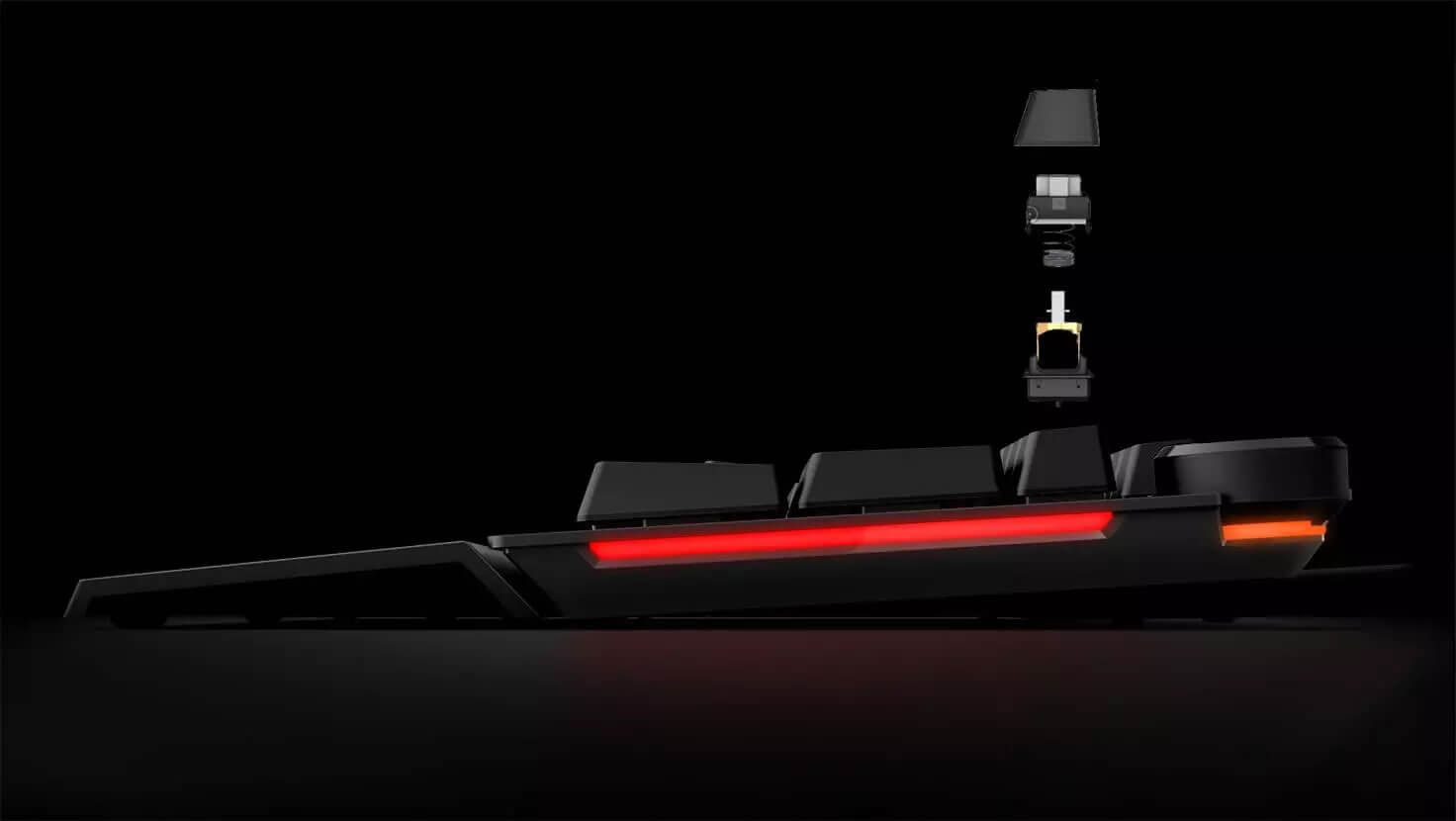 Looking beyond this feature, the build quality of the keyboards is almost enough to justify their price tag alone, and if you are interested in the technology Das offers here, either of the keyboards might be worth a buy. Just to reiterate, I found the difference between the two keyboards to be almost indistinguishable. If you can deal with a downgraded wrist rest, and slightly different styling you can't go wrong with the X50Q either.
So, in the end, are the keyboards worth the money? It's tough to say, because their value is largely dependent on how much use you think you could get out of the cloud features. On top of that you have Das' latest and greatest hardware yet, new exclusive switches that are not just good but should be super durable, and full RGB lighting (with optional blank and translucent keycaps) which is kind of unique for a Das product. On the other hand, no USB hub, a downgrade from the two USB 3.0 ports found on the Das Professional 4.
The Das Keyboard 5Q is currently priced at $250 and the X50Q is $200. You can pre-order the keyboards right now.
Pros: Typing experience and build quality are top notch. Key switches feel great and solid, are unique to this Das series. RGB backlighting is very good.
Cons: Not a big fan of the cloud connectivity features, and the price is a tad high as a result. No USB hub.