TechSpot is celebrating its 25th anniversary. TechSpot means tech analysis and advice
you can trust
.
When you buy through our links, we may earn a commission.
Learn more
.
Wrap Up: Price vs. Performance
Let's take a quick look at a few application price vs. performance charts. For this I'm using the current market price with the exception of the Core i7-7820X, here I'm using the MSRP as the current market price is inflated by $300. It's not worth buying at the MSRP as it is, so let's just go with that as a best case scenario.
If you want to get some rendering work done on a serious budget there's no beating the Ryzen 5 2600 right now, it's really not that much slower than the Core i7-8700X and it's a heck of a lot cheaper.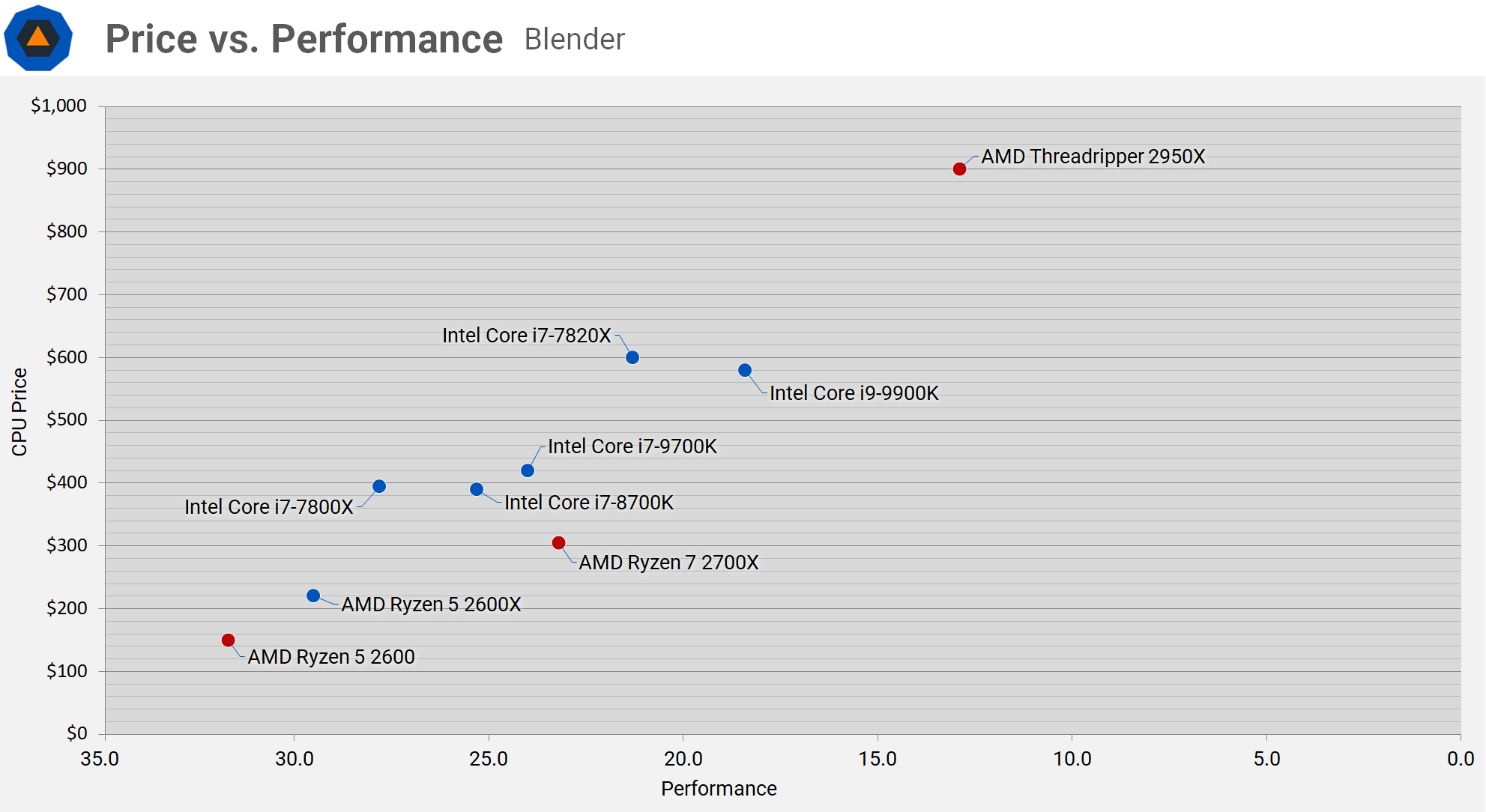 But let's focus on the new CPUs, the 9900K and 9700K. The 9700K is better than the 8700K in terms of value, but still much worse than the cheaper Ryzen 7 2700X.
Meanwhile the 9900K smokes the 2700X in terms of performance, but at almost twice the price it's poor value in comparison. If time really is money, then the much more expensive 2950X seems like the obvious choice. Also please note these price vs. performance charts don't factor in motherboard and cooling costs, I'll discuss that shortly.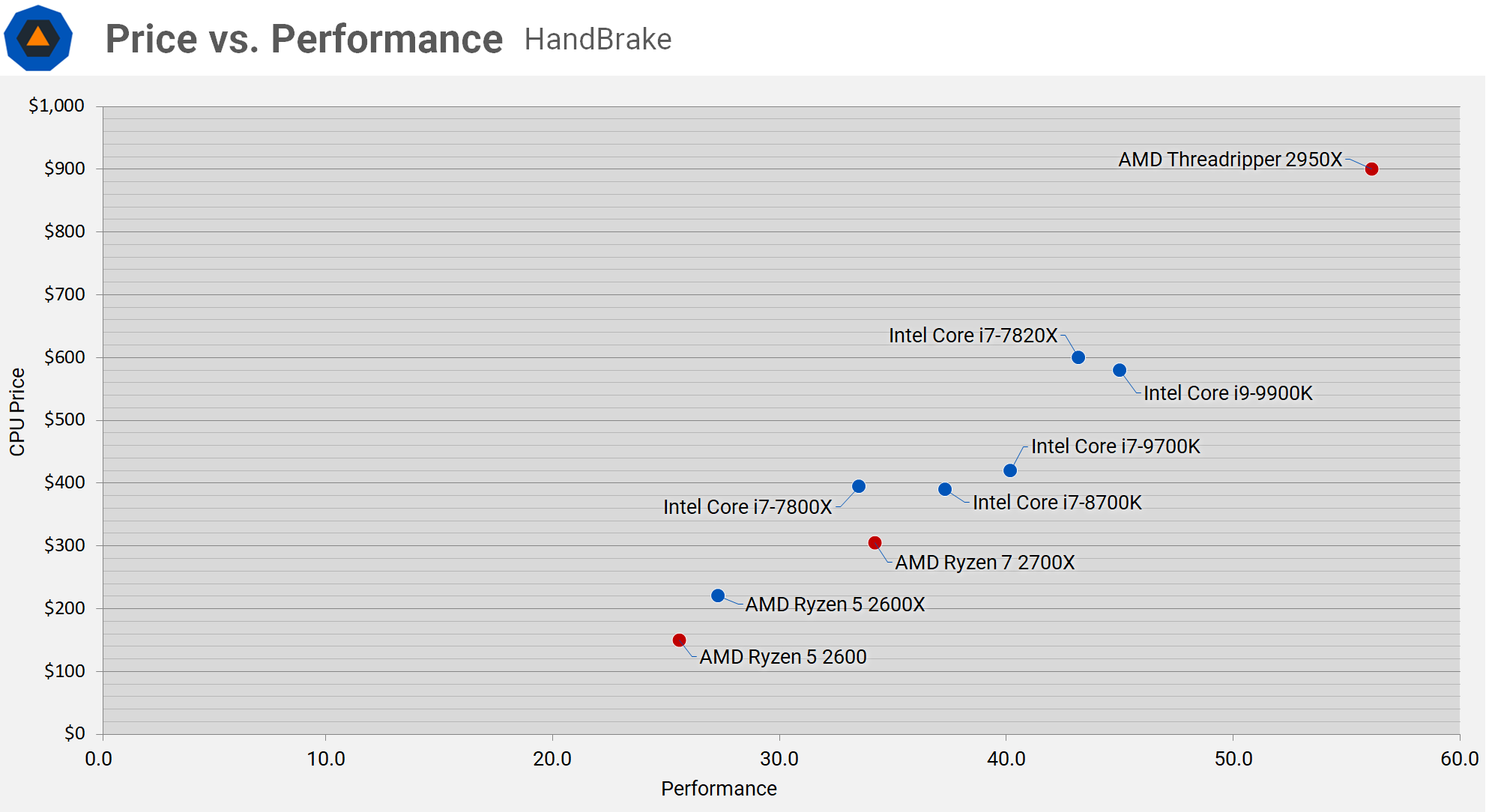 The Intel CPUs stack up much better in Handbrake and do offer more bang for your buck when compared to the competing AMD CPUs. This is a worse case scenario for Ryzen, at least in our battery of application benchmarks.
As we saw previously the Ryzen 7 2700X really is the ultimate value option for content creators and the new Intel CPUs can't hold a candle to it in terms of value. The 9900K doesn't offer any new here when compared to the 7820X, while the 9700K was no better than the 8700K, so a disappointing set of results for Intel in Adobe Premiere.
Closing Remarks
These new 8-core Coffee Lake processors certainly are interesting animals, but I'm not entirely sure who they're for. Before I try and work that out let's quickly touch on pricing. The Core i9-9900K comes in at an MSRP of $500, but currently costs more than that at $580, while the 9700K is meant to cost $374, but is currently at $420.
The Core i7-8700K is also a little over the MSRP right now, priced at around $390 rather than $360 and this slight price increase is due to a supply issue. So we've established that the new 8-core parts aren't cheap, but who are they designed for?
A lot of you are gamers and Intel has been touting the 9900K as the world's best gaming CPU, which it technically is. But at 1080p with an RTX 2080 Ti it barely is any better than the 8700K, the previous gaming king, and arguably still the best in terms of value for high-end gaming. At $150 the Ryzen 5 2600 is without question the best value gaming CPU overall. That's a ridiculously low price for the 6-core/12-thread CPU.
In my opinion the minor performance gains the 9700K and 9900K offer in some games using low-res settings doesn't make them better gaming CPUs than the 8700K, at least not right now. The added power consumption and heat make them less attractive options. For an almost 50% increase in price you're looking at maybe a 5% increase in performance, assuming you don't game at 4K.
So while certainly very fast gaming CPUs, I feel like neither the 9700K or 9900K make that much sense for those looking to game exclusively. Then if we look at application performance it's still hard to justify buying either of these new 8-core processors. For the most part, the 9700K is slower than the 2700X, while the 9900K is up to 30% faster when overclocked, so that's pretty impressive, less so for the price of admission.
The additional cost of cooling is another topic for discussion. There's simply no way you're going to avoid thermal throttling without spending around $100 on the cooler, at least without your PC sounding like a jet about to take off. Throw in the Corsair H100i Pro and the 9900K now costs $700 and you still can't overclock, at least not without running at dangerously high temperatures.
Later this month the Threadripper 2920X will be landing for $650 packing 12 cores and you can probably guess which one will be faster for productivity workloads. Granted X399 motherboards cost about $100 more, but you get twice as many DIMM slots, way more PCIe lanes and well, a serious workstation platform.
The 9900K is every bit as good as the 8700K for gaming, but not nearly as good as the 2950X for most core-heavy productivity workloads. So you can't exactly say it's the best of both worlds but if you lean more heavily on the gaming side then I guess it's a better choice.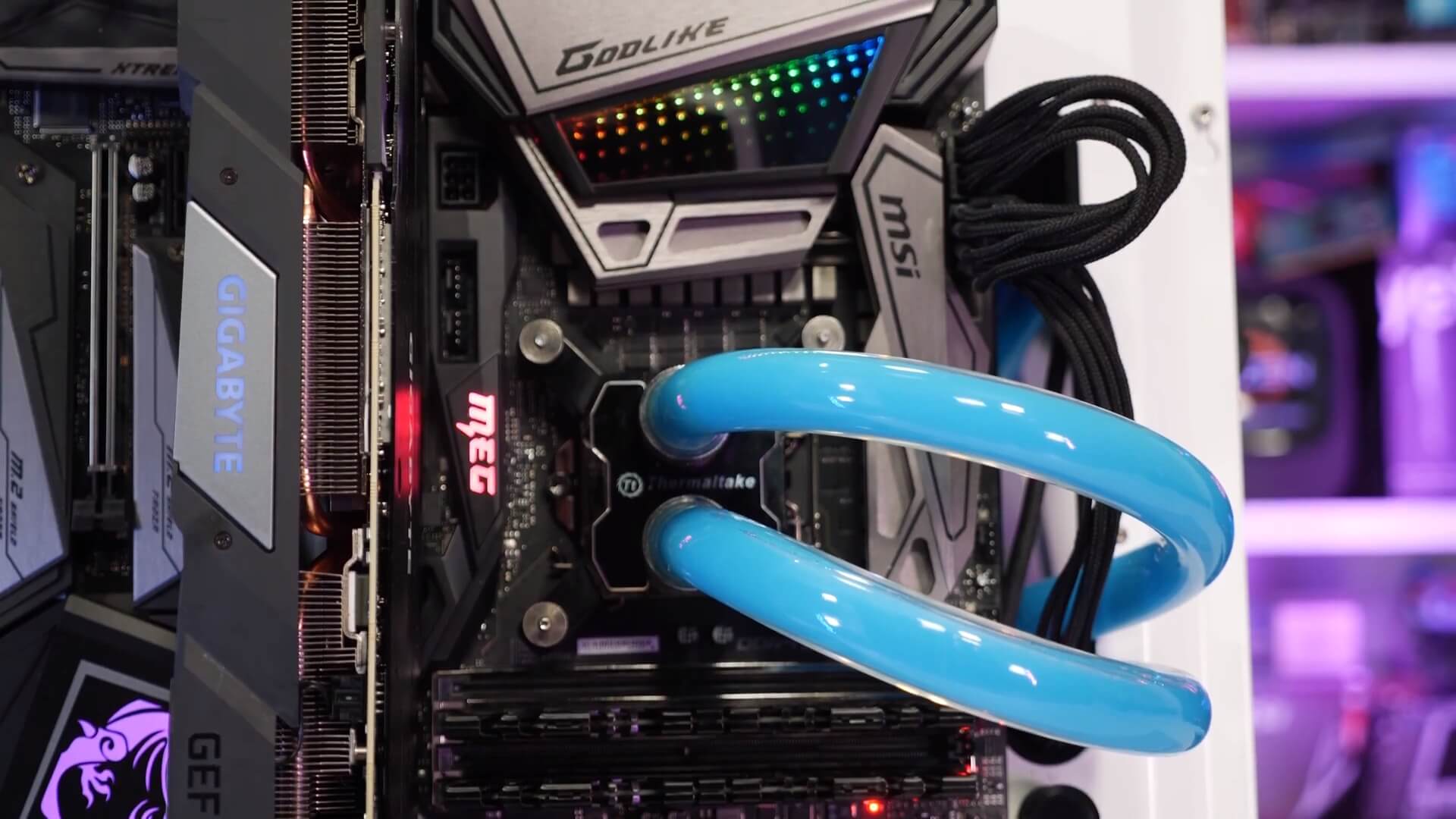 Obviously no matter your preference, only those with money to burn will be considering the 9900K at its current market price, or even the $500 MSRP for that matter. For me it's just too expensive and too impractical, keeping it cool seems like a daily challenge and unless you're going all out on custom liquid cooling, it's a challenge you'll likely fail.
Basically you can build a Ryzen 7 2700X gaming rig with a GTX 1080 Ti and still save over $100 compared to a i9-9900K build using a GTX 1070. Again, unless you have money to burn, the 9900K is not a great value at the current asking price.
The Core i7-9700K is an even worse proposition in my opinion, although we haven't had time to test thermal performance properly, it does seem to run hotter than the 8700K, despite being soldered. It also consumes quite a bit more power and offers a minor performance bump. I would liken this comparison to the RTX 2070 and GTX 1080, in the sense that the newer product is faster by a small margin while costing a little more. Unfortunately whereas the RTX 2070 uses a little less power than the GTX 1080, the 9700K isn't more fuel efficient than the 8700K.
Shopping Shortcuts