Maingear Shift Gaming PC with Super Stock Options Review
Page 4 :

Usage Impressions and Wrap Up By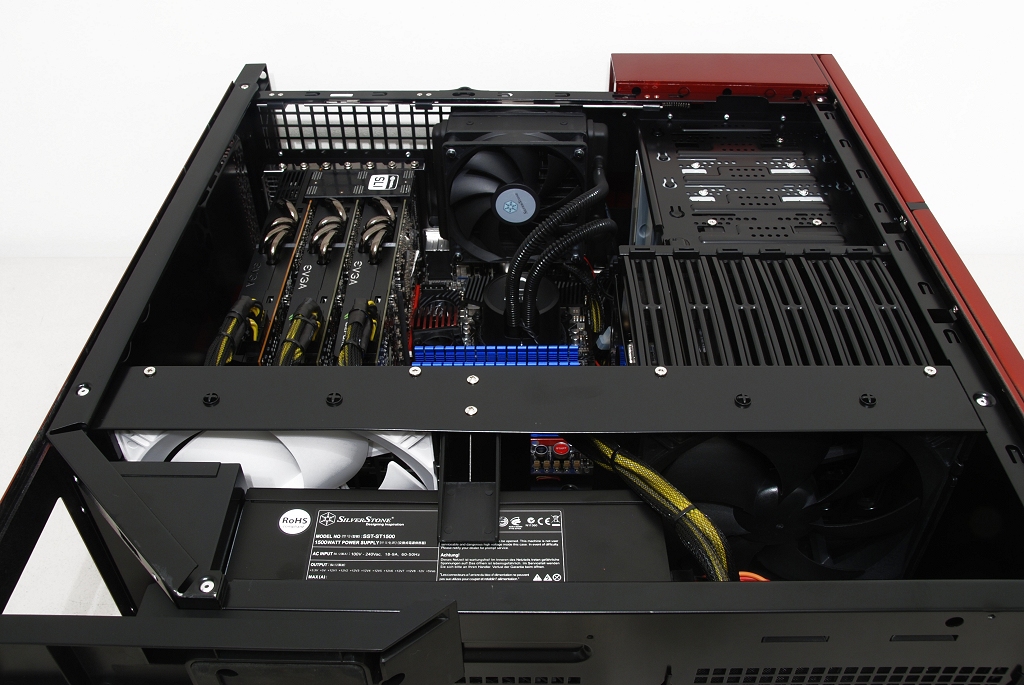 TechSpot is celebrating its 25th anniversary. TechSpot means tech analysis and advice
you can trust
.
When you buy through our links, we may earn a commission.
Learn more
.
Usage Impressions and Wrap Up
Looking at how the system came configured, it's not too hard to believe the Maingear Shift is the fastest computer I have ever used. I've worked with several i7 systems and multiple dedicated gaming systems, but nothing has come close to the speed and responsiveness of the Shift.
The Core i7-980X Extreme is currently the fastest consumer-level chip money can buy and yet it's been overclocked a full 1 GHz. Three GTX 480 cards in SLI is complete overkill unless you are running a high resolution 2560x1600 monitor or plan to run multiple displays. Nvidia is touting 3D Vision pretty heavily these days, but even if you don't care about 3D, Nvidia Surround (a.k.a. triple monitor support for games) is a very rewarding experience if you have gone this far already.
Either way, using our more mundane test scenario, the Shift tore through every game I tossed at it without a hitch. This is the first system I've used that could run Crysis with everything maxed out without dropping below 70 fps (no more Crysis jokes for you, perhaps next year when Crysis 2 arrives). Just Cause 2 ran at around 100 FPS on average at max graphics settings and looked absolutely stunning doing so. In Medal of Honor Multiplayer, the game topped out at 200 FPS in some areas according to Fraps. Left 4 Dead 2 occasionally topped out at 300 FPS – both games running at max graphics settings. If eye candy is a big part of your gaming experience, this configuration will keep you satisfied for years to come.
Processing power and graphics aside, the two Crucial C300 Solid State Drives in RAID0 offer a substantial boost in overall system performance and responsiveness. One SSD is enough to notice an improvement over a traditional hard drive. Two in RAID0 is just flat out fast, and because 256GB of storage isn't enough for anyone these days, the 2TB Western Digital storage drive should have you covered.
There should be no worries about power requirements thanks to the SilverStone 1.5KW power supply. The unit comes with a proprietary power cable that is absolutely massive. I've never seen a computer power supply cable as thick as this one.
If there is one component that Maingear didn't go completely crazy with, it's the system memory. The 6GB Triple Channel Kingston kit is more than enough to get the job done, but not excessive like the Gateway FX system we reviewed a few months back that carried 16GB. Adding an extra 6GB would have costed an additional $300, which in our opinion is worth adding to a $7000+ machine.
The custom Shift chassis looks great and is easy to work with, despite its size. If you are familiar with the Corsair Obsidian 800D, the Shift is almost identical in size – meaning it's very large. With SuperStock options, you can choose one of several different internal and external paint colors. Lighting kits are also available should you want to illuminate the interior for all to see. Custom panel etching is available as we saw with the F131 in our mainstream gaming PC round-up a few months ago.
The paint job on the Shift is very nice, although it isn't perfect. I brought this up with Maingear during a conference call and was told that we literally received the first painted chassis off the assembly line and that any issues should be rectified. In case you are wondering, Maingear asks a handsome sum of money for the custom paint job. A brushed black aluminum version of this case comes stock on the Shift, but choosing the Brandywine red we received is an extra $599.
With three graphics cards, one would expect a bit of noise from the system, and that is exactly what you get. During normal operation, the system is audible but not overly so. When you fire up a graphics intensive game, however, the system gets very loud. Of course, while gaming, most people have the game volume at a level that would drown out the fan noise and a gaming headset would completely eliminate this distraction.
With the noise comes heat, which is expected from such a powerful multi-GPU system that is also overclocked. The system remained stable at all times, and we wouldn't expect less. Maingear recently announced that they are shipping with the new GeForce GTX 580 cards already, I mention this because the new GPUs are faster and more efficient, so trading three GTX 460 in favor of two GTX 580s could save you some money, heat, and noise.
Our price as tested is $7,046, well out of the range of many, myself included. I pieced together a very similar system via Newegg for "only" $5,450. Making up for the difference of the $600 custom painted chassis, you are looking at about $1,000 in savings, but naturally that means you're on your own to build, configure and overclock the system.
Maingear's customer service is meant to be one of the big differentiators here, after all, you can't just call up Dell and ask to speak directly with the person that built your computer. The Shift also includes Maingear's lifetime Angelic service labor, phone support and a full three-year hardware warranty.
Needless to say, this Maingear system isn't for everyone, but going back to our idea of a dream PC build, the Shift comes as close as you can actually get today.