Maingear Shift Gaming PC with Super Stock Options Review
Page 3 :

Performance and Benchmarks By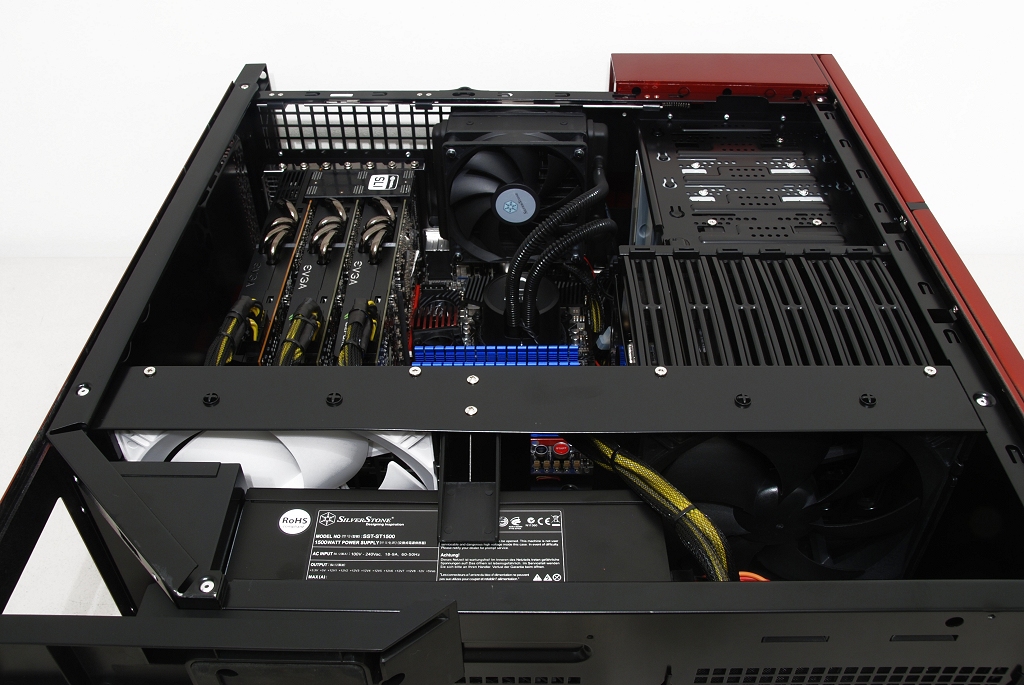 TechSpot is celebrating its 25th anniversary. TechSpot means tech analysis and advice
you can trust
.
When you buy through our links, we may earn a commission.
Learn more
.
Performance and Benchmarks
One great thing about boutique PC builders is that they aren't paid big bucks from software developers to include their titles on new machines. The copy of Windows 7 on the Shift is as fresh as the day it was installed. The only pieces of software that came preinstalled are Cyberlink PowerDVD 10 and EVGA's Precision graphics tuning program, both of which are quite useful.
It's important to mention that the six-core CPU in our Shift is overclocked to 4.33 GHz from the stock speed of 3.33 GHz. The Kingston memory is operating at 1,734 MHz at 9-9-9-24. According to EVGA's Precision program, each graphics card is running at 810 / 1,620 / 1,850 MHz on the Core, Shader and Memory clocks, respectively.
Below we've included some reference benchmark results from the several tests we ran on the Shift to give you an idea of how its processor, graphics cards, memory, and hard drive perform under load. Note that gaming tests were run on a 24" Samsung monitor with a max supported resolution of 1920x1080. Ideally, you would want a 30" monitor capable of 2560x1600 or even multiple displays to fully utilize the triple-SLI capability.
For the sake of comparison, we have included benchmark results from two of the systems we reviewed back in August in our mainstream gaming desktop round-up. It's obvious there is no competition between systems that are on a completely different class, the Maingear F131 and the Acer Predator are both sub-$2,000 gaming desktops.
Maingear Shift with Super Stock Options System Specs
Hardware:
Intel Core i7-980X Extreme overclocked at 4.33GHz
6GB Kingston HyperX DDR3-2000MHz
Asus Rampage III Extreme X58 motherboard
3x EVGA GeForce GTX 480
2x 128GB Crucial RealSSD C300
2TB Western Digital Caviar Black 7200RPM HDD
1.5KW SilverStone Strider modular power supply
Maingear F131 System Specs
Hardware:
Intel Core i5 655K (4.5GHz overclock, 4MB L3 cache)
4GB Crucial DDR3-1333
Asus P7P55D-E Pro motherboard
2x Nvidia GeForce GTX 460 in SLI (1536MB GDDR5 Total)
1TB Western Digital Caviar Black 7200RPM HDD
SilverStone Strider Plus 750W modular power supply
Acer Predator System Specs
Hardware:
Intel Core i7 930 (2.8GHz, 8MB L3 cache)
12GB Samsung DDR3-1333
Acer motherboard with Intel X58 Express chipset
Nvidia GeForce GTX 470 with 1280 GDDR5
1.5TB Western Digital 7200 RPM hard drive
FSP Group 750W power supply
Benchmark Results
| | | | |
| --- | --- | --- | --- |
|   | Maingear Shift | Maingear F131 | Acer Predator |
|   |   |   |   |
| 3DMark 06 (higher is better) |   |   |   |
| 3DMark Score | 30208 3DMarks | 23592 3DMarks | 19024 3DMarks |
| CPU Score | 9118 | 4763 | 5140 |
|   |   |   |   |
| 3DMark Vantage (higher is better) |   |   |   |
| 3DMark Score | P51815 | P26349 | P18003 |
| GPU Score | 46139 | 23502 | 14872 |
| CPU Score | 82122 | 41391 | 48871 |
|   |   |   |   |
| Super PI Mod 1.5 (lower is better) |   |   |   |
| 1M test | 0m 9.440 sec | 0m 9.516 sec | 0m 13.588 sec |
| 4M test | 0m 48.070 sec | 0m 52.509 sec | 1m 09.092 sec |
|   |   |   |   |
| Sandra processor arithmetic (higher is better) |   |   |   |
| Agregate arithmetic performance | 160.63 GOPS | 55.78 GOPS | 72.86 GOPS |
| Dhrystone iSSE4.2 | 186.22 GIPS | 64.73 GIPS | 84.22 GIPS |
| Whetstone iSSE3 | 135 GFLOPS | 46.84 GFLOPS | 61.5 GFLOPS |
|   |   |   |   |
| Sandra processor multimedia (higher is better) |   |   |   |
| Aggregate multimedia performance | 305 MPixel/s | 105.47 MPixel/s | 139.23 MPixel/s |
| Multimedia Integer x16 iSSE4.1 | 349 MPixel/s | 120.26 MPixel/s | 159.67 MPixel/s |
| Multimedia Float x8 iSSE2 | 262 MPixel/s | 90.68 MPixel/s | 118.79 MPixel/s |
| Multimedia Double x4 iSSE2 | 140 MPixel/s | 49.35 MPixel/s | 64.58 MPixel/s |
|   |   |   |   |
| Sandra memory bandwidth (higher is better) |   |   |   |
| Aggregate Memory Performance | 27.3 GB/s | 13.76 GB/s | 19 GB/s |
| Integer Buff'd iSSE2 Memory Bandwidth | 27.3 GB/s | 13.74 GB/s | 19 GB/s |
| Float Buff'd iSSE2 Memory Bandwidth | 27.3 GB/s | 13.78 GB/s | 19 GB/s |
|   |   |   |   |
| Sandra memory latency (lower is better) |   |   |   |
| Memory Latency | 57 ns | 103 ns | 82 ns |
| Speed Factor | 61.50 | 110.50 | 58.50 |
|   |   |   |   |
| Sandra file systems |   |   |   |
| Drive Score (higher is better) | 369 MB/s | 110.44 MB/s | 84 MB/s |
| Random Access Time (lower is better) | 0 ms | 6.54 ms | 9.1 ms |
|   |   |   |   |
Gaming Performance
| | | | |
| --- | --- | --- | --- |
|   | Maingear Shift | Maingear F131 | Acer Predator |
|   |   |   |   |
| Mafia II (High graphics settings) |   |   |   |
| 1920 x 1080, 16x AA/AF | 159.3 fps | 64.0 fps | 47.3 fps |
|   |   |   |   |
| Crysis (Very high graphics settings) |   |   |   |
| 1920 x 1080, 16x AA | 73.4 fps | 38.5 fps | 22.9 fps |
|   |   |   |   |
| Far Cry 2 (Highest graphics settings) |   |   |   |
| 1920 x 1080, 8x AA | 192.2 fps | 88.9 fps | 71.2 fps |
|   |   |   |   |