TechSpot is celebrating its 25th anniversary. TechSpot means tech analysis and advice
you can trust
.
When you buy through our links, we may earn a commission.
Learn more
.
Software Impressions, Usability, Data

Usability
The HP TouchPad features an all-new version of webOS specifically designed for tablets. WebOS 3.0 features a lot of the same concepts and ideas as its smartphone-based forebears, but there are some key differences. Most notable is the absence of the gesture area that was found below the display on webOS smartphones. This gesture area was used to navigate applications and web pages in lieu of back buttons and the like.
HP's engineers must have felt that it would not translate that well to a tablet interface and decided to replace it with familiar back buttons that we have seen on other platforms. When in use, I missed the gesture bar, as I felt it offered a quick and unique way to navigate the OS, and differentiated webOS from the competition. Certain gestures still remain, like the swipe up from the bezel to shrink an app back to the desktop, which was appropriated by RIM in its BlackBerry Tablet OS found on the BlackBerry PlayBook tablet.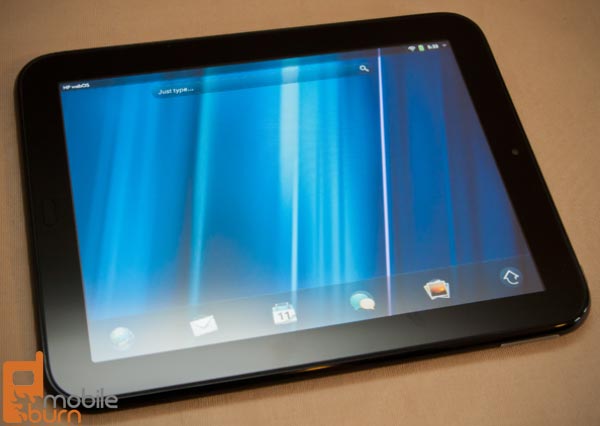 WebOS 3.0 retains the use of "cards" for multitasking, just like the smartphone versions of the platform. These cards of applications are just as easy to use on a tablet as they are on a smartphone, and play up the TouchPad's multitasking strengths well. The "Just Type" universal search and actions tool is smart and easy to use to quickly initiate searches and other tasks. The TouchPad can be turned in any orientation and the screen will rotate accordingly so there is no "wrong" way to hold the device, much like Android 3.1 Honeycomb.
The applications are organized into a four page launcher and are categorized as Apps, Downloads, Favorites, and Settings. Unlike with webOS 2 for smartphones, you cannot customize the names of the pages or the number of pages available, though you can move apps around between them. The five apps placed in the launcher strip at the bottom can be customized to a user's liking as well.
The TouchPad is powered by a 1.2GHz, dual-core Qualcomm processor with 1GB of RAM, which would lend one to think that it would be quite a performer, with speed to spare. Unfortunately, that's just not the case with the TouchPad. There are times when everything is as fast as you would hope, but there are others when the whole system would just freeze up and halt your activity, only to catch up with itself in a flurry of actions a few seconds later. Some apps take inexplicably long to open, with app icon pulsing for what feels like an eternity. Other times, the apps would open to a blank page, forcing me to close the app and open it again to use it.
Scrolling through lists was hit or miss depending on the app. In the email client, scrolling is fast and easy, but in the Contacts app and the Facebook app (both developed by HP for webOS) scrolling is laggy and stuttery. The AT&T version of the TouchPad will have a faster, 1.5GHz processor, but we expect that the processor is only part of the lag problems on the TouchPad.
The HP TouchPad is the first webOS device to use an on-screen keyboard, and it looks fairly similar to others that we have seen, but with a few tweaks. HP added a fifth row above the letters that is dedicated to numbers, making it easy to bang out numerical entries and passwords. Instead of an Alt key to switch between character and number entry, there is a Tab button in its place; a surprising feature that turned out useful on a number of occasions.
Tapping and holding on a key will bring a pop-up with alternate characters such as symbols and accented letters. Hidden in the lower right corner is the button to dismiss the keyboard, and that hides a little secret of its own. If you tap and hold on it, you get an option to change the size of the on-screen keyboard, from a less-than-useful shrunken-down "XS" extra small size, on up to "L" for nice, large keys. I tended to put it on the large setting and leave it there, but it is nice to have the option to shrink it down if you need to. I imagine some users will want a slightly smaller keyboard when they are typing in portrait mode.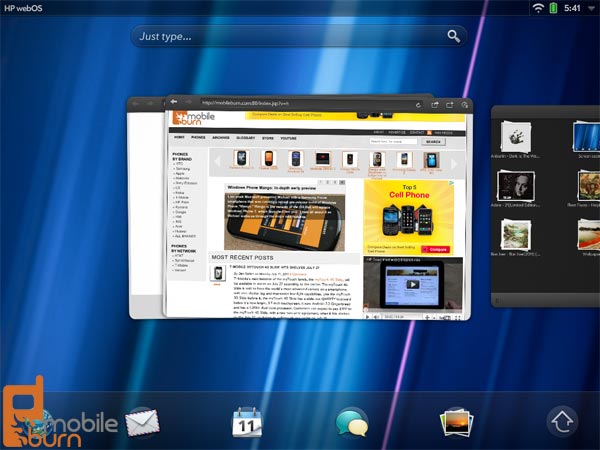 WebOS 3.0 makes use of the Synergy feature that has been present in webOS since the very beginning. Synergy aggregates all of your various accounts for email, social networking, and other services into one place. It then will combine similar features from each account in the various apps in the platform. For instance, if you sign in to Synergy with your Google and Facebook accounts, you can access both your Google contacts and Facebook contacts in the Contacts app.
Synergy has been beefed up in webOS 3.0 with more account types supported, including Skype, DropBox, MobileMe, and Snapfish. HP has made it so it can add more services to Synergy as time goes on, which is a smart solution to the ever-changing cloud service landscape. The Synergy integration is found in the aforementioned Contacts app, the Photos/Videos app, the QuickOffice document viewer, the email app, and the messaging app.
Notifications have been revamped for tablet use with webOS 3.0. Instead of showing up at the bottom of the screen and pushing other content up, as they did in webOS 1 and 2 for smartphones, there is a dedicated notification area on the top bar next to the time and battery/signal strength. When a notification is present, an icon will show up in this area, and can be pressed to display more info about the event.
You can swipe through multiple notifications such as email to get to a particular message that you want to view first. Swiping the notification will not mark the message read or delete it, however. The notifications will also show up in the center of the lock screen when the TouchPad is first woken up. This system works well and is unobtrusive when you are focused on something else.

Calling / Data
The currently available version of the HP TouchPad is a Wi-Fi-only model, so it does not have a cellular radio of any sort. HP has promised that versions with 3G and 4G radios will be available in the future. The Wi-Fi performance was fine and worked as expected with both private and public networks. If you connect to a public Wi-Fi network that requires acceptance of term of service conditions, the TouchPad will alert you to this in the notification bar and will prompt you to accept the terms before doing anything else.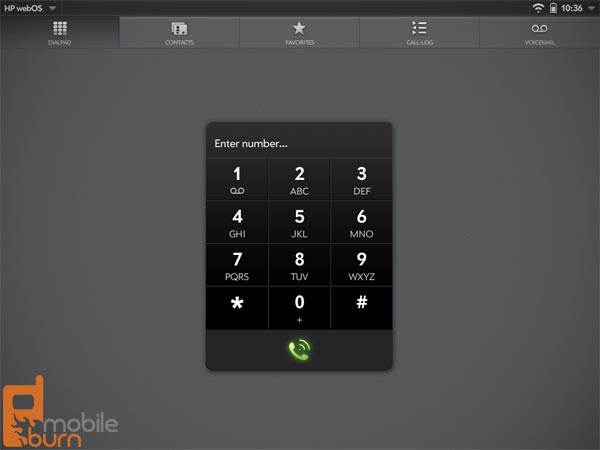 The TouchPad may not have a phone built-in, but you can pair a webOS smartphone to it over Bluetooth and use it as an overgrown speakerphone or send and receive SMS messages on it. You can also make calls with either voice or video support using a Skype account. Skype calling is currently the only thing that the front-facing camera is used for. When used to make calls, the microphone on the TouchPad picked up our voice well, and the speakers were loud and clear.
HP did not include a true GPS chip in the TouchPad, but it is capable of locating your position using network information. This worked well for the Bing Maps application, where it quickly pin-pointed where I was on the map.