TechSpot is celebrating its 25th anniversary. TechSpot means tech analysis and advice
you can trust
.
When you buy through our links, we may earn a commission.
Learn more
.
The Motorola Droid Xyboard 10.1 and 8.2 tablets pick up where the original Xoom tablet left off. They both offer Verizon Wireless' 4G LTE data speeds, large displays, and a stealth black finish that has been updated to feel better in the hand.
It's regrettable that they run Android 3.x Honeycomb, like the original Xoom tablet that they replace when Ice Cream Sandwich is literally already here. Still, as far as Android tablets go, these two devices are quite capable and aren't hard on the eyes. They are a bit hard on the wallet, though, with on-contract pricing starting at $429.99 for the 8.2 and $529.99 for the 10.1, both with 16GB of storage.
Keep reading to learn what they do well, and what they don't do all that well.
Hardware
The two Droid Xyboard tablets are very similar in overall design and components. Both feature 1280 x 800 pixel IPS touchscreen displays in different sizes, and come equipped with a mixture of soft-touch black paint and gun metal gray panels on the rear. The 8.2-inch model offers a bit more rear-panel style, thanks to some visible bolts, but the overall look of the devices is pretty similar, down to the "cut corners" of their bodies and recessed volume controls and power buttons.
The 10.1-inch model, which is meant to be held horizontally, measures 253.9mm x 173.6mm x 8.80mm (10.0in x 6.8in x .34in) in size and weighs 603g (21.3oz). It's a large device, but it feels better in the hand than the similarly sized HP TouchPad or Samsung Galaxy Tab 10.1. It features an IR port and 3.5mm headphone jack up top, near the rear-facing speaker ports and camera, and offers users the convenience of micro-USB based charging and a micro-HDMI output on the bottom.
The 8.2-inch Xyboard feels even better in your hands, weighing a feathery 390g (13.7oz) while still offering a fairly large display. Its 216mm x 139.8mm x 8.99mm (8,5in x 5.5in x .35in) widescreen dimensions make it particularly easy to thumb type on when held in its intended portrait orientation. The location of the rear-facing 5 megapixel camera is unfortunate, though, since it makes the device very hard to hold in landscape mode without getting in the way of the lens. Like its big brother, the 8.2 has top mounted IR and headphone ports and micro-USB and micro-HDMI ports on the bottom. Unlike the 10.1, though, the 8.2's speakers are located along the top and bottom edges of the tablet, which is preferable for landscape-oriented video watching.
Both devices feature a dual-core 1.2GHz processor that is backed by 1GB of application RAM. The 8.2-inch model is available with either 16 or 32GB of internal storage. The 10.1-inch model is available in those two capacities as well as a larger 64GB version.
I find the displays on the Xyboard 10.1 and 8.2 to be entirely acceptable, if uninspiring. I had some issues with my first 8.2 review unit's display (banding and interference), but the replacement that I received had no such problems. Both tablets' displays are sufficiently bright and colorful for easy indoor use and offer wide viewing angles.
Usability
When it comes to usability, most of the issues faced by a Motorola Droid Xyboard user will be of Google's making, due to the rather poor performance of its Android 3.2 Honeycomb operating system. The user interface is disjointed feeling, sluggish at times, in spite of available processing power, and just awkward in my opinion. The fact that some apps only run in landscape mode while other only in portrait means that no matter your preference you'll have to rotate a Honeycomb tablet from time to time. Motorola would have done well to hold the Xyboard 8.2 and 10.1 from market until they could be launched with Android 4.0 Ice Cream Sandwich from scratch. For what it's worth, Moto and Verizon promise that an update is forthcoming.
There are some differences between the 8.2 and 10.1-inch models that impact usability. The 8.2 is easier to hold and use due to its smaller form factor. Thumb typing, especially in portrait mode, is very easy on the 8.2. On the other hand, the 10.1 is difficult to type on in portrait mode due to its size, and darn near impossible for people with smaller hands when its held in its intended landscape orientation. The widescreen aspect ratio just makes for too wide a surface to navigate easily when typing.

The 10.1 offers stylus and handwriting recognition capabilities. I didn't find them to my liking (I rarely do), but at least Motorola offers three distinct methods for on screen handwriting, so there's something for everybody. What is lacking, however, is an easy way to switch between handwriting and the virtual keyboard. The pop-up notes function, which is accessible from the notification area, is also available strictly on the 10.1. Both Xyboard devices support an external mouse and keyboard (not included).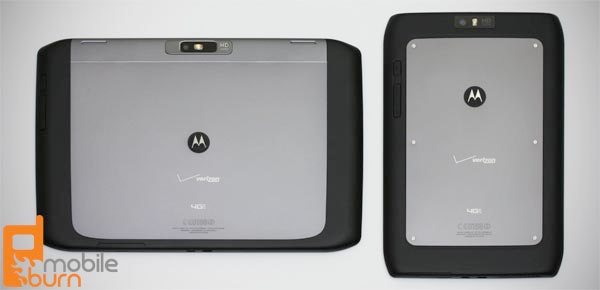 Motorola wisely saw fit to include a nice array of wallpapers on the Xyboards - something that was sorely needed. The main applications menu is stock, with its horizontally scrolling pages and dedicated "My apps" view. The notification area is also mostly untouched, and still lacks a way to clear all notifications at one time, which is odd considering that Android smartphones generally lack a way to clear individual notifications.