HP TouchSmart 520 All-In-One Review
Page 2 :

Out of the Box, Performance By

TechSpot is celebrating its 25th anniversary. TechSpot means tech analysis and advice
you can trust
.
When you buy through our links, we may earn a commission.
Learn more
.
Out of the Box, Performance
Setting up the TouchSmart PC couldn't be easier - just plug in the power cable and go. Since the keyboard and mouse are wireless and there's built-in Wi-Fi, you only need to plug in the single power cable to operate the computer. Or at least that should be how it works.
In the case of our evaluation unit, I ran into a problem right from the get-go. When I turned on the computer for the first time, I was greeted with a hard drive error similar to what you might get if you're trying to boot from a USB or flash drive. I checked the BIOS but nothing appeared out of the ordinary. My next step was to run the HP diagnostics program which told me the hard drive was disconnected or not installed.
Instead of calling HP, I decided to take matters into my own hand. I wanted to check and see if: A) there was a hard drive installed and B) if it was connected or not. I was able to remove the rear panel of the system by popping off a plastic cover and unscrewing a handful of screws. Once open I could somewhat see where the back plane for the hard drive might not be making a solid connection. I removed a screw, took the drive out and then reinstalled it as firmly as I could. Putting everything back together, the system booted right into Windows without incident. My only guess here is that the drive got bumped loose during shipping and we can only hope it's an isolated event.
All versions of the TouchSmart ship with Windows 7 Home Premium 64-bit. The first thing I checked with this system was the boot time, recorded from when I press the power button until the system is in Windows and ready to go. For the 520, this measured out to be 1 minute and 8 seconds. This number didn't change after I uninstalled various bloatware.
Speaking of bloatware, there's no kind way to put it - this system is filled to the brim with it. I removed a full two dozen programs from the Add/Remove Programs list prior to running any tests on this system. It's not uncommon for me to remove several programs from a OEM test system, but HP went overboard here. After all, do you really need more than one e-reader application and multiple search toolbars?
Additionally I found 28 TouchSmart-specific programs, all related to the multi-touch interface. I decided to leave these intact as one would presume the average consumer would take advantage of some of these.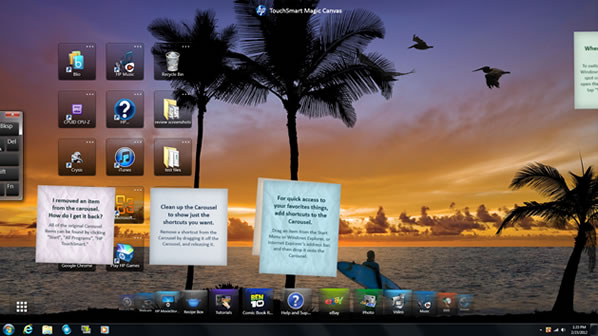 One other quibble I had with the system was the default color profile. The display had a heavy 'cool' tone that made everything overly blue. Fortunately, this was an easy fix using the 'HP My Display' application which had presets for Movie, Text and Gaming modes. I ultimately chose Movie which most resembled what a normal monitor should look like.
HP's Magic Canvas got a facelift earlier this year and is your one-stop shop for all things touch. The UI is in its fifth iteration and now resembles something you'd find on a tablet or Android smartphone. Users can flick from side to side in the software, revealing new sections of the page as they go - sort of like a giant carousel. There are plenty of touch-specific apps to work with but more importantly, users can now access the start menu and taskbar from within the UI. Working with the software is pretty cool but there was a bit of noticeable lag which surprised me given the Core i7 processor under the hood.
Benchmarks Results
| | | | |
| --- | --- | --- | --- |
| Synthetic Tests | TouchSmart 520 | IdeaCentre K330 | Envy 14 (2011) |
| | | | |
| 3DMark 06 | | | |
| 3DMark Score | 4095 3DMarks | 21840 3DMarks | 7486 3DMarks |
| | | | |
| PCMark Vantage | | | |
| PCMark Suite | 9105 PCMarks | 10904 PCMarks | 5734 PCMarks |
| | | | |
| | | | |
| --- | --- | --- | --- |
| Application Tests | TouchSmart 520 | IdeaCentre K330 | Envy 14 (2011) |
| | | | |
| iTunes Encoding Test | 01 min 1 sec | 01 min 2 sec | -- |
| | | | |
| File Transfer Test | | | |
| Small files | 1 min 28 sec | 1 min 4 sec | 1 min 21 sec |
| Large file | 52 sec | 38 sec | 52 sec |
| | | | |
The iTunes encoding tests consist of converting 14 MP3s (119MB) to 128Kbps ACC files and measuring the operation's duration in seconds. For the file transfer test, we measure how long it takes to copy two sets of files from one location to another on the same hard drive. On the small files test we transfer 557 MP3s, totaling 2.56GB. For the large file, these same MP3s were zipped into a single file measuring 2.52GB.
| | | | |
| --- | --- | --- | --- |
| Gaming Performance | TouchSmart 520 | IdeaCentre K330 | Envy 14 (2011) |
| | | | |
| Far Cry 2 | | | |
| 1024x768 Medium Quality | 24.0 fps | -- | 41.8 fps |
| 1920x1080 Resolution, High Quality | 13.6 fps | 58.9 fps | -- |
| | | | |
| StarCraft 2 | | | |
| 1024x768 Medium Quality | 39.0 fps | -- | 67.5 fps |
| 1920x1080, High Quality | 23.1 fps | 60.8 fps | -- |
| | | | |
HP TouchSmart 520 All-In-One Specs
23" multi-touch 1920 x 1080 display
Intel Core i7-2600S (2.8GHz, quad-core)
8GB DDR3-1333 RAM
Radeon HD 6450A graphics
2TB WD Caviar Green 5400 RPM hard drive
SuperMulti Blu-ray Burner
Built-in TV tuner, HDMI-in
Windows 7 Home Premium 64-bit
Intel Core i7-2600 (3.4GHz, quad-core)
12GB Samsung DDR3-1333 RAM
OEM microATX motherboard
Nvidia GeForce GTX 460
2TB Hitachi 7200 RPM hard drive
Blu-ray / DVD Combo
Windows 7 Home Premium 64-bit
14.5" HD BrightView Infinity LED 1366 x 768 display
Intel Core i5-2430M (2.4GHz - 3GHz, 3MB L3 cache)
6GB DDR3 SDRAM
AMD Radeon HD 6630M
Western Digital 750GB hard drive
Microsoft Windows 7 Home Premium (64-bit)