HP TouchSmart 520 All-In-One Review
Page 3 :

Usage, Audio, Touch & Conclusion By

TechSpot is celebrating its 25th anniversary. TechSpot means tech analysis and advice
you can trust
.
When you buy through our links, we may earn a commission.
Learn more
.
Usage, Audio, Touch & Conclusion
I measured the power draw of the TouchSmart 520 using a Kill A Watt power consumption meter. At Idle, the system fluctuated between 60-65 watts. I used a combination of Prime 95 and OCCT's PSU stress tool to generate a full load on the system of 132 watts. The system remained virtually silent throughout stress testing.
I had high hopes for the Beats Audio on this system given the ample space for sizable speakers and HP didn't disappoint. While still not aftermarket desktop speaker quality, the integrated speakers were more than powerful enough to fill an entire room with good-sounding music without having to crank the volume to the max. The size of the speakers allow for a good bit of bass as well. I made a note to ask HP if there were any plans to bundle Beats Audio headphones with future systems and was told it wasn't in the mix.
Gaming performance from the AMD Radeon HD 6450A graphics was pretty decent. You can get by playing some mainstream titles at moderate resolutions and graphics settings, but you shouldn't expect much more than that. Additionally, given the system's all-in-one configuration and limited power supply capacity, upgrading the graphics isn't really an option either.
HD videos and the like, however, are all fair game. Our informal YouTube 4K resolution video test taxed the CPU to around 33 percent - far less than we have seen on recent notebooks with lesser processors.
The 1,920 x 1,080 display was very impressive. After changing the color tone using HP's My Display software, color reproduction seemed very accurate and everything was nice and vibrant. Being a touch panel, I half expected the display to look pretty terrible but that certainly wasn't the case.
Windows 7 wasn't exactly designed with touch interfaces in mind - that will come with Windows 8 - but HP has done a pretty good job with the foundation they have to work with at present. The Magic Canvas software was a bit laggy for my taste, but it does demonstrate what is possible and where touch is headed. I'm still not entirely sold on the concept of a touch screen desktop but it is a nice novelty and as a family system, I could see where kids would get hours of enjoyment from it. As an enthusiast, however, it seems that touch is best left for tablets and smartphones. Maybe Windows 8 will change my thinking, but it's doubtful.
Editor's side note: As part of our testing, we upgraded the TouchSmart 520 to Windows 8 Consumer Preview to see how it performed with the Metro UI. Unfortunately though, HP drivers are not working with the new operating system. We contacted HP for a solution but for now they are not offering support for the beta OS, which is a shame.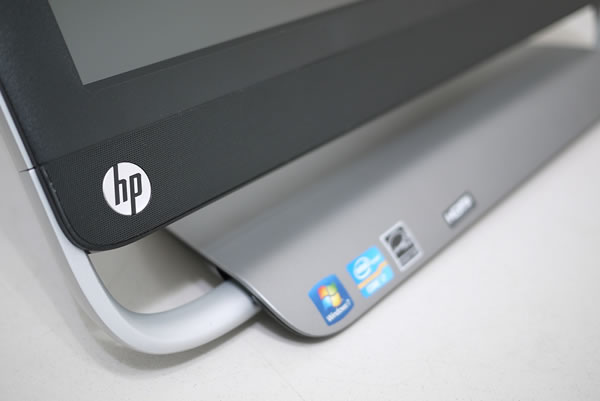 HP did a great job with the connectivity options on this system. There are plenty of USB ports (even USB 3.0 support) and the HDMI-in allows users to utilize the screen as a display for a gaming system. The integrated TV tuner could effectively replace a television in a cramped environment like a college dorm. An included remote allows easy control over media functions without having to fiddle with the keyboard and mouse.
Speaking of, the bundled wireless keyboard and mouse didn't give me any trouble during evaluation. The mouse even tracked just fine the surface of a white folding table, something that more expensive mice have had issue with.
In the end, my two major complaints about this system: first is the sheer and unnecessary amount of bloatware that HP loaded onto the machine. Second, while I appreciate the gobs of storage afforded by the 2TB hard drive, the 5400 RPM drive seriously slows down the entire system. I realize that solid state storage still isn't at a point price-wise to where big name manufacturers will install them as a stock option, but I'd gladly trade the extra space for enhanced performance any day.
Overall, the HP TouchSmart 520 is a really nice all-in-one and probably one of the best I've spent time with thus far, with a classy design and a powerful processor that ensures it will remain relevant for several years. A system like this would likely work best as a family PC, an office replacement where mid-level content creation happens or a college dorm room where space is extremely limited. At $1,399, it's a little on the steep side, but if you configure it a bit differently, with a slightly slower processor you can get it closer to $1,000.
Pros: Great looking all-in-one. Good performance, great display with touch control and audio output.
Cons: Touch is not as smooth as it should be. Bloatware detracts from the experience.