Nokia Lumia 900 Review
Page 2 :

Usability, Calling & Data, Browser By
TechSpot is celebrating its 25th anniversary. TechSpot means tech analysis and advice
you can trust
.
When you buy through our links, we may earn a commission.
Learn more
.
Usability, Calling & Data, Browser
Usability
The Lumia 900 is powered by the same 1.4GHz single-core Qualcomm processor and 512MB of RAM as the Lumia 800 and Lumia 710 smartphones from Nokia. The processor has no trouble pushing around the Windows Phone 7.5 Metro interface, though opening third-party apps still takes longer than I would prefer.
Still, the fast and fluid interface is a joy to navigate and provides a very different experience than other smartphone platforms. Windows Phone 7.5 introduced a few new features to make it easier to navigate a long list of apps, but I feel that the app list could benefit from some sort of folder organization system, especially when there are a lot of apps installed on the phone.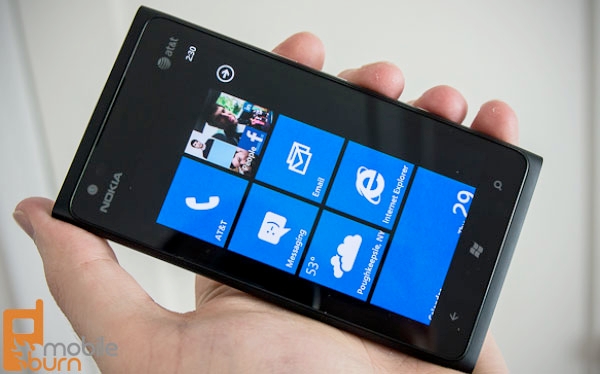 Nokia hasn't really altered the Metro interface in Windows Phone 7.5 for the Lumia 900, and it offers a similar experience to most any other Windows Phone on the market. The live tiles that can be pinned to homescreen work well for providing glanceable information and quick access to certain app features, and Windows Phone's extensive integration with social networks like Facebook, Twitter, and LinkedIn makes the phone feel very connected with your social circle. The ability to see photos that are shared to Facebook through the Pictures Hub is very cool, and the central access to all of your friend's status updates in the People Hub is very handy.
I still don't like the fact that the search button always opens a Bing web search instead of providing contextual search within an app, and I wish that Microsoft would integrate voice dictation features throughout the OS instead of offering them only in the Messages Hub, the Start menu, and the Bing search tool.
The lockscreen could also benefit from showing third-party or social network notifications (currently it is limited to displaying missed calls, new messages, and new emails).
Still, the Windows Phone approach to using a smartphone is very different than that offered by Android or iOS, and it's a refreshing change of pace. It has a beautiful, font-heavy interface that meshes well with the spartan hardware design of the Lumia 900.
Calling & Data
As mentioned at the outset, the Lumia 900 is the first Nokia to feature LTE support, and it is one of the first Windows Phone smartphones with LTE. Using the Lumia 900 on AT&T's LTE network is terrific, with average speeds easily topping 10Mbps. The Lumia 900 also has 21Mbps HSPA+ support, so even if you aren't in an area covered by AT&T's LTE, you can still get respectable network speeds.
Additionally, the Lumia 900 is the first Nokia Windows Phone to support the native Internet Sharing mobile hotspot function for up to five simultaneously-connected devices in the platform.
Call quality on the Lumia 900 is very good, with callers sounding clear and full in most any situation. The external speaker located on the bottom on the phone produces clear sound, but it could stand to gain a boost in the volume department, as the maximum volume level is still too low for anything but a quiet room.
Messaging
The Windows Phone messaging app on the Nokia Lumia 900 supports both SMS and MMS threaded conversations, as well as integrated Facebook chat and Windows Live instant messaging. The app intelligently keeps conversations with the same contact within the same thread, even if they are across different services. I would love to see support for Google Talk, but I'm not holding my breath on that one.
I'm a big fan of the Windows Phone email client, especially since it recently gained improved support for Gmail accounts. It supports POP3, IMAP, and Exchange email accounts, and most popular web email services are setup automatically. The app features combined inboxes, multiple message management, threaded conversations, formatted text within messages, and a clean and fast interface.
Apps & App Store
Nokia has included its ESPN and App Highlights apps with the Lumia 900, and there are a number of AT&T services as well. You can uninstall any of the pre-loaded AT&T apps if you decide not to use them, which is a nice touch. Additionally, you can install Nokia's free Drive, Maps, and Transport apps from the Windows Phone Marketplace to add great navigational features to the Lumia 900.
The Windows Phone Marketplace has grown tremendously and it now boasts over 70,000 apps. Still, there are a number of big name apps missing (PayPal and Pandora come immediately to mind, though many others missing), and it appears that developers are still giving Windows Phone lower priority than other platforms.
Browser
The Internet Explorer mobile browser on the Lumia 900 is fast, loading web pages, scrolling and zooming. There are some rendering issues with it, though, and you can really see where the Lumia's relatively low resolution display holds it back when you zoom out fully on a web page.
Fortunately, double-tap zooming is quick and the browser does a good job of re-flowing the text for easy readability. I really like how the address bar is at the bottom of the display, as it makes it much easier to input URLs quickly. The browser does not support Adobe Flash content, but it does have robust HTML5 support and a multiple tab management system for quickly switching between open pages.