TechSpot is celebrating its 25th anniversary. TechSpot means tech analysis and advice
you can trust
.
When you buy through our links, we may earn a commission.
Learn more
.
A powerful graphics card is likely the most expensive component in your PC if you're a gamer, but with all current and past-gen GPUs available in the range of $100 to $500, it can be tough to pick the right solution for your needs.
In an effort to narrow things down, we're about to compare today's most relevant gaming cards that sell for $200 or more, testing them in a slew of games to see how it breaks down as we look for the best graphics cards for gaming at resolutions of 1920x1200 and 2560x1600.
Most GPU releases go through our testbench, however when we review these graphics cards, the GPUs are fairly new or barely making it to market, drivers are not entirely optimized, and most importantly, true market pricing has not settled down to its long-term value.
Models
Launch
Codename
Fab
Bandwidth
Release
Price
Current
Price
GeForce GTX 670
10-May-12
GK104
28nm
192.2 GB/s
$400
$400
GeForce GTX 680
22-Mar-12
GK104
28nm
192.2 GB/s
$500
$500
Radeon HD 7870
19-Mar-12
Pitcairn XT
28nm
153.6 GB/s
$350
$310
Radeon HD 7850
19-Mar-12
Pitcairn Pro
28nm
153.6 GB/s
$250
$250
Radeon HD 7950
31-Jan-12
Tahiti Pro
28nm
240.0 GB/s
$450
$350
Radeon HD 7970
9-Jan-12
Tahiti XT
28nm
264.0 GB/s
$550
$450
GeForce GTX 560 Ti
25-Jan-11
GF114
40nm
128.2 GB/s
$250
$230
Radeon HD 6870
22-Oct-10
Barts XT
40nm
134.4 GB/s
$240
$180
Relative performance leads more often than not remain the same through the life of the GPUs, but our take on best value is completely changed the second Nvidia or AMD decide to adjust their prices. To give you a clear example, the Radeon HD 7970 debuted to market last January with a sticker price of $550. A couple of months later the GeForce GTX 680 arrived offering better performance for less money. AMD quickly reacted slashing the HD 7970's price to $450. Similarly, the slightly slower HD 7950 was dropped from its original price of $450 to just $350.
The table above includes all the cards we'll be benchmarking, starting with the most recently released. Note that although we have the Radeon HD 7970 GHz Edition on hand, we didn't include it in this review because we don't see why anyone would buy the factory overclocked solution at a $50 premium.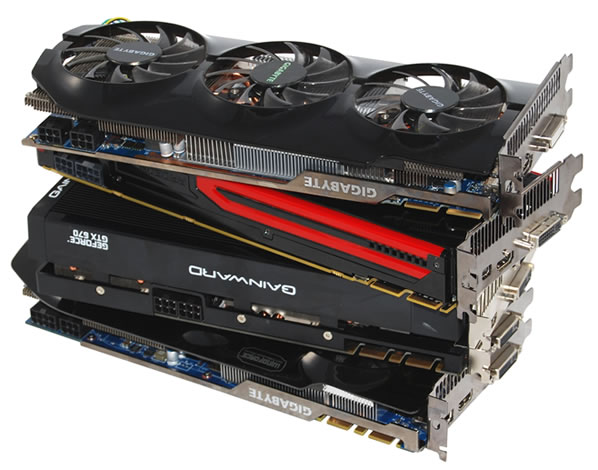 Testing Methodology
We picked ten games for our test, six of which are DX11 titles and include recent releases such as Max Payne 3 and Alan Wake. Games will be run at 1920x1200 and 2560x1600 as we believe these are the resolutions gamers are targeting with today's $200+ graphics cards, using monitors between 24 and 30 inches. All games will be tested with fraps which lets us record 60 seconds of gameplay.
Test System Specs
Gainward GeForce GTX 680 Phantom (2048MB)
Gainward GeForce GTX 670 Phantom (2048MB)
Gainward GeForce GTX 680 (2048MB)
Gigabyte GeForce GTX 590 (3072MB)
Gigabyte GeForce GTX 580 (1536MB)
Gigabyte GeForce GTX 570 (1280MB)
Gigabyte GeForce GTX 560 Ti (1024MB)
HIS Radeon HD 7970 (3072MB)
HIS Radeon HD 7950 (3072MB)
HIS Radeon HD 7870 (2048MB)
HIS Radeon HD 7850 (2048MB)
HIS Radeon HD 6990 (4096MB)
HIS Radeon HD 6970 (2048MB)
HIS Radeon HD 6950 (2048MB)
HIS Radeon HD 6870 (1024MB)

Intel Core i7-3960X Extreme Edition (3.30GHz)
x4 4GB G.Skill DDR3-1600 (CAS 8-8-8-20)
Gigabyte G1.Assassin2 (Intel X79)
OCZ ZX Series 1250w
Crucial m4 512GB (SATA 6Gb/s)
Microsoft Windows 7 SP1 64-bit
Nvidia Forceware 301.42
AMD Catalyst 12.7