Motorola Atrix HD Review
Page 2 :

Usability, Calling & Data, Browser By
TechSpot is celebrating its 25th anniversary. TechSpot means tech analysis and advice
you can trust
.
When you buy through our links, we may earn a commission.
Learn more
.
Usability, Calling & Data, Browser
Usability
Motorola has equipped the Atrix HD with a dual-core Qualcomm Snapdragon processor clocked at 1.5GHz. The company won't confirm which Snapdragon is inside the phone, but we have been able to determine that it is indeed an S4 chip (MSM8960, to be exact), which is the same processor used in the Samsung Galaxy S III and HTC One X. The Atrix HD couples the processor with 1GB of RAM and includes 8GB of onboard storage.
Performance-wise, the Atrix HD does very well, as the phone is fast and responsive the majority of the time. That isn't a huge surprise, as pretty much every phone with a Snapdragon S4 processor that we have tested has been a speedy performer. Benchmark tests on the Atrix HD show it to run neck and neck with the One X and Galaxy S III, as well. There were a couple of hiccups every now and then on the Atrix HD, as certain apps would seem to take longer to open than we would normally expect, but for most intents and purposes, the Atrix HD is a fast phone. It also handles the latest 3D games with aplomb.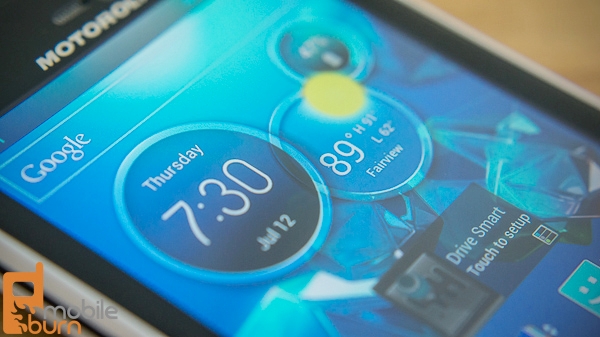 The Atrix HD is the first Motorola smartphone to launch with Android 4.0 Ice Cream Sandwich (Android 4.0.4, specifically) in the U.S., and it comes with the latest version of Motorola's customizations. I'm hesitant to call what Motorola does here a "skin," since the majority of the software features on the Atrix HD are very similar to what you find in stock Android 4.0 Ice Cream Sandwich. The app launcher, dock, notification bar, virtual keyboard, and the majority of the system apps are pulled straight from Google's stock offerings. That's not terribly surprising - Motorola Mobility is now owned by Google, after all.
Following that logic, it's also not a big surprise that Motorola uses virtual keys for the back, home, and multitasking functions in Android, just like Google does in stock Android. The keys are persistent at all times, and they do eat about 96 pixels of screen real-estate, so it is a good thing that the Atrix HD has a lot of pixels in its display.
Motorola did make a few tweaks to Android 4.0, most notable of which are found in the lock screen and the home screen. The lock screen features two additional app shortcuts over what is presented in stock Android, so you can quickly get to the phone app or the messaging app right from the lock screen. Unfortunately, it is not possible to customize these shortcuts like you can with Samsung or HTC's lock screens. The lock screen does also offer a handy toggle for switching the phone to silent mode.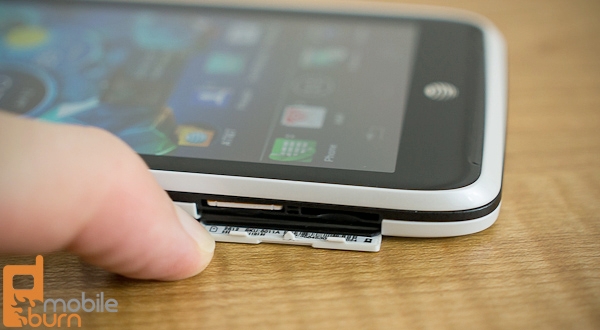 For the Atrix HD's home screens, Motorola starts you off with one panel, and you are prompted to add more when you swipe from right to left on the screen. You can choose between a new blank page, or from a variety of templates for a pre-loaded page with various app shortcuts and widgets. Unlike stock Android or most other home screen implementations, the far left screen on the Atrix HD is always the primary page.
Motorola seemingly took a page right out of the Android 4.1 Jelly Bean cookbook, as icons and widgets on the home screens will automatically move around and rearrange themselves as you place new items on the screen. The widgets will not automatically resize as in Jelly Bean, but the automatic organization does make it easier when adding items to a home screen.
Speaking of widgets, the Atrix HD has a trick new interactive weather and clock widget that features current weather and battery life or data plan usage. It also displays recently missed calls and received messages. In addition to the new widget, Motorola has added quick-access shortcuts to a number of the main system apps. When a system app like email, People, Phone, Calendar, or others is added to a home screen, users can swipe up from the icon to get a pop-up preview of the app. You can peek at your email inbox, see upcoming appointments, to-do items, favorite contacts, or browser bookmarks without having to go into the full apps for each respective item. I really like this idea, and it's great for checking something quickly while on the go, but sometimes the pop-up windows take a bit long to load, and it can just be faster to open the app directly. If Motorola sorts out the load times of the pop-up windows, I could see this feature becoming a great alternative to having widgets strewn across multiple home screens.
Calling / Data
The Motorola Atrix HD is a 4G LTE device, so it supports the fastest data network available from AT&T. It also features support for AT&T's HSPA+ Category 14 service for when you aren't in an LTE coverage area. Data speeds and signal reception were comparable to other AT&T LTE devices I have tested recently, and call quality was good, despite the relatively small earpiece. The speakerphone was suitably loud as well.
The Atrix HD has support for 802.11b/g/n Wi-Fi networks (including 5GHz versions), Bluetooth 4.0, and GPS, but it does not have any ~NFC support. This isn't a huge problem now, but when AT&T launches its NFC-based mobile payment service powered by Isis next year, the Atrix HD won't be able to play along.
Messaging
The Atrix HD comes with a pretty standard SMS and MMS client that looks as if it was lifted right from stock Ice Cream Sandwich. That's not necessarily a bad thing, as it supports threaded messages and group conversations, and has a built-in search feature. For instant messaging, the Atrix HD offers the Google Talk app, but you will need to head to the Google Play Store for apps that support other instant messaging platforms.
Motorola's Atrix HD comes with Motorola's customized email app that sports a number of enhancements over the stock email client that ships with Android. It supports POP3, IMAP, and Exchange email accounts, and even supports push email with IMAP IDLE accounts. Full HTML support is included, and the app has pinch-to-zoom capabilities as well as multiple inbox support and multiple message management. One feature that is conspicuously missing is any sort of conversation view, which is quickly becoming a table stakes feature for email apps these days. If you happen to be a Gmail user, the Atrix HD also includes the excellent Gmail app for Android.
Apps / App Store
As a proper Android device, the Motorola Atrix HD has access to the Google Play Store and its hundreds of thousands of apps on tap. Out of the box, it also comes with about a dozen pre-loaded apps from AT&T for things such as AT&T Navigator and AT&T's TV service. It is not possible to uninstall all of the pre-loaded apps, but you can at least disable them using Android 4.0's built-in disable feature should you not want them consuming phone resources.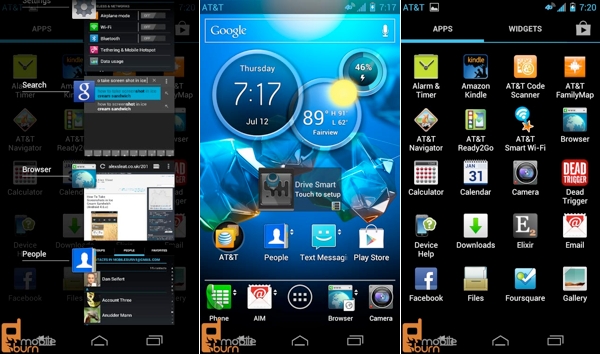 One app that Motorola has included that can be useful is its Smart Actions app. Smart Actions first debuted on the Droid Razr last year and lets users set various rules to trigger actions on their devices automatically. For example, you can have the Atrix HD silence its ringer and stop syncing email at a certain time of night, or you can have the phone enter the Drive Smart mode automatically when it senses you are in a vehicle. There are number of apps in the Google Play Store that offer similar features, but it is nice to have the functionality ready to go out of the box.
Of note here, unlike the earlier members of the Atrix line, the Atrix HD does not support Motorola's Webtop system, so it cannot be used with Motorola's various docks and laptop accessories. That probably won't be a big loss for many (and the micro-HDMI port does support direct mirroring for using Android on a bigger screen), but it is something that is interesting since Motorola debuted the Webtop system with the original Atrix 4G back in January of last year.
Browser
The Atrix HD comes with the stock Android 4.0 Ice Cream Sandwich web browser, and that really isn't a bad thing. Using the stock browser, the Atrix HD scored some of the fastest SunSpider benchmark times I have ever seen from a mobile device (1300ms or less), and that translated into speedy page loading, smooth scrolling, and responsive zooming.
The browser sports mutiple tabs and supports the Adobe Flash Player plugin if you install it from the Google Play Store. I'm a big fan of the Chrome for Android browser because of its excellent syncing capabilities, but for an out of the box browsing experience, the Atrix HD's stock browser is great.