Samsung Galaxy Note 3 Review
Page 2 :

Software Features and Impressions By
TechSpot is celebrating its 25th anniversary. TechSpot means tech analysis and advice
you can trust
.
When you buy through our links, we may earn a commission.
Learn more
.
Software Features and Impressions
Prepare yourself for one of the heaviest skins you can find on a smartphone. Samsung never ceases to amaze me at just how much bloatware and other crap can be stuffed into the software package, everything from completely useless features to unnecessary visual changes. Of course there are some gems to be found here and there, which are worth mentioning as well.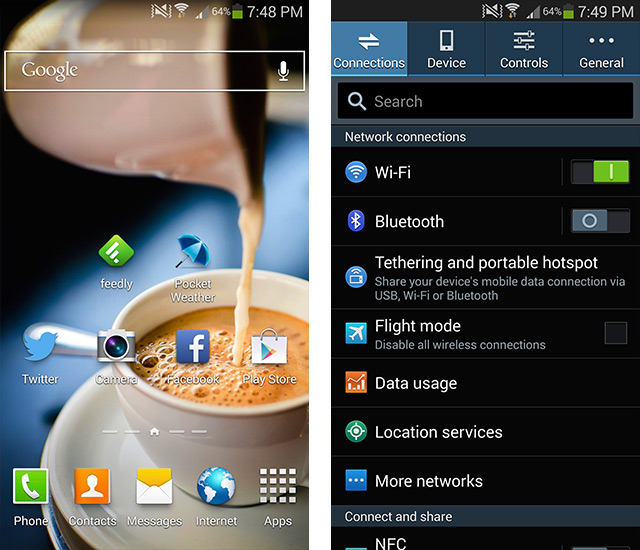 If you've used a Galaxy device in the past few years, you'll likely be very familiar with the design of Samsung's custom TouchWiz skin. Rather than utilizing the stock Android look and feel, Samsung has done some skinning for the sake of skinning, going with mostly dark backgrounds, blue gradients and green highlights. Compared to other UIs and the stock Android appearance, TouchWiz is starting to look quite dated.
Despite the larger screen size, most aspects of the Galaxy Note 3's software are identical to the Galaxy S4's. The homescreen is a standard 4x4 grid with a row of four interchangeable apps in the dock, and as always there are a range of Samsung-made widgets to use, many of which are quite large and will dominate the homescreen pane they're on. These days I find myself using fewer and fewer widgets, preferring to head straight into the relevant application, but some of the included widgets (such as S Planner) do offer lots of information at a quick glance.
The notification pane includes a range of quick settings in a panel that horizontally scrolls, along with a brightness bar that allows you to fine tune your screen level with relative ease. Network indicators, removed in Android 4.4, still remain in the status bar, and there's also the option to place a battery percentage beside the battery indicator graphic, which is essential for keeping accurate track of your remaining life.
The Galaxy Note 3's settings is the main dumping ground for a number of the smartphone's 'features'. Here you'll find everything from gesture controls to face detection features, most of which are extremely gimmicky and battery wasting. During my use of the handset, neither Air Gestures (hovering your hand over the proximity sensor) nor Air View features (hovering your finger/stylus above the display) proved to be useful at all; in fact I likely would have saved time accessing information through traditional screen taps as opposed to trying to get gestures to work.
Motion controls are another gimmick, because I often forgot they existed. It seems much easier to pause music by pressing the pause button on the screen, rather than by flipping the device over, so I only bothered using the motion controls during testing. Most Smart Screen eye detection features are also useless, especially 'Smart Scroll' (eye-based scrolling) which is only functional in two apps (Email and Browser) and works exceptionally poorly.
However some device settings are genuinely useful. Increasing the touch sensitivity is great for cold winter days that demand the use of gloves, and there are lots of ways to customize things such as the LED indicator, touch key light duration, and even the vibration intensity. Unfortunately the phone makes a lot of touch tone noises out of the box, which are extremely annoying not only for the user but also for anyone in close proximity. Make disabling all the noises a priority after you set the device up.
For the serious multi-taskers, Samsung has built in a range of features that extends upon the standard Android multi-tasking experience. You can still long press the home button to access the app switcher, but you also have the ability to long-press the back button to access multi-window apps. From here, you can drag and drop apps that occupy half of the display, similar to what was seen on the previous Galaxy Note.
You can only have two applications on the screen at once, and there are only a few third-party apps that are supported, however the experience is largely fluid. The ability to resize windows comes in handy when you need one app to be larger than the other, but don't expect many other features. Some applications, such as the video player and Action Memo, support floating windows; most other apps simply snap to one half of the display.
One-handed operation settings return for the large-screened Galaxy Note 3, and there are some improvements here that actually makes it worth using. Swiping in an L shape from the edge of the screen back to the same edge will minimize an app into a smaller, resizable window that is easier to handle if you're stuck with the Note in just one hand. Other settings can be enabled that just downsize the keyboard, or calculator, for example.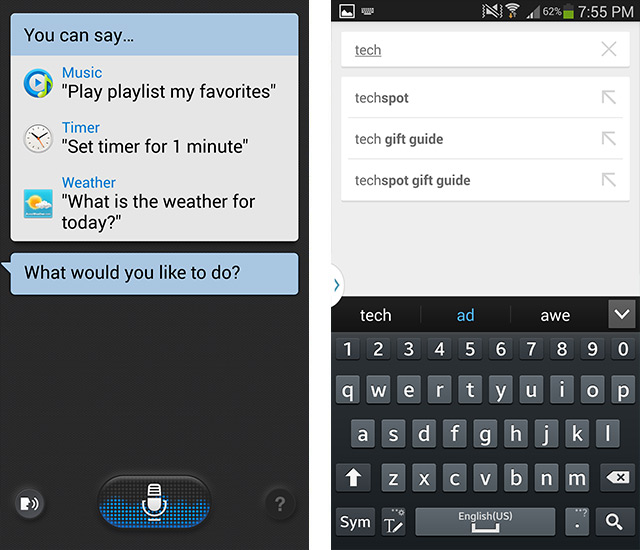 Another two features included with the Galaxy Note 3 are largely gimmicks: S Voice is still too tricky to use if you don't speak slowly, clearly and without a weird accent; while handwriting recognition is still slower and far less accurate than if you simply typed. Overall, Samsung's keyboard offering is quite poor, with keys that are too small and auto-correction that's, astonishingly, disabled by default. I'd recommend switching to SwiftKey or one of the many alternatives available in the Play Store.
Many of the standard applications included with the Note 3 are simple skins of the AOSP apps, with few (if any) features being introduced. The Messaging app still comes with an atrocious design and color palette, S Planner is still as crowded as ever, Contacts is an inferior version of the vanilla app, Gallery is also just a skin, and bizarrely a Samsung-made Internet app has been included alongside Chrome.
And then comes the bloatware. Included out-of-the-box on the Galaxy Note 3 is the Samsung Apps, Samsung Music Hub and Samsung Hub applications, which are all poor alternatives to Google Play services. Story Album is a shortcut to install an app that's not even included on the device, as is S Translator. Plus you'll be gifted with a range of applications for your region/carrier which no-one really wants on the device in the first place.
Credit where credit is due though. S Health is a reasonable fitness tracker, WatchON is very useful for controlling TVs using the included infrared LED, and Group Play/Samsung Link/S Beam/Screen Mirroring introduce new ways to share content with other nearby devices. The music app is also quite impressive, offering an easy-to-use grid-based equalizer, as well as the Music Square for playing songs that have certain moods.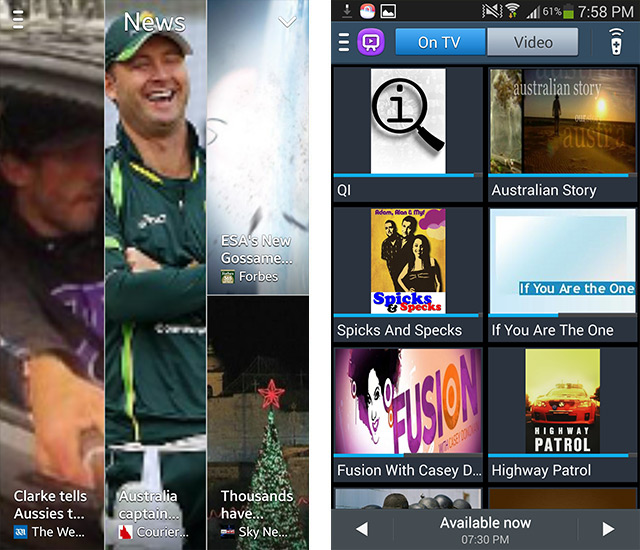 My Magazine is the final feature I want to talk about. Accessible through either swiping up from the bottom of the display, or pressing the home button while on a homescreen, the app aggregates news, information and social network updates in a similar fashion to HTC's BlinkFeed. The app looks nice and functions well, but I never found myself using it, preferring to jump straight into the relevant applications to see social updates, or heading into an RSS feed app for the latest news.
The software included in the Galaxy Note 3 is everything I expected: reasonably ugly, unbelievably bloated, but still loaded with a few interesting and useful features here and there. Most of the goodness shows itself in the form of the S-Pen, though, which I'll be covering in the next section.