Sony Xperia Z2 Review
Page 4 :

Performance: Snapdragon 801 (Again) By
TechSpot is celebrating its 25th anniversary. TechSpot means tech analysis and advice
you can trust
.
When you buy through our links, we may earn a commission.
Learn more
.
Performance: Snapdragon 801 (Again)
Inside the Xperia Z2 we once again find the Qualcomm Snapdragon 801 SoC, which I've already taken a look at in three past devices: the HTC One M8, Samsung Galaxy S5, and Sony's companion tablet, the Xperia Z2 Tablet. Qualcomm has been absolutely dominating the high-end ARM chip market over the past few years, so the inclusion of the Snapdragon 801 here is no surprise.
I'm not going to go into a lot of detail on the Snapdragon 801 as I've already talked about it in detail in past reviews, but I will give a quick breakdown of what you'll be getting. In the Xperia Z2 is the MSM8974AB, which isn't the highest-end SKU, but it's certainly powerful. What's interesting here is that the 8974AB is rated for a maximum clock speed of 2.36 GHz across its four Krait 400 CPU cores, however the Xperia Z2 reports a top clock of 2.27 GHz. 90 MHz isn't going to make a huge difference, but it does appear Sony is downclocking the CPU slightly.
Alongside the quad-core Krait 400 CPU is the Adreno 330 GPU clocked at 578 MHz; the Hexagon QDSP6V5A DSP; and a 32-bit dual-channel LPDDR3 memory controller clocked at 933 MHz, providing 14.9 GB/s of bandwidth. There's also a wealth of connectivity, including Wi-Fi 802.11a/b/g/n/ac, Bluetooth 4.0, IZAT Gen8B GPS+GLONASS, LTE Category 4, HSPA+, and GSM/EDGE. NFC is included in the Xperia Z2, but it's offloaded to another chip.
The Z2 packs in 3 GB of RAM, plus 16 GB of internal storage. 16 GB isn't a huge amount to work with, especially as only 11.57 GB is available out of the box, but luckily you get a microSD card slot to expand the storage capacity. Even though expandable storage does create some complexities in the way Android handles storage, it's preferable to the extortionate rates most OEMs charge for higher storage in their devices.
Grabbing a 64 GB microSD card slot can set you back as little as $30 on Amazon, and I'd highly recommend you do so if you plan on storing a lot of photos, music or videos on this handset.
As you'd expect, performance from the Sony Xperia Z2 is very good. Oddly, Sony uses a live wallpaper on the device by default, which can give a battery life and performance hit while using the homescreens. That's not to say the device is laggy while the live wallpaper is enabled, but when you switch to a static wallpaper the device feels notably smoother to use.
Around other areas of the OS, everything is very smooth, and apps load very quickly. 3 GB of RAM seems to have a small benefit in that you can switch back to older apps without having to reload them fully, which cuts down on app opening times. There wasn't a time using the Xperia Z2 where I felt the smartphone needed more power, even during intense web browsing in Chrome.
Gaming is a similar situation, as the Xperia Z2 packs a combination that we've seen before. With the Adreno 330 GPU rendering to a 1080p display, the vast majority of the games on the Google Play Store will run splendidly. I only ran into hiccups trying to play Grand Theft Auto: San Andreas on maximum settings, but you can simply turn down the quality slightly to achieve fluid gameplay.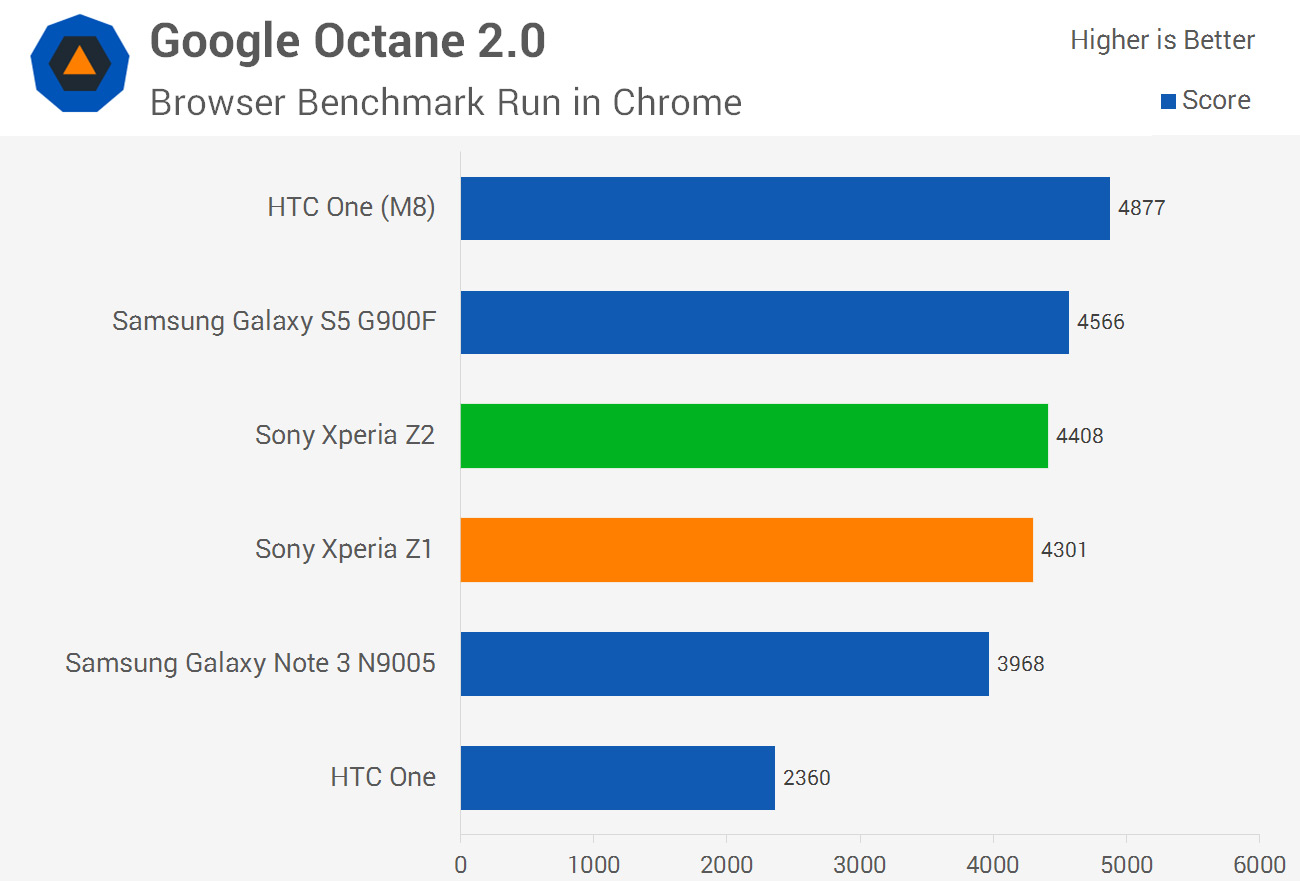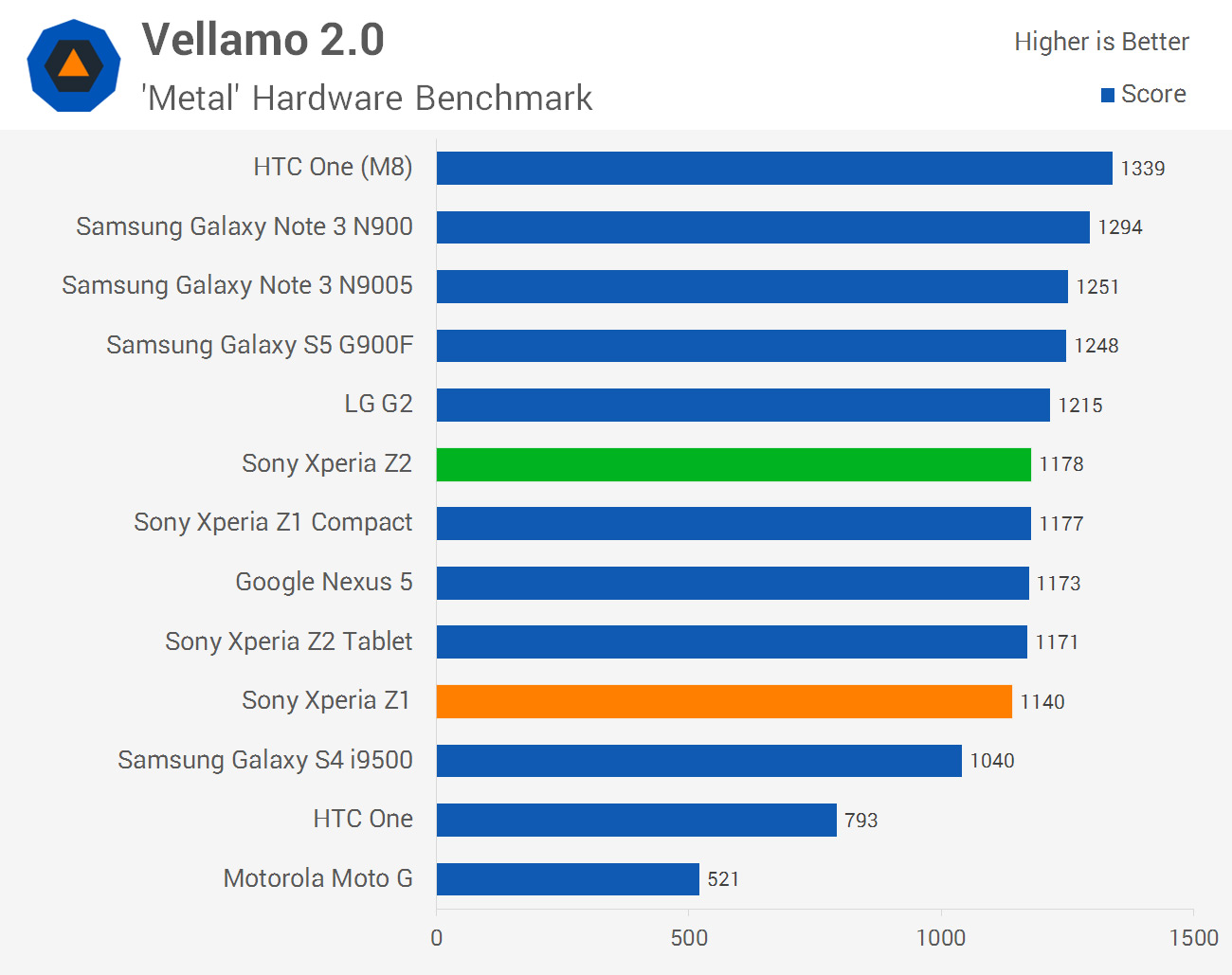 Throughout the CPU-bound and web benchmarks I performed on the Xperia Z2, it's interesting to note that performance is largely the same as the Xperia Z1. This isn't too surprising, as both devices have quad-core Krait 400 CPUs clocked at 2.3 GHz, but some people may have been expecting significant performance gains going Snapdragon 800 to 801.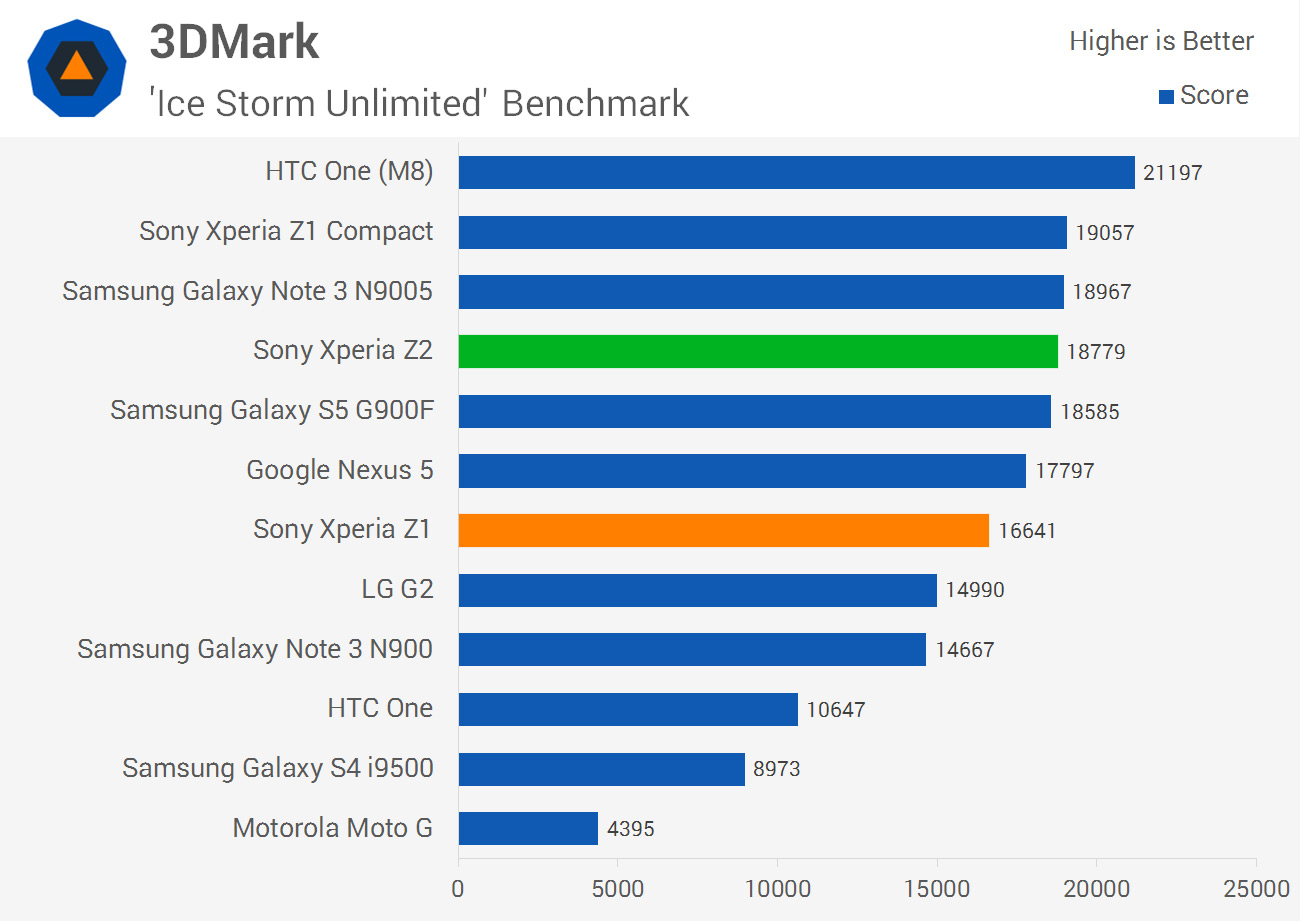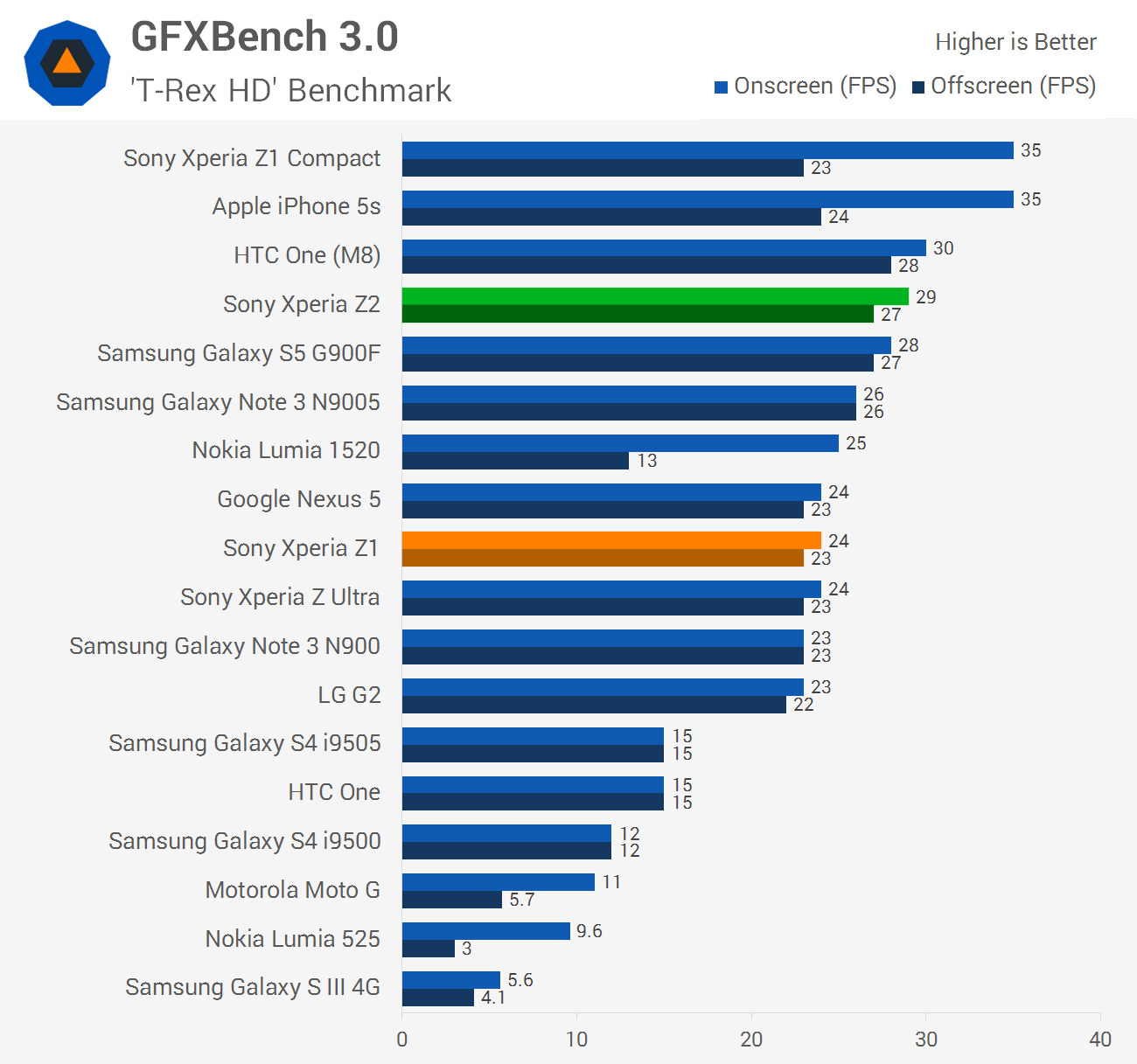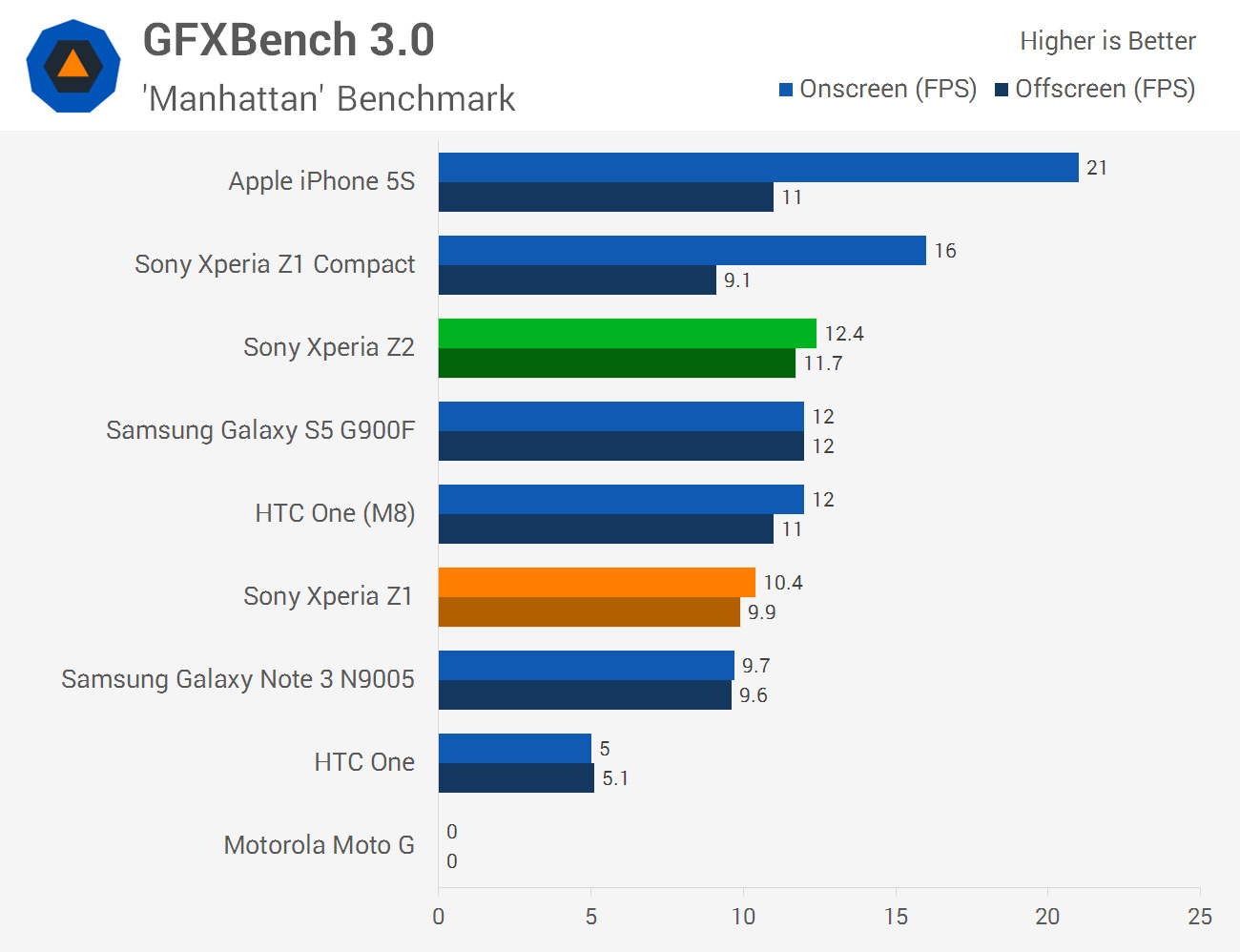 Really the only main performance gain you get going from the Xperia Z1 to the Z2 is a small boost in graphics performance. Across the GPU benchmarks I ran, the average performance boost was 17%, which isn't huge but still notable.
However, comparing the Xperia Z2 to the year-old Xperia Z with its Snapdragon S4 Pro SoC, the performance of the Z2 is around double that of the Z. If you're looking for better performance in your smartphone, upgrading from a year-old handset like the Xperia Z makes much more sense than ditching the still-fast Xperia Z1.
Internal NAND performance from the Xperia Z2 is essentially identical to the Xperia Z1, indicating that there's been no change in this hardware between the two devices. I would have liked to see Sony improve their storage performance in the Z2, as it's well behind the HTC One M8 and Samsung Galaxy S5.
Just on the One M8 and Galaxy S5, as both devices pack the Snapdragon 801, there are no significant performance differences between them and the Xperia Z2 (aside from NAND). No matter what device you choose, you'll be getting performance that's as good as it gets in an Android smartphone.
Sony was never a particularly heavy benchmark cheater: on the Z1 and Z1 Compact, out of the benchmarks I perform only Vellamo was affected, where dodgy code present in the device's software boosts the CPU clock speed to its maximum as soon as the benchmark is launched. However with the Xperia Z2, Sony has followed on from Samsung in completely removing this behaviour from their handset.
The lack of cheating code means that the results above for the Z2 can be trusted as a reflection of what you'll expect in terms of real-world performance. I'm glad that benchmark cheating was a short-lived exercise, and hopefully soon I won't even have to mention it.
The Xperia Z2 is one of the few handsets I've used recently where I've had some strange behaviour using LTE and Wi-Fi. Occasionally I'll be trying to load a webpage or refresh an app and nothing at all will load, or it takes an unusually long time to load, despite having good signal strength. Quickly switching into airplane mode and back fixes the issue, but I would like to see Sony address the problem through a software update. Luckily, it doesn't happen very frequently, so it's unlikely to be a persistent annoyance.
Other than the aforementioned issue, I had great network performance from the in-built LTE Category 4 radio, often reaching up to 70 Mbps down on local Australian networks. Wi-Fi was also capable of streaming Blu-ray content from my local media server, despite how I don't have an 802.11ac router. As for other connectivity, GPS was sometimes a tad slow to lock, but I had no issues with Bluetooth 4.0 or NFC.
On the sound front, Sony has implemented a few audio features that are geared towards those willing to buy into Sony's ecosystem. The Xperia Z2 is the "world's first smartphone with digital noise cancelling technology", but don't be fooled: you'll need compatible Sony MDR-NC31EM headphones, which I doubt many people will own, especially as they aren't included in the Xperia Z2's box.
As I don't own these headphones, I was unable to test digital noise cancelling. I would have liked to see Sony make digital noise cancelling technology compatible with all pairs of headphones with an in-line microphones, where possible, but instead it appears to be a feature more geared towards selling Sony-made accessories.
The Xperia Z2 also supports Sony's Stereo Microphone STM10 accessory for improving the audio quality of videos captured using the phone. An option in the settings menu allows you to switch between using the audio jack for noise cancelling (or regular) headphones, or the STM10. Alongside this feature, you'll find a range of audio enhancement settings such as ClearAudio+, which I prefer leaving disabled.