Samsung Galaxy S6 & S6 Edge Review
Page 3 :

Software: TouchWiz Overhauled By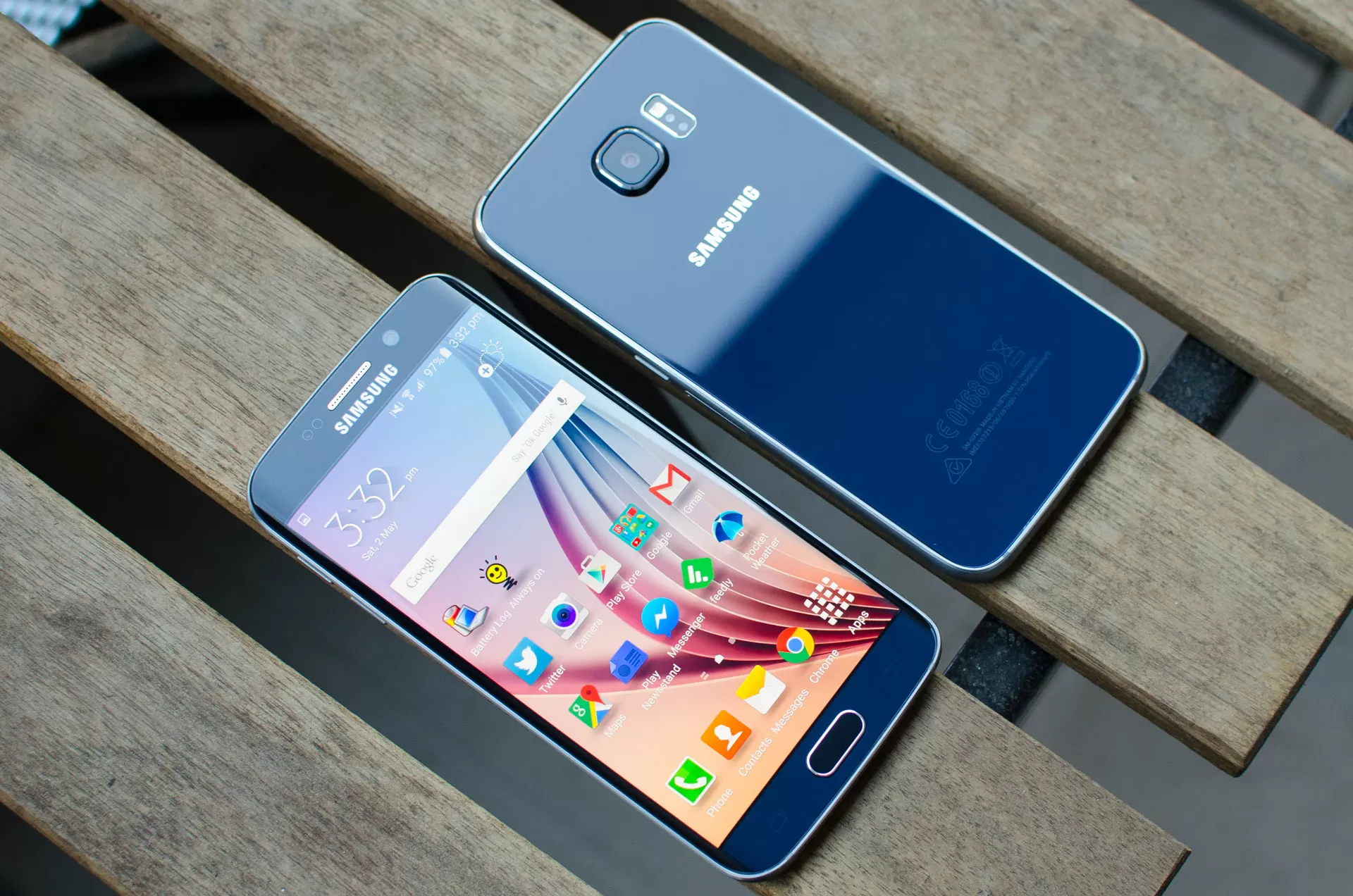 TechSpot is celebrating its 25th anniversary. TechSpot means tech analysis and advice
you can trust
.
When you buy through our links, we may earn a commission.
Learn more
.
Software: TouchWiz Overhauled
Both the Galaxy S6 and S6 Edge come loaded with Android 5.0.2 out of the box, with an updated dose of TouchWiz applied over the top. Samsung has actually put quite a lot of work into TouchWiz for the Galaxy S6, so it's now less cluttered, more streamlined and more beautiful than ever before.
The first thing that struck me about the Galaxy S6's software when I turned the device on for the first time is how polished it looks and feels. Previous versions of TouchWiz looked like they were designed by committee, but with the latest edition on the S6, it finally feels like every part of Samsung's skin shares the same design philosophy.
I wouldn't say that TouchWiz is the best looking skin I've seen - I still can't go past stock Android with no skin at all - but Samsung has finally designed something that could be described as "attractive". TouchWiz is now clean and reasonably clutter free, with many useless or unnecessary features being removed in favour of design simplicity. And the style Samsung has used throughout their launcher and included apps is actually similar enough to stock Android that it melds well with modern Android design practices.
In fact Samsung actually uses Material Design practices throughout their stock apps, which shocked me after the horrific mess they dished up on the Galaxy S5 that included outdated tabbed menus and ugly default widgets. Important apps like Messages, S Planner (aka the calendar) and Contacts look great, are easy to use, and present enough information on each screen without being overwhelming. S Health has also received an unbelievably nice update that adopts Google's carded design found on their first-party apps.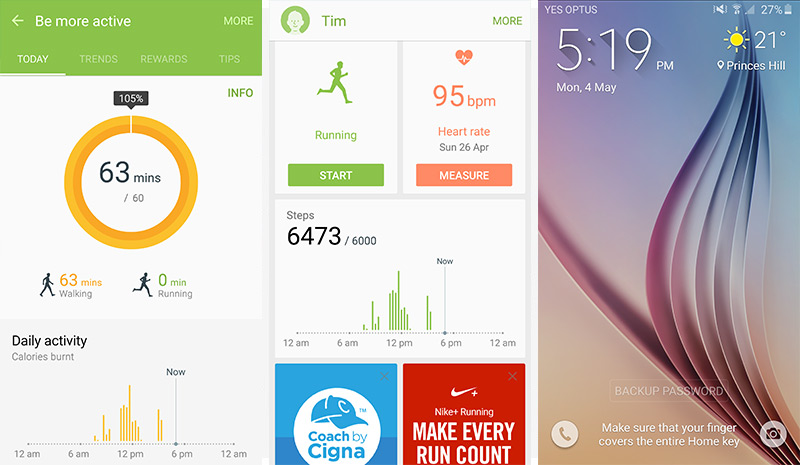 The TouchWiz launcher is one of the few aspects of the skin that I can criticize, and even then it's only for a few minor issues. I liked the ability to change the homescreen grid from 4x4 to 5x5, and the new collection of widgets fits in well with the rest of the skin. However I've never found the Flipboard news feed to the left of the main homescreen to be hugely useful (luckily you can disable it), and the lack of an alphabetic sorting option for the app drawer is a downright annoying feature regression.
Samsung makes it very easy to download and install new themes for TouchWiz, and although the feature isn't as good as what HTC provides on the One M9, it's still a great way to easily change the looks of the skin. Most of the skins available in the store are pretty bad, but there's the occasional gem to be found, and the store is receiving updates on a regular basis.
I'm glad that Samsung decided to completely clean up the settings menu, which on the Galaxy Note 4 and especially the Galaxy S5 were getting out of hand. Every feature that I thought was useless or unnecessary has been canned in the Galaxy S6's software iteration, and areas where Samsung has historically loaded up with features (such as gesture controls) have been scaled back significantly. In some respects the Galaxy S6 feels a little light on in terms of settings and controls compared to past smartphones, but that's nothing third-party apps can't address.
Speaking of apps, despite Samsung claiming they've removed a lot of bloatware from TouchWiz, there are still a number of unnecessary apps included on the Galaxy S6. The Galaxy Apps store continues to baffle me with its inclusion alongside the fantastic Google Play Store, while some other "apps" are just links to download real apps from either the Play Store or Galaxy Apps store. The inclusion of Microsoft apps isn't necessary, though it allows Samsung to cash a nice pay check, and some of Samsung's own less critical inclusions (like S Voice) are rubbish compared to third-party or Google alternatives.
Luckily, if you're concerned about bloatware, Samsung allows you to remove the vast majority of apps that are installed on the Galaxy S6 and S6 Edge by default.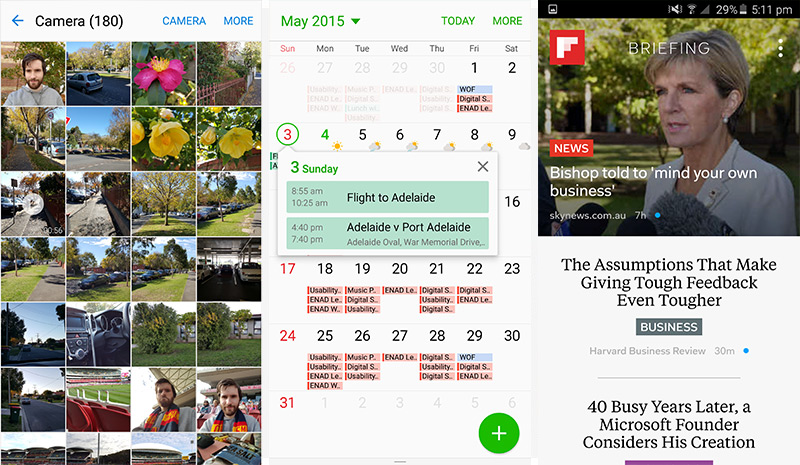 Two productivity related features have returned in the Galaxy S6's software, and they're easier to access than ever. Multi-window functionality, which allows you to run two apps on the screen side-by-side, is now activated through the Task Switcher, which is an excellent and easy to access location for the surprisingly handy feature. Floating windows are also available, activated by swiping inward from the top right corner of an app. Thanks to the power of the Exynos 7420 inside, both of these features are exceedingly smooth to use.
Unfortunately not every app can be used as a floating window or in multi-window mode, though I did notice more apps are supported in this version of TouchWiz than in any previous version. Most of my frequently used apps, such as Twitter, Facebook Messenger, and Google Maps, are supported, but some others (like Chrome) aren't.
For those of you that decide to purchase the Galaxy S6 Edge, Samsung has included a few extra features that supposedly make use of the curved display. Most of these features are different to what was included in the Galaxy Note Edge, which is somewhat surprising, and has resulted in my favourite Edge feature - the easy app launcher panel - being removed entirely.
Most of the Edge screen features are not very useful, and I rarely found myself using them in day to day life. There's an information screen that shows the time and your notifications on the Edge by swiping along it when the display is off, but this is slower and less informative than simply hitting the power button to reveal the lockscreen and status bar. The night clock, also seen on the Note Edge, is more useful, but as the S6 Edge's display is less curved than the Note Edge, its implementation isn't quite as good.
The rest of the S6 Edge's features revolve around the 'people edge'. The idea is that you select five contacts to be on your people edge speed dial, each with an associated color. When you get a notification from one of these contacts, the edge will illuminate in the relevant color, and you can swipe across to reveal more information. When on the homescreen or lockscreen, you can also swipe across the edge in the top right or left corner to reveal your list of contacts, with handy links to quickly call or message them.
The issue with the people edge is that, firstly, it only supports notifications from stock applications. If you frequently message someone through Facebook Messenger like I do, the people edge does not illuminate. The speed dial menu is reasonably handy, but again it only supports links to messaging or calling through stock applications, and it can't be used from within other apps. The idea is novel, but the execution is far from perfect.