TechSpot is celebrating its 25th anniversary. TechSpot means tech analysis and advice
you can trust
.
When you buy through our links, we may earn a commission.
Learn more
.
Black Ops 2 (2012) -> Black Ops Cold War (2020)
Call of Duty: Black Ops 2 (2012)
Click on image to play gameplay video
Black Ops 2 was the first Call of Duty to feature multiple endings in the campaign and introduce futuristic weapons like autonomous drones and robots in the franchise. Even though it still relied heavily on a scripted, linear story, Treyarch's dark and gritty vision for the game helped make it stand out among other heavy hitters released that year such as Borderlands 2 and Far Cry 3.
Players assumed the role of David Mason, son of Alex Mason from the previous Black Ops, and see an old, crippled Frank Woods recalling and raging at his past. Woods had not only lit the fire of revenge in Raul Menendez's heart, the main antagonist, but was also manipulated by him later into shooting Alex Mason.
Treyarch introduced weapon loadouts in the campaign that gave players some choice of equipment before embarking on a mission, while multiplayer and zombies' mode saw bigger changes to keep things fresh. In addition to Wildcards that allowed for an extra weapon attachment in loadouts, 'CoDCast' brought even more versatile spectating to multiplayer matches.
A new 'Buildables' mechanic was added to Zombies mode that required players to find, collect and place parts on a workbench as they fought against waves upon waves of Zombies. Once complete, a buildable would then help players survive by opening certain doors, enabling traps and turrets or powering another buildable.
Black Ops 2 had delivered yet another solid Call of Duty game and all eyes were now on Infinity Ward, which had an uphill task of delivering something equal or better than Modern Warfare.
Call of Duty: Ghosts (2013)
Click on image to play gameplay video
Ghosts not only had the tough job of outdoing previous Call of Duty titles, but also stand out against Battlefield 4, EA's latest FPS that arguably excelled at visuals, even if both rivals had distinct gunplay and approach to level design.
The single-player campaign, which had long remained Infinity Ward's strength, was starting to show cracks as well. Players didn't connect to the new characters or 'Ghost' members, despite an interesting plot whose villain, as it turns out, was one of their own.
Although some bits of the campaign took shooting to space and under the ocean, the highs and lows of the story couldn't bring Ghosts out of the tall shadows casted by Modern Warfare. The game's ending even suggested the possibility of a sequel, but it never arrived.
Ghosts' multiplayer, on the other hand, featured significant changes and was arguably more exciting than the campaign. Building on the extensive work already done for CoD's multiplayer, Ghosts added customizable characters, a new Extinction mode that had players fighting aliens and an overhauled progression and rewards system.
With a three-year development cycle in place, Infinity Ward now had more time to rethink its vision for the franchise, which it did by taking Call of Duty way into the future with Infinite Warfare.
Call of Duty: Advanced Warfare (2014)
Click on image to play gameplay video
With boots having spent enough time on the ground, it was now time for Call of Duty to focus firmly on futuristic combat with Advanced Warfare. It was also the first CoD title from Sledgehammer Games, who used their own engine – instead of IW – to develop the game.
Hi-tech weaponry, swarms of drones and exoskeletons added new depth to the gameplay, allowing players to boost jump, cloak and grapple to surfaces, while retaining the fast-paced, fluid gunplay that the franchise was known for.
The campaign, set in the mid-21st century, portrayed private military companies participating equally with traditional forces on the global front. It also featured Hollywood actor Kevin Spacey as the baddie who assumes the role of a private military contractor.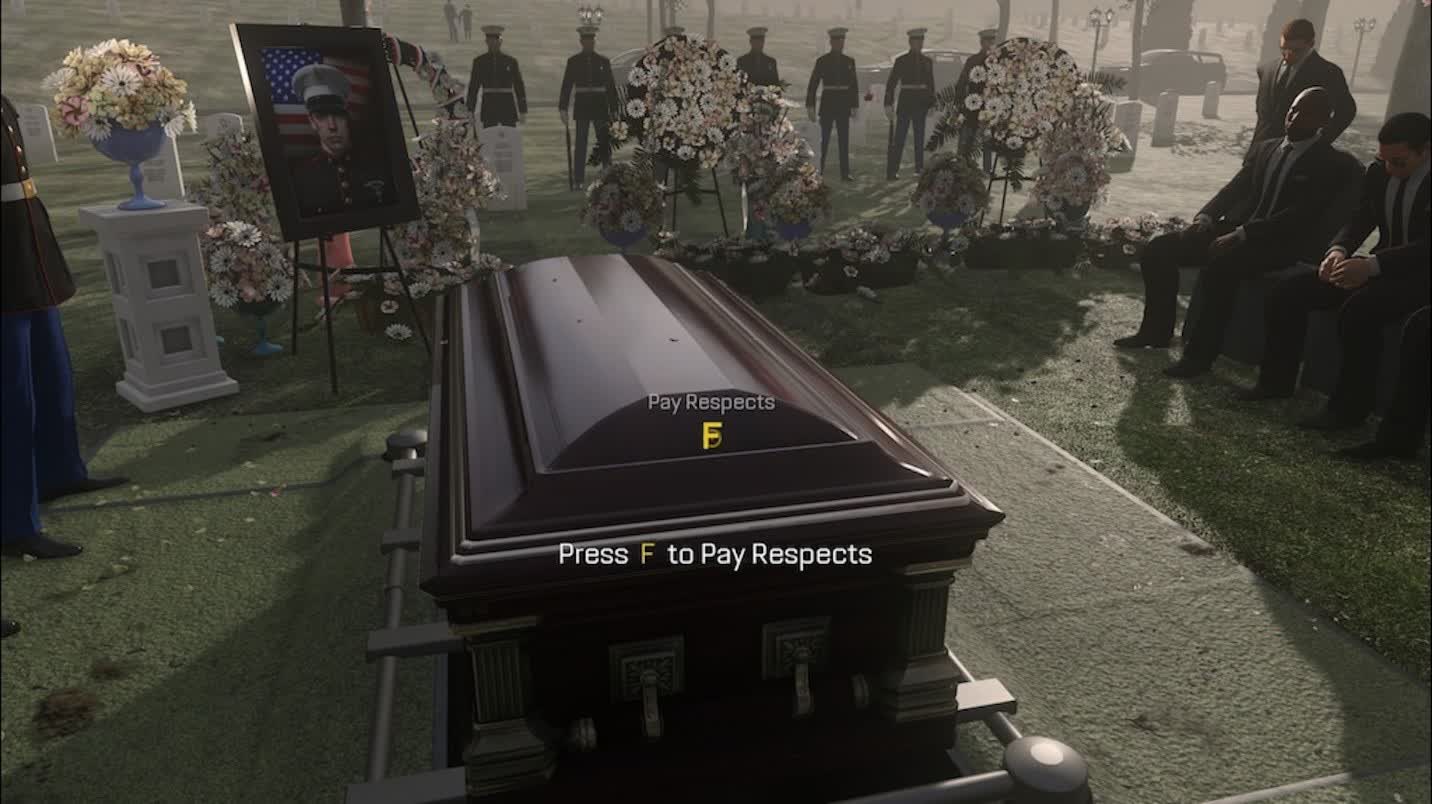 Advanced Warfare's multiplayer map designs took full advantage of the updated movement system, though it had the same modes seen in previous titles. It also tuned existing ones like Survival and Zombies to align with its futuristic setting.
Sledgehammer Games had given Call of Duty a fresh coat of paint, even though the walls underneath stood firmly on the franchise's core vision that was now increasingly stagnating due to an exhaustive, yearly release schedule.
The studio planned a sequel but was forced to ditch it mid-development in favor of a WW2 setting because fans were now sorely missing the satisfying ping of an M1 Garand's empty clip.
Call of Duty: Black Ops 3 (2015)
Click on image to play gameplay video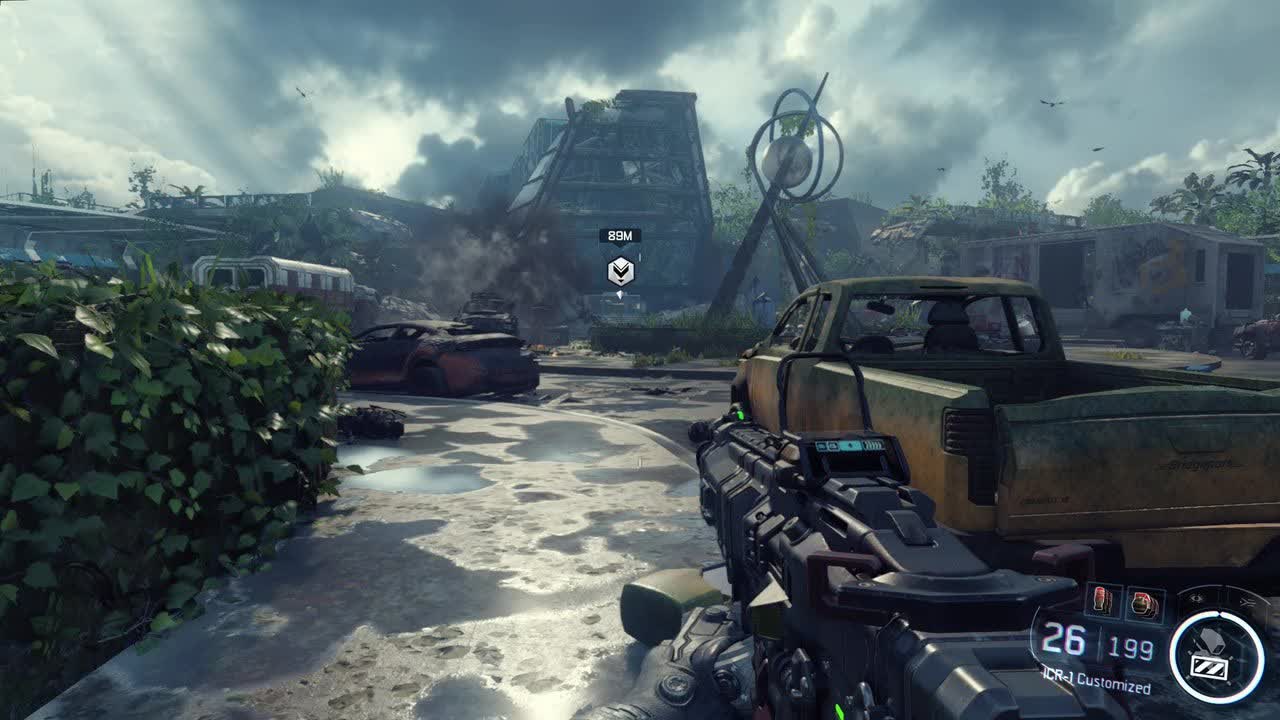 Treyarch's over-the-top, futuristic campaign in Black Ops 2 was taken to new heights in the sequel, for which the studio had three years to develop. It also had a 4-player co-op mode for single-player missions, so you and your friends could experience the weirdness together.
Cybernetics was the name of the game here, as highly advanced military technology allowed for enhanced soldiers who could directly control robots and computers with their mind. These augmentations, known as Cyber Cores and Cyber Rigs built on top of the game's core gunplay, however, an overly complex plot filled with totally new, disjointed characters didn't make for a memorable campaign. Or maybe it did, but the villain's endless interfacing and playing with our mind clouded it all.
Thankfully, the game's multiplayer was a healthy evolution from previous titles and added its own tweaked version of the movement system seen in Advanced Warfare and brought in useful features like the Gunsmith. Players could also swim and shoot underwater, while Zombies mode got even bigger with its own progression system.
With a futuristic theme explored by both, Sledgehammer Games and Treyarch, it was now Infinity Ward's turn to explore the idea, which it did by taking Call of Duty out of this world, literally.
Call of Duty: Infinite Warfare (2016)
Click on image to play gameplay video
Having decided not to continue where Ghosts left off, Infinity Ward jumped on the military sci-fi theme and doubled down on the setting by taking Call of Duty further into the future than ever before.
A bold campaign followed, which ironically, could have proved more successful had it appeared in any other game than Call of Duty. It was also deemed a tough time for fans to stick with the franchise, especially when EA had dropped a bombastic trailer for its WW1-based Battlefield 1 and also had Respawn's Titanfall 2 taking care of cyber warfare with a solid, emotional story about a man and his titan.
The internet promptly showed its feelings about Infinite Warfare as well, thumbing down the game's reveal trailer and making it one of the most disliked videos on YouTube.
Those who looked past the hatred, however, discovered Infinite Warfare's setting, characters and plot to be surprisingly good. It had also received a significant visual upgrade over previous titles, but even that, along with Kit Harrington of Game of Thrones fame and completely new, intergalactic locations, couldn't take it to the storytelling heights of before.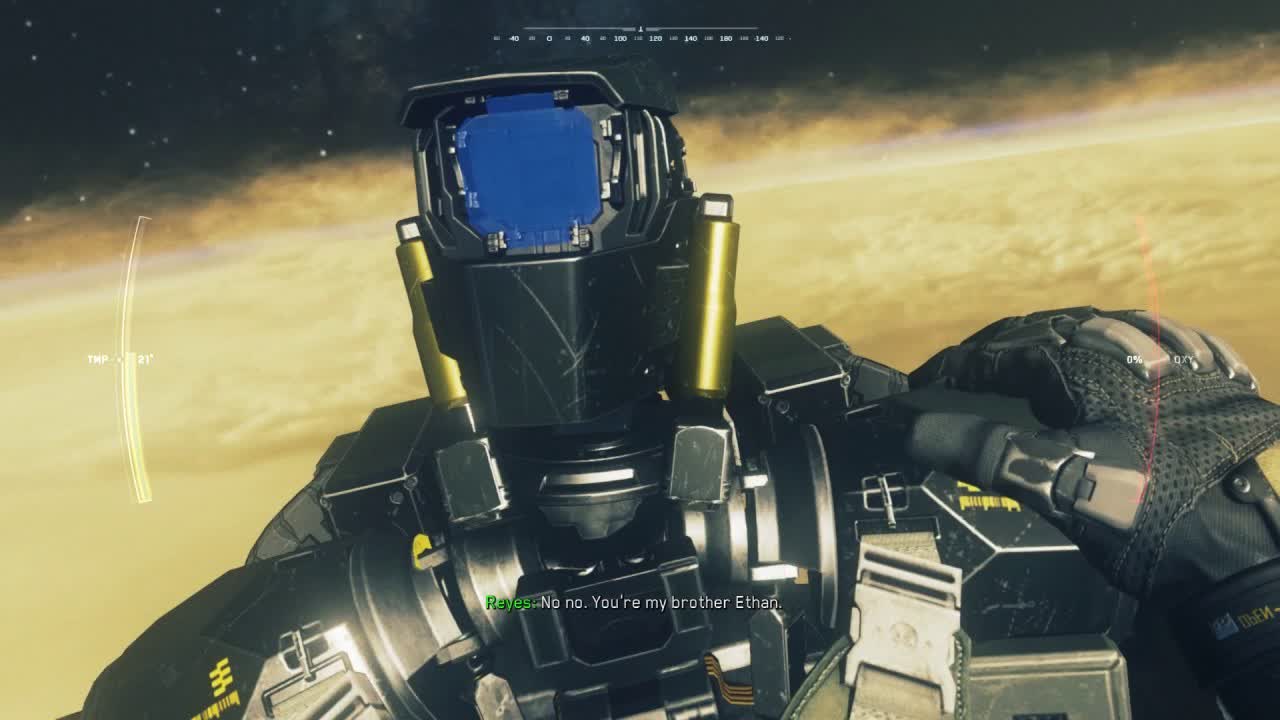 Despite all the odds, and a rather lackluster multiplayer and zombies mode that failed to attract a huge crowd, Call of Duty's brand power pushed Infinite Warfare to the number 1 sales spot in 2016. Sheesh! ...or it probably was the nostalgia kicking in for 2007's Modern Warfare which was remastered and locked temporarily with the main game.
With three consecutive years of struggling to find proper footing, it was now time for Call of Duty to get its boots back on the ground.
Call of Duty: WW2 (2017)
Click on image to play gameplay video
Sledgehammer Games got the message loud and clear. It even put WW2 in the title to reassure fans that the studio was returning to the franchise's roots and not with a sequel to 2014's Advanced Warfare.
After a nine-year gap, Call of Duty returned to the muddy battlefields and trenches of WW2. A Band of Brothers-like display of brotherhood and tragedy followed in the campaign, though an excessive amount of cut-scenes hampered gameplay by taking player decisions out of the equation during intense moments.
The approach did soften the experience considerably when compared to the original Call of Duty games, however, the much more realistic looking M1 Garands, Kar98ks and PPSh-41s, and good ol' health pickups made up for the shortcomings.
For its multiplayer, Sledgehammer Games added in a Destiny-like social feature called Headquarters, which allowed for interacting with other online players as they progressed through the various game modes. Of course, a separate Zombies experience was on show as well.
With over a decade of establishing dominance in the FPS genre, Call of Duty had pretty much exhausted every trick in its book and now had to look elsewhere if it wanted to stay relevant. As it turned out, the huge success of PUBG and Fortnite that released the same year meant that the franchise had timely found its next big thing: Battle Royale.
Call of Duty: Black Ops 4 (2018)
Click on image to play gameplay video
Black Ops 4 was a major departure for the series as it was the first Call of Duty to arrive without a single-player campaign. Instead, it had playable backstories of several multiplayer characters and featured a gigantic map for its Battle Royale Blackout mode.
Despite reports of a story mode being shelved during development, it would have been a tough act to follow on from the events in Black Ops 3. Besides, fans of the series have always paid more attention to the multiplayer and they got their fill with Treyarch's slick attempt at Battle Royale, instantly making Blackout one of the most popular games in the genre.
Black Ops 4 came with a smaller map than its BR competitors, but that meant more action and less strolling around for each of its 100 players that competed in a match. Combine that with the overall smoothness and polish intrinsic to the series, and it became much easier for existing and new players to jump onboard, especially if they didn't fancy Fortnite's cartoony aesthetic.
Treyarch didn't forget about its Zombie fans and released a bigger package in Black Ops 4. Players now had more maps to choose from, added customization and a new Rush mode to make matches even more competitive. It was now time for Infinity Ward to carry the baton forward with a complete reboot of its iconic Modern Warfare series.
Call of Duty: Modern Warfare (2019)
Click on image to play gameplay video
While rumors of a fourth MW installment had raised some eyebrows, Infinity Ward actually spent its three years completely reimagining the Modern Warfare series and even brought back some of its senior ex-staff from Respawn.
The focus was initially delivering on the game's campaign and multiplayer modes with unprecedented realism, at least for a Call of Duty game. Although the generic story was uplifted by the return of Capt. Price and several bold new characters, Modern Warfare's unreal visuals, lighting, sound and sublime gunplay showed that once again, Infinity Ward, alongside its supporting studios, was at the top of its game.
Apart from the new Battle Pass progression system for its multiplayer, Modern Warfare also tackled large-scale battles with an increased player count in Ground War, added several new game modes and maps, and finally connected PC and console players with crossplay support.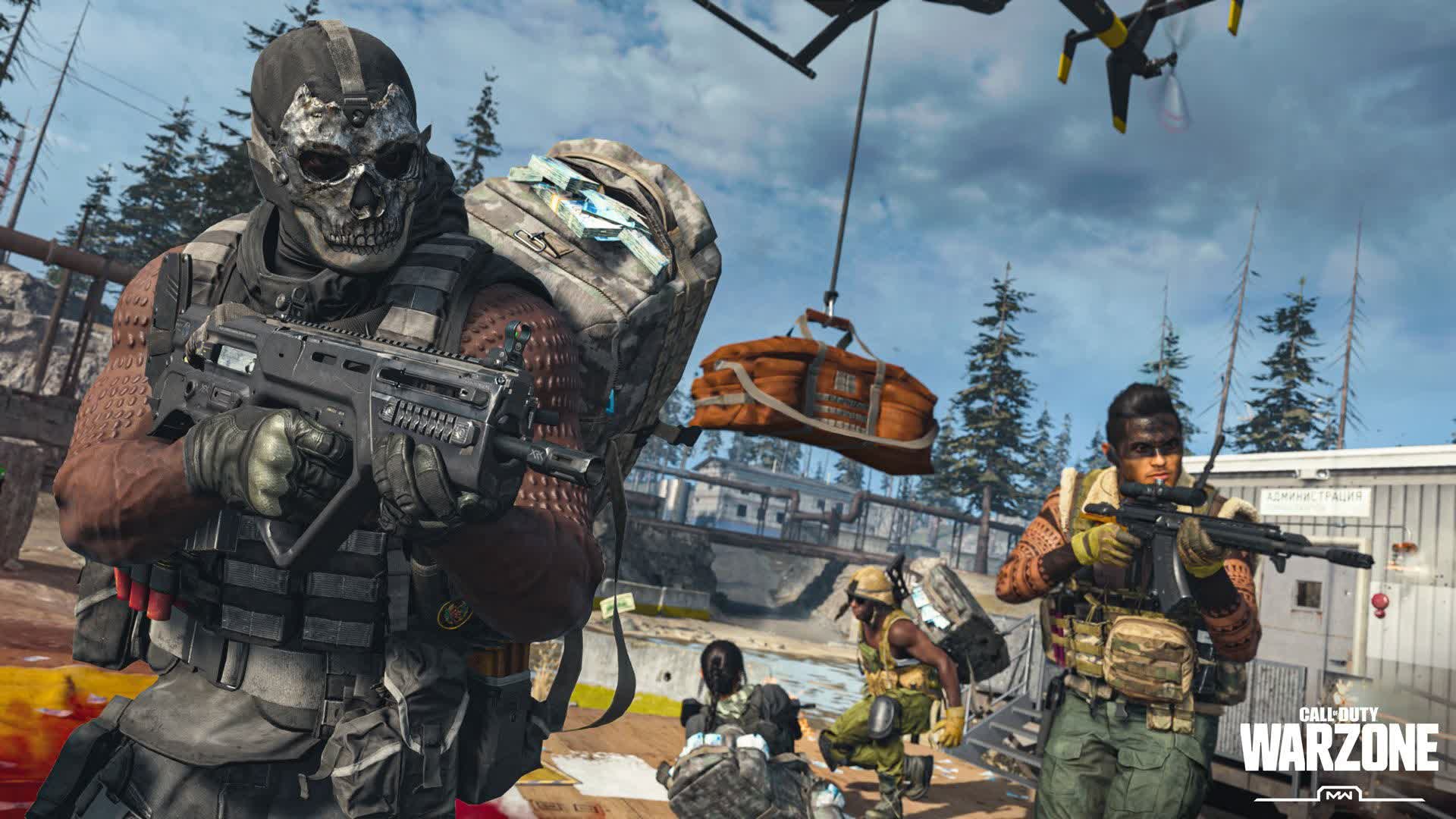 Spec Ops returned, too, however, Modern Warfare's smash hit came with its free-to-play Warzone. The standalone Battle Royale took little time in getting to the top, competing against the ever-evolving PUBG and Fortnite as well as new successful entrants like Apex Legends.
Modern Warfare's glowing success would likely have been a pretty tough act to follow for Sledgehammer Games who would be releasing their next installment in 2020. However, Activision demoted the studio in 2019 from lead developer to assistant role due to creative differences and put the franchise back on a two-year release cycle. Consequently, Treyarch had to go into overdrive with Black Ops Cold War that would otherwise have released in 2021.
Call of Duty: Black Ops Cold War (2020)
Click on image to play gameplay video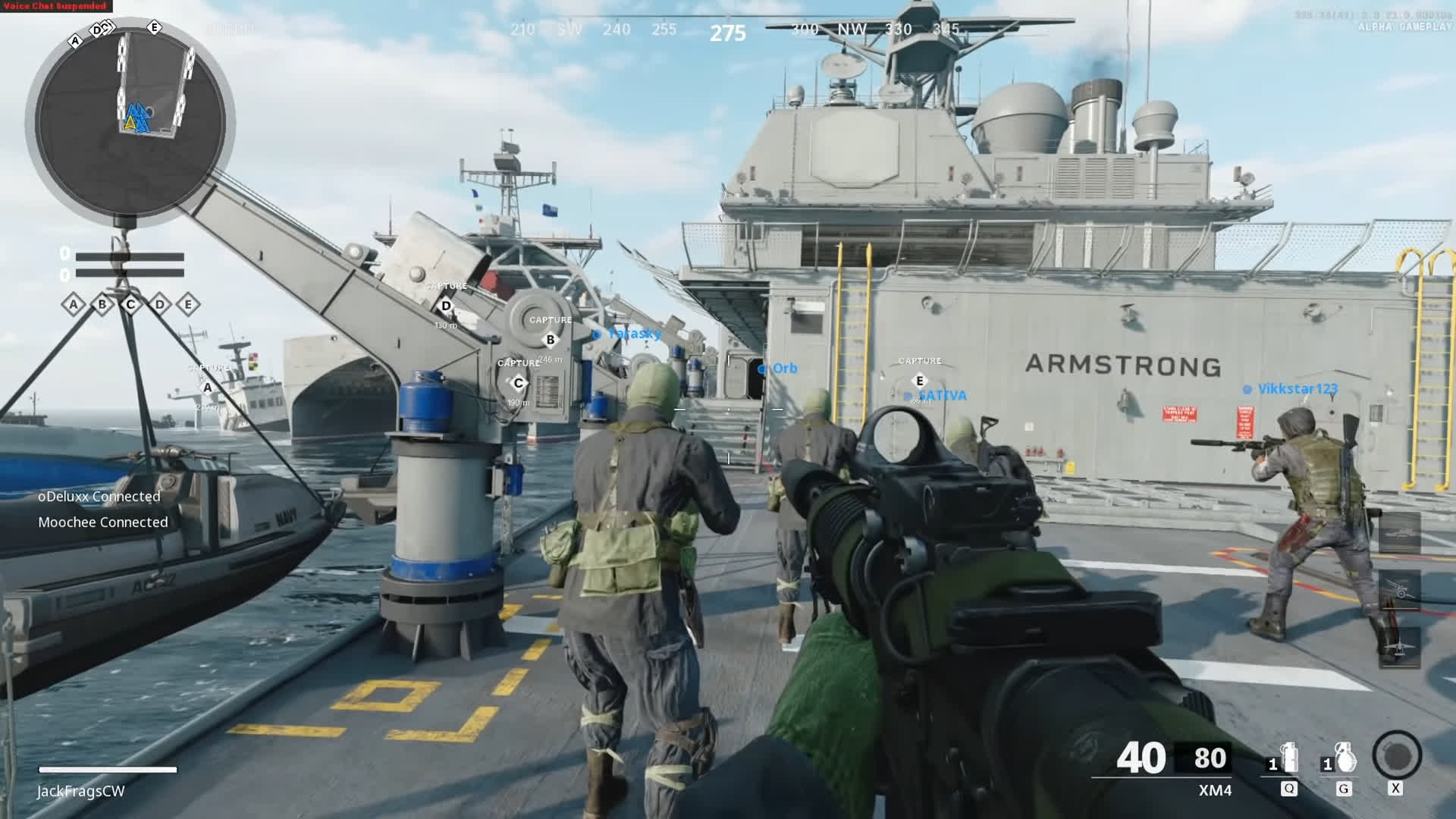 It's got the longest name for any Call of Duty game to date, and possibly the most weight on its shoulders after the highly well-received Modern Warfare reboot.
Unlike Black Ops 4, Treyarch included a full-on, intense single-player campaign that's set during the Cold War, so players can expect a more grounded experience. Fans of the first Black Ops should be excited, too, as this installment is a direct sequel that sees the return of iconic characters including Alex Mason, Franks Woods and Jason Hudson.
It's a short campaign, as is the case with nearly every other Call of Duty, although the hunt for Russian spy, Perseus, brings its own twists and turns to the table, while subtly connecting itself with the Modern Warfare universe.
The game's multiplayer, on the other hand, has been deemed an old-school, arcadey experience which some players have called a step down from Modern Warfare/Warzone. Treyarch, however, does maintain a loyal fan base and the studio's post-launch support might be able to convince more players down the line.
For Warzone fans, Modern Warfare elements will be joined by weaponry, operators and other content from Black Ops Cold War, starting with Season 1 that arrives next month.
This new roadmap enables Activision to keep its annual releases dripping new content into Warzone. It appears to be a promising plan, indicating that Call of Duty will be sticking around for years to come.
TechSpot's Outstanding Video Game Series
Sit back, grab some Doritos and Mountain Dew as we revisit some of the most memorable PC video game franchises, from their inception to becoming game series and ultimately cultural phenomena.