CES 2007 in Pictures, part one
Page 2 :

Intel, Microsoft, Crysis By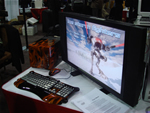 TechSpot is celebrating its 25th anniversary. TechSpot means tech analysis and advice
you can trust
.
When you buy through our links, we may earn a commission.
Learn more
.
Intel, Microsoft, Crysis
We got a peek at Intel's quad core Core 2 Duo Q6600 processor before it was announced on CES showfloor. You can check out our complete review with benchmark tests here.
Intel had a huge booth at CES where they presented different scenarios where their processors are making an impact in computing, office productivity and everyday life. With Core 2 duo and Core 2 quads as their flagships, gaming took a central part of their showing, be it FPS/action titles, role-playing, or simulation. Intel put on a nice show with real-life sized F1 cars and large LCD screens hooked up that had attendees lined up to try the more immersive gaming experience.
"Technology that fits you" was a very cool wall full of different devices being powered by Intel CPUs, mostly laptops of all colors and sizes. Then you have the mods wall, with everything from Small form factor PCs, all-in-one media center PCs, and a fully functional PC fit into a football helmet.
Microsoft
Microsoft... well the software giant was busy promoting everything Vista related. The new Office suite also took part of the floor, as well as their new gimmick of the home media server Gates announced during his CES opening keynote. As had to be expected, Microsoft is not just present within their booth but the large majority of PCs on the CES showfloor were already running Windows Vista. With the OS pretty much out of the door - and in my personal opinion - a logical step forward for all Windows-based machines, there is nothing much to write about that we haven't covered for the past year or so.
Now, what we did love about paying a visit to Microsoft booth was giving DX10-powered Crysis a try. We have to admit we continue to be huge fans of Far Cry, and having Crytek developers working on an innovative PC title again makes us drool. We were able to talk with Jack Mamais, Crysis' Lead Designer, who wouldn't confirm a release date but he said they are hoping to have it done by the first half of this year. He mentioned they are about to reach alpha development stage, meaning the one playable level they were showing was still non-optimized code. Running on a fast (single core) Intel CPU and a single Nvidia GeForce 8800 GTX board, the game ran smooth for the most part on an impressive 2048x1536 resolution, with some choppiness noticed when things got really busy on the screen. We couldn't help being impressed by Crysis graphics and gameplay versatility, so we put our word down on it, this should be on your top 5 game watch list for 2007.
Hope you have enjoyed our "in pictures" coverage of CES, we will have Part 2 posted really soon.