Posts: 9,340 +119
Staff member
What just happened? Apple's third-quarter earnings were a case of good news, bad news for the Cupertino giant. The company did experience a year-on-year decline in hardware sales, but things weren't as bad as analysts expected. Moreover, its services business - Apple's fastest-growing segment - saw an 8% YoY increase.
Apple's hardware categories didn't have a great quarter. The $39.67 billion revenue brought in from iPhone sales represented a 2% fall compared to the same quarter a year ago. Mac revenue was down 7% to $6.84 billion, and iPad revenue dropped a massive 20% to $5.79 billion.
Tablet shipments were the best-performing sector in Canalys' recent report on the PC market, falling by only 7% to 10.8 million in the most recent quarter. That was mostly due to the iPad, which has long led the tablet industry - Apple's YoY decline in sales was due to the release of the latest iPad Air in the same quarter last year.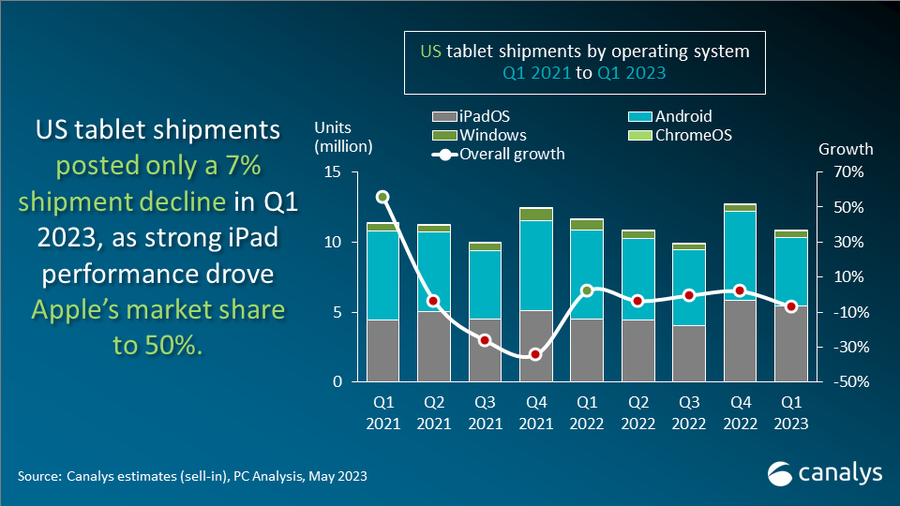 Apple did have more hardware success in the "Other Products" category, where wearables such as the Apple Watch and AirPods reside. It was up 2% YoY, generating $8.28 billion in revenue.
The brightest spot for Apple was the services section, which includes Apple TV+, Apple Music, Apple Fitness, Apple Arcade, Apple Podcasts, Apple Books, Apple Cloud, and the Apple App Store, among others. The business recorded $21.2 billion worth of sales, marking an 8% YoY rise, an improvement over the 5.5% increase seen in the same quarter of 2022. Apple expects growth to be even faster during fiscal Q4, though it does not provide specific guidance for its businesses for the upcoming quarter.
The gross margin for services last quarter was 70.5%, almost double the 35.4% margin for all of Apple's hardware products.
CEO Tim Cook said Apple now boasts more than 1 billion paying customers across all of its services, up by 150 million compared to last year.
"From education to the environment, we are continuing to advance our values, while championing innovation that enriches the lives of our customers and leaves the world better than we found it," said Cook.
Apple's overall revenue was down 1% to $81.8 billion, while earnings of $1.26 per share beat the anticipated $1.19.
Apple will see a boost in its hardware sales when it launches the iPhone 15 series during what most believe will be the second half of September. The phones are rumored to feature thinner bezels, a USB-C port, and titanium materials.
https://www.techspot.com/news/99665-apple-hardware-sales-fell-last-quarter-but-services.html